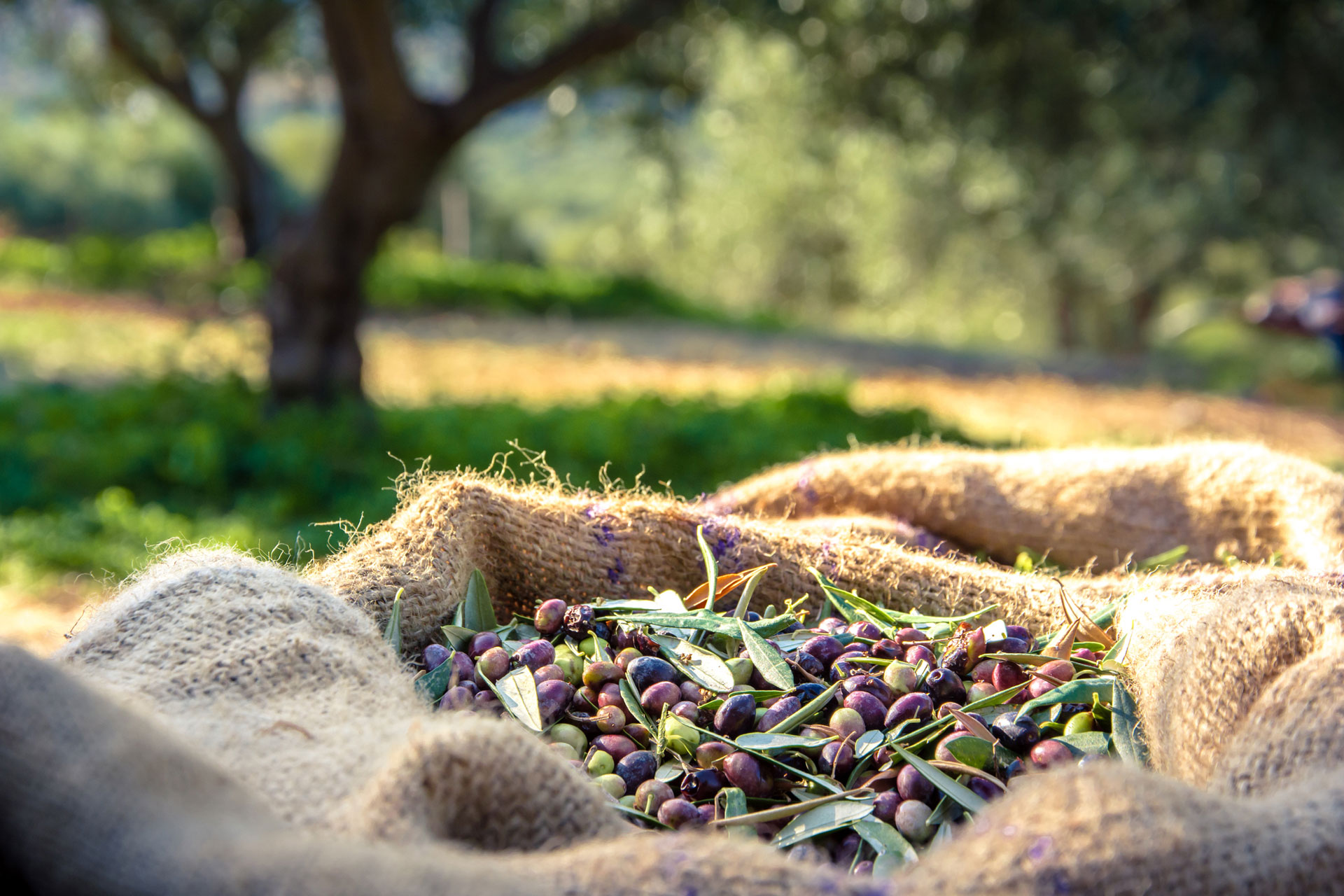 How To Do Foodie Naples in Two Days
---
Gifting brand DLISH has launched its first travel experience – kicking off with 48 hours in Naples. Kamin Mohammadi gets beneath the skin of this throbbingly lively city to discover its beating heart of food, design and craftsmanship
Pizza & Beyond: How to do Foodie Naples in Two Days
Sustainability and authenticity are buzzwords in travel but it's not always easy to know how to access the real city behind the tourist hype when travelling. When wanting to visit Naples – a city that throbs with the cacophony of life – I wanted to go beyond the offerings of mass tourism but wasn't sure how to connect with the real city in just a couple of days.
Happily, a chance encounter led me to DLISH, a gifting brand that specialises in exclusively curated gift boxes centred around the table and everything that represents. The company brings together unique combinations of products which have food, design and craftsmanship at their heart. And with DLISH now launching its first travel experience in Naples, this was the ideal moment for me to visit this richly historic city.
A city seen through its cuisine
In partnership with Eleit, a contemporary design company passionate about promoting Naples through its culinary and artisan traditions, the DLISH tour of Naples comprises 48 hours discovering the people and stories behind the objects that Eleit has commissioned and DLISH curated into its gift boxes: the 'Famiglia Oliva' collection, and the PYXIS mozzarella dish.
DLISH founder Mona Bavar and Eleit founder Titti Gallucci – a born and bred Neapolitan – have put together an itinerary that embraces the city while introducing the designers, the makers and the artisans that make Naples so rich in all its arts, from the culinary onwards.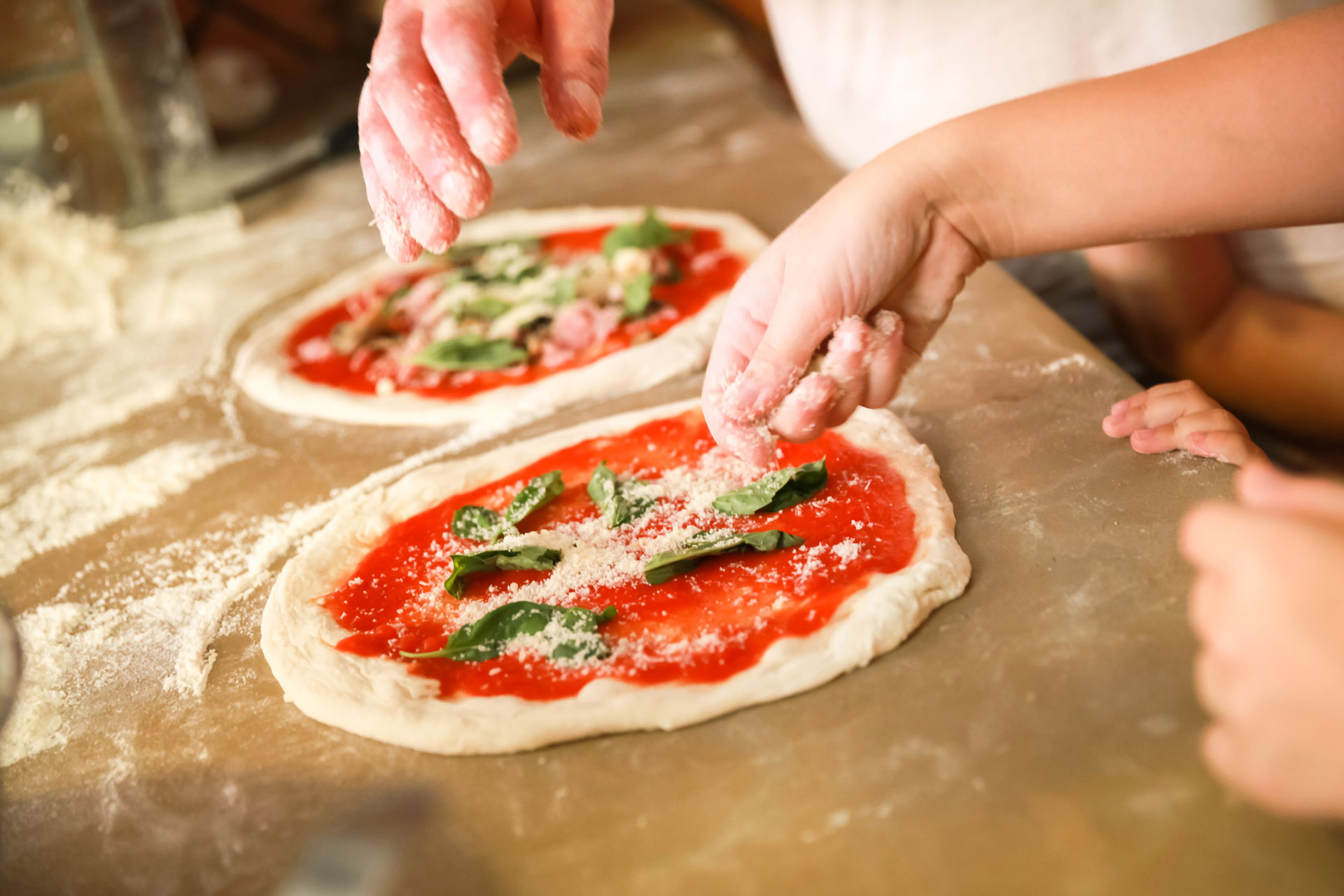 Pizza, pizza, pizza
So it makes sense that we start with one of the most famous products that Naples has given the world – pizza. To showcase the PYXIS mozzarella dish, we head to the temple of pizza, the Concettina ai Tre Santi. In the city that invented pizza, it's good to have an insider get you into the Concettina which is lauded by the Michelin Guide and therefore very popular. Run by the Oliva family for more than 60 years, and located in Sanita, one of the city's oldest – and most chaotic – neighbourhoods, the Concenttina, with its courtyard garden providing welcome shade and some respite from the cacophony of Naples. Modernised by the founder's great grandson, the tasting menu is – like everything in this vibrant city – a performance. Various iterations of pizza are brought out with a flourish, each dish accompanied by a theatrical explanation from our waiters whose manner is so playful that all the women in the party are convinced they have scored. And midway through the meal with great ceremony, the large and voluptuous PYXIS dish is presented, and with it, we get a demonstration of how this dish helps with serving and preserving fresh mozzarella.
Mozarella – pure white gold
With its narrow neck and rotund main dish, PYXIS provides the perfect receptacle: it holds the ball of the cheese while its juice – known as 'white gold' in Naples – drains down the neck of the dish. Recalling the swells of classical vases and ancient female deities that were uncovered in Naples, the PYXIS dish is a perfect example of what both Eleit and DLISH passionately stand for – a conversation between the past and present, a way to preserve tradition without sacrificing a modern aesthetic. As Titti says: 'The creative process conceived by Eleit provides a constant dialogue between design, cooking and craftsmanship experts, producing innovation in this relationship with food and objects, with great respect for reducing waste and enhancing local resources.'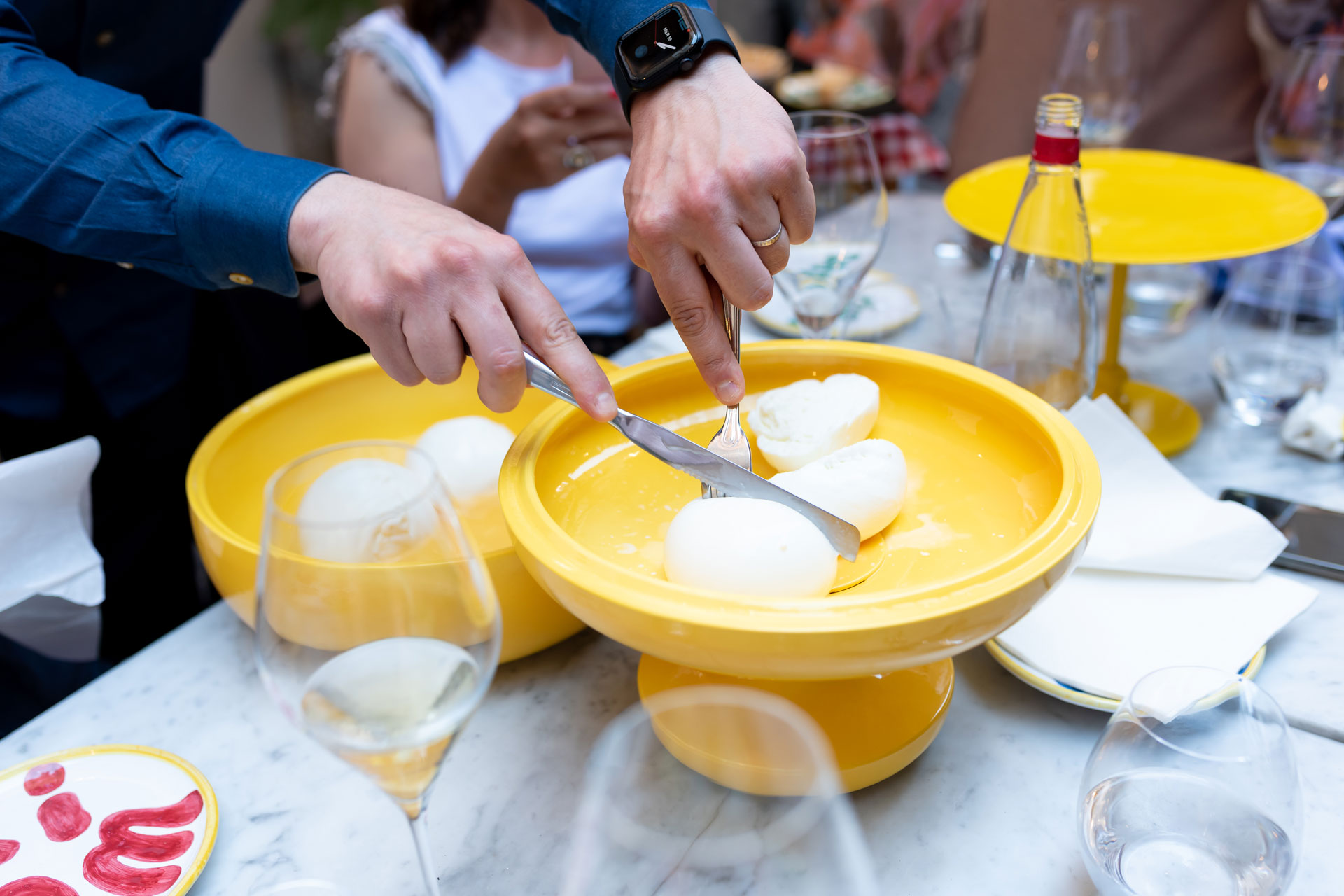 The porcelain PYXIS
Stuffed full of pizza, we then dive deeper into the PYXIS dish's creation – commissioned by Eleit from Neapolitan architect Raffaella Del Giudice and made by historic ceramics factory Real Fabbrica di Capodimonte which nestles in a gloriously cool and quiet wooded park north of the centre. A long walk through dappled paths bringing us to probably the most extraordinary high school you will visit. This is the Real Fabbrica di Capodimonte, a historic institute and working school dedicated to the high Neapolitan art of decorative porcelain. Established by King Charles of Bourbon in 1743, the Royal Ceramics Factory is now home to both master ceramicists as well as teenage students. The tour through various workshops and schoolrooms, watching students doing the mesmerising work of turning clay into delicate porcelain objects, leads us to the museum which brings the art right up to date with the latest innovations in ceramic making. Here we meet Raffaella, the architect who designed PYXIS as well as the master ceramicists who collaborated in shaping and realising her vision. Raffaella is so quintessentially Neapolitan that she confesses she has just come to us from lunch at her mamma's house and confirms that the shape of PYXIS was inspired by the classical and pre-classical treasures she has grown up with in the city's splendid Archaeological Museum – as well as her own passion for mozzarella of course.
The elixir of olive oil
As well as mozzarella, this region has an abundance of olive trees from which the 'green gold' – olive oil – is produced. The importance of olive oil in Italian life, cuisine and culture cannot be underestimated and is the animating spirit of the 'Famiglia Oliva' objects commissioned by Eleit and exclusively offered by DLISH in its eponymous gift box. The three objects that make up the set are beautiful pieces in their own right, delicately fashioned from copper and bronze, developed by designer Astrid Luglio in collaboration with Mariella Caputo, Campania's first female sommelier and olive oil master, and handmade in by the artisans in the city.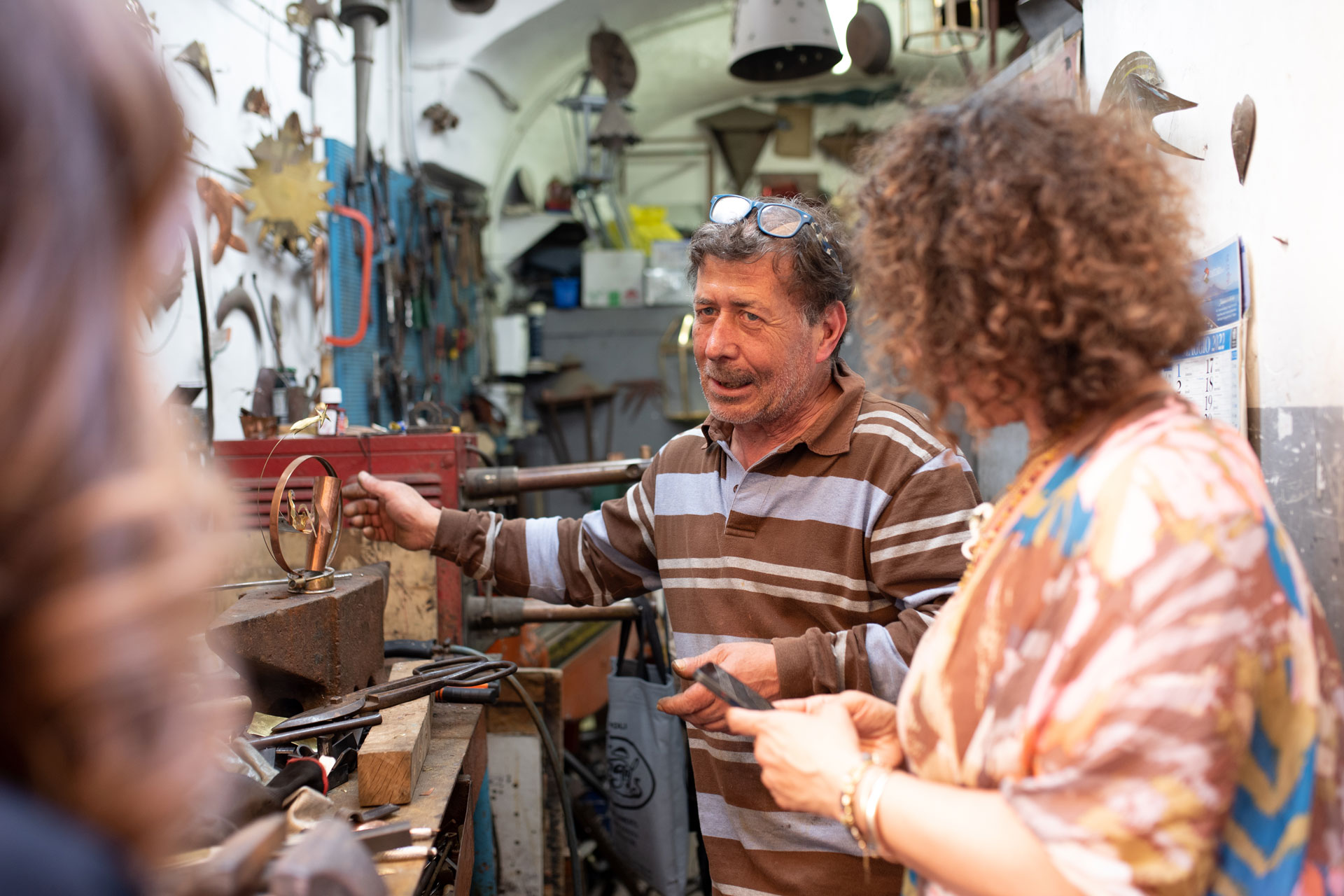 The tour takes us to on Rua Catalana to meet these artisans. Like so much of Naples, this street represents an unbroken line through 700 years of history, dating back to 1343 when Queen Joanna I of Anjou granted Catalan metalworkers their own road in an effort to boost trade in the Kingdom of Naples. There are now only a small handful of artisans still working here, but what they lack in number they certainly make up for in passion. Passing workshops open to the street, stuffed with tools and sheets of copper and bronze and pictures of the city's most famous export, Sophia Loren, it is easy to imagine you have stepped away from 21st-century, your steps accompanied by the sounds of the hammering on metal. We meet the team of artisans whose job it was to fashion the fine sheets of precious metals into these beautiful objects – each of the three pieces that make up the set have a particular function in the selection, use and consumption of olive oil – and to explain with great humour the trials and tribulations of persuading metal into delicate yet tensile shapes.
As Naples clamours around us, we eventually leave the craftsmen of Rua Catalan, and step back into the enveloping noise of the city. Seeing Naples through the prism of these objects has opened the city up in a way that has illuminated and enriched our stay. And as Mona, founder of DLISH points out, these projects are about true sustainability. 'Sustainability is much more than just recycling your plastic or glass,' she says, 'it is about supporting a forgotten community of artisans who are using traditional know-how and local resources to preserve quality and authenticity.'
To find out more about the tour, visit dlish.us
To order a gift box: dlish.us
To see Eleit's other projects: eleit.it
Kamin Mohammadi is author of Bella Figura, How to Live, Love and Eat the Italian Way