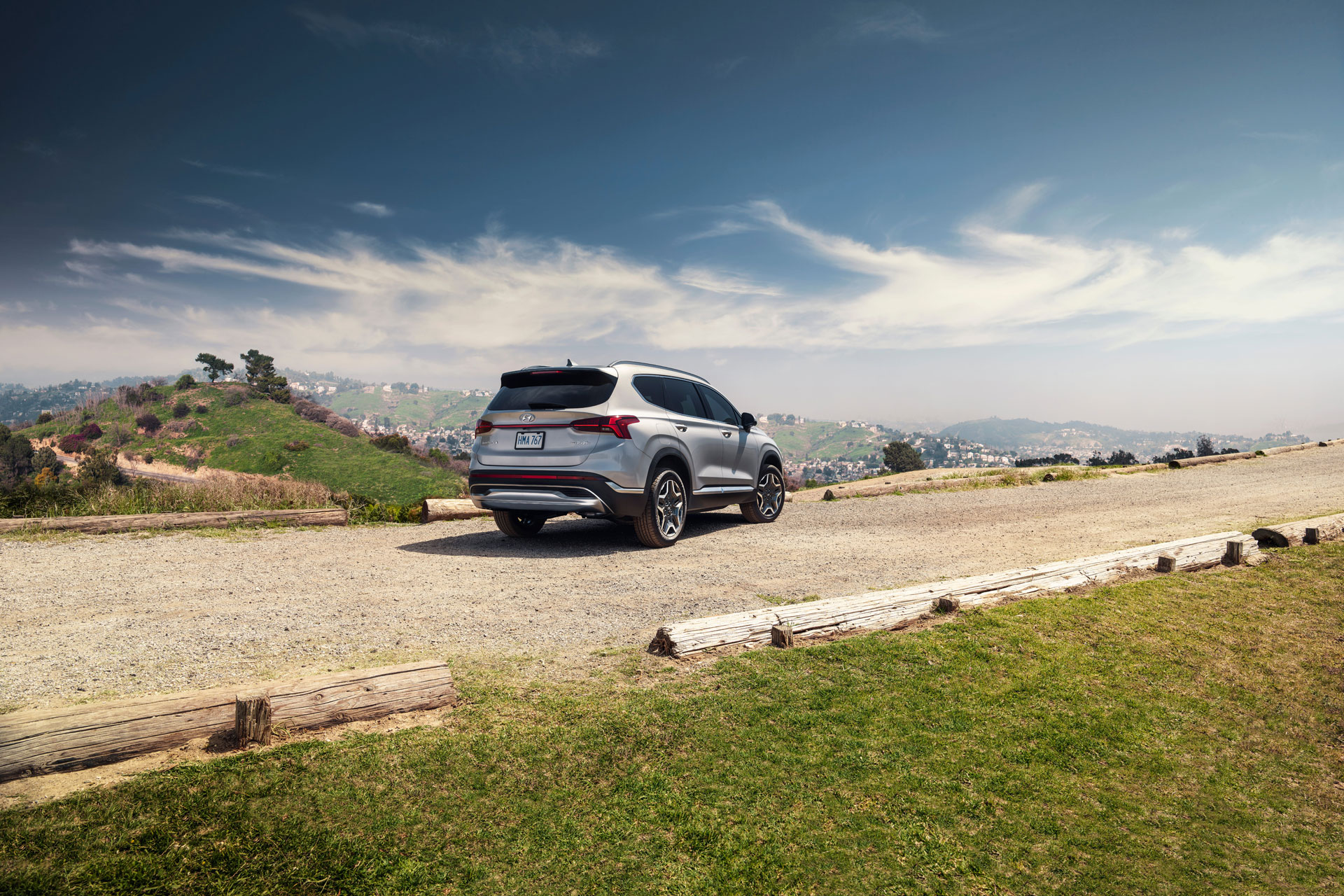 Hyundai Santa Fe Plug-in Hybrid — The Green Lane
---
'Cheap and very cheerful'
Motoring editor Jeremy Taylor and sustainable fashion expert Jessica Saunders drive the Swiss Army knife of cars, the Hyundai Santa Fe Plug-in Hybrid 
The Green Lane: Hyundai Review
JS – Not another SUV?
JT – Afraid so! Hyundai has always been a bargain brand but the Santa Fe does look especially good on paper. It's priced to undercut popular, mid-siz SUVs such as the Land Rover Discovery Sport and also larger rivals, like the Volvo XC90 and Audi Q7.
Okay but it's not exactly a looker is it? I mean, I'm all for value-for-money but what would make badge snobs choose this car, even if we are in the middle of a cost of living crisis?
I think you've just answered your own question – families who need a sound, reliable people-mover without a hefty price tag will find the Hyundai package mighty appealing. This is the Korean's company's flagship UK model and with plug-in adaptability, it also offers company car drivers a decent tax break.
The cabin is far swankier that I imagined it would be. Tons of storage, nice leather and trim, plus a big boot that also houses a third row of seats. I like the fact the middle row slides backwards and forwards, depending on where passengers need the extra legroom.
Well, I did say the Santa Fe is the multi-purpose Hyundai. Seven seats, four-wheel drive and plug-in hybrid technology returning 36 miles of battery-only driving – just enough for a city commute.
The Hyundai is certainly huge and while it lacks the kudos of a Land Rover, the smooth ride and practicality is very appealing.
Yes, and just look at the price. It starts at around £41,000, although our much sought-after plug-in hybrid is just under £50,000. Hyundai has no reliability issues and the five-year, unlimited mileage warranty package is first class.
Our car had a 1.6-litre petrol engine and a small, 13.8kWh battery pack for charging at home. Is there a bigger engine? I found the engine a bit 'shouty' under hard acceleration. I guess a big, heavy SUV and a relatively small engine means there has to be a few compromises.
No other engine, unless you fancy an out of fashion diesel? If you want another budget buy, consider the Peugeot 5008, although I'm a big fan of the Kia Sorento.
Cheap and very cheerful with lots of standard kit that would cost an arm and a leg elsewhere, then?
Indeed, just get over the innocuous badge and the Hyundai will serve you well.
Jessica Saunders is Director of Programmes at London College of Fashion, studying for a PhD in sustainable e-textile design.