In light of his latest London exhibition at Mayfair's Halcyon Gallery, Daniella Saunders speaks to pop artist Russell Young about Bowie, Bruce Lee and all things FAME…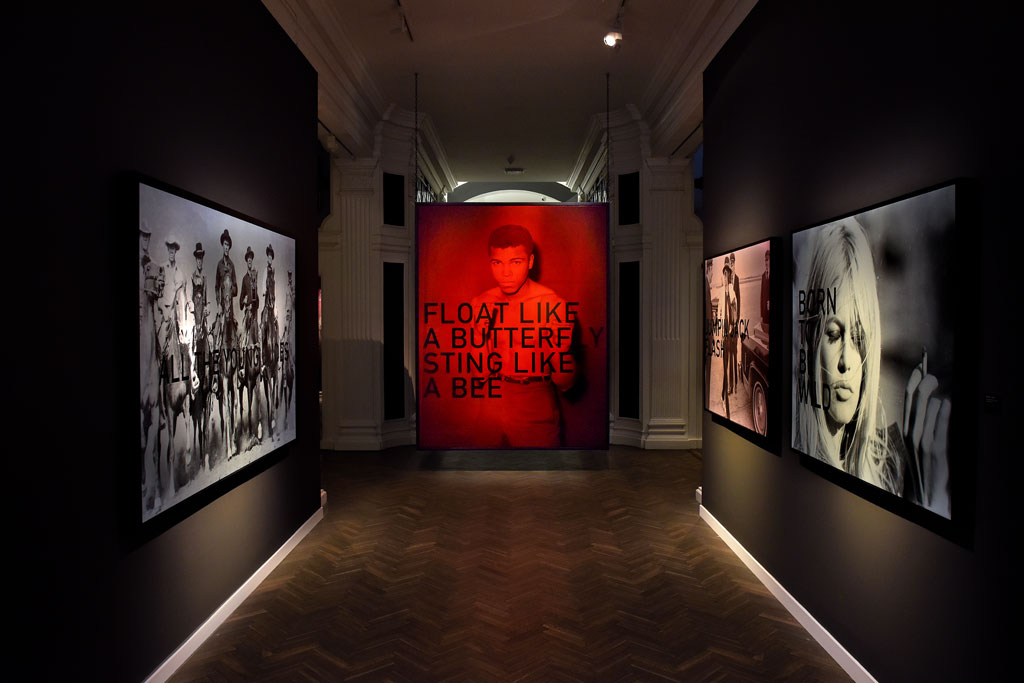 Imagine you're hosting a dinner party and all your idols and inspirations are sat at the table. This is what artist Russell Young likens his latest exhibition to. Taking up residence in Mayfair's lavish Halcyon Gallery, FAME comprises a dazzling display of the British-American creative's 20th Century heroes and heroines, from Marilyn to Moss – those who have transcended their trajectories, influencing the generations that have followed.
Bold, glamourous, and at times mildly controversial – note a Marilyn painting provocatively hung next to one of Kennedy – FAME speaks volumes about Young's fascination with undying stardom and the American Dream. A collection of imposing Warhol-esque hand pulled screen prints, (Young in fact uses the press formerly wielded by Warhol himself), every piece tells a story, some enhanced with scintillating diamond dust – also taken from one of Warhol's tins of paint – creating a sculptural and tangible feel. Others are layered with meaningful words of poetry or song; a large-scale print of Muhammed Ali reads 'float like a butterfly sting like a bee'.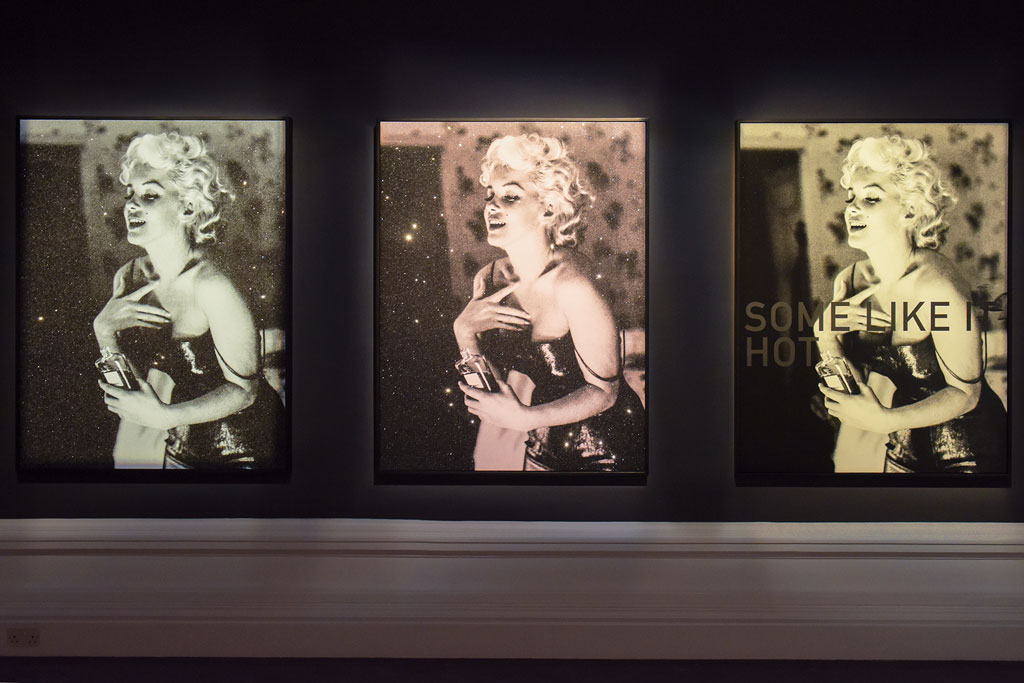 Young lives and works in California, a beautiful beach cottage just 80 miles north of LA (rumoured to be the home in which JFK and Marilyn had their liaisons). He surfs, keeps bees, has a vineyard, two vegetable gardens and about 200 organic trees, and he never calls his art 'work'; a life far from the one he had growing up in the north of England, where popular culture offered an antidote to small-town bleakness and mundanity. No more is Young's enchantment with the romance and glamour of the 20th Century 'golden era' more evident than in FAME.
Review: Andy Warhol at the Tate Modern
Formerly a photographer – with credentials including photographing Bruce Springsteen, Bob Dylan and the sleeve for George Michael's Faith – Young has shot for countless icons, even that of Barack Obama. But, a painter at heart – 'I went through this wonderful career as a photographer and music video director, but this three year old kid always wanted to be an artist' – FAME combines Young's love and aptitude for both; a perfect amalgamation of iconic and historic moments transformed and elevated with his personal and artistic touch.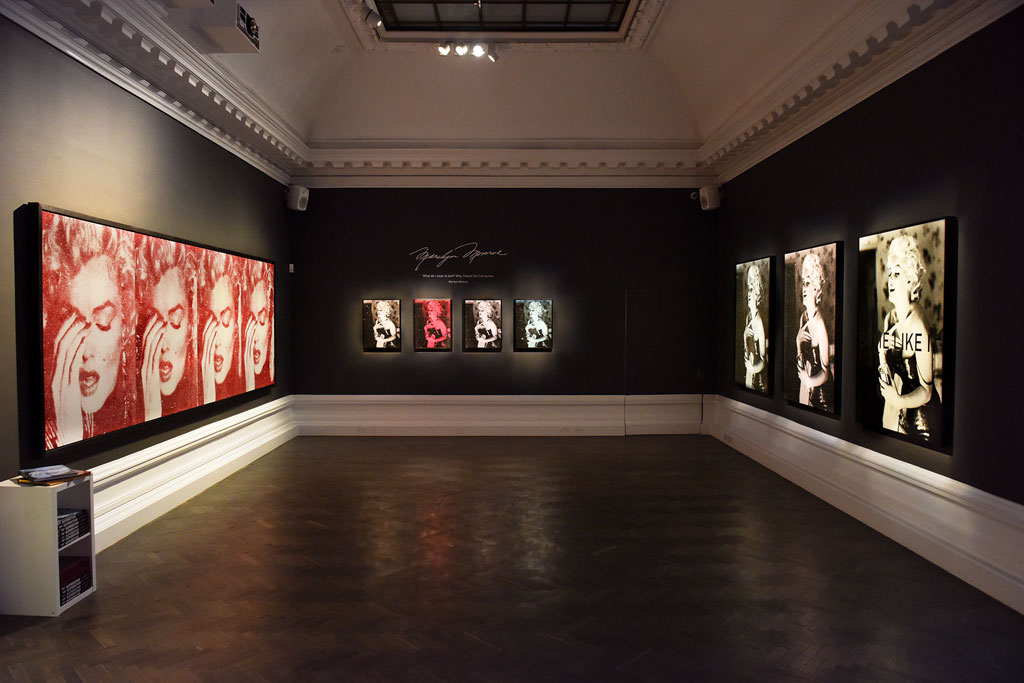 Here, the accomplished artist guides us through some of his exhibition highlights, from a Bowie suffused 'Man on the Moon' to Marilyn with her Chanel N°5…
Tell us about your latest exhibition, FAME…
In a sense, these are my heroes and heroines. I stopped listening to the news over two years ago. I was sick of the news cycle and actually quite unhappy and concerned. I have three children and I was thinking, what world have I brought them into? So I cut myself off from everything. I've always worked with American counterculture, so I decided to drop something optimistic on the world, something that was just purely about my heroes.
I knew I wanted David Bowie in this series and 'Fame' is a song of Bowie's. So I searched everywhere and then finally, I found a man who lives in London called Jeff McCormack who was Bowie's friend at school. Bowie said to him 'do you want to be in the band?', so he played bongos in The Spiders from Mars. Then when Bowie went on tour for three years, Jeff went along and played the bongos and took photographs. He said, 'suppose your best friend goes around the world and then suppose you took a camera' – these are really great, intimate moments.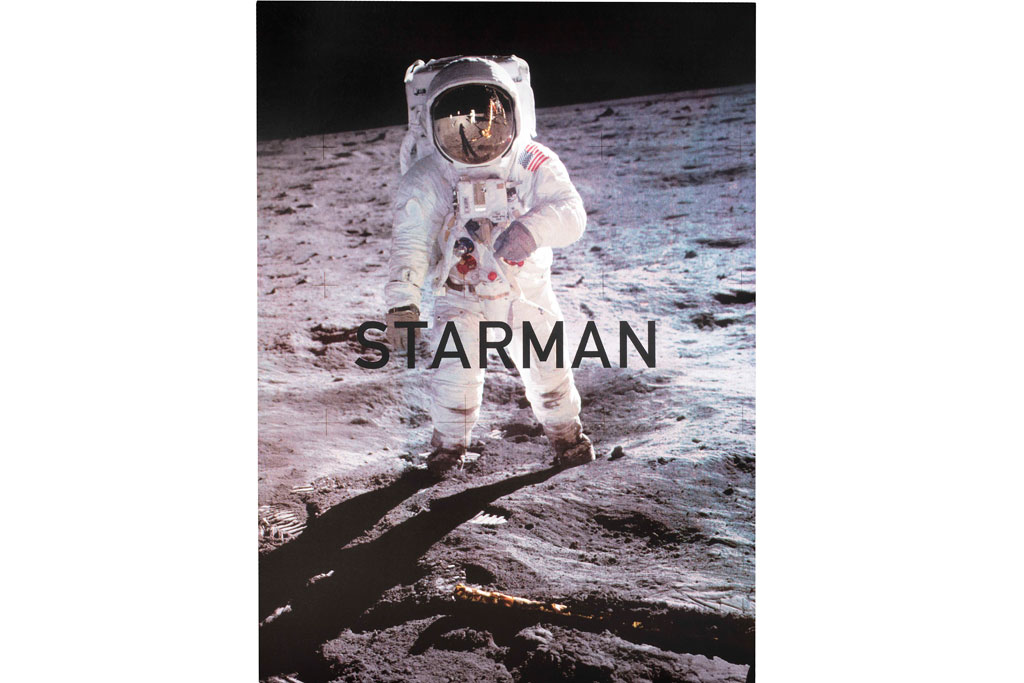 This is 1969 Man on the Moon and it's just such a pivotal moment in my life. As a kid, I remember my whole school coming over because we had a television (I presume it was in colour because my dad was in electronics), and I'm cheekily playing with Bowie's 'Starman'.
The Best Art Exhibitions in London
The text paintings to me – like the diamond dust I use – adds this other layer. It's a veil of secrecy but has this beautiful reflecting three dimensional quality, so as I wanted that layer on my screen prints, I knew I wanted to bring some words, some poetry to FAME. It's just beautiful the way they resonate.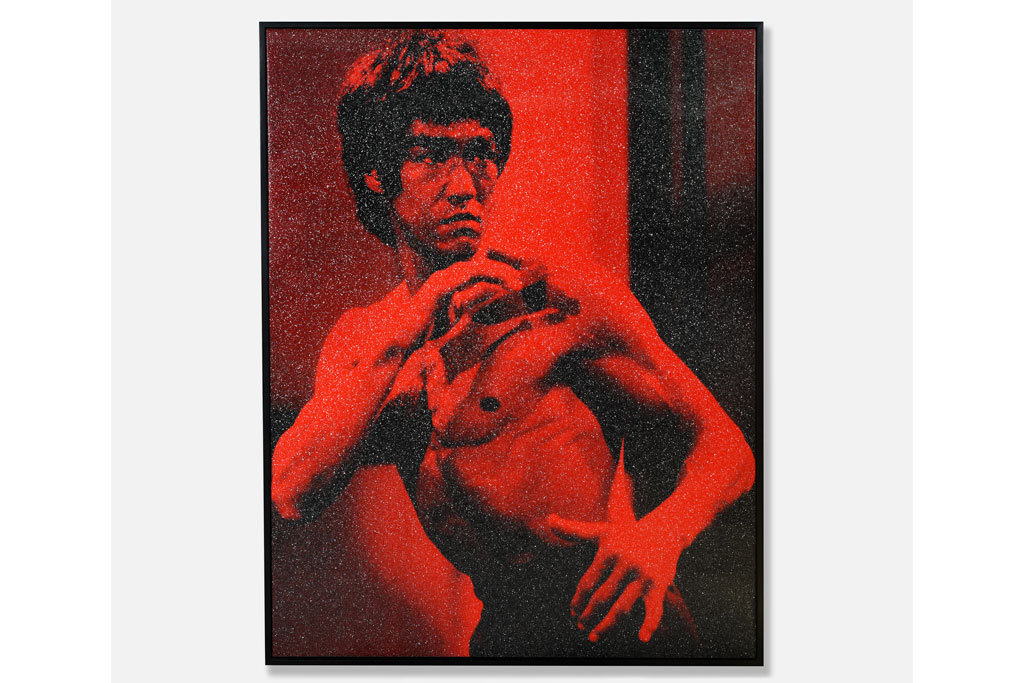 What draws you to a particular photograph?
I just love the intensity, the focus. This is Bruce Lee, who, as a kid, my dad would sneak me into X-rated movies to watch. So these characters were introduced to me really by my father. I also had a record player from the age of four or five and so I would listen to music, and that's where I was introduced to bands like The Rolling Stones. It's just movies, TV and popular culture, but these started to become my heroes and heroines.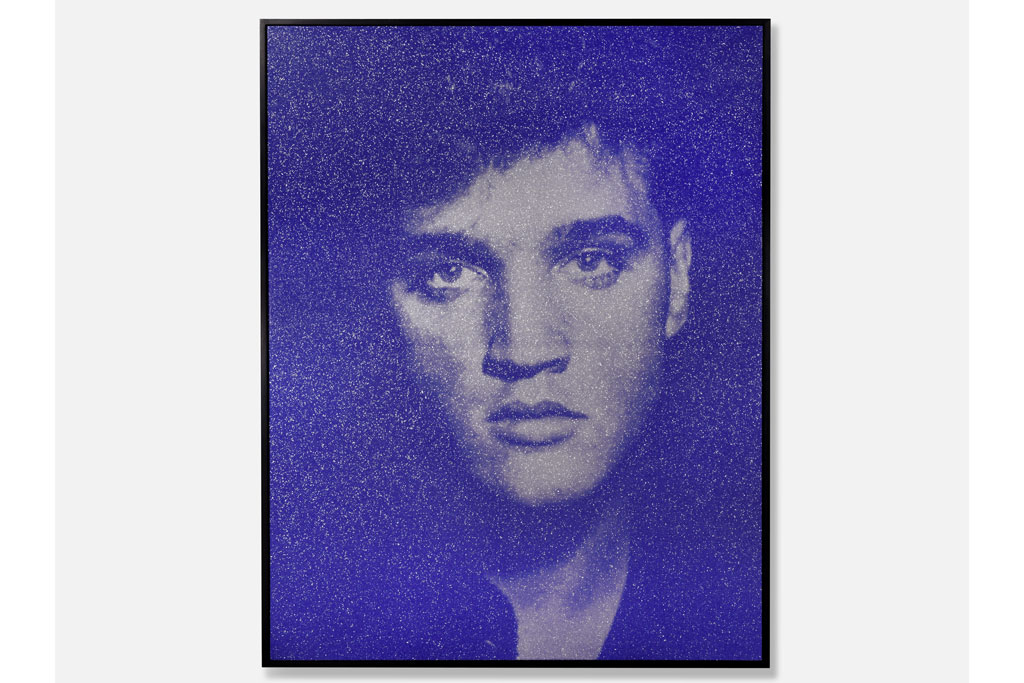 This one I adore which is a very young Elvis. I mean, he's like a puppy dog. It's the vulnerability before this career – I've always been interested in that fame-shame sort of duality.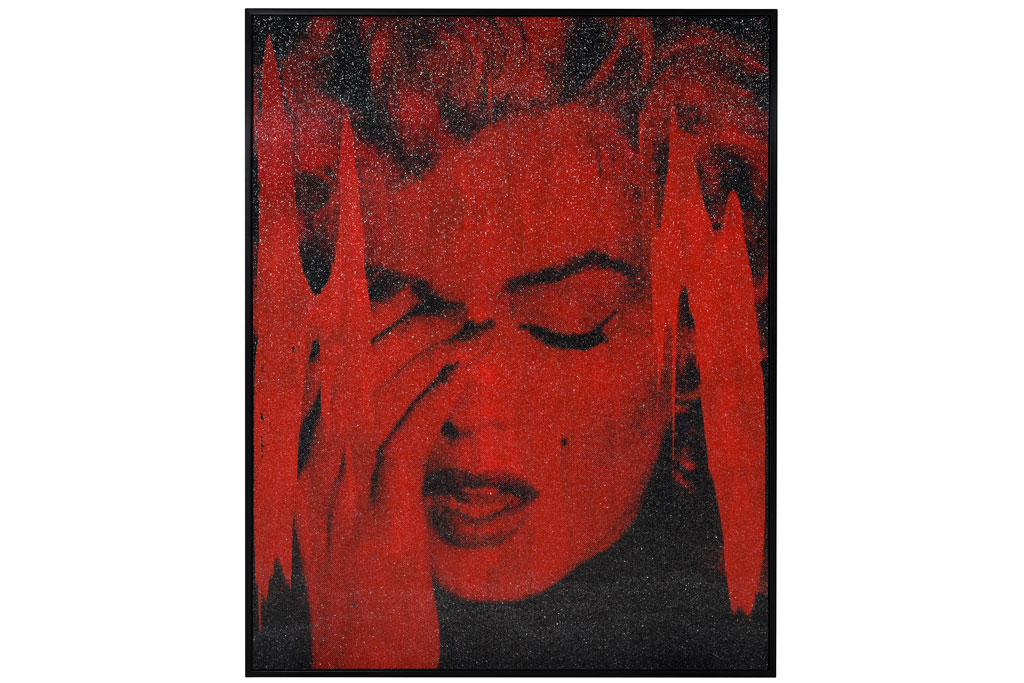 This is Marilyn crying and this is, like the Bruce Lee, four repetitive screens – it's just got this energy to it. There's life, there's depth and it's got this fiery red which is named after my middle child, who is also very fiery; it's called Cash Red.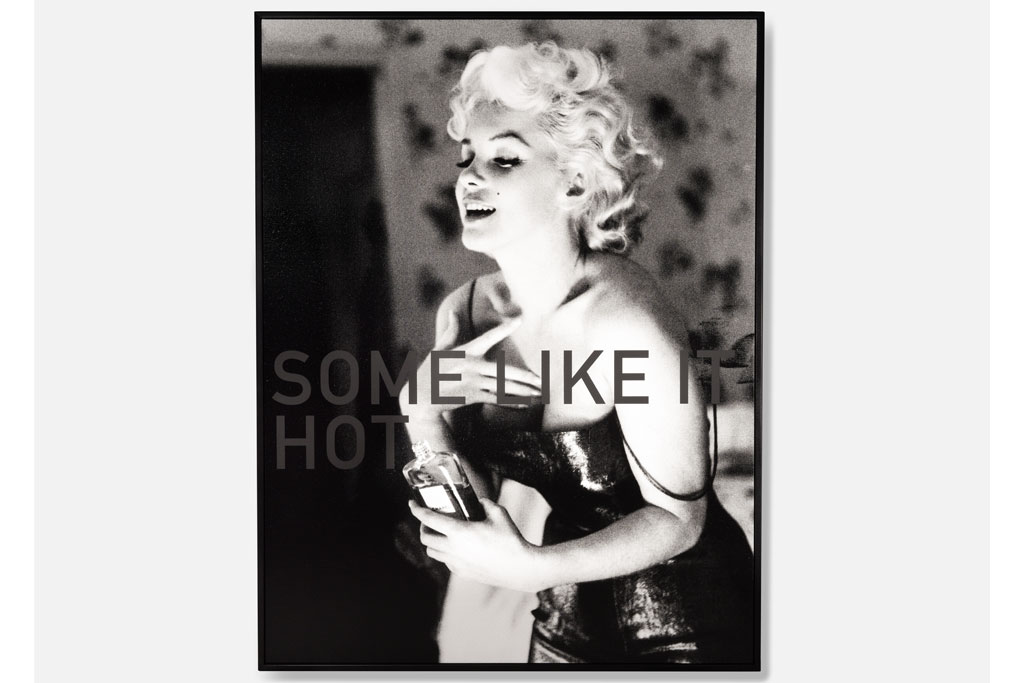 I knew that I wanted to bring a new Marilyn to this exhibition. It wouldn't have been complete without her and her status as an icon just seems to grow and grow. I looked at maybe 5000 images before I decided on this one. I was three when she died so it's amazing that she's resonated with me all these years, but I just keep falling more and more in love.
Can you explain the process behind your paints and backgrounds?
I hand paint every background. For example, the Bruce Lee has five colours on it, two different silvers and three different golds. I just like to give it this energy. I go round the whole world finding pigments. I was in Hawaii a few years ago with my three children and on the North Shore there's the Grand Canyon of Hawaii. We were driving along and I saw this thin vein of beautiful red. So I climbed up, got my sweater, and came down with all this stuff. We pounded it down in a pestle and mortar, got some linseed oil and some other elements and made some paint, which I then brought back.
I'm always searching and making my own paints. And I quite often paint the colours deliberately in California where my studio is because of the light. It's so strong that your pupils dilate, so you're always adding more pigment, more colour.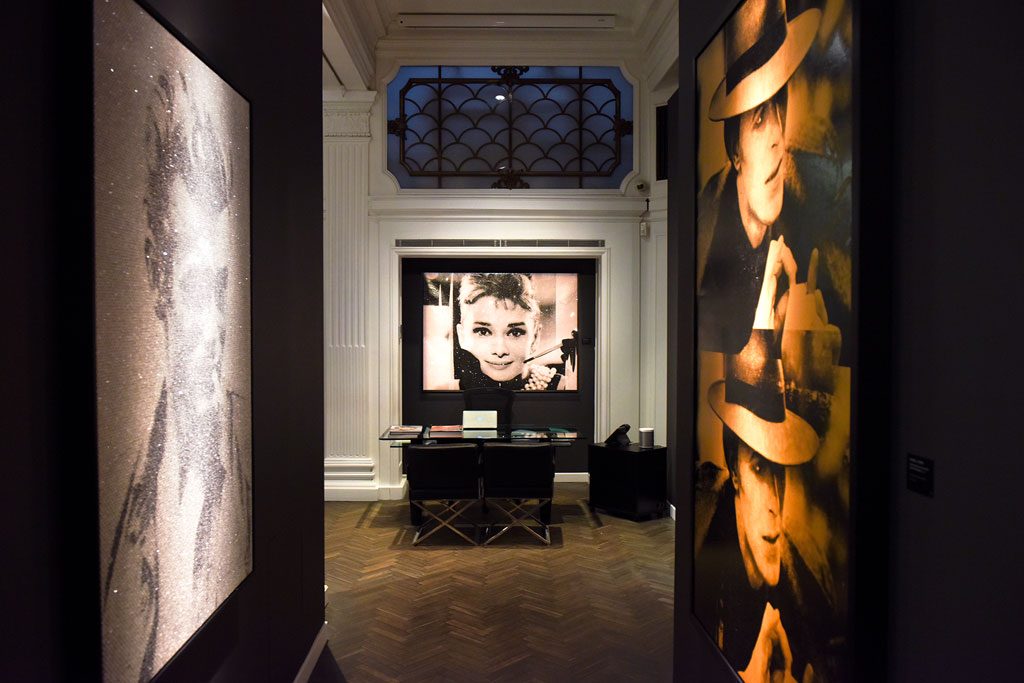 What drew you to painting and becoming an artist?
I knew when I was nine years old and fought hard to take the art path, though everybody was like, 'you can't be an artist'. And I went through this wonderful career as a photographer, a music video director, but this kid always wanted to be an artist, so when I was a little older I went off to Italy to meditate. I'd never meditated before or since. I sat on a mountain in Tuscany and decided this is what I'm going to do for the rest of my life. I came back and never directed a music video again.
See Russell Young's FAME now, open until 30 April at the Halcyon Gallery, New Bond Street.
The Best Restaurants in London for Art Lovers / The Must-See Fashion Exhibitions of 2020
---