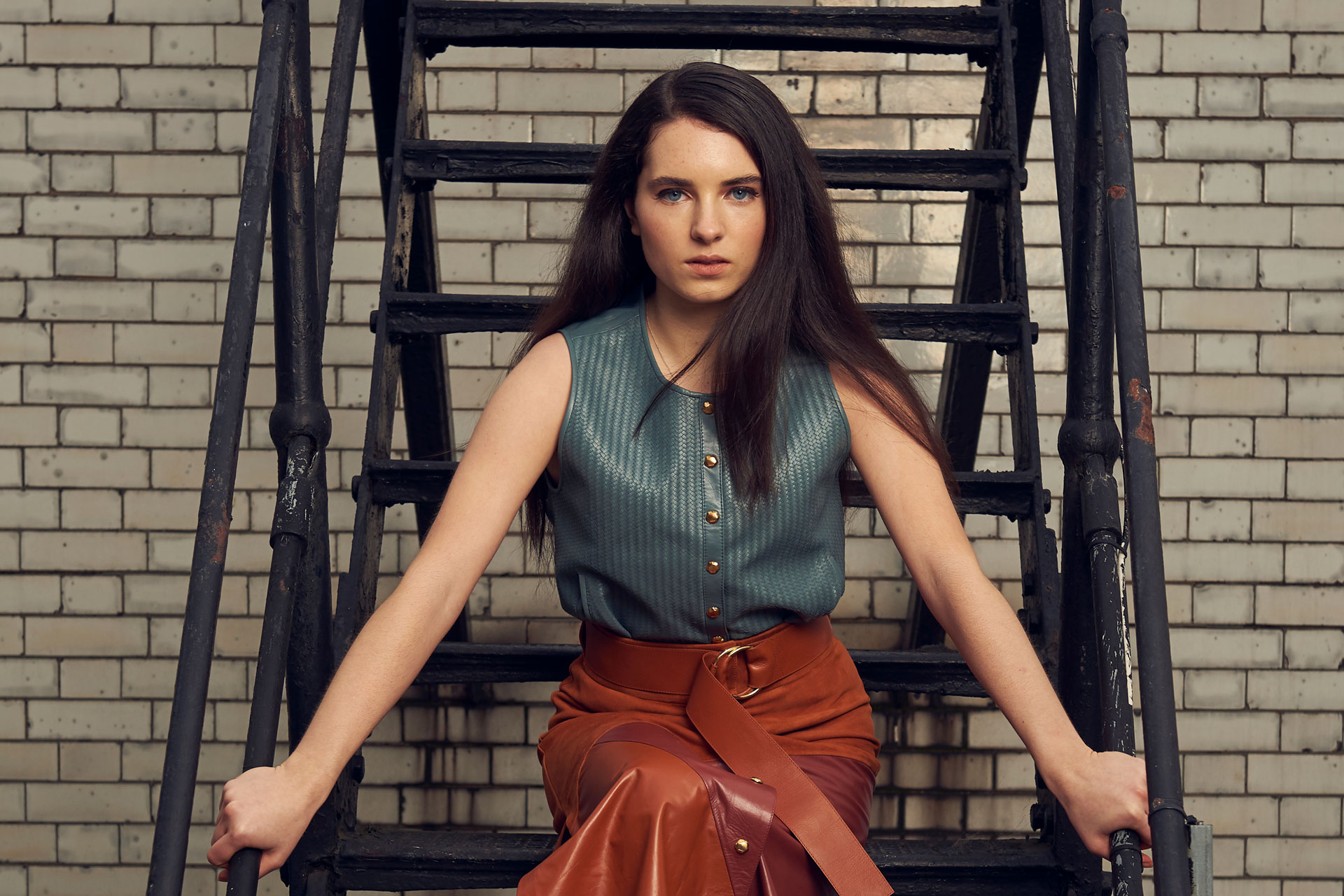 Interview with The Irregulars' Darci Shaw
---
18-year-old Darci Shaw on Netflix's much-anticipated new show
Taking on a name as big as Judy Garland is no mean feat – particularly when you're just 16, and it's your first acting role. Yet Liverpool-born Darci Shaw pulled off playing a young Judy in Rupert Goold's 2019 biopic with flying colours. 'It was a huge privilege to play such a timeless icon,' she says. 'To tell her story gave me a feeling of great responsibility and pride.'
Shortly after Judy came out, Shaw went on to play Holly Meredith in Morecambe-based ITV crime drama The Bay alongside Morven Christie and Chanel Cresswell. But it's her latest venture, new Netflix show The Irregulars, that really allows Shaw to shine.
The eight-part series is a twist on the classic tale of Sherlock Holmes, set in a dystopian version of Victorian London. Shaw, now 18, stars as Jessie, part of a group of teens who are manipulated into solving crimes for the sinister Doctor Watson (Royce Pierreson) and Sherlock Holmes (Henry Lloyd-Hughes). When a dark power begins to emerge, it's up to the Baker Street Irregulars to save London. Here we chat to Shaw about the series, her experience of leaving school and what she has learnt in lockdown.
Q&A with Darci Shaw
What can you tell us about The Irregulars?
The Irregulars follows a group of teenagers, hardened by living on the streets of London, who are approached by the elusive Dr. Watson and presented with a business proposal. They are enlisted to help investigate a case for him and his enigmatic business partner Mr. Sherlock Homes. There are strange and sinister things happening in London: missing babies, birds viciously attacking people, someone savagely stealing peoples teeth. The Irregulars need money desperately so they agree to help him – but soon realise that they are completely out of their depth and there is a bigger force at play.
Favourite person on the set of The Irregulars and why?
I would definitely say the coffee truck barista. I couldn't have gotten through some of the days without a good caffeine hit and the coffee itself was really good too – he was a sort of superhero on set. He saved a lot of people from the dark depths of exhaustion.
Role you'd cut your right arm off to get?
A period piece with amazing costume, musical numbers, horses and filming somewhere scenic and warm. If you hear someone making that movie, give me call.
What demands do you have on set?
Hot water bottles! I went as far as bringing my own mini travel kettle and hot water bottle for when I was in the makeup chair. I am obsessed.
Director you'd most like to work with and why?
I would love to work with Autumn de Wilde. I fell in love with her film Emma when I first saw it in cinemas – it's beautiful and comical. The cast was brilliant too, I am a big fan of Anya Taylor-Joy and Johnny Flynn.
Film you think everyone in the world should see?
There is a film called Sing Street which follows a young musician in Dublin during the 80s. It has songs from the 80s, it's funny, it's very character driven, it's brilliant.
Three books you'd take to a desert island and why?
A book from the collection of A Series of Unfortunate Events by Lemony Snicket – they were by favourite childhood books. Rebecca by Daphne Du Maurier so I could dream about living at Manderley, and lastly Anne of Green Gables by L.M. Montgomery. Who wouldn't want to be taken in and loved by Matthew and Marilla?
The most challenging moment of your life?
Probably deciding to leave school. There was a period of time where I felt I was never going to work again but this is definitely not an experience exclusive to me – I know most actors have seriously questioned themselves at some point in their career, it comes with the territory.
How can we all live a little bit better?
More dogs. Less plastic.
Any life hacks you've learnt in lockdown that you can share?
How to sit on the couch all day watching RuPaul's Drag Race and not feel an inch of guilt about it.
What's your interior design style?
Right now, I love the modern Victorian style – high ceilings, deep, rich colours and velvet, ornate furnishings. This may or may not be because I spent a year of my life playing a Victorian character – but I have always loved the idea of owning a townhouse with big windows and multiple storeys.
Are you conscious of what you put in your body?
In short, yes. I eat rather healthily and I make an effort to look after myself. Like so many others, exercising – especially outdoors – has benefitted my mental health a lot over the past few months. Staying fit makes a huge difference when filming too; stamina is important. But so is eating French patisserie cakes when you feel the urge…
What is your current beauty regime?
I prioritise skincare over makeup. Washing my face, moisturising and using SPF when the sun is out. I sport a fresh face most days – I like to let my skin breathe.
What are your indulgences?
Probably binge-watching TV shows – I completed the whole of Game of Thrones in the first lockdown.
What would your best friend say about you?
I actually had to ask my best friend to answer this. Apparently I'm kind, have a great taste in fruit and am a secret Powerpuff girl.
How do you relax?
Snuggling my dog, blankets, hot baths, reading or doing some kind of arts and crafts.
Are you a rule breaker or a rule taker?
I think both. I was never rebellious as a kid but now, if something isn't right, I don't have a problem with standing my ground and speaking up.
The Irregulars launches on Netflix on 26 March. Main image: Bertie Watson.
READ MORE:
Interview with Line of Duty's Shalom Brune-Franklin / What To Watch This Week