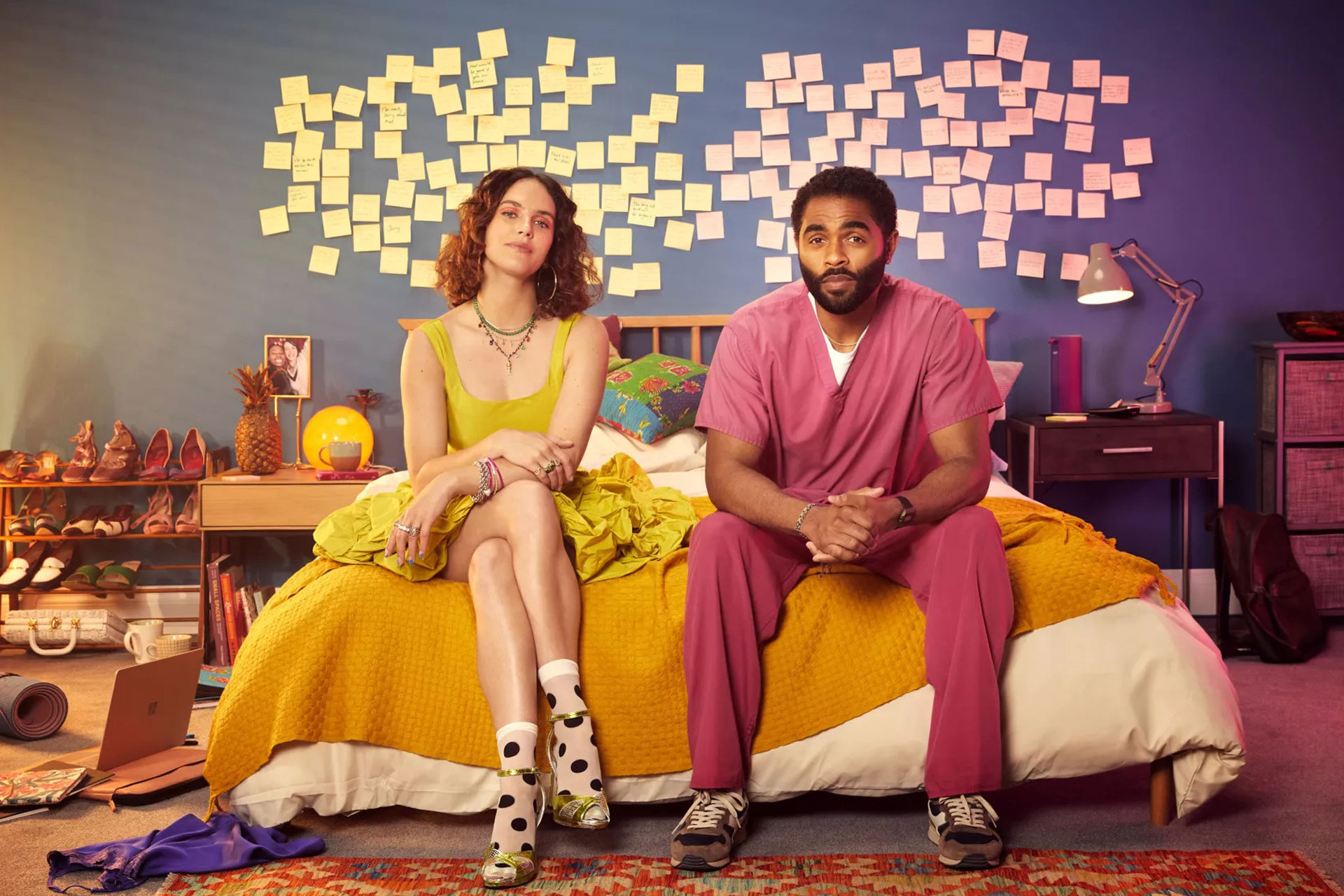 An Interview with Jessica Brown Findlay, ahead of The Flatshare
The Paramount+ show is coming on the 1st of December
Downton's Jessica Brown Findlay is binge watching the Kardashians. She chats to us about her new project, The Flatshare, coming to Paramount+. 
The Flatshare is based on the Beth O'Leary book of the same name, and follows two twenty-something year olds, Tiff and Leon, living on completely opposite schedules. So opposite, in fact, that they share a one-bedroom flat. While Leon works nights, Tiff has the bed and the space – and vice versa – never quite meeting. And yet, little by little, they realise that they might just be more than roommates. Tiff is played by Jessica Brown Findlay while Anthony Welsh will play Leon.
Interview with Jessica Brown Findlay
Tell us about The Flatshare – what can we expect?
The return of the Rom-Com meets the London rental market.
What about any flatshares you've lived in?
I once rented the living room of a place. So, it was mine after ten. But before then it was a waiting game for other flatmates to leave.
Why do you think the show will resonate with people?
I think it speaks to the relentlessness of cities… How you can feel swallowed up by them and generationally how hard it is to gain stability. 
And any funny on-set stories?
Yes… The very first day of rehearsals I thought they had put things out for breakfast and made myself a bowl of cereal. But then, after about an hour, I realised that it was part of set and kindly provided by our props department! I basically walked in and started eating the scenery!? It broke the ice and Anthony and I and our director Pete found it very, very funny. 
Now, quick-fire:
I'm tuning into… Bad Sisters and Minx. 
What I'm reading… Sorrow and Bliss by Meg Mason (Orion, £8.99). 
The last thing I watched was… Lena Dunham's Catherine Called Birdy. Wow. 
What I'm most looking forward to seeing… My husband's face when he becomes a father. 
Favourite painting… Combing the Hair by Degas is a favourite that I always go to find at the National Gallery – I also love Far from the Beaten Path by Dan Hollings. 
Favourite film of all time… It depends what time of year it is, right now it's back to When Harry Met Sally. The ultimate autumn movie. 
Band/singer I always have on repeat… Laura Marling and Neil Young.
My ultimate cultural recommendation… Walk everywhere, you might stumble upon a diamond of a spot. Hidden gallery, tiny restaurant, a quiet square, music. Or an old friend. 
Cultural guilty pleasure… The Kardashians, Love Island, re-runs of The Hills, any reality TV. I love it! 
What's next for me is… A spot of child labour, then I'm going back to the First World War – and learning how to play football.
The Flatshare comes to Paramount+ on 1 December. paramountplus.com