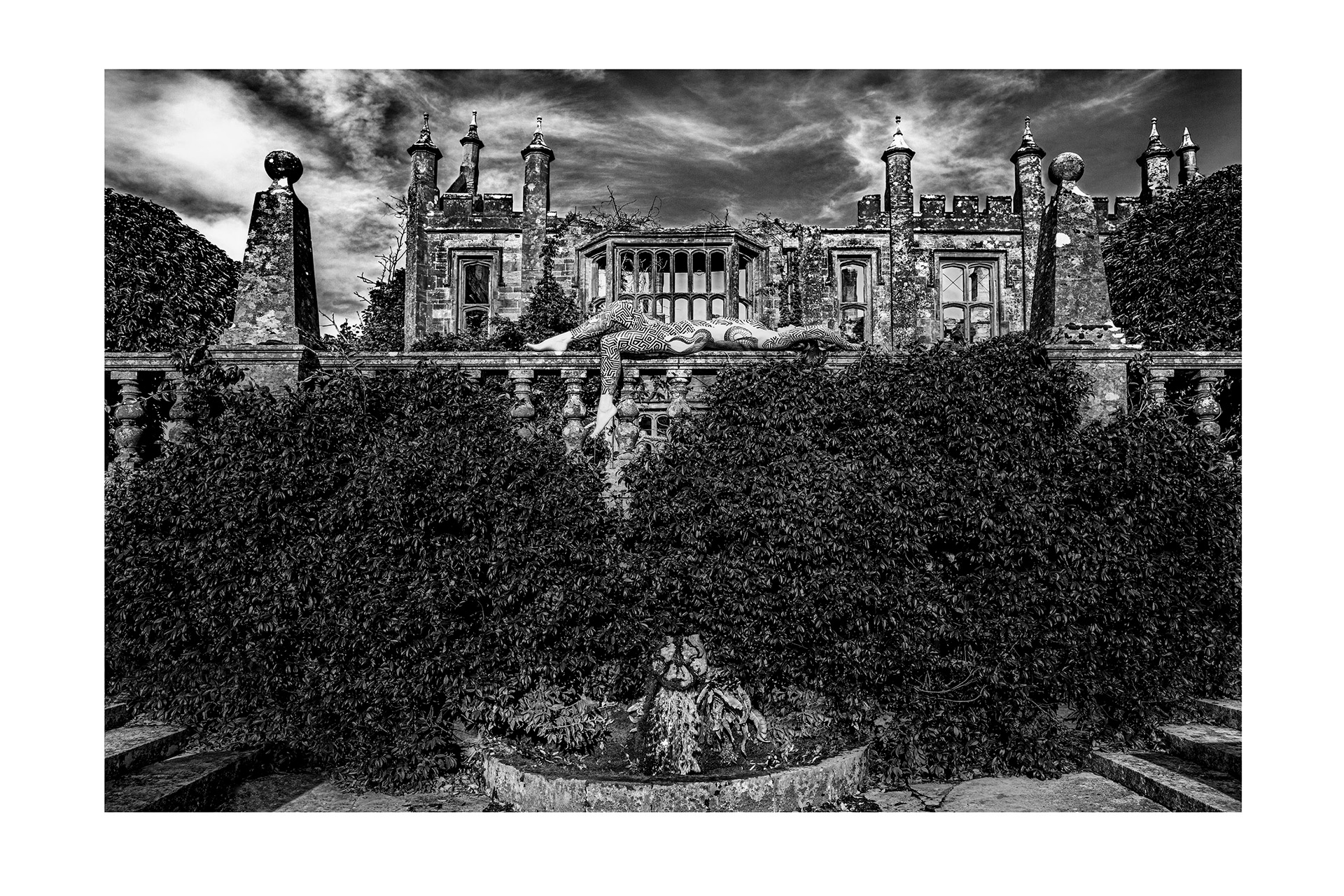 Lines of the Firebird: Inside The Photography & Poetry Project Exploring The Renaissance of Female Power
How a Dorset country estate played host to an extraordinary creative collaboration in homage to female power
By Cavan Mahony | 2 weeks ago
James and Sophie Perkins purchased Parnham House after it was all but destroyed by a fire in 2017, and they are painstakingly restoring the manor to its original glory. It will soon be renewed and revived, breathing new life into the house as well as adding another dimension to Dorset, with additions of a restaurant and accommodations open to the public. Cavan Mahony offers a behind-the-scenes-look at the photography and poetry project Lines of the Firebird, which was created using the property and its grounds as a backdrop.
Lines of the Firebird: The Photography & Poetry Project Exploring The Renaissance of Female Power
View this post on Instagram
The formidable wooden gates to the 16th-century property Parnham Park in Dorset swing open, allowing us to proceed down a long and winding drive, passing a mythical gathering of magical white hart stags to the left of the drive. 
Co-owner James Perkins is there to greet us and pleased to show us his vision for the restoration of this magnificent home and surrounding lands. As the host of the location of our photography and poetry project, he is intrigued by what is about to unfold.
There is a spark of apprehension in the air as we wait for our muse and model, Stephanie Bolam. Photographer Maryam Eisler, poet thomas Paul and I, as creative director, have come together to create something from nothing, and, as with all creative endeavours, the finished product could exceed our expectations or be underwhelming at best. I later hear from Stephanie that she stopped outside the gates of Parnham House to consider whether to turn back as she had never been photographed in a project of this nature before. 
Stephanie is fully into extreme sports – climbing and skiing, for starters, plus racing motorbikes (she is one of the few women in the UK to do so). She also has a full body tattoo: in her early twenties she had her back tattooed with the image of a dead geisha with a gun and helicopters flying over, having been drawn to this powerful image from her time spent in the army. Later. Stephanie worked with British artist Tomas Tomas on tattooing her full body suit. It took four years to complete using a specialised 3dot method. 
The photo shoot begins in James' office, which is full of eclectic objects collected over years, from taxidermy and a wooden mannequin to vintage lamps and even a MI6 Bond-style vintage red telephone. Within moments of shooting, it is obvious Maryam and Stephanie share an affinity and they work together harmoniously.
Maryam has dedicated much of her subject matter to the muse through the female gaze. Maryam's focus on the 'Sublime Feminine' is an exploration of her as an artist into sensuality and the female perspective. Parnham House, as a location, is also a natural progression in Maryam's study of the Sublime Feminine as she has been inspired by and photographed several British historical homes with storied walls such as Chillingham Castle and Leighton House.
As the day progresses, Maryam photographs Stephanie against the backdrop of the burnt-out façade of Parnham, as well as elements of the surrounding gardens and lake. In one image, Stephanie appears like a phoenix rising from the ashes. There is a sense something very special is happening before us.  Inspired by this moment, thomas Paul scribbles poem after poem as the preliminary images come through.  
Ultimately, we name the project 'Ignis Avis Lineae' or 'Lines of the Firebird', to represent a study in the deconstruction of archetypal images and expectations of both the setting, a stately manor home, and the muse fully dressed in her permanent warrior like body armour, and as an art form herself. 
'Ignis Avis Lineae' represents the renaissance of female power and beauty against the backdrop of the rebirth of one of the great houses in the West Country. You can check out thomas Paul's poetry below.
Divine
I do not gaze, I reach
Piercing societal archetypal bleach
Breaching suppression, deterioration of type
Your temples, your stone, your tyrannical might
Emergence, Kundalini rising
I am tribe, not hidden by creativity within
Pre-existing patterns, similar sin
Trauma elongating in permanence
Now provocations power to ignite,in vacuums under living skin
Elegance in form, beauties face
To overwhelm, blinding fears and scorn
In images of dreams, in fairytales
I hear your screams, your conversation within
I am sun, I am power, I am love
I am art, I am poetry, I am evolution
I am intellect, I am mother, I am life
I overcome. I am sublime, the divine
I am the feminine
thomas Paul 8.3.23
@thomaspaulpoet
@cavanMahony
@maryameisler