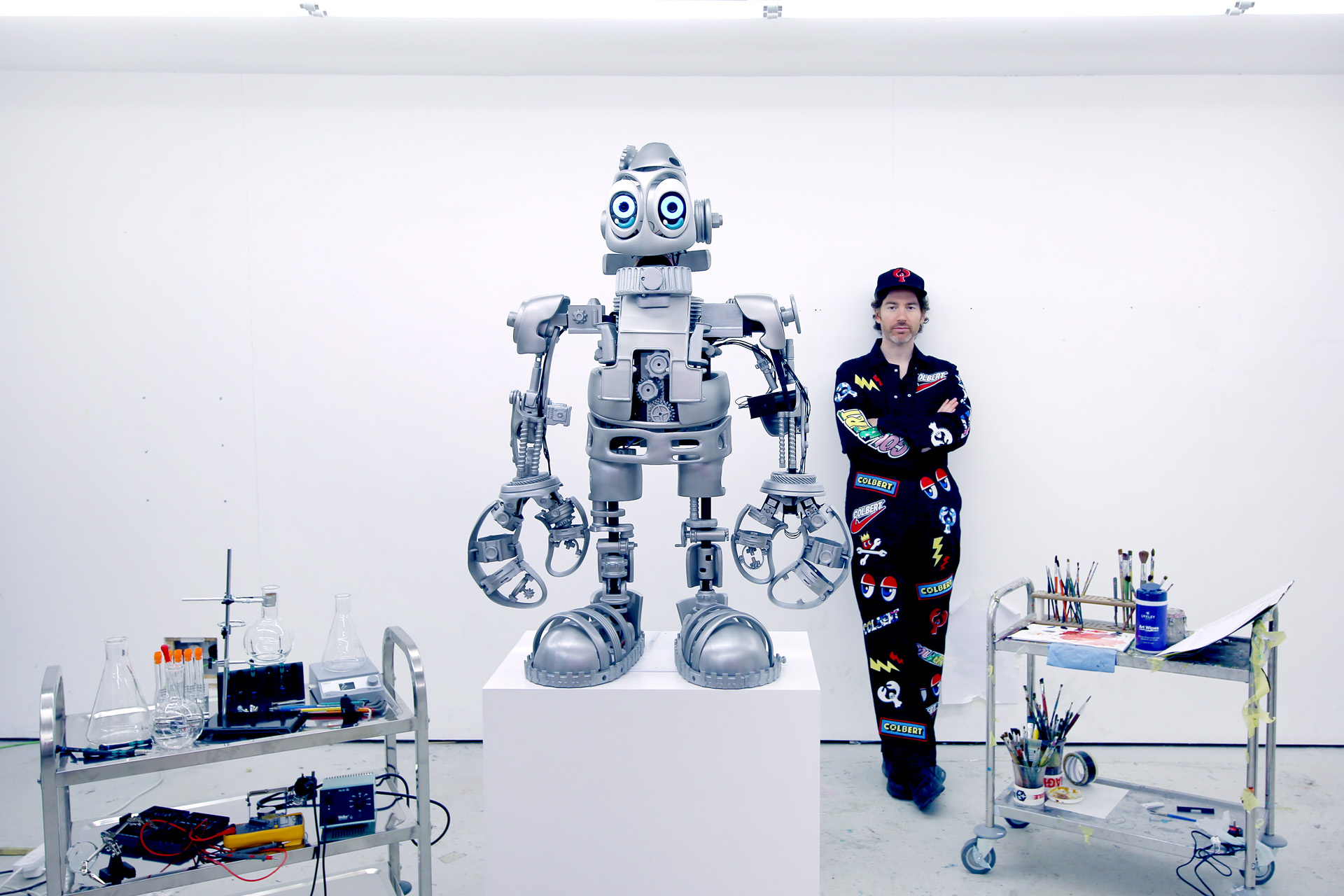 This Robot Produces Digital Art Using Artificial Intelligence
---
Philip Colbert's LobstarBot is on view at Phillips auction house until 14 December
Love wacky art? Philip Colbert sure does. His latest project, the LobstarBot, is currently on display at Phillips' London headquarters in Berkeley Square, bringing a new data-driven dimension to digital art.
Displayed in a window, the LobstarBot is both the performer and the performance, with live production of unique artworks that are purchased via an NFT (the blockchain-based token that has been shaking up the art world this year). Those who purchase the NFT participate with the LobstarBot to produce their own artwork, using a smartphone, tablet or computer to claim it. The process is as follows:
Mint an NFT 

You are then granted access to the Uber Lobstar brain online

Take control of the LobstarBot and generate your own artwork, including the final splash of paint.
All of the art produced will be on display at The LobstarBots' exhibition, expected to be held in 2023, after which holders can claim their physical artwork. The project is the result of Colbert's desire to merge the virtual and physical worlds, collaborating with a curated team of AI experts, robotic practitioners and designers – including University College London's Robotics Lab, which assisted with the completion of the creation of a performative sculptural robot with a developed AI brain.
But how does the LobstarBot produce art? Colbert's work has been fed to the robot through a machine-learning algorithm that generates visual associations as it learns, looking at information like a human being. 
The LobstarBot follows Colbert's Lobsteropolis takeover of the Saatchi Gallery in 2020, wherein Colbert sent a troupe of lobster robots to the gallery, which people could control from their devices at home. Users were able to virtually visit the gallery by activating the robot, then being transported through an odyssey of large-scale paintings, sculptures, projections and videos. 
Referred to by the late Andre Leon Talley as the 'godson of Andy Warhol', Colbert has garnered a cult following with his energetic hyper pop art style, across expansive paintings, sculptures and collectibles exploring contemporary digital culture and its relationship to historical art dialogue.
EXPLORE