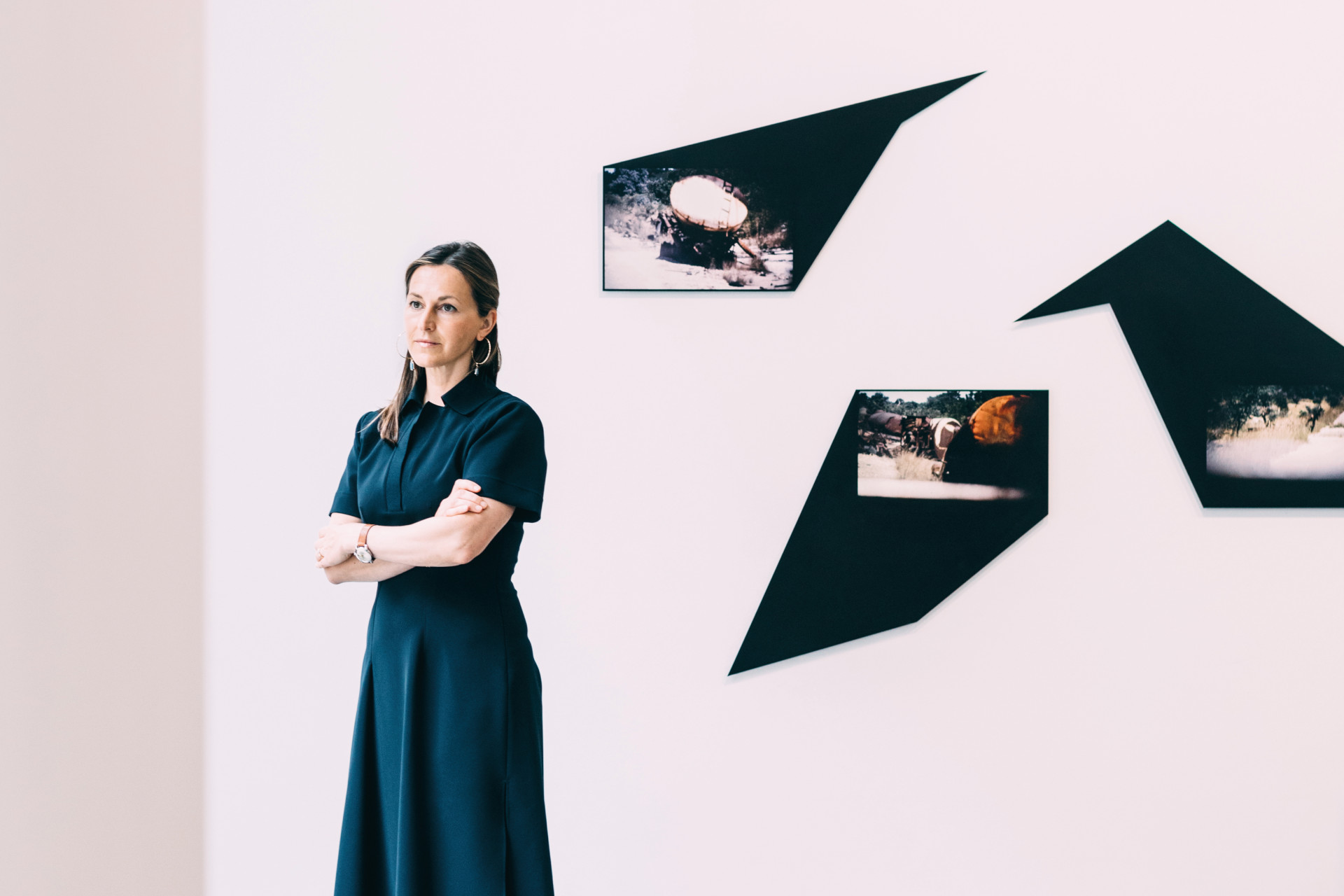 It's Show Time for London's Mayfair Galleries
---
'There's a desire to support the gallery ecology, we all want to see each other succeed'
Mayfair galleries have staged a comeback, with London at the centre of global art, says Fiona McKenzie Johnston.
Sustainable Exhibitions and Art Shows in the UK
It's Show Time for London's Mayfair Galleries
Autumn is traditionally boom time in the London art world, but this year promises something even more uplifting than usual: a programme that bridges the best of what was missed in 2020 together with new sense of zest and global ideals, post-pandemic. September will see Photo London returning in all its beauty to Somerset House, and in October Frieze London and Frieze Masters will again be in full, exhilarating swing in Regent's Park. Alongside all this, London's commercial galleries – including new Frieze venue, no9 Cork Street – have put together a schedule of fascinating shows.
Rewind to December 2019, and the optics were skewed towards a whirligig of travel, parties and Dada-ist gestures, such as Maurizio Cattelan's banana taped to a wall, sold twice at Art Basel Miami for $120,000 each. (A third was eaten without payment by fellow artist David Datuna, who retrospectively labelled his sabotage a 'performance piece': Hungry Artist.)
When Covid hit, 'there was panic,' recounts Jo Stella Sawicka, director of Goodman Gallery on Cork Street. Travel was impossible, buying art was the last thing on anybody's mind (unless it was loo paper designed by critic and sometime artist Kenny Schachter) and 'I had artists ringing me in tears genuinely thinking they were going to become homeless because their shows were cancelled,' recalls Ellie Pennick, founder and director of Guts Gallery, one of London's youngest platforms. 'I didn't think we'd survive, either.'
A WhatsApp group of approximately 80 galleries was set up, initially as a support group, but the focus quickly changed. 'We felt a cultural responsibility, we wanted to give something to the public,' explains Jo. 'And what is the point of art if no one sees it? We knew that even with the limitations of lockdown, we had to find a way.'
Initially, this meant online. Artist interviews and studio visits via Zoom or Instagram Live democratised an experience usually only available to major collectors and journalists, making it possible for an increased number of attendees to explore the working environments of artists in New York, Lagos, Durban or Berlin – and ask questions. 'People really engaged,' says Paddy Barstow, Director of PM/AM on Golborne Road. 'Demand, still, is only rising – despite the reported Zoom fatigue.'
When it comes to real-life viewing, 'We've been open more than museums and public collections because the government classes us as "non-essential retail",' points out Stella-Sawicka. And while there has been reduced capacity at, for instance, the Yayoi Kusama show at Tate Modern (at the time of writing, it was fully booked until the end of October), a new body of work by the same artist was at Victoria Miro this summer. 'Commercial galleries stage proper exhibitions – yes, smaller than a major institution, but of equal importance, and, notably, free. We're also able to be more flexible, and speak to the moment,' says Stella-Sawicka, who mounted a show about the Black Lives Matter protests as they were taking place.
That elasticity has been practised everywhere. Stephen Friedman Gallery un-veiled a former internal viewing room to exhibit Yinka Shonibare's Justice for All in the window facing Old Burlington Street. It 'was lit up 24/7', recounts Mira Dimitrova, director of sales, with such success that it 'enabled us to present a greater variety of projects' long-term. Similarly, Saatchi Yates, which opened on Cork Street during the pandemic, decided to hang its private sales for public viewing. 'Often this aspect of a gallery's work is hidden – but we're dealing in masterpieces!' explains Phoebe Saatchi Yates, co-founder and director.
Michael Hue-Williams has opened a new sculpture park, Albion Fields, in collaboration with galleries including Goodman, Marion Goodman and Lisson; vast pieces by artists such as Ai Wei Wei, Richard Long, Rachel Whiteread and David Adjaye range across 50 acres of rewilded Oxfordshire countryside. And turnover of exhibitions in general has increased. 'Our shows used to run for five or six weeks – we're now changing them every month,' says Hannah Watson, co-founder and director of TJ Boulting in Fitzrovia.
The apex of teamwork came in June this year. At a time when most organisations in the WhatsApp group would traditionally have been at Art Basel, they were instead collaborating on the first ever London Gallery Weekend, which garnered an extraordinary 40,000 visits across 120 spaces. Visitors were encouraged to venture into new spaces, while children had their own guide by the Royal Society of Sculptors, plus stickers and colouring books. 'I spent a day visiting the south London galleries; it was both stimulating and fun, and I discovered some really good artists,' says jeweller Christopher Thompson Royds.
The Mayfair support system triumphed again when Guts Gallery, which specialises in under-represented new-generation artists, was given a pop-up in Soho by Sadie Coles HQ. 'There's a desire to support the gallery ecology, we all want to see each other succeed,' explains Stella-Sawicka. 'The city needs emerging galleries, because no Goldsmiths graduate is going to go straight to being represented by Hauser & Wirth, or Lisson, or us. Equally, from an enthusiast's perspective it's so satisfying to discover an artist at a show early in their career, and stay with them.'
Certainly, the enthusiasm of London-based collectors is reflected in the sales made over London Gallery Weekend ('although that wasn't the driving force,' adds Stella Sawicka), and throughout the pandemic, contrary to initial fears. There was also a noticeable drop in the age of buyers. 'We've got 25-year-olds collecting significant art,' report both Pennick and Saatchi Yates (who was approached by a ten-year-old trying to purchase a painting with his pocket money). 'But what was loveliest about those three days was hosting visitors here, "at home",' says StellaSawicka. 'Not only does the design of every gallery reflect its ethos – and often London's history – but you also have more time than you would at a fair and it's more intimate. Also, while I love a party, the lack of champagne proved that it isn't essential: conversations focussed on the art.'
Jo Baring, director of the Ingram Collection, agrees. 'I think what all collectors have realised is that while travelling to see art is fun, it's by no means essential. There is so much here, especially in London,' she says.
In that vein, the new gallery space by Frieze, set to launch this October, will offer residencies to international galleries. 'No.9 Cork Street allows these galleries to stage ambitious pop-up shows, bringing the best of the international art scene to London audiences. With three gallery spaces and an additional events space, the idea is to create a collaborative environment for conversation between participating exhibitors,' explains Eva Langret, artistic director of Frieze London.
Which is not to discount the importance of the fairs; nowhere can you get a quicker snapshot of trends or see a more diverse quantity of art in one space. 'We'll be at Photo London – one of our gallery artists, Shirin Neshat, is this year's Master of Photography and has a solo exhibition, Land of Dreams, running at the fair – and we'll be at Frieze London,' says Stella-Sawicka. 'But please also come and see us at home, on Cork Street. We're not only for collectors, we're for everybody.'
So go! Because what the new Frieze space really proves is that, post-pandemic, London's gallery scene is thriving.
Hot Tickets: Five must-see gallery exhibitions in London
1. Theaster Gates, White Cube Mason's Yard
Coinciding with the Whitechapel Gallery's exhibition A Clay Sermon, dedicated to Gates, White Cube is part of a multi-venue presentation of his practice across London, introducing some of his newest works. 17 September – 30 October, whitecube.com
2. Jazz and Blues at Night, Goodman
Veteran South African painter Sam Nhlengethwa's first solo show in London reveals his passion for jazz; there's even a listening lounge. Until 25 September, goodman-gallery.com
3. The Gaze, TJ Boulting
Curated in collaboration with arts journalist Louis Wise, TJ Boulting is presenting an examination of the queer gaze, juxtaposing and comparing historical and contemporary art. 14 October – 20 Nov, tjboulting.com
4. Mark Rothko, Pace Gallery
Pace opens its new gallery on Hanover Square with an exhibition of Rothko's jewel-like paintings on paper, like the above: Untitled (1968). 8 October – 13 November, pacegallery.com
5. No.9 Cork Street
The first three galleries to take up residency in Frieze's new project are James Cohan from New York, Commonwealth and Council from LA, and Proyectos Ultravioleta from Guatemala, each presenting a variety of artists. 7-23 October, frieze.com
Featured image: Jo Stella Sawicka (c) Alexandra Dao
Contemporary Art Meets the Stage at Theatre Royal Drury Lane