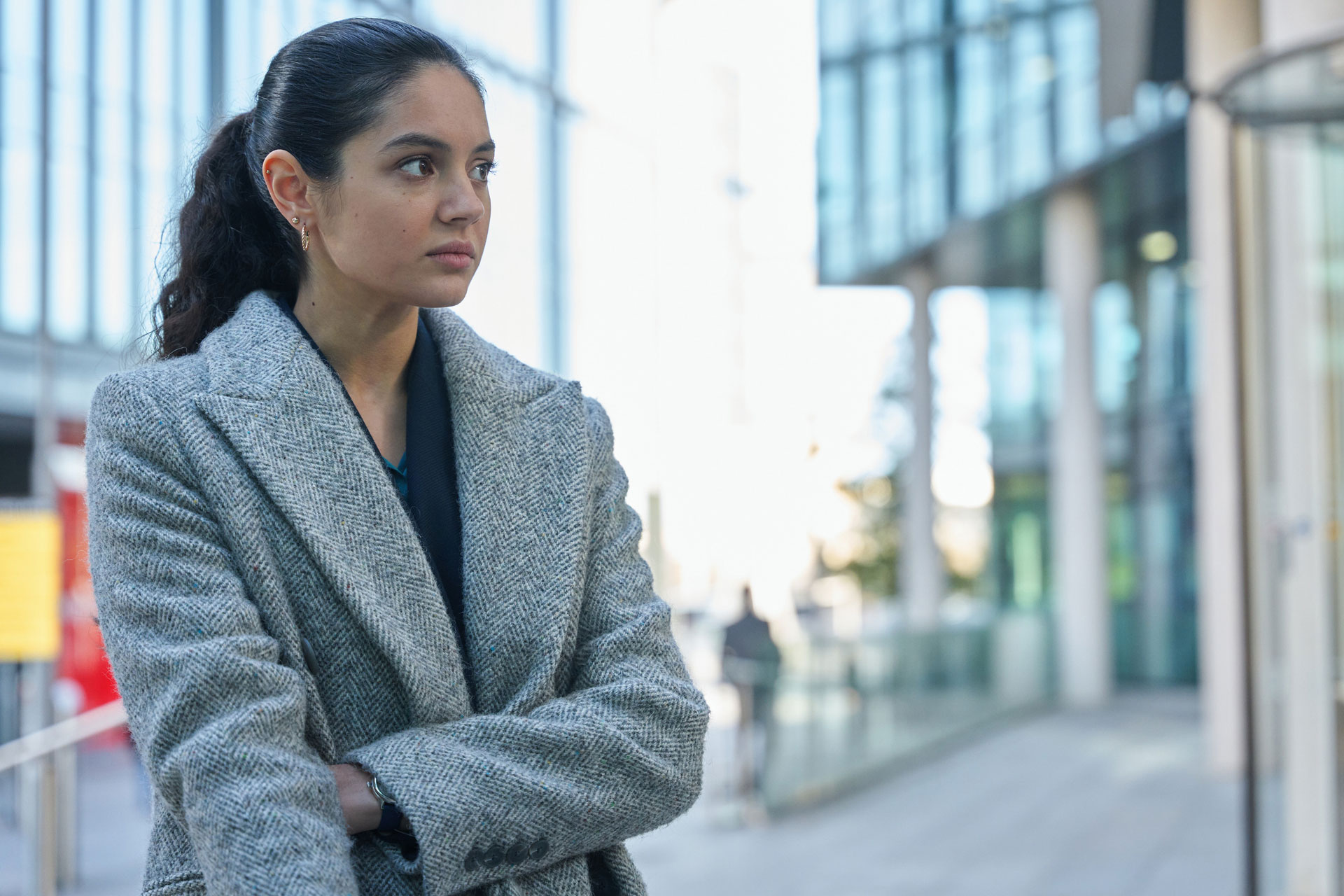 Meet Indy Lewis: the Breakout Star of Industry Season Two
---
Two years since it made its debut, the high finance drama returns to our screens
Often touted as a cross between Succession and Euphoria, it's no surprise HBO TV drama Industry was a huge hit when it premiered in 2020. Written by two ex-bankers, it follows a group of graduates as they battle through their first few months at fictional finance giant Pierpoint & Co, navigating the pressure-cooker environment – and the scandalous after-hours activities that come with it.
It's gripping stuff, and this September we have a second dose. We return to the trading floor in season two, where Pierpont's 'back to work or else' mandate has got its employees more charged up than ever. The majority of the cast are returning – but we have some newcomers too, including Venetia Berens, part of a new cohort of grads, played by rising star Indy Lewis. Here, she gives us the lowdown on the new series.
Meet Indy Lewis: the Breakout Star of Industry Season Two
What can you tell us about Industry season two?
It's just as intense and intelligent as series one, with the same slick writing and stressful moral grey areas. This series, they've added a touch of family trauma, post-Covid malaise, and some looming Americans (plus Venetia!).
Any funny stories from rehearsals?
The unending amounts of ridiculous Would You Rather hypotheticals in the green room.
Favourite person you've worked with on Industry?
So impossible to pick a favourite, everyone in the cast is so lovely. I do reserve a special love for the FX desk team, especially in our background scenes where everyone got a bit delirious and giggly from time to time.
Favourite role to date and why?
Definitely Venetia: she's the most fully fledged character I've had the joy of fleshing out and making whole.
Role you'd cut your right arm off to get?
It would be so exciting to get a super high-octane physically demanding action role and punch some people.
What demands do you have during rehearsals?
Very easily pleased with a coffee. Would also have to whack on some soft slippers every time my high heels wouldn't be in shot.
What qualities do you think have made you successful? 
Good listener, great at covert napping, and I can learn lines very fast.
Film you think everyone in the world should see?
It's Only the End of the World. I love more intimate domestic films where you're really enclosed in a space with the characters, your emotional investment pays off majorly. Also the soundtrack is insane. It'll have you sobbing to 'A Decade in Blue'.
What's your relationship with social media like? 
Quite hesitant, try not to scroll for too long.
What did you want to be when you were a little girl?
A vet, a spy, and a child psychiatrist in that order.
If you could give advice to your 15-year-old self, what would it be? 
Have more fun and stop worrying.
Three books you'd take to a desert island and why? 
100 Years of Solitude, a photo album, and a jumbo book of crosswords.
The most challenging moment of your life?
Trying to switch my gas supplier over the phone.
How can we all live a little bit better?
Listen with the intent to understand, not reply. Drink more water, get more sleep, go outside. Try and treat yourself as kindly as you would treat others.
What's your interior design style?
Quite traditional, something that feels comfy and lived in – I'm definitely not a minimalist. I love dark woods, marbles, and greens, bringing the outside in.
What is your current beauty regime? 
It's quite relaxed at the moment because it's hot: moisturiser and sun cream. I do also like swiping my face with an ice cube if I have to be up super early.
What are your indulgences? 
If I've gone out to eat somewhere nice or I'm on holiday, I will sometimes indulge in sidestepping my vegetarianism.
What would your best friend say about you? 
That I'm a good gift giver. (One of my love languages).
How do you relax?
Cooking with my partner and listening to ASMR.
If we're coming to your area for a visit, what should we do?
Visit the Broadway Market and Columbia Road, grab a drink or a dance at Dalston Superstore, and if its sunny definitely spend some time at the Hackney Marshes.
Are you a rule breaker or a rule taker? 
Largely a rule taker. Unfortunately this isn't the case during board games. 
Industry season two will debut on 27 September on BBC One
Main image: BBC / Bad Wolf / HBO