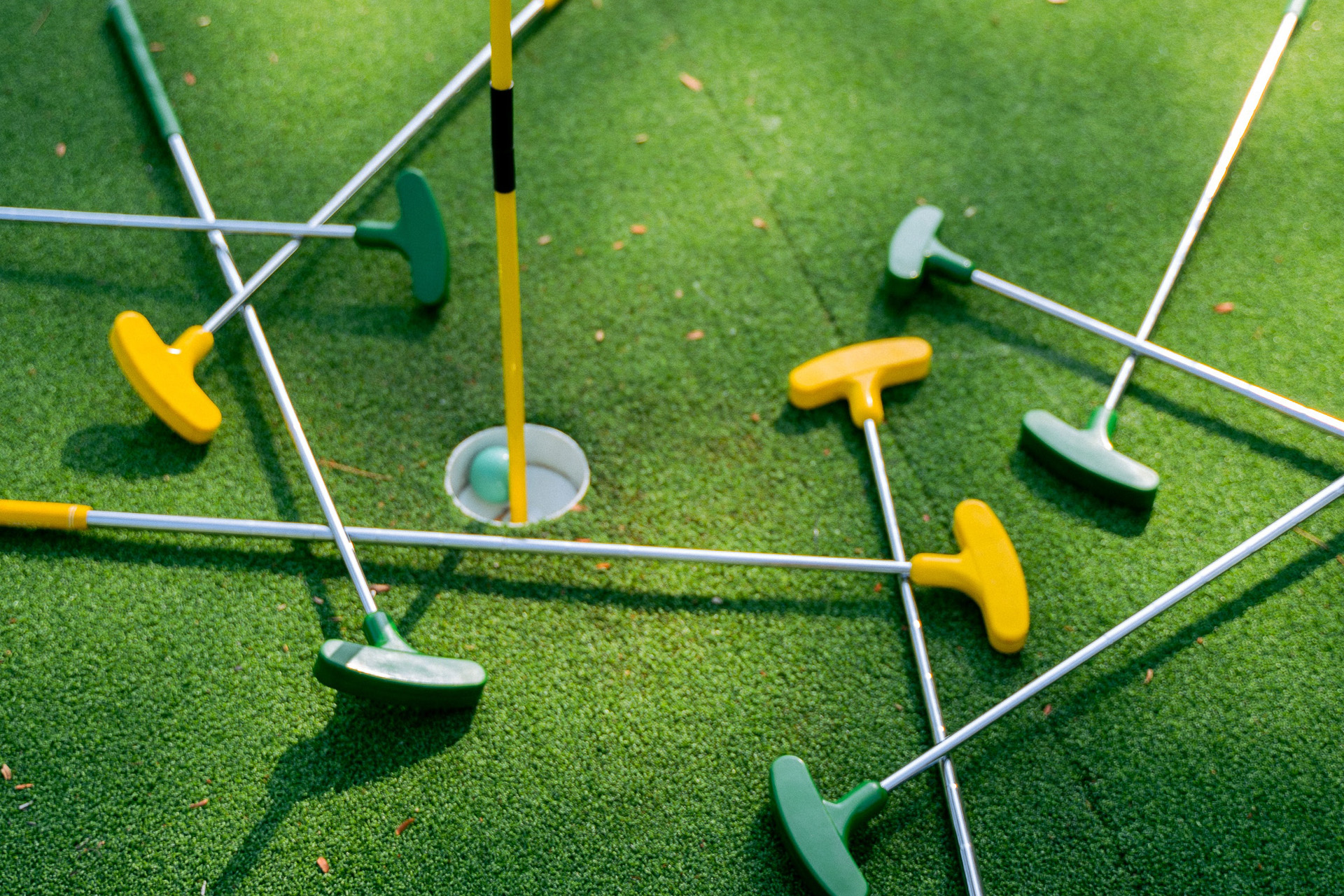 Where To Play Mini Golf In London
Tee up and get swinging
Whether it's girls night or date night, mini golf injects a fun competitiveness into any social occasion. Time to tee up and practice your swing: these are the best places to play mini golf in London.
Where To Play Mini Golf In London
Junkyard Golf Club London
Shoreditch (88 Worship Street, London EC2A 2BE) and Camden (307-308 Camden Lock Place, The Stables Market, Chalk Farm Road, London, NW1 8AB)
Looking for a mini golf night out? Four crazy courses push the limits of mini golf fun at Junkyard Golf Club, with flashing lights, UV lights and seriously loud music. Just gather up to eight mates and choose between Dirk (abandoned warehouse, retro vibes), Pablo ('Tropical Terror'), Gary (disco balls and scrap metal), and Bozo (circus horror).
View this post on Instagram
BOOK IT: From £11 per person per game. junkyardgolfclub.co.uk
Birdies Crazy Golf London
Venues in Angel and Battersea, and at Roof East Stratford
Fancy swinging on the dancefloor? Birdies combines mini golf with banging 90s and 00s classics, for the best in carefree vibes. Kooky courses, vibrant visuals, creative cocktails and tempting street food secures its spot as one of the top places to play mini golf in London. 
View this post on Instagram
BOOK IT: Courses take 25–40 minutes to complete. Adult tickets are £12 per person. playbirdies.com 
Plonk Crazy Golf
Venues in Shoreditch, Camden Market, Borough Market and Hackney
Wacky courses, nostalgic arcade games and craft beers: what more could you ask for? Mini golf courses have a variety of creative themes at Plonk, from facing off with Ursula under the sea in Camden to street art galore in Borough.
View this post on Instagram
BOOK IT: From £7.50 per person. plonkgolf.co.uk 
Puttshack
Venues in Bank, Watford and White City
Mini golf has a tech makeover at Puttshack, where a seamless system keeps score and gifts (and steals) points based on how you play. If that's not enough, there are plenty of exciting holes to catch your eye, from beer pong to the 'ring of fire', as well as pop-quiz trivia questions, vibrant displays and sound effects. Plus, there's a wheel of fortune at the end of the game, giving players the chance to win drinks, games and merch.
View this post on Instagram
BOOK IT: Adult tickets are £13.50 per person. puttshack.com 
Crazy Putt London Adventure Golf
Greenwich Peninsula Golf Range, London SE10 0QE
For one of London's more traditional mini golf courses, head to Greenwich Peninsula's Crazy Putt venue, where the crazy golf courses of the 1980s are modernised. Expect golf holes inspired by famous golfing destinations, accompanied by water features, flowing streams and tropical trees.
View this post on Instagram
BOOK IT: Adult tickets from £10 per person. crazyputtadventuregolflondon.com 
Swingers
West End and City venues
Golf, cocktails and street food: everything you need for a good night out. Swingers elevates mini golf to lofty heights with incredible decor, themed around 1920s British seaside in the West End, and 1920s English countryside in the City. Birthday coming up? Groups of up to 20 people are welcome at Swingers – so gather the whole group and get swinging. Note that it's not quite fun for all the family: Swingers is an 18+ venue.
View this post on Instagram
BOOK IT: £13.50 per person. swingers.club 
Putt In The Park
Courses at Wandsworth Park, Battersea Park, Acton Park and Gunnersbury Park
Fancy mini golf with the wind in your hair? Perfect for some summer putting, Putt in the Park takes the fun outside, with slopes, cascades and rockeries designed to accommodate all ages and abilities. Plus, settle down with a pizza after you've worked up your appetite. 
View this post on Instagram
BOOK IT: Adult tickets are £13 per person. puttinthepark.com