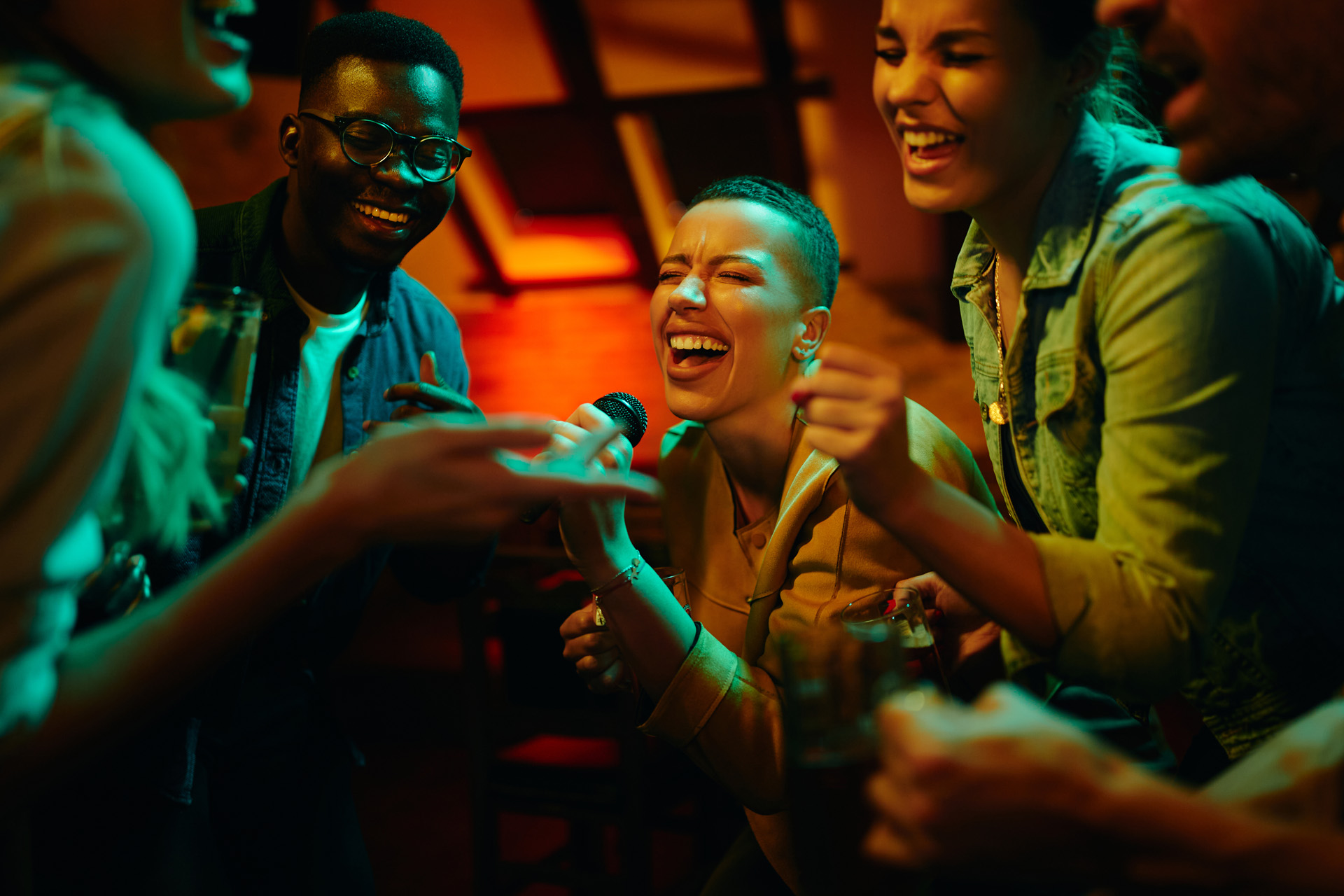 London's Best Karaoke Bars
Sing your heart out at these top spots
Karaoke – Japanese for 'empty orchestra' – is having a renaissance. Gone are the days of cringing at the thought of picking up a mic, and back are the gregarious karaoke bars of years gone by. Here are the best karaoke bars in London, whether you're looking to belt out Taylor Swift or reminisce those '00s classics.
London's Best Karaoke Bars
All Star Lanes
It's not just bowling, tasty treats and cocktails at All Star Lanes: book out a private karaoke booth for your next night to remember, whether it's where the night begins or where it draws to an end.
View this post on Instagram
WHERE? Brick Lane (95 Brick Lane, London E1 6QL) and White City (Westfield London Shopping Centre, Ariel Way, London W12 7FU)
VISIT: Booths accommodate up to 12 guests at White City and 14 guests at Brick Lane, from £5 per person off-peak and £8 per person at peak times. Prices based on a minimum of four guests. allstarlanes.co.uk 
Wing Wing
Wing and sing anyone? Head down to Wing Wing in the West End for ultra-crispy chicken wings inspired by South Korea's popular fried chicken, ahead of karaoke time with your friends.
WHERE? 30 Woburn Place, London WC1H 0JR
VISIT: Private rooms accommodate up to 10 guests. wingwing.co.uk 
Mama Shelter London Shoreditch Hotel
It's over to East London to live out your disco diva dreams: Shoreditch hotel Mama Shelter hosts themed karaoke nights (disco, superhero, and carnival), filling its sound-proofed karaoke rooms with playful props and banging playlists. There's also plenty to drink and delicious food from the bar, so fuel up and get singing.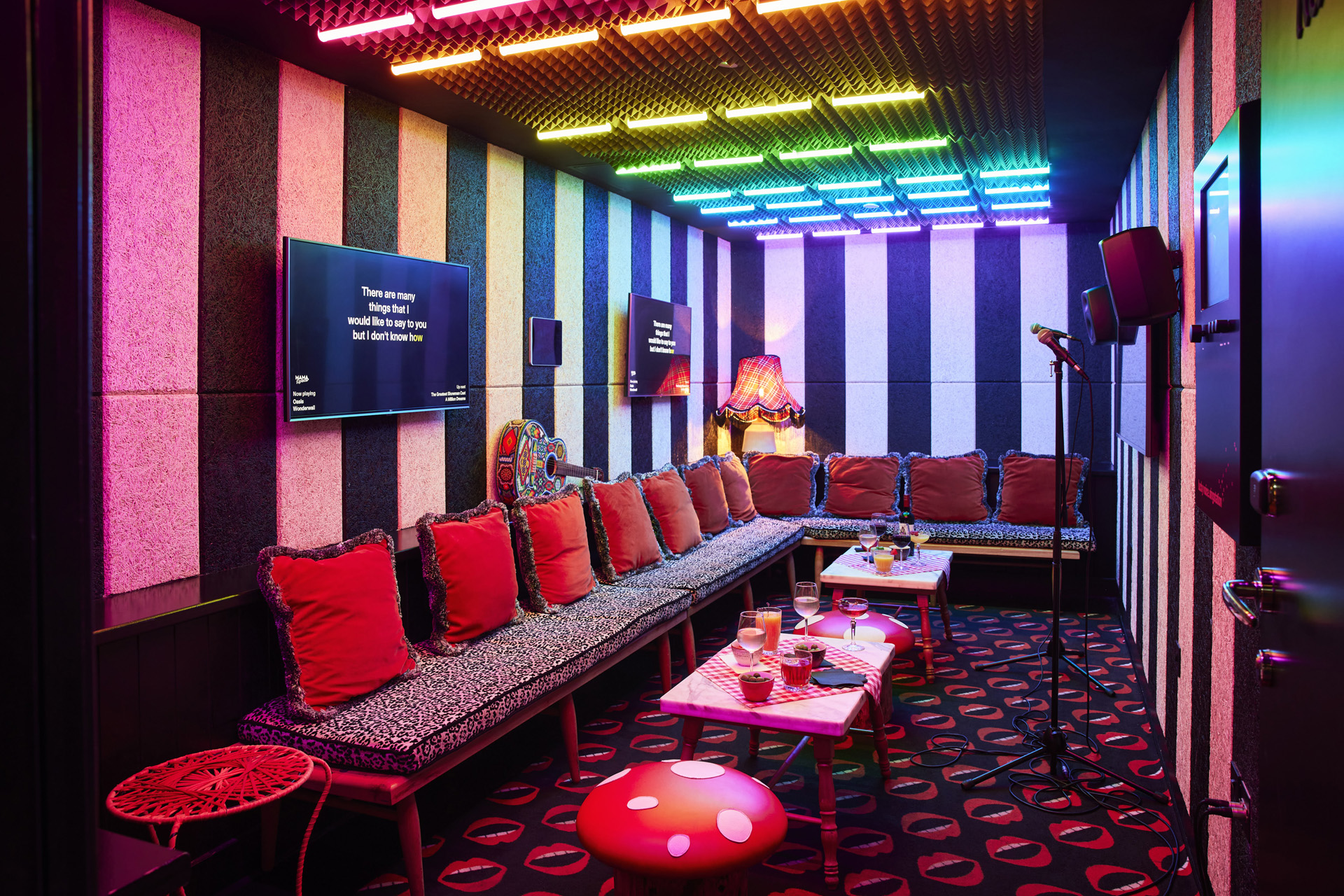 WHERE? 437 Hackney Rd, London E2 8PP
VISIT: £20 per person, with private rooms accommodating up to 15 people. Book in for Monday–Wednesday between 6–9pm to waive the £20 fee. opentable.co.th
Lucky Voice
London's premiere karaoke bar, Lucky Voice, has branches across the city all equipped with top-notch systems and over 11,000 songs. Enjoy 'room service' drinks summoned to your private room with a push of the famous 'thirsty' button, and there is pizza for anyone feeling peckish, too.
View this post on Instagram
WHERE? Branches in Holborn (84 Chancery Lane, London WC2A 1DL), Liverpool Street (Devonshire Square, London EC2M 4YP), Soho (52 Poland Street, London W1F 7NQ) and Islington (173-174 Upper Street, London N1 1RG).
VISIT: Sessions are 2 hours as standard, with rooms fitting up to 30 guests. luckyvoice.com 
Plum Valley
Start your karaoke party with a delicious feast of Cantonese fusion food at Chinatown's Plum Valley. Then, it's up to the private rooms to sing your heart out.
WHERE? 20 Gerrard St, London W1D 6JQ
VISIT: chinatown.co.uk 
The Star By Liverpool Street
Planning a big party? The Star By Liverpool Street accommodates up to 60 people in its Backstage Bar and 80 guests in The Glam Palace. Ring in your next birthday right in one of five themed rooms with over 10,000 songs to choose from, along with craft beers, cocktails and wine. There's even karaoke bottomless brunch every first and third Saturday of the month.
View this post on Instagram
WHERE? 94 Middlesex St, London E1 7EZ
VISIT: Rates start from £59 per hour. starbyliverpoolstreet.co.uk 
Infernos
Legitimise belting out those cheesy Infernos tunes by adding a private karaoke room to your next Clapham night out. Bookable by the hour from 10pm–3am, there are two rooms to choose from: one with space for 15 singers, and the other with space for 30.
WHERE? 146 Clapham High Street, London SW4 7UH
VISIT: All karaoke goers also need to purchase entry to the club. infernos.co.uk 
TSQ Playhouse
For a quirky, immersive experience, head to the vibrant themed venue, TSQ Playhouse for delightful decor, playful cocktails and live entertainment. If you'd prefer to be the star of the show, venture one of two spacious private karaoke rooms and belt out your favourite tunes, with English, Thai, Chinese, Korean and Japanese songs all available.
WHERE? 166-170 Shaftesbury Ave, London WC2H 8JB
VISIT: Between 6–20 guests, and everyone must dine from the set menu. Booking ahead is essential. First two hours are free, with extra hours £50 each. tsqplayhouse.com 
Featured image via Getty.