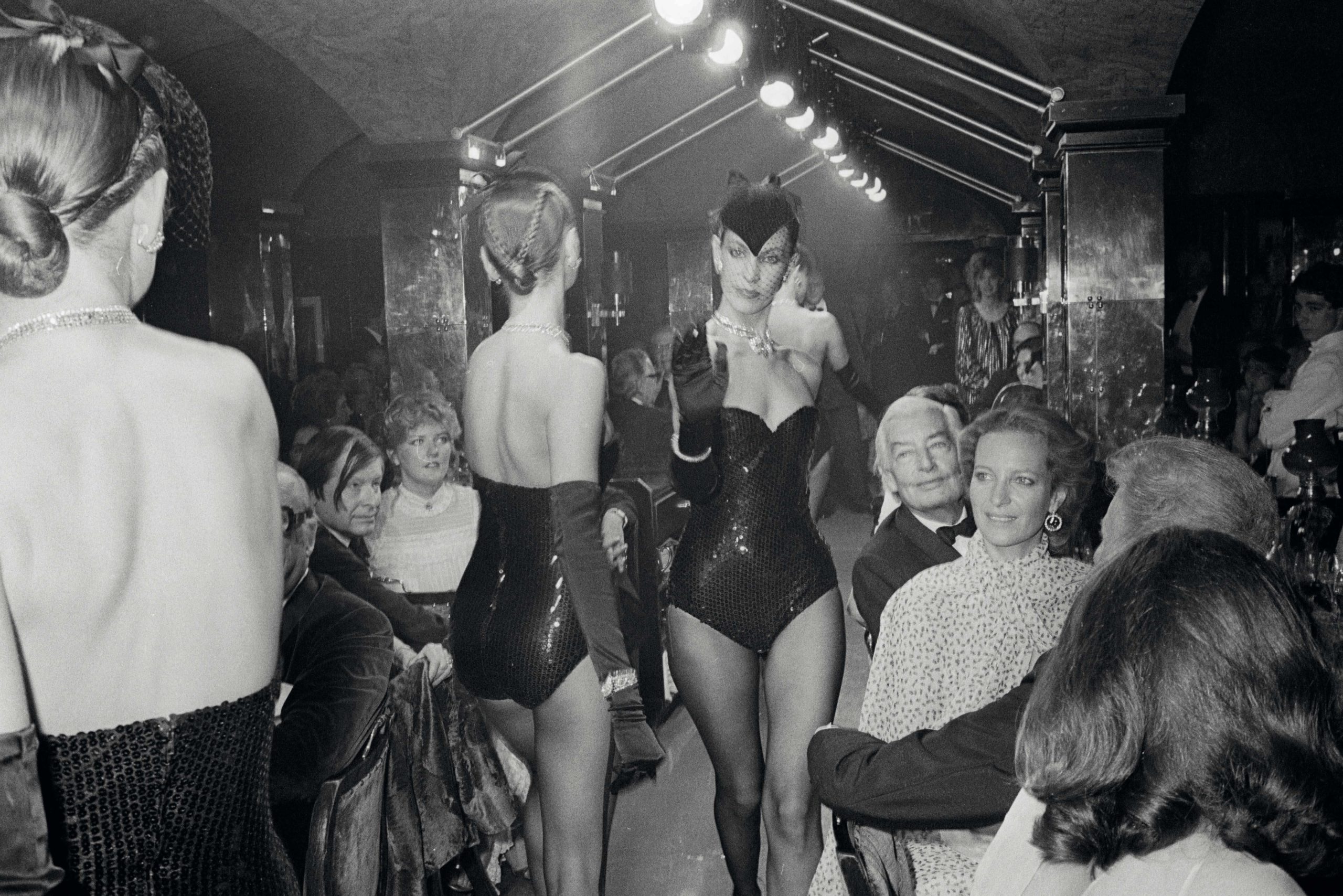 'I Danced All Night And Still Wanted More'
---
The party may be over for now, but it will be back, says Ticky Hedley-Dent
Parties are pretty much off the menu this festive season. What better time, then, to ask a heady mixture of the arty, fashionable and unashamedly social to reveal which epic shindig really blew their minds? As any veteran partygoer will tell you, it's not about the money. No, what's needed is an alchemical explosion of fabulous guests (with a sprinkling of hedonists who don't give a damn), a vibe of spontaneity and, of course, free-flowing drinks. So, mix yourself a cocktail and be our armchair invite at these fabulous bashes. By Ticky Hedley-Dent.
Daffyd Jones: Society and Celebrity Photographer
'My career began with some pictures I did of the Piers Gaveston club in Oxford. I lived around the corner from where several members lived in Norreys Avenue. I covered informal meetings, dinners, drinks parties. This (left) was a Piers Gaveston Ball I photographed, held in London at the Park Lane Hotel. The dress code was 'Garden of Earthly Delights' after the painting by Hieronymus Bosch. It went on from about 10 pm until 3 am. Many men were dressed as women. The women were mostly scantily dressed. Many friends were there and I spent a lot of time chatting, but also there was a lot to photograph. Memorably, I used up 24 rolls of film – a record for me. I was an early fan of Hugh Grant. At the time he'd only appeared in an undergraduate film set in Oxford. Marina Killery was a hat maker and artist. Lulu was already married to Valentine Guinness, one of the founders of the club. Lord Neidpath is wearing a dress and on his other side is Catherine Guinness, who'd returned from a spell in New York where she was part of the Warhol circle.'
Jenny Packham: Fashion Designer
'The JP Aftershow Party at Boujis, London, in 2004. The S/S '04 collection had been inspired by a six-hour car trip through Kerala. Rosie Huntington-Whiteley had walked the catwalk in gold hot pants and Erin O'Connor had posed to perfection in lemon silk tulle. The applause had been rapturous and as the team tumbled out of the backstage area the adrenaline was surging. Then, as we entered Boujis, the magnums of champagne had already been uncorked. Later in the evening Nirvana's Smells Like Teen Spirit pumped and suddenly we became a throbbing pogoing mass of hedonistic fashion folk living the dream. Such team spirit is hard to capture. Spoilt by the naivety of youth, I thought it was just one of so many more nights like that to come but things change and, grinding with my pattern cutter, it became a story for a giggle rather than something to be repeated. But sometimes, when I hear that track, I lift my heels a little and smile.'
Rita Konig: Interior Designer
'When we were 21 a friend of mine had the most incredible birthday. Nicky Haslam designed it. He reimagined the basement of the Royal College of Art as El Morocco, the famous NYC night club in the Fifties. He printed navy and white zebra fabric for the banquettes and there were black and white photographs by Terry O'Neill on the walls. The Gipsy Kings played live and we danced our hearts out and then went on to Annabel's. It was that rare thing when all the components conspire for a perfect storm, a beautifully produced party, with a guest list full of friends and mixed ages. Pure joy and terrific fun was had all night!'
Dave Benett: Society and Celebrity Photographer
'It's difficult to pick one because I've been to so many great parties in my life, but one that stands out, because of this great pic, is the Rhythm of Life Ball for the Rainforest Foundation at Grosvenor House Hotel in 1992. People really knew how to party in those days and it was the epitome of London fashion and music in the early Nineties! There was a catwalk show with Carla Bruni, Naomi Campbell, Kate Moss, Claudia Schiffer, Tyra Banks and Christy Turlington. At dinner, Eric Clapton sat with Carla smoking cigarettes, Trudie and Sting were dancing while Kylie Minogue performed. All the girls were dressed in Versace and posing with Gianni, who was the king of fashion at the time.'
Andrew Roberts: Historian
'Robin Birley's cream pie-throwing party at the old Katharine Hamnett shop on the Fulham Road was my best party ever. In August 1990, he invited 300 people to what was billed as a normal birthday party, but then the walls of the room, which turned out to made of white crepe, rose up suddenly and the guests started to be pelted by semi-naked women hurling cream pies, of which there were over five thousand placed around the edges of the room, as music played Happy Days Are Here Again. We all rushed over and spent the rest of the party throwing cream pies at one another, slipping around on the floor and getting covered in cream from head to foot. I look back on the innocence and exuberance of that time – three months or so before the fall of Margaret Thatcher – as a very happy time in my life.'
Nicholas Coleridge: Chairman of V&A, Ex-Chairman of Conde Nast, Novelist
'Lady Melchett's Black & Gold Ball, in May 1981, was the first seriously glamorous party to which I was ever invited. Sonia Melchett ran a salon for authors, politicians and socialites in those days, and the ball she gave with her daughter, Pandora Mond, was highly anticipated. It was held in The Orangery in Holland Park and as you entered the room you saw every famous face you had ever seen. Not one single guest had failed to make an effort – gold turbans, gold tunics, gold britches and long golden coats wherever you looked. I dressed as a 20-year-old matador in a golden suit of lights. The whole room shimmered. Even the champagne was golden, in my memory. I remember that Vogue had the exclusive to photograph the party, but I somehow intercepted some pictures and they appeared in Tatler first instead.'
Petronella Wyatt: Journalist
'When I was 18 I was invited to a costume ball at West Wycombe Park by its wonderfully eccentric and charming owner, Sir Francis Dashwood. Like his 18th century ancestor, a founding member of the Hellfire Club, Francis was adept at the art of hedonism. The gathering was large but select: royals, politicians, grandees, writers and other luminaries. Oriental tents were erected on the grounds, overlooking lakes with temples on which ballerinas and singers performed. As the stars got brighter a gondola glided into the central lake. Its occupant was Pavarotti, who sang to us. Afterwards there was a great firework display accompanied by a full orchestra. I was drunk on beauty. I will never forget it as long as I live and I shall never see its like again.'
Ben Elliot: Co-Founder of Quintessentially, Co-Chairman of the Conservative Party
'I loved the party at my wedding – it's the best party I've been to. My father-in-law, Steve Winwood, and his children were the band, with Motown singer Gary US Bonds. All the people we loved most under a harvest moon in Gloucestershire.'
David Gandy
'Dolce & Gabbana know how to throw a party. However, the party to celebrate their 20th anniversary was quite extraordinary. VIP quests turned up in horse-drawn carriages and included the who's who of the fashion and film industries. At one point I remember Diana Ross being played and everyone getting up to dance, then realising Diana Ross was actually there in person and singing live!'
Ed Vaizey: Conservative Life Peer and C&TH Culture Editor
'The best party I ever went to was one of Charles Finch's pre-BAFTA parties at the old Annabel's. Somehow, Charles always manages to get top Hollywood royalty there. He once introduced me to Tom Cruise and we became great friends for about ten minutes. He subsequently invited me to his filmset, a premiere, and threw a screening for me. I haven't heard from him since, but I dine out on the encounter A LOT!'
Richard Young: Celebrity Photographer
'The most incredible parties I have ever covered were the Vanity Fair Oscar parties at Mortons in Los Angeles. I would be flown out every year, always staying at the Beverly Hills Hotel. The evening started with the Oscar-viewing party, a sit-down dinner for around 250 celebrities and industry bigwigs. Then, after the ceremony, two curtains would reveal the main party area constructed each year just for the night. This is when the real partying started. All the Oscar winners would do the rounds of the various parties and always finish up at Vanity Fair later in the evening. It was so exciting, waiting for all the big names thrusting their Oscars in the air, everyone in a celebratory mood and ready to have their photograph taken. I was never refused a shot by anyone. I have never in my life attended a showbiz party that can compare to the ten years I was fortunate enough to have full and total access there. This shot of Forest Whitaker with his Oscar for The Last King of Scotland absolutely captures the incredible electricity running through the party that night!'
Ben Goldsmith: Financier and Environmentalist
'The first party I can remember was thrown by my father, James Goldsmith, to celebrate my sister Alix's marriage in Paris. I was 11, and the party took place at his restaurant Laurent, which was just off the Champs-Élysées. A famous New Orleans brass band had flown over for the occasion, and the rhythm of that great drum in chorus with the trumpets and trombones could be heard as we walked up from the other end of Avenue Gabriel. I remember a riot of colour and noise, swirling dresses, great platters of lobsters, and the marching band weaving its way through the revellers. The giants of that time, metaphorical and seemingly to me actual, sat at corner tables chewing their cigars: Kerry Packer, John Aspinall, Mark Birley, Taki, my uncle Teddy, my father. I'm not sure we'll see their like again.'
Jilly Cooper: Author and Journalist
'The best party I ever went to was when I was eight. It was on 8 May, 1945, the day after Germany surrendered. My father, a brigadier, took a day off from the War Office and my adored brother came home from prep school. Carrying a red jelly and a shepherd's pie containing our entire week's meat ration, we walked to the party. Every house was ablaze with lights and strewn with Union Jacks and bunting. Tables groaned with food and drink, and there was a twelve-foot-high bonfire with an effigy of Hitler on top. Later, we toasted Mr Churchill and the King and Queen. Then we bellowed: 'There'll always be an England,' and all the grown-ups cried. I got awful indigestion from eating uncooked baked potatoes, my best friend guzzled a whole tin of condensed milk and was sick in the rhododendrons. Gradually it sunk in: that we had won the war, and that we were free.
READ MORE
Richard Young: Man Of The Moment / What To Wear To The Christmas Party / Ultimate Party Season Beauty Looks