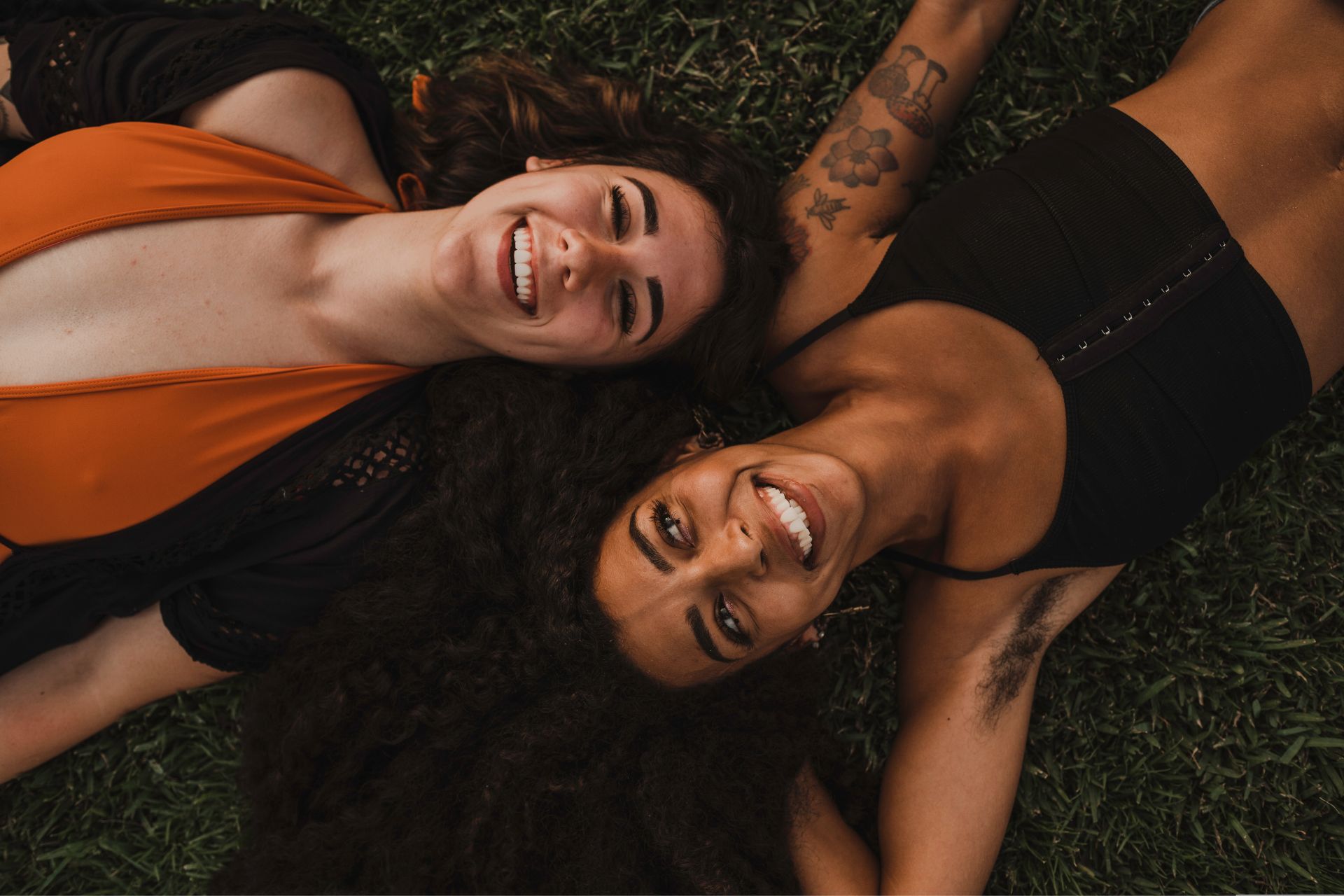 Summer Spaces For Queer, Questioning & Curious Women In The UK
Polly Shute rounds up some of the UK's best alternative activities for queer women and non-binary people
'Where do you go if you want to find like-minded others, or even that special someone?' asks Polly Shute – founder of Out & Wild Festival (the UK's only wellness festival specifically created for LGBTQ+ women and non-binary people) and ex Pride in London Board Member – in a world of gay clubs increasingly filled with heterosexual cis-gender women. And why is fun always tied to alcohol and nightlife? Here, Polly rounds up some of the UK's best nightlife alternatives for queer women and non-binary people to try instead.
Nightlife Alternatives For Queer Women & Non-Binary People
While it may seem the amount of people identifying as queer or questioning is growing, a combination of lockdown's impact and rising prices means many gay bars have closed their doors for good. And, when it comes to bars, cafes and clubs designed specifically for queer women, even the once popular gay male bars are losing their appeal. Many now fill with heterosexual females, attracted by the acts, their gay male besties, and their safety.
So where do you go if you want to find like-minded others, or even that special someone? The answer lies in the growth of pop-up nights and shared interest meet-up groups. Whether you are looking for bar nights, club sessions, or to meet others in the great outdoors, there are plenty of options – though you just may have to trawl Facebook to find some of them, especially as many are volunteer run.
Southbank Surfing
Southbank Surfing (also known as SBS, and run by myself!) is London's biggest free regular meet-up. Started as a meet-up at the BFI on the Southbank, where a few women met and swapped sofas to chat at the legendary BFI Flare LGBTQ+ Film Festival, Southbank Surfing now has a cult appeal. After a few moves, it has now found a home at the stylish Yotel City London, and takes place every third Friday of the month.
It attracts an eclectic and diverse crowd – mainly 35 years old plus – and runs from 7–11.30pm.  The main draw is the fact it is a meet-up with background music, lots of sofas, and friendly hosts who are always ready to meet solos and new-comers.
Southbank Surfing is also planning to launch in Manchester's Yotel in the summer, and runs a pop up night for Pride in London as well as singles nights. Stay up to date on our Facebook page.
Mint Events
Nikki Chubb has been running Mint Events since 2006. These pop-up nights take over stylish venues in the capital, like Groucho Club and Soho House. They range from socials through to full on party nights for up to 500 people. They also usually run a night during Brighton Pride. New to the pack is Mint Tease, a voyeuristic night with erotic performers. mintevents.london 
View this post on Instagram
Brown Suga 
A recent addition to the scene are Brown Suga nights, held at Glass House in East London. Designed for Queer and Trans people of colour, Brown Suga nights are run by Moonlight Experiences, the founder and director of which is UK Black Pride member, Aisha Shaibu-Lenoir. Expect a club night with R&B, Hip-Hop and Afrobeats.
Other popular events in London include: Butch Please, a regular night at the Legendary Royal Vauxhall Tavern, and London International Lesbians meet ups at the Retro Bar near Charing Cross.
View this post on Instagram
Escape Events
Escape Events is a pop-up events Facebook group for gay women in Cardiff and South Wales. It was founded in 2022 when it became clear that there really wasn't much happening to cater for gay women in South Wales. The founders run a real mixture of events, including Supper Clubs, Speed Dating events and club nights, and have just launched a regular night at Casablanca Bar in Cardiff. Like many other groups, you can find it on Facebook. Stay up to date on their Facebook page.
Camper Gurlz 
Camper Gurlz is a UK-wide Facebook community of women who enjoy camping – be that in a tent, campervan or motorhome. It was set up during lockdown and has grown massively, offering great getaways for gay women with a passion for the outdoors. They run weekends away during the spring and summer, and attract attendees from across the UK. Instagram / Eventbrite
WalkingWomen
While not exclusively gay, this long running company, with new owners just before lockdown, runs holidays across the world as well as in the UK. They tend to attract a slightly older audience and have a useful 'Goat Guide' you can use to access the difficulty of adventures. walkingwomen.com 
KENRIC
KENRIC is the UK's longest-running social group for lesbians, now in its 57th year, running events in London and the South East, including walks, swims and visits to concerts. They charge £15 for annual membership. kenriclesbians.org.uk
Out & Wild Festival 
Launched in 2022, this is the UK's only wellness and experience festival for LGBTQ+ women, held in Pride month, this year from 9–12 June 2023. Out & Wild offers three days packed with activities and experiences, including yoga, breathwork, gong baths, wild swimming, stand up paddle boarding, music, comedy, spoken word, film nights and interactive workshops. Set on the edge of Pembrokeshire National Park, you can camp, glamp, bring a campervan, or stay off site. outandwild.co.uk
View this post on Instagram
Pride Events
There are over 200 Prides across the UK, and it is worth checking their individual events schedules, as many now focus on having more entertainment and nights for women and non-binary people.
Out and About Community
This Facebook is a private group that allows members to list events across the country, also running its own events in London. Join on Facebook.