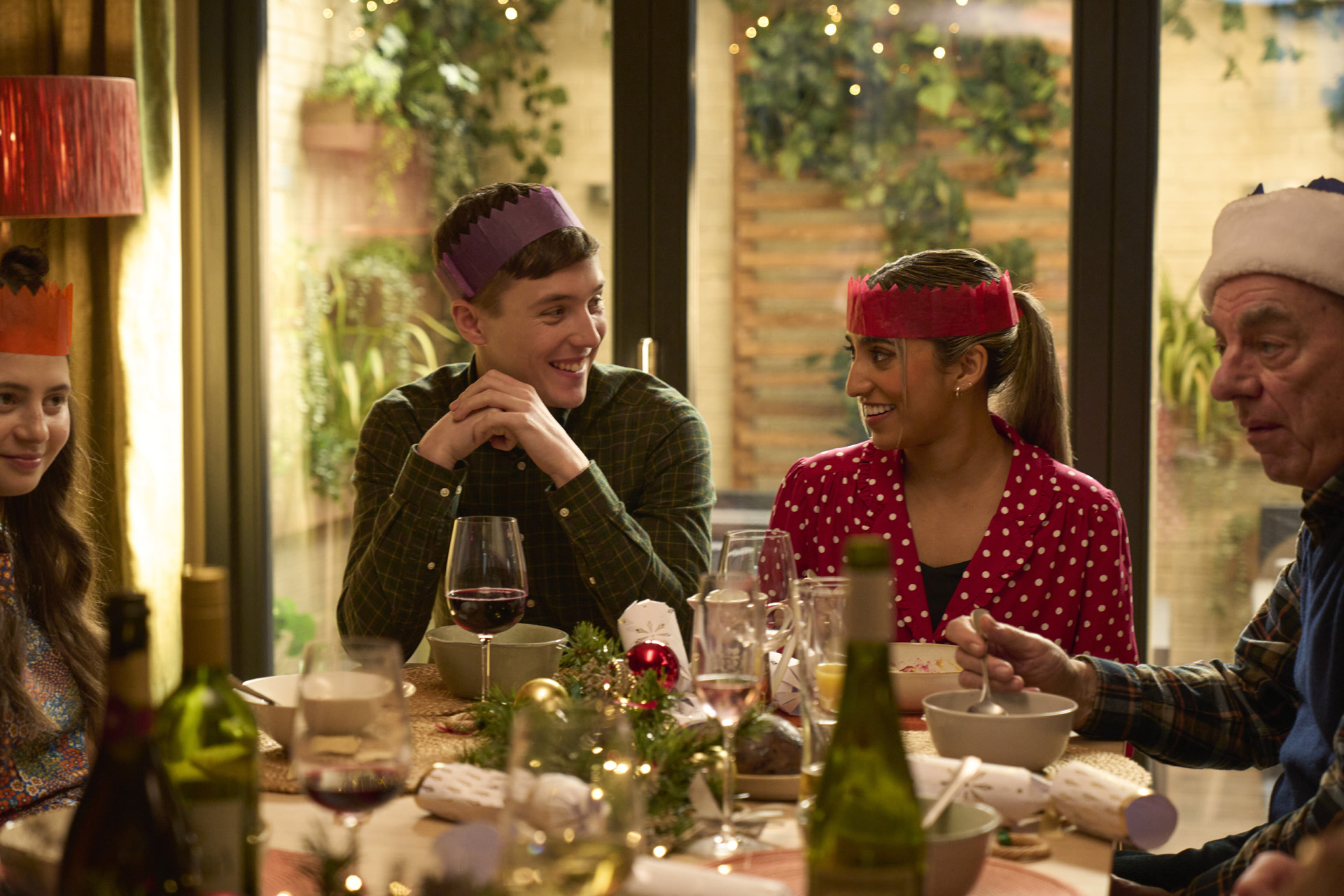 Oscar Kennedy On Series 4 Of Breeders – Interview
Airing weekly on Sky
Have you been watching the latest season of Breeders? Airing weekly on Sky, there's a five-year gap between the last series and this series, and Oscar Kennedy has taken over the role of Paul and Ally's son, Luke. Now all grown up at 18 years old, Luke drops a bombshell at Christmas dinner that will change everyone's lives forever. We sat down with Oscar to hear all about it.
Interview: Oscar Kennedy
Hi Oscar, how's life going at the moment?
Good! I've been busy this year filming a few different projects. Having just finished up a job recently, I've had time for a few weeks holiday, so I really can't complain!
You can currently be seen in season four of Breeders – can you give us an elevator pitch for the show?
Breeders is an authentic look at the ups and downs of parenthood, childhood/adolescence and what it's like to be part of a dysfunctionally functioning family.
What can we expect from the fourth season?
There is definitely more Worsley family chaos… We see Paul and Ally facing their own difficulties, while handling more curveballs that both Luke and Ava throw their way.
You play Luke – how would you describe him?
Luke is kind and ambitious, while also being anxious and unsure. This season shows a new side of him as he introduces his new girlfriend Maya to the family. It looks as if he may have found a bit of confidence and maybe even matured… Slightly.
What was it like playing him?
At first, I was definitely nervous stepping into an established character, especially as Luke was played so well previously. With the help of Chris [Addison, series creator, producer and director] and Martin [Freeman, who also created the series and plays Luke's father, Paul], I really settled into the character and I had so much fun playing him. It was also really fun to explore the change in family dynamics: with Luke now being 18, he really gets thrown into 'adult life' this season.
How did you get into character/prepare for the role?
I was lucky enough to have some rehearsal time with Chris, Martin and Stevie [who plays Maya]. It really helped me figure out Luke's development this season. Also, Luke's new relationship with Maya seems to really help him grow and step up a bit, so I focused on what that might look like.
You've also got season two of Wreck upcoming on the BBC – can you tell us a bit about that?
Season two is a bigger and bolder development from season one. The storyline continues with a lot more mayhem, gore, mystery and excitement.
Any standout moments from filming?
We filmed Wreck series two over four months in Belfast, so we got to film in some really cool locations around northern Ireland. We also had a mix of new and old cast members who were all so fun to work with – I feel lucky to have been part of such a dynamic set.
What is it like to lead the series?
Wreck is such a cool show, so I really enjoyed it. I found it daunting before shooting season one, but after getting to know the cast and crew, I knew I was on a job with amazingly kind and caring people that all wanted to do their best and have fun doing it.
You've also starred in the likes of Ladhood, The White Queen and Outlander, but what has been your favourite project to date?
I think it'd be impossible to choose a favourite. I'm so grateful for every project I've had the pleasure of working on! I feel they have all been so important in giving me an education in this profession.
Which co-star did you learn the most from?
There have been quite a few, but I think the one person that stands out would be Thaddea Graham. She is an actor who is selfless, kind and very, very patient… I feel like I learnt so much from her, and I'm so grateful to have had her as a co-star and to have her as a friend.
What's your dream role?
I'd definitely like to try something otherworldly, maybe a sci-fi or fantasy project as I haven't had much chance to do either.
Do you get to spend much time at home?
Yes I do, which I'm grateful for. I'm so lucky to be able to spend time with family and friends.
Do you live in the town or the country? Which do you prefer?
Currently live in a town in the country so I guess I'm kind of getting both?
What's your interior design style?
I'm not sure I've really found an interior design style as such. I like things to be fairly minimal, so maybe minimalist.
How do you find balance in your personal and work lives?
It's pretty easy when I'm in between jobs as then I'm not constantly having to learn lines and prepare scenes. But when I'm working, it's pretty tough to find the balance. I kind of like to get stuck in when I'm working, so it isn't something I dislike.
What did you want to be when you were growing up?
An actor… Or spiderman.
How can we all live a little bit better?
Try to make more time for ourselves and loved ones. I know it's easier said than done but in an ideal world this would be it.
Anything fun in the pipeline – professionally or personally?
Nothing I can speak on work-wise, but personally I'm planning to move to London, which I'm pretty excited about.
Quick Fire
I'm currently watching… Misfits
What I'm reading… Beast in the Shadows
The last thing I watched (and loved) was… This Time with Alan Partridge
What I'm most looking forward to seeing… The Creator
Favourite film of all time… In Bruges
Favourite song of all time… 'Paranoid Android' by Radiohead
Band/singer I always have on repeat… Mac DeMarco
Series four of Breeders is airing every week on Sky. Catch up on nowtv.com