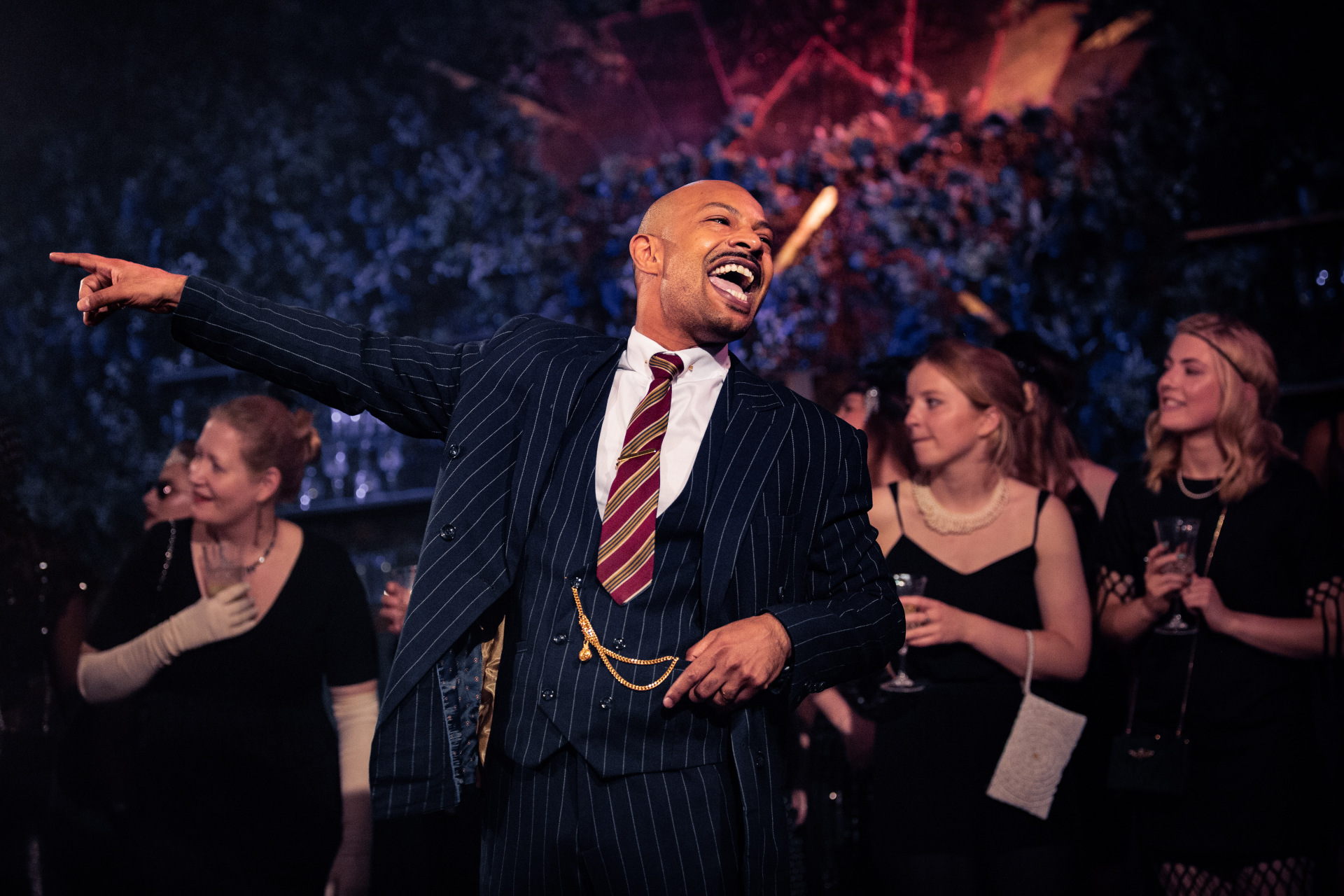 Review: Immersive Great Gatsby
---
An exclusive invitation to Gatsby's mansion
We've all heard about Jay Gatsby's infamous parties: the centre of decadence for the upper class society, the breeding ground for licentious rumours, filled with plenty of liquor, lively dancing, and loose morals. Well, now's your chance to visit. Alexander Wright's immersive adaptation offers an exclusive invitation to visit Gatsby's mansion. It's the longest running immersive theatrical production, where audiences are not observers, but partakers. And since there will often be multiple rooms showcasing action at any given time, no attendee will have the same experience.
Immersive Exhibitions To Book Now
Review: Immersive Great Gatsby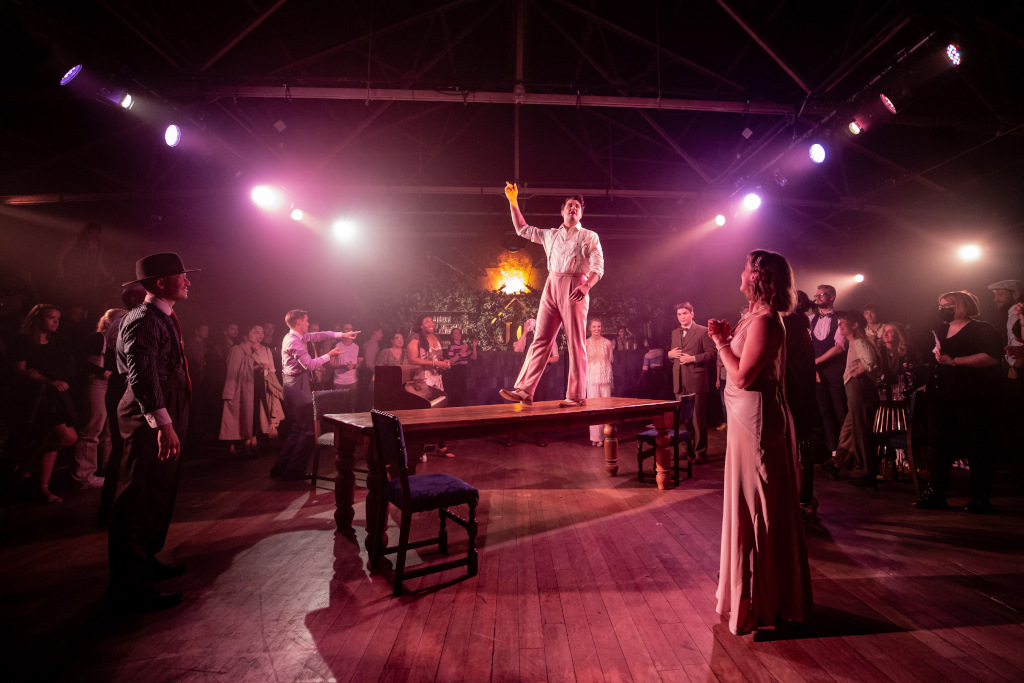 Immersive London has been transformed into Great Gatsby's mansion; once you enter, you'll be transported back to the hedonistic roaring twenties where liquor, lips and morals are loose. This play, rather than a faithful recanting of Fitzgerald's novel, instead offers the chance to experience the world he created, based on glitzy upper-class life in 1920s America, and to delve further into the minds of the characters who inhabit it. Guided by set monologues and a rough storyline, characters are allowed – and encouraged – to improvise. They engage with the audience repeatedly, asking questions and advice, all in a bid to immerse visitors into their world and transform them from spectators to partakers.
The set is a large dimly lit room: a bar lines one wall, a piano sits in the centre, a few tables and chairs are strewn around randomly. People are sitting haphazardly on these; some are leaning against raised platforms, some are standing on the edges, while others queue to get a drink. We grab a place on one of the raised platforms, and soon discover that the whole room is the stage; the haphazard seating is purposeful, ensuring that there is no audience, but instead visitors become willing and active participants.
We realised immediately on entering that we have made an error; around us everyone is dressed to the nines in 1920s fashion. We look guiltily at our Dr martens, leather jackets and jeans – we stick out like sore thumbs amongst the flapper dresses, smart suits, headbands, newsboy caps and straw boater hats.
And dressing up seems to count. Throughout the performance, the story is told in different ways, to different groups of people. Scenes take place in the main room, and then characters lead selected groups away – to Daisy's bedroom or Gatsby's study – to deliver monologues and secret conversations. And those who were approached and picked on most by the cast were those in costumes. One group of ladies, all dressed in glitzy dresses, heels and carrying cigarette holders, got taken on pretty much adventure out of the main room.
Gatsby, Tom and Daisy leave the room the most, taking participants with them; we in the main room were often stuck with George and Myrtle, who have much bigger roles in this play than in the novel. Although this might be because, like George, we are continuous occupants of the main room.
We begin getting restless after about an hour, and long to find out where clusters of audience members keep disappearing to. So, when Gatsby asks for a few to join him and Daisy after tea in his study – we realise this is our chance of escape and we make a break for it. Alas, we are halted by a bellowing George, the ever-present bartender, who seems to be worried about losing his audience – and less worried about his wife and Tom's very indiscreet affair. Guiltily, feeling like naughty school children, we trudge back to the side and take a seat with folded arms; it seems our experience of the play will be limited to the main room's events.
During the interval, we refresh our glasses with a delicious gin and tonic and discuss our game plan. We decide to sit on the other side of the room, in the hope that this might increase our chances of getting selected of being led through the doors, which have been shrouded in mystery. Sadly, we remained unselected for the rest of the show.
The second act, it turns out, conversely involves minimal participation. Juxtaposing the first completely, the mood shifts and transforms from a giddy, excitable and energetic celebration to a sombre and bleak reality, as consequences arise from the characters' actions. The jovial hedonism is cut short by dark repercussions. Jermaine Dominique, playing Tom, particularly impresses here; he holds the room and gives a stirring performance full of raw emotion. Equally, Oliver Towse as Jay Gatsby skilfully and devastatingly communicates his utter agony when he loses Daisy for a second time.
Final Word
Overall, the play offers the chance to feel immersed within the story, rather than just a passive observer. It's a bit of fun, sure to brighten up a midweek evening or a Saturday afternoon. Our version of the show was different to others; some barely spent any time in the main space, as they were led from room to room: they listened to Gatsby, as he contemplated his love for Daisy; they helped Daisy decide what to wear for tea; they bore witness to Tom and Myrtle's illustrious affair. We remained in the main room and listened to several monologues by the barman George. This might sound appealing to some, who prefer watching from the side lines, but if you want to truly immerse yourself, we'd recommend donning your best 1920s headgear and dressing to the nines, positioning yourself in a prominent part of the stage, and throwing yourself into the Charleston dance at the beginning.
BOOK
READ MORE:
Break Out Culture With Ed Vaizey / Theatre to Look Forward to in 2022 / The UK's First Zero-Waste Theatre is Opening in London