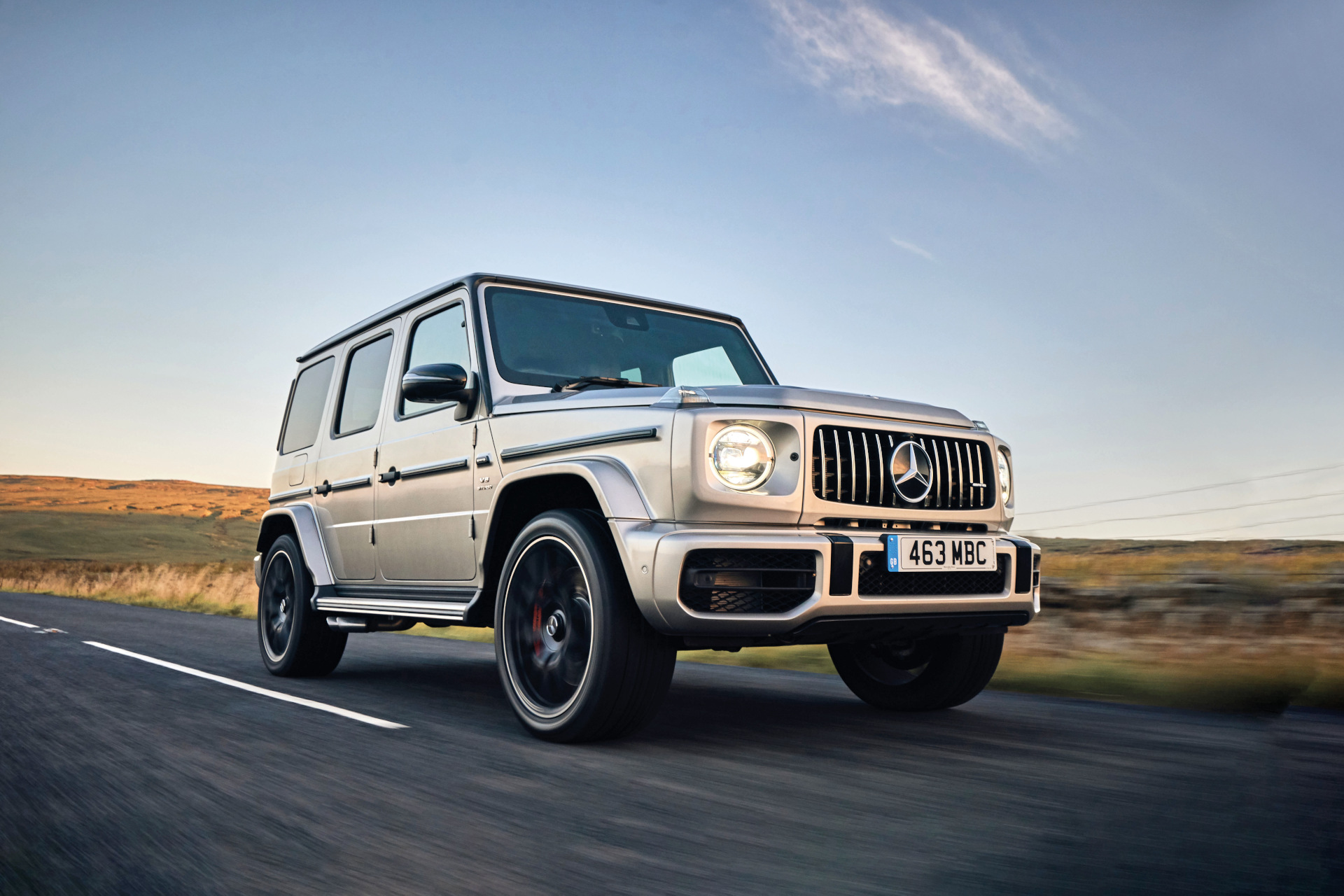 Road Test: Mercedes G-Class
---
Jeremy Taylor tests out the Mercedes G-Class
Jeremy Taylor roars around town and country in the formidable Mercedes G-Class, which precedes the promised all-electric version arriving in 2025.
Road Test: Mercedes G-Class
TOWN
Mercedes is working on an all-electric version of its most outrageous vehicle, the G-Class four-wheel drive, which is promised to arrive in 2025. The new version will remain recognisable as the brick-shaped G-Class, but underneath a huge battery pack will offer a more environmentally friendly model still boasting supercar performance.
Until then, it's impossible to miss the enormous, V8-powered G-Class as it grunts around London like a dinosaur with toothache. Nobody buys a G to blend in – the twin-turbocharged petrol version is famed for its signature calling card.
But squeezing into a tight space in Mercedes' longest-serving model is simple with a self-park system, and the luggage area is also massive and easy to access – two essential shopping requirements, making for a pleasant drive around town.
Of course, the Mercedes is very expensive to run, realistically returning no more than 12mpg around town, while rivals like the Range Rover and Porsche Cayenne are also much better to drive. So what makes the G-Class such a favourite? In a world of jelly mould cars designed with aerodynamics and user-friendliness in mind, the mighty Mercedes is like an affable but naughty uncle: impossibly out-of-date but lovable all the same.
RATING: 3/5 HANDBAGS
COUNTRY
The G-Class dates back to 1979, when it first appeared as an upmarket alternative to a Land Rover. A heavyweight bruiser in every sense, the Mercedes proved unstoppable off-road and then became a hit on Tarmac too.
However, crazy as it might seem, the go-anywhere, do anything G-Class is more at home in an urban environment. Sure, it has staggering ability off-road but that luxurious interior really wasn't designed for a shooting party. So although the Mercedes was hand built in Austria to ford rivers and climb every mountain, the dual-screen entertainment system, brushed aluminum trim and soft leather has nowhere near the country cred of a Landie. Which is a shame because the Mercedes is quite brilliant in the dirt – but at £164,000, you may just want to take my word for it.
On the motorway, a high seating position and cruise control make for very easy progress, just the roar from side-mounted exhaust pipes occasionally spoils the ambiance. The G-Class is less comfortable on a bumpy back road, where the suspension scrabbles to cope with undulations and potholes. The next generation, all-electric model should be a fascinating drive when it arrives.
RATING: 4/5 WELLIES
MORE ROAD TESTS:
The Vauxhall Mokka-e Elite Nav Premium / The Newest Bentley Flying Spur / Mitsubishi Outlander