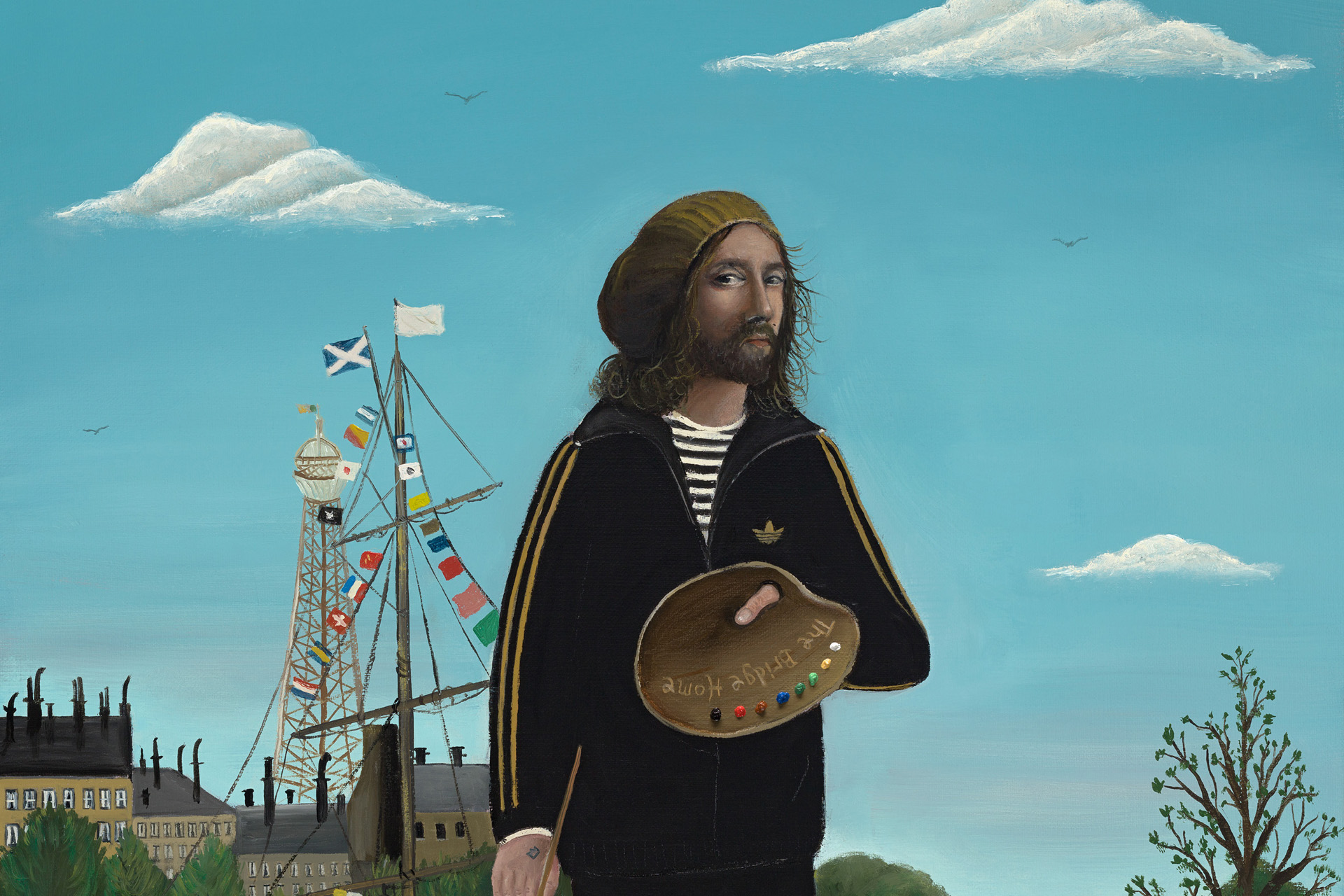 Inside Autumn's Must See Exhibition: Ross Muir At Maddox Gallery
'The Bridge Home' is exhibited in support of children and young people's charity, West London Zone
You might have seen the playful artwork of Scotsman Ross Muir on social media; his depiction of Vincent van Gogh in an Adidas tracksuit, called 'Square Gogh', particularly went down a storm. But there's a lot of technical talent behind these eye-catching images, too. In fact, Muir's contemporary recreations of iconic artworks and images are so in demand that his upcoming exhibition at Maddox Gallery's Westbourne Grove gallery has a waiting list of collectors vying to see – and snap up – his creations. Here's everything you need to know about 'The Bridge Home', Muir's must-see exhibition coming this autumn.
Ross Muir's 'The Bridge Home' At Maddox Gallery, Westbourne Grove
With a sell-out debut show at Maddox's Mayfair gallery, an appearance in the BBC One series Extraordinary Portraits, and his work exhibited in three major galleries (Turner Contempory, Walker Art Gallery and the Scottish National Gallery), 2022 was a career-defining year for Muir. If you'd like to be one of the first people to see his latest creations, 'The Bridge Home' at Maddox Gallery's Westbourne Grove space is a must-see this autumn. Opening on 8 September, expect contemporary references to Teslas, Gucci and golf spliced across key historical artworks with unparalleled precision.
'The Bridge is a metaphor for where Ross is personally, and for his work taking the viewer from one perspective to another,' says Fi Lovett, European Director of Maddox Gallery. 'This collection of works is a progression from his last solo exhibition where he was setting out on the journey to his growth in direction and intention.'
Triumphing against historical struggles with addiction and debt, Muir calls art his 'total saviour'. 'I don't think you could get much darker than where I was at,' he says. 'I had the courts hanging out of my ear. I had everything: the debt, the drugs, the addiction. I had to unwind a big, massive knot – and I managed to do it.
'Even trying to get out of the dark is better than just sitting in the dark. You've got to hope: just stepping in the dark, but you're making movement. The message of 'The Bridge Home' is kind of like this. With the painting, it's got me back home to who I can be, who I should be. Deep down, I have a freedom I never thought I would be able to obtain again,' Ross says.
Passionately believing in the power of art to help children get on track socially, emotionally and academically, Muir has hosted art classes with local children and young people's charity West London Zone, and 'The Bridge Home' is displayed with Maddox Gallery in support of the charity. 'It's great, the charity and the kids,' Ross says. 'There's hope in it. There's hope in them creating, because they're connected to who they are and that world.
'Anybody can do this, especially them,' Ross adds. 'And we need them. Because there aren't many real things out there that are still alive. But the art is real and it changes things. It saved me. It changed my life, and I know it can do it for somebody else.'
Exhibition visitors will be able to support West London Zone with Muir's Zoltar machine, a fortune-telling machine inspired by the film Big, producing a fortune card designed by Muir.
'Ross is extremely skilled in his craft, which when paired with his insight and humour makes for relatable work in today's fast changing world,' says Lovett. 'Preparing for a solo show is not an easy process for Ross. It's a battle for him to produce a body of work that he's satisfied with and so I have a vicarious sense of pride and achievement with each show. Ross has a growing following and it's a joy to see the response to his new work.'
First Look
Visit
'The Bridge Home' runs from 8 September to 22 October 2023 at Maddox Gallery Westbourne Grove.
112 Westbourne Grove, London W2 5RU