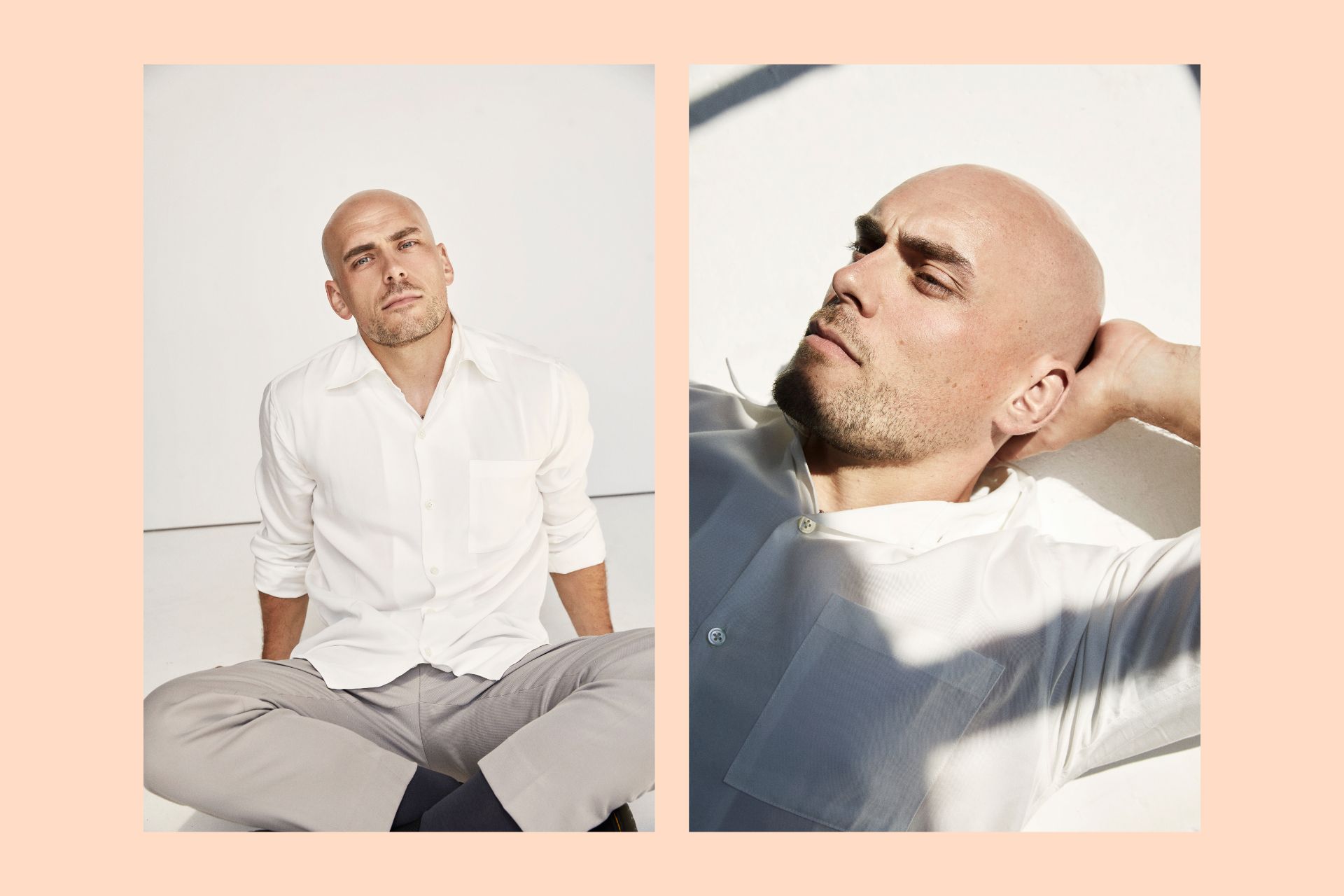 'We could all benefit from focusing on the now': Samuel Edward-Cook – Interview
Olivia Emily chats to one of the stars of BBC's Better
Currently starring in Better on BBC1, Samuel Edward-Cook is a Yorkshire-born family man with a penchant for Billy Joel. Olivia Emily sat down with Sam to chat career beginnings on Peaky Blinders, self doubt, and making the most of the now.
Interview: Samuel Edward-Cook On Starring As Ceri in
Better
You're currently starring in Better on the BBC – can you give our readers an elevator pitch on the show?
Better is a female led, five part contemporary crime thriller. It's a redemption story. The story focuses on the anti-hero, DI Lou Slack, played by Leila Farzad. Lou is leading a double life: a high-ranking police detective by day, but she's also working for the notorious Leeds Gangster/drug dealer, Col McHugh. Lou has a moral awakening after a family crisis and is forced to question if she is a goodie or a baddie. The audience goes on this journey of discovery with her and her family.
You play Lou's partner, Ceri Davies – what is he like?
Ceri is Lou's sanctuary. He provides her with stability and reminds her that she is a mum and a wife as well as a corrupt copper! Ceri and Lou have a unique bond; they've been together since they were very young. They've grown up together. Dreamed together. Started a family together. Ceri brings reality, honesty, humility. His family is the centre of his world. He desperately wants his son, Owen (Zak Ford-Williams), to have all the things he didn't have as a kid – prospects, an education – which you could say has blinded him to the reality of Lou's dealings with Col all these years. He has many likeable characteristics but, ultimately, he is as flawed and as culpable as Lou is. He has knowingly walked his family into a very dangerous situation, and he's now desperate to get them out.
Does he feel similar or different to yourself?
I think I see the world in quite a similar way to Ceri. He's very open minded, a lefty. He's quite a 'modern man'. I hate that phrase, but it highlights how toxic masculinity is still quite prevalent in society today. Ceri is a devoted father and husband with working class roots, a strong work ethic, and he is committed to building a better future for his family. He embraces the fact that he and his son, Owen, are very different in many ways. Owen is articulate and very intelligent, whereas Ceri is more comfortable handling bricks than words. But what bonds them is their creative spark and quick wittedness. I can relate to this in many ways – I have always been the black sheep in my family.
How did you prepare for the role?
My prep isn't very interesting, unfortunately. I learned my lines… Ceri isn't a million miles from Sam really, so there was very little physical or vocal/accent prep needed. My focus before we began shooting was spending time with Zak and Leila to make sure that we felt comfortable with each other on set. I hope that the audience genuinely believes that we could be a family. Unfortunately, there is never a huge amount of time to rehearse, but we ate out together when we could, and theatre and shopping trips helped to find that shorthand you have with a close family member – the warm and unique connection you would only have with a partner or your child.
Any quirky ways you get into character on set?
I often listen to music before I walk on set. It helps to clear my mind of any unhelpful thoughts. It can also get the blood pumping if it's a particularly fiery scene…
Any funny stories from rehearsals or filming?
Kiwi, our adopted family dog, was quite entertaining on set. The poor dog handler had her work cut out. Kiwi wasn't always the most obedient set dog. The handler would need to bribe her with sausages so that we could get through each take!
I was known for having quite an appetite on set, too. As any northerner would tell you, we like a good portion size! So any of the scenes in the series where the family are eating together (there are quite a few!), I would always inhale the food that the art department would make for us. I was quite happy to do several takes if necessary! I think most of the BBC's budget went on sausages for me and Kiwi!
What is the cast dynamic? Who was your fave person to work with?
The dynamic generally was great. We were one big happy family. The majority of us are from the North and still live up here so it was great to be working with a local cast and crew. I'd have to say that my favourite was my work wife, Leila. If I said otherwise, she would set her minions on me!
You've also got The Gallows Pole coming up, which is loosely based on true events. Do you prepare differently for roles based on real people?
Yes, The Gallows Pole is based on the true story of the Hartley family and the Cragg Vale Coiners. I play Isaac Hartley who built the coin clipping empire alongside his brothers David and William. Preparing for a real life character is slightly different because you have various materials and accounts to draw from. Ben Myers' novel, on which the series is based, is very descriptive, so I was able to use a lot of this as well factual accounts from the period, alongside my own choices and interpretations to build the character. 
Our readers might recognise you from Peaky Blinders – what was it like to be part of such a mammoth show?
Peaky was a great gig for a young actor. I'd only recently left drama school, so to find myself in a room with Cillian Murphy, Sam Neil, Helen McCrory etc. at the read through was slightly intimidating. But we all knew that we were reading pure gold from Steven Knight and it was obvious very early on that the show was going to be a huge success. I'm grateful to have been a very small part of what has become an iconic piece of British small screen history.
What's a stand out memory from filming?
A standout moment from filming would have to be the WWI flashback scenes in the underground tunnels. We were covered in mud and blood, fighting at close quarters with actual pig carcasses which were dressed to look like German soldiers. I've not been able to watch Babe since…
Are you still in touch with any of your co-stars?
I occasionally see Sophie Rundle who is an old friend from drama school, and I've since worked with Joe Cole on another project.
You've also starred in lots of stage productions – do you prefer stage or screen?
I wouldn't say I prefer stage over screen or vice versa. I grew up in the theatre, performing in anything and everything, from Bugsy Malone to Romeo and Juliet and everything in between. This is where my love for acting started to grow. I've since been fortunate enough to work in TV and film and I've learnt a hell of a lot by working with some brilliant actors, directors and other creatives. Theatre and film are very different animals in lots of ways, but equally as rewarding.
What's been your favourite role to date?
My favourite role to date would have to be Edmund in King Lear, starring David Haigh and directed by Lucy Bailey. I had only been out of drama school a couple of years when I got the part. This was a contemporary adaptation set in gangland '60s London. Think the Krays and the Richardson's turf war. Edmund is rotten to the core – evil incarnate – but is flawed and vulnerable as we all are. I always enjoy playing characters that are so far from who I am.
Which character that you have played in the past do you relate to the most in your own life?
I'd have to say that I probably envy Ceri on many levels. He's very naive to think that Lou's corruption would ever have a happy ending, but he honestly believes that he is doing what has to be done to give his son a brighter future. He worships Lou, flaws and all. He's a simple soul – which Sam isn't. 
Most of the characters I have played, I can relate to some aspect of whatever it is that makes them tick – even if it's just a tiny grain. But a character I relate to the most would be Captain Wentworth in Persuasion. He's unable to find the words to tell Anne (the love of his life) exactly how he feels. This would be more like Sam – I'm a chronic overthinker!
Who has been your favourite actor to work with in the past?
I've been lucky enough to work with some brilliant actors and I've learnt something from all of them. It's hard to narrow down a 'favourite', but the actor I've probably learnt the most from is David Schofield. David played my dad in my very first job, Land Girls. I had to leave RADA slightly early in my final year to start filming the show. We had done some short films at RADA as part of the course, but Land Girls was my very first experience of walking onto a set. David knew this and took me under his wing throughout filming. He had worked on some huge movies like Gladiator and Last of the Mohicans, so I knew that I would learn a hell of a lot from him, and I did. I learnt very quickly that less is always more with screen acting. He also brought a mischievousness on set too.
What's a role you'd cut your right arm off to get?
Most actors would cut their right arm off just to be working! But if I had to think of one role, it would be Billy Joel in a biopic of his life (I'm a super fan!). It hasn't happened yet, but when it does, I've told my agent to pounce!
What demands do you have during rehearsals?
Yorkshire Tea! Oh, and regular dance off's!
Do you get to spend much time at home?
I'm a home bird. When I'm not working, I try to be at home as much as I can. I have a daughter who has just turned one and a stepdaughter who is 10, so they keep me on my toes.
Do you live in the town or the country? Which do you prefer?
Currently I live in a small village, surrounded by green, open space – but I'm also a stone's throw from the city. So I have the best of both worlds. I also have a cocker spaniel who loves his walks, so it's a good spot for him to get his fix. The dream is to eventually live next to the sea.
How do you decorate your living space to reflect your tastes and personality?
I have very little say in the decorating of our house, but thankfully me and my partner have similar tastes. There's lots of herringbone flooring, and a big old chesterfield which dominates one half of the lounge. My piano, record player and my daughter's toys take up the other half! But I think the downstairs toilet accurately sums up our tastes – it can be a bit overwhelming if you're sat on the loo for too long. There is black and white striped wallpaper, paired with bright leopard print paper, patterned porcelain tiles and a huge circular mirror. There is a lot going on, but it seems to work… I think.
How do you wind down from work? 
Music and sport help me wind down from work. I'm a frustrated rock star, so I like to sit in front of my piano and massacre some of Billy Joel's classics (I told you I was a super fan!). I play golf as often as I can – although, since my daughter arrived, my clubs have started to rust!
How do you find balance in your personal and work lives?
This is a work in progress. If I'm honest, I'm yet to master it. I always try to spin 7,000 plates at the same time and just hope for the best. My family will always be the centre of my world, but the career I've chosen can be suffocating at times and you can find yourself neglecting other important areas of your life. I'm not quite at Tony Robbins level of enlightenment just yet. I keep praying to Oprah for guidance!
What's your relationship with social media like?
My relationship with social media has improved over the years. I used to be glued to my phone – it became habitual. But I've gone through periods of abstinence, which has helped. I've struggled at times to find the balance between using it for fun and as a tool or resource for work. I've also become less self-conscious with the content I post. I like nothing more than a funny meme. If there was an organisation who employed meme makers, my CV would be on their desk tomorrow morning. I also like to share memes I find hilarious in the hope that it brings light to someone's gloomy day. If we could all just share more cat and Donald Trump memes, the world would be lighter and full of laughter. I'm going to start a movement!
What did you want to be when you were growing up?
A footballer, a cricketer or Hugh Jackman. Any of the above would have been fine. I knew from quite a young age that I was never going to be good enough to become a pro footballer or cricketer, so I decided to pursue Hugh. I'm aware that sounds quite menacing, so apologies Hugh if you're reading this. He's the ultimate song and dance man. A triple threat. He's the only actor who could get away with playing Wolverine and high kicking his way through a Broadway musical!
If you could give advice to your 15-year-old self, what would it be? 
I grew up in the theatre in York doing plays and musicals and being told that I was talented. I wasn't so sure. When I got the call to say I had been offered a place at RADA, I asked them if I could defer my place because I didn't think I was ready. I didn't expect to get in. After graduating, I quickly realised that there were a lot of other actors out there like me who were far more talented. I became riddled with fear and lack of self esteem (I still am in many ways). I wasted so much time doubting my ability, questioning whether I was good enough to be successful in this industry. So, I would tell my 15 year-old self not to waste any energy or time. Grab every opportunity that comes your way. Be humble and respectful but also be confident in what qualities you bring to the table. Be ambitious, don't settle for half measures.
How can we all live a little bit better?
This one is tricky. As I said earlier, I'm not Oprah. But, as you've asked, I'm guilty of neglecting the moment at times. Not being present. Living either in the past or the future. I think we could all benefit from focusing on the now. Being grateful for what we have now, not for what we used to have or what we don't yet have.
Anything fun in the pipeline – professionally or personally?
Professionally, I have a series which has recently aired on the BBC called Better. We had a great time making it and I'm excited to share it with everyone. It's a crime thriller with a lot of twists and turns. Leila Farzad and Andrew Buchan lead the cast, and they are both brilliant. 
Personally, my daughter is close to walking and talking so that's going to light a firework in the house very soon. My stepdaughter has also just joined a girls football team so I'm looking forward to making a lot of passive aggressive small talk on the side-line with parents of the opposition players.
Quick Fire Round
I'm tuning into… The Gold
I'm reading… Cuddy by Ben Myers
The last thing I watched was… Heartstopper
I'm most looking forward to seeing… This Town, a new series by Steven Knight about the '70s Ska movement in the midlands.
Favourite film of all time… Shawshank Redemption
Band/singer always on repeat… Do you need to ask? Billy Joel.
My ultimate cultural recommendation… Pitcairn Island. Just google it. It is planted in the middle of the South Pacific. One of the most remote islands on the planet which is under British rule. Or Shakespeare & Co., a tiny bookshop opposite Notre Dame. And it's full of cats.
Cultural guilty pleasure… Musical theatre. In fact, this isn't even a guilty pleasure anymore. It's frowned upon by some cultural figures who are way cooler than I am. But still, I love it. I'm always moved by musicals much more than I am from a straight play. So there, I said it. Sue me.
What's next for me is… The Gallows Pole, a new period drama written and directed by Shane Meadows. Shane has adapted Benjamin Myers's novel about the Cragg Vale Coiners, a coin-clipping gang in West Yorkshire who orchestrated a huge worker-led fraud that took place just before the industrial revolution. Hitting the BBC soon.
Better airs Monday nights at 9pm on BBC1. Catch up, or stream the whole series, on BBC iPlayer. bbc.co.uk
Featured image: Samuel Edward-Cook photographed by David Reiss. Styling by Annabel Lucey. Grooming by Alexis Day.