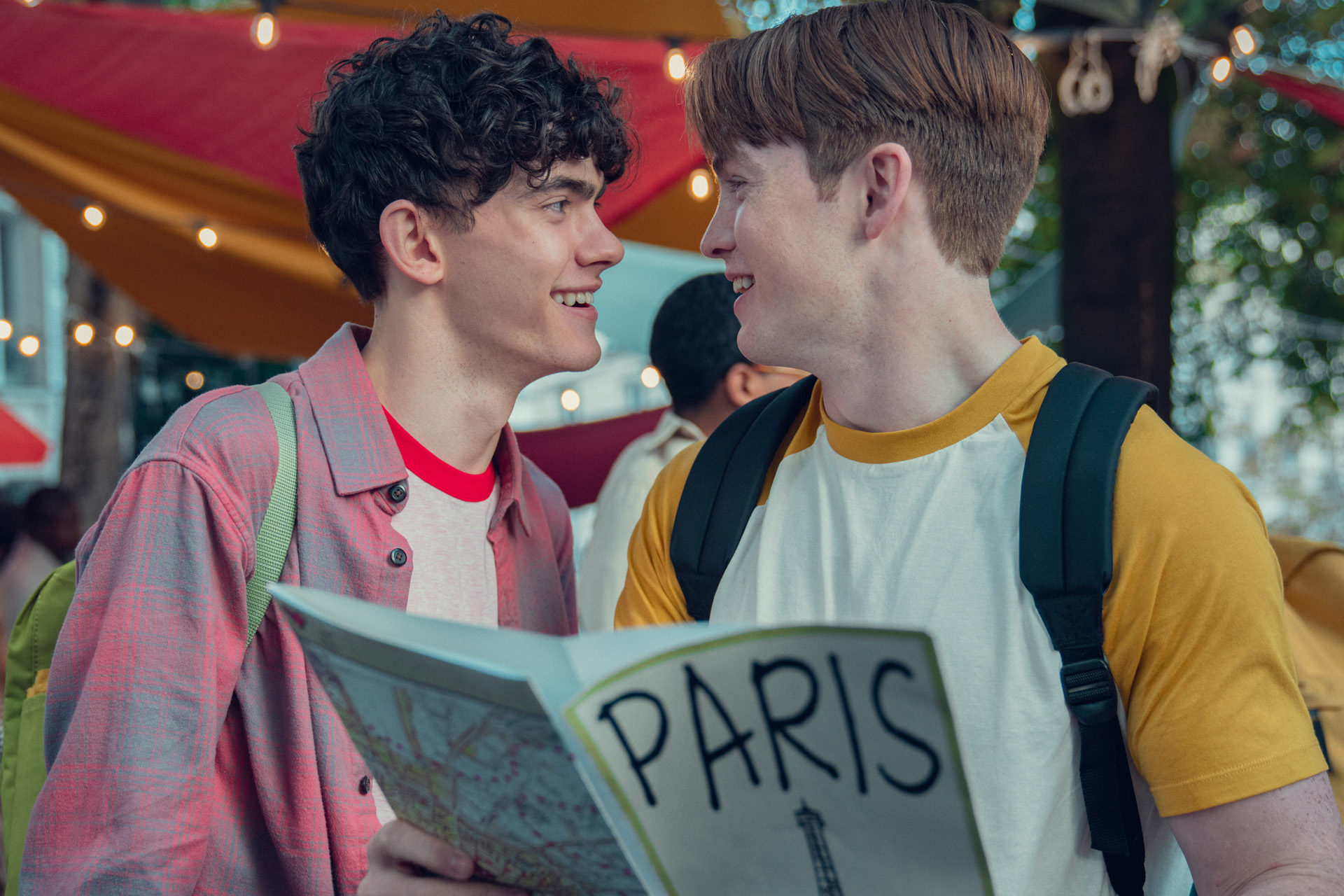 First Look At Heartstopper Season 2 (& Everything We Know So Far)
Filming has wrapped! Time to get excited…
We have first look imagery and a release date for the second season of 2022's most popular series – on Netflix and across UK television. Heartstopper attracted overwhelming praise from across the globe and across a range of demographics for its sweet and optimistic boy-meets-boy story when it arrived in April 2022, in which Nick (Kit Connor), Charlie (Joe Locke) and their friends navigate their teenage years as LGBTQ+ school kids. After Netflix reviewed the TV show's staggeringly high 28-day viewing statistics, it was renewed for both a second and third season. Here's everything we know so far about Heartstopper season 2, including when it will be released.
Heartstopper Season 2: Everything We Know So Far
First Look At Heartstopper Season 2
The official Heartstopper season two trailer has landed – and it's adorable. Watch below.
The first set of images from season 2 of Heartstopper have also landed – and we're more excited than ever for the series to drop (on 3 August). Take a look below.
This queer romance show was an instant favourite when it dropped on Netflix in April 2022. Based on Alice Oseman's ongoing graphic novel series of the same name – which she started publishing online in 2016 – it was adapted for the screen by Oseman working with See-Saw Films, with Euros Lyn serving as director and executive producer (who has previously worked on the likes of Doctor Who, Sherlock, Black Mirror, Daredevil, and His Dark Materials).
After filming commenced in September, Netflix tweeted on 2 December, 'That's a wrap on Heartstopper season 2', accompanied by a photograph of Oseman alongside lead actors Kit Connor and Joe Locke, and a sketch of Nick and Charlie on a rainbow striped clapperboard.
🍂 That's a wrap on Heartstopper Season 2 🍂 pic.twitter.com/ujMlOo7oKh

— Netflix (@netflix) December 2, 2022
What Will Season 2 of Heartstopper Be About?
The first season of Heartstopper covers the first two volumes of Oseman's graphic novel series, which currently has four volumes, with a fifth to be released in February 2023 (though it is currently readable on Webtoon). Season 2 will pick up where Season 1 left off, with Charlie and Nick's blossoming relationship. The season ended with Nick coming out as bisexual to his mum (played by none other than Olivia Colman) and feeling comfortable calling Charlie his boyfriend, so it's almost certain that we will see how the school reacts to his and Charlie's news – if the teens decide to share it.
Based on the trailer, it looks like season two will explore Nick's decision to come out, including how and when he chooses to. It sounds like Charlie is keen to make Nick's coming out experience easier than his own: before season one opens, it is hinted that Charlie had an isolated time when his school found out he is gay, and that he experienced bullying. There will also be more development for characters outside of the core Nick-Charlie dynamic, especially for Elle and Tao who were hinted to have developing feelings for each other in the show's first season. In the graphic novels, there is also a school trip to Paris, which we get a preview of in the trailer. Tres chic!
Who Will Star In Heartstopper Season 2?
The core group of friends are all set to return: Yasmin Finney as Elle, William Gao as Tao, Corinna Brown as Tara, Kizzy Edgell as Darcy and Tobie Donovan as Isaac. Olivia Colman is also set to return, after her much-tweeted cameo as Nick's loving mother.
Oseman always wanted actual young people to play her fictional characters in Heartstopper, with an open casting call in early 2021 bringing Kit Connor to the small screen (after his performances in a few films, including as a young Elton John in Rocketman) as Nick, and providing Joe Locke his debut and breakout role as Charlie.
However, there's also a whole host of new faces set to appear in the show's second season, following another open casting call for a British female or non-binary person of South Asian descent, for which Leila Khan was ultimately cast. Other fresh faces include:
Jack Barton as David Nelson, Nick's older brother

Thibault de Montalembert as Stephane, Nick's father

Nima Taleghani as Mr Farouk, a schoolteacher

Bel Priestley as Naomi, a new friend of Elle's

Ash Self as Felix, another new friend of Elle's
Netflix introduced many of these new faces via an Instagram reel in September 2022.
View this post on Instagram
When Will Season 2 of Heartstopper Be Released?
Heartstopper season 2 will arrive on Netflix on 3 August 2023, over a year after season 1 debuted in April 2022.
WATCH
Catch up with the first season of Heartstopper on Netflix.
All images courtesy of Netflix.