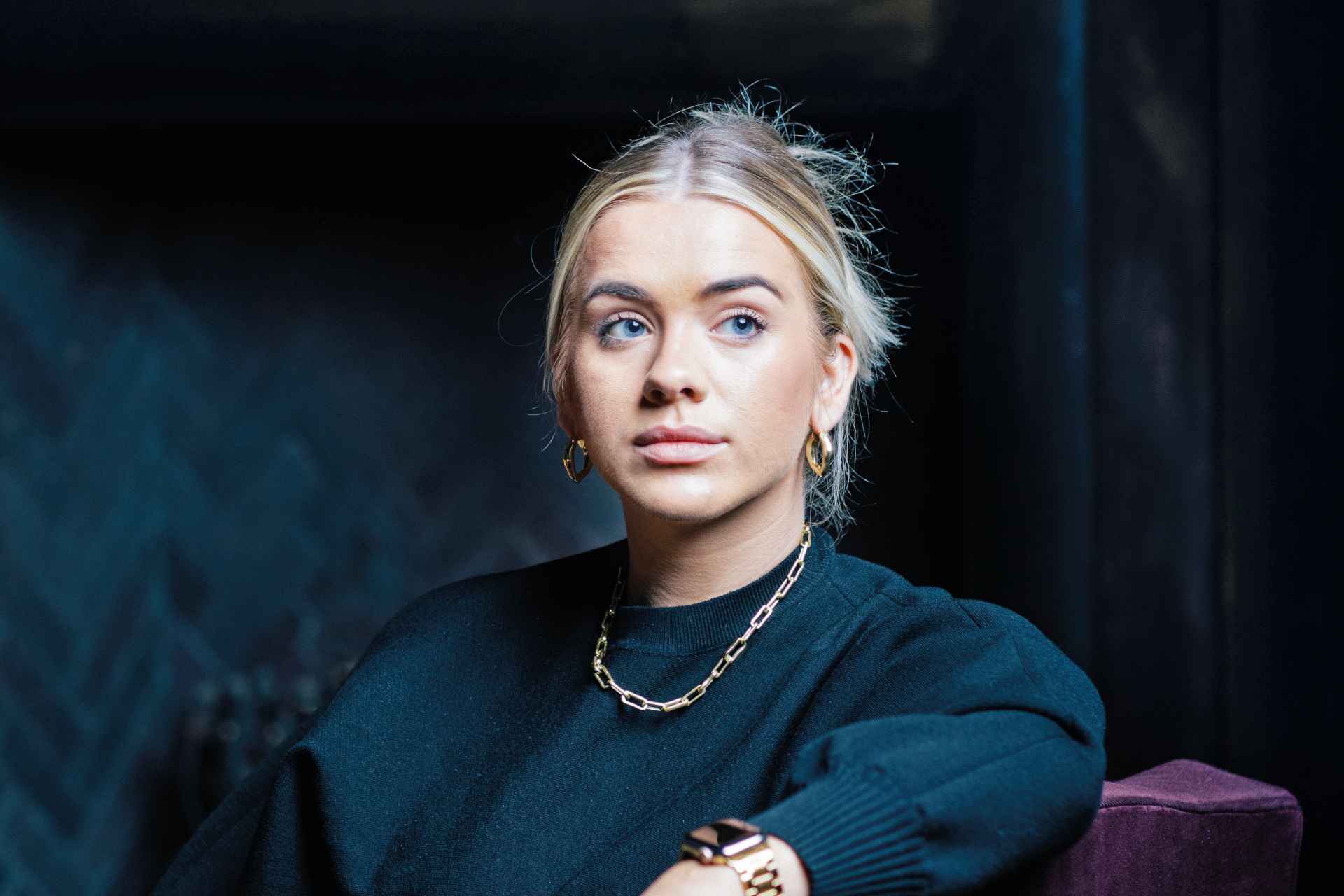 Conversations at Scarfes Bar: Grace Beverley
---
Grace has cultivated an impressive career at a young age
Charlotte Metcalf talks to entrepreneur Grace Beverley about building her fitness empire, sustainable activewear and the importance of rest.
Conversations at Scarfes Bar: Grace Beverley
Nearly five years ago I interviewed Victoria Broackes at Scarfe's Bar about her work at the Victoria & Albert. We chatted a bit about her four daughters, one of whom, Grace, was becoming a rising talent in the fitness space. So, it's with delight that I'm now talking to Grace about her phenomenal rise to entrepreneurial stardom. At just 25, Grace has been shortlisted for numerous awards, winning a fat handful of prestigious ones, including the 2021 Businesswoman of the Year and London Business of the Year at the SME National Business Awards. She's as busy as any mogul twice her age but she arrives early, flanked by her assistant and publicist.
What's interested me about Grace's career is that it represents everything older generations tend to disapprove of, as they squint at her Instagram posts with perplexed frowns, lamenting how times have changed and wondering how posing in a bikini can earn you millions. It goes without saying that it's not that simple, and I'm eager to chat to Grace about what it really takes to reach the top.
In February 2015, during her last two months at school, Grace began posting a daily Instagram diary of her fitness regime. 'Fitness seemed to be about pain, strict dieting, deprivation and willpower and I wanted to show you could enjoy it and started sharing fun, short workouts,' says Grace. 'I documented what I did, and if I missed a workout, I'd say so. I think this honesty was why my account had an appeal.'
Known online as GraceFitUK, Grace waited till she had 10,000 followers before revealing her identity. Then she founded Shreddy in 2016, a female fitness transformation platform and app, followed in 2019 by TALA, a sustainable activewear brand. She recently raised £4m in funding for TALA, but back then it wasn't an easy business decision. As an 'influencer' (a term Grace now prefers to avoid), she had earned good money wearing numerous activewear brands. 'My income fell 50 per cent when I decided to stop promoting fast fashion labels,' she says, 'but I was determined. At first, I couldn't see rental working for sweaty, pre-owned activewear, and natural fibres couldn't always be the answer for high performance clothing either. I looked at available alternatives, but they were really expensive. It wasn't right to charge £100 for leggings. It seemed insane that sustainable activewear was out of reach for a whole generation.'
Grace persevered and found a way of halving the price by making her fabrics from 92 per cent recycled content rather than 100 per cent. She was adamant her products should have great colour, fit, performance and style without compromise – though she admits this meant compromising her own business, since tight margins prevented her from advertising at first. However, she won through by openly revealing the tough slog her business was going through.
'People liked the fact I was being authentic as much as [they liked] the merchandise,' she explains. 'I'd talk about politics or the abortion referendum in Ireland – which some people really disapproved of, in a "just-stick-to-fitness-selfies" way. People tend to put anything to do with online (especially women's) success in a box, but the internet gives you the opportunity to build up a brand persona. The internet's no silver bullet, but I see it as another arm of advertising.'
When lockdown hit in March 2020 Grace initially felt confused not to be running around all day. She saw people were feeling pressured to learn a language or gain a new skill. 'We're all now connected online non-stop so productivity is the blueprint of my generation and we're expected to work 24 hours a day,' she says. 'Social media can look at things in a very black and white way, so if I shared a work tip, people said, "This is a pandemic not a productivity contest." But if I posted that people needed to relax more, I "lacked discipline". Yet to be truly productive, you have to care for yourself properly.' So Grace wrote a book, Working Hard, Hardly Working, full of compelling, wise and sensible advice about how to balance work and downtime. Her time-saving advice and ordered to-do lists are impressively useful.
Anyone attributing Grace's success to her social media posts has failed to grasp her capacity for focused, disciplined hard work and her dedication to her customers. Having spotted that the fitness industry was not appealing to her and her generation and that they were being priced out of sustainable activewear, she found solutions for both. It's one thing to post a sexy selfie but quite another to possess the entrepreneurial grit and ambition to create two award-winning brands and write a book to boot (not to mention her chart-topping podcast). As her team whisks her off to her next meeting in an electric car, I have nothing but utter respect for Grace's well-deserved success.
In Brief
Penthouse or Cottage?
For now, a penthouse on the river.
Michelin Star or Country Pub?
I like the Fir Tree pub in Oxford – it does a vegan Sunday roast.
Killer Heels or Flats?
Flats, and if not, I always have trainers in my bag.
Dog or Cat?
I have an adopted Maltipoo called Ziggy
Green Tea or Wine?
Wine
Featured image: Portrait of Grace Beverley by Alexandra Dao
MORE SCARFES BAR
Julia Peyton-Jones / Tabitha Goldstaub / Isabel Adomakoh Young