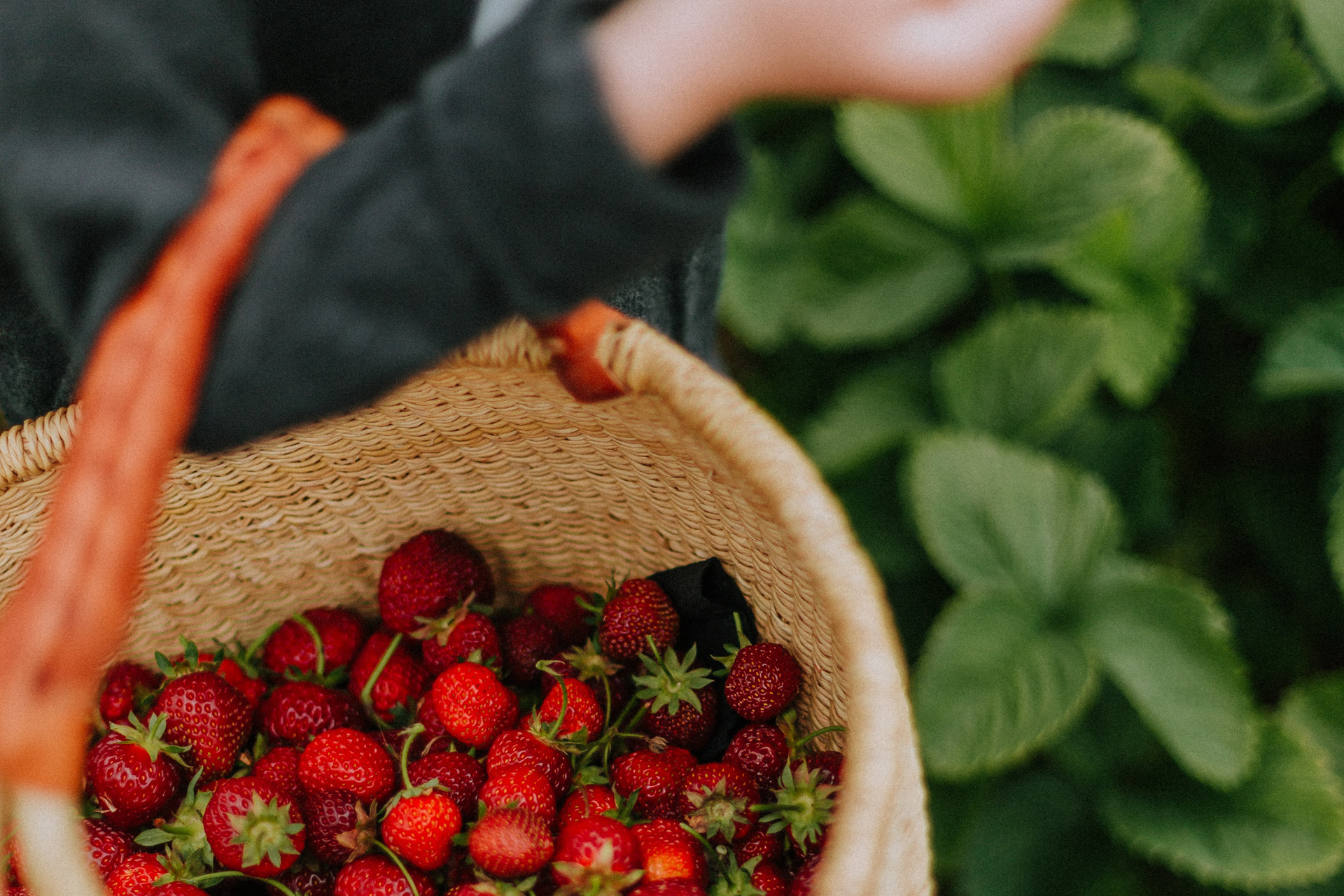 Where To Go Strawberry Picking Near London
For a berry special summer day out
Lush greenery, and the sweet smell of nature in the air: strawberry picking is an idyllic midsummer activity – providing a chic Instagram backdrop, too (cottagecore, anyone?). Luckily for us, this isn't an activity reserved for the depths of the countryside. Here are the best places to go strawberry picking near London.
The Best Places To Go Strawberry Picking Near London
Parkside Farm, Enfield
Not just near London but technically in London (and by that we mean accessible without a car), Parkside Farm is home to 50 acres of fruit fields, ready and raring to be picked. The self-described 'home of pick your own', expect plentiful strawberries (of course) sprouting alongside raspberries and red and black currants come July, plus beautiful sunflowers and lots of veggies.
VISIT: Note that visits are by advanced booking only. Hadley Road, Enfield, London, EN2 8LA, parksidefarmpyo.co.uk
Stonepitts Farm, Kent
Know your Florence from your Cambridge Favourite? Your Christine from your Eros? Strawberry fanatics will thrive at Stonepitts Farm, which is nestled at the foot of the North Downs in Seal, near Sevenoaks. Growing soft fruit for 60 years now, Stonepitts has been a local landmark for centuries. There are also raspberries and tayberries galore and, come winter, it's the perfect spot to PYO Christmas tree. If you fancy making a day of it, visit on one of the #Folking nights, where music lovers can enjoy high quality music backdropped by stunning sunsets over the countryside. Train lovers: Stonepitts is a short 10 minute walk from Kemsing Station.
View this post on Instagram
VISIT: Watery Lane, Seal Chart, Sevenoaks, Kent TN15 0ER, stonepitts.com 
Hewitts Farm, Orpington
Venture into green Kent to enjoy Hewitts, a family-run strawberry picking farm spanning 78 acres, with courgettes, apples and pumpkins also ripe for picking. While you're there, pay a visit to the farm shop to shop the best of fresh local produce, including free-range chicken and duck eggs.
View this post on Instagram
VISIT: Expected to open in July. Court Road, Orpington, Kent BRG 9BX, hewittsfarm.co.uk 
Graveley Fruit Farm, Hitchin
A cafe, an adventure play area, a zip wire, tractor rides, pig feeding, go karts, mini golf, a jumping pillow… Graveley Fruit Farm is the Hertfordshire home of fun. Oh, and there is strawberry picking, too – just check the Facebook page ahead of your visit.
View this post on Instagram
VISIT: Graveley Lane, Hitchin SG4 7EH. graveleystrawberries.co.uk 
Garson Farm Pick Your Own, Surrey
Once a supplier to Borough Market, this award-winning garden centre has a branch in Titchfield, Hampshire but, to pick your own strawberries, it'll be a trip to their Surrey outpost for you. At Garson Farm Pick Your Own, now in its 42nd year, strawberries are growing bountifully amid beetroot, broad beans, courgettes, french beans, gooseberries, marrow and spinach, with plenty more burgeoning for later in the season (from apples to dahlias, cherries to pumpkins).
View this post on Instagram
VISIT: Adult farm passes are £4, and £1 for children. Note that you have to book in advance to visit. Winterdown Road, Esher KT10 8LS, garsons.co.uk
Hawkswick Lodge Fruit Farm, St. Albans
Just north of St. Albans in the Hertfordshire countryside lies Hawkswick Lodge Farm, a family-run affair specialising in soft fruit growing, including strawberries, raspberries, red currants, blackcurrants, blackberries and gooseberries. Grab your wicker basket and get picking!
View this post on Instagram
VISIT: Open from 24 June until mid-August for 2023. Harpenden Road, St Albans AL3 6JG, hawkswickfruit.co.uk 
Spring Gardens Nursery, West Sussex
At the foot of the South Downs AONB, find a Nursery, farm shop and idyllic swathes of fields for strawberry picking. Plus, find raspberries, tayberries and loganberries ready and waiting to be picked. If you fall in love with Spring Gardens – who wouldn't? – there's even an idyllic, leafy Victorian glasshouse that can be booked out for events. Nuptials among the strawbs, anyone?
View this post on Instagram
VISIT: Washington, Pulborough RH20 3BS, springgardensnursery.uk 
Cammas Hall Farm, Essex
From beer festivals to craft workshops, there's something for everyone at Cammas Hall farm – plus, plenty of strawberries to be picked. Plus, there's a footgolf course, play area, and nature trail.
View this post on Instagram
VISIT: Check the website before you visit. Needham Green, Hatfield Broad Oak CM22 7JT, cammashall.co.uk 
Maynards Fruit, East Sussex
One of the UK's longest running PYO fruit farms, conclude your strawberry picking endeavours with a picnic, a glass of fresh apple juice and a scoop of ice cream at East Sussex's Maynards Fruit. An entirely fruit-growing farm, as well as strawberries, you can pick the likes of plums, gooseberries and blackcurrants. For the latter, you'll be strolling among the stars: Maynards is a blackcurrant supplier to Ribena. Hopefully the other fruits don't get too jealous.
View this post on Instagram
VISIT: Due to the wet winter, Maynards isn't open for summer until late June or early July. Windmill Hill/Cross Lane, Wadhurst TN5 7HQ. maynardsfruit.co.uk 
Stanhill Farm, Kent
A mere 17 miles from the city centre, Stanhill Farm is ideal for strawberry picking near London. Though the strawberries are a little smaller this year, there's still plenty to enjoy. Plus, you don't need to book ahead – just show up and fill your boots! (And by that we mean fill a punnet for £3.50, or a basket for £15, containers supplied by Stanhill.) Better still, Stanhill Farm is home to an amazing maize maze, with a theme of 'time travel' for 2023 to celebrate 60 years of Doctor Who, open from July.
View this post on Instagram
VISIT: Birchwood Road, Wilmington, Dartford, Kent, DA2 7HD. stanhillfarm.co.uk 
Crockford Bridge Farm, Surrey
It's all about the PYO at Crockford Bridge Farm, with a vast swathe of fruits and veggies ready to be picked. Think strawberries, rhubarb and red currants, all topped off with a scoop of ice cream (or vegan sorbet) at the end of your visit – the epitome of summer. Come October, you'll want to revisit to PYO pumpkin – or PYO Christmas tree in December.
View this post on Instagram
VISIT: Addlestone KT15 2BU, crockfordbridgefarm.co.uk