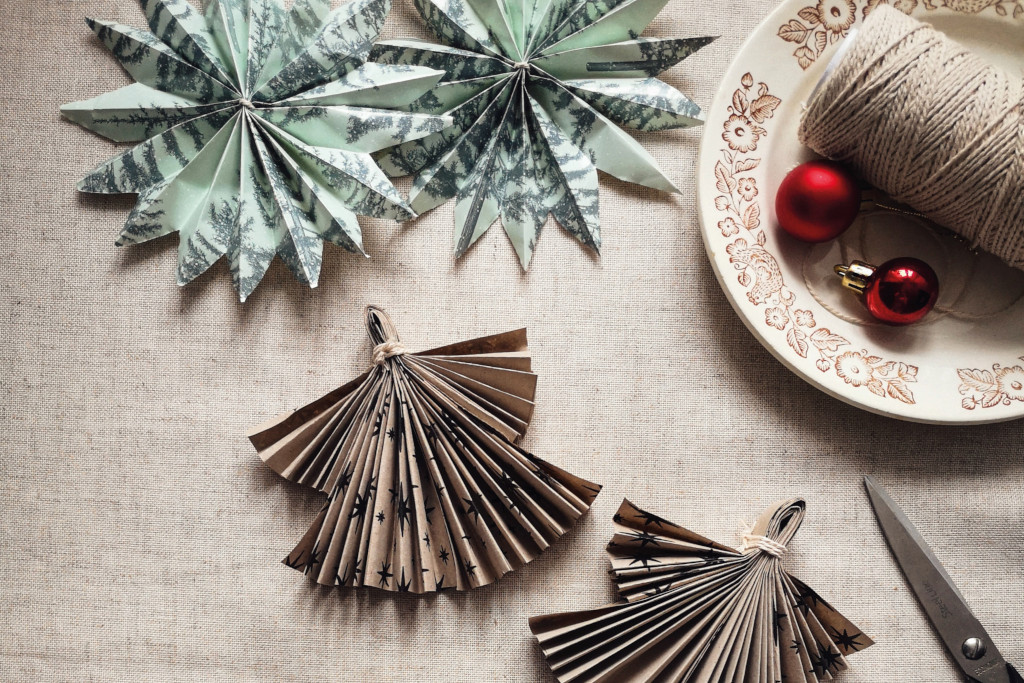 A Season to Change: How To Make Christmas Sustainable
---
Tips to ensure a sustainable Christmas
It's the most wonderful time of the year, but possibly not the most sustainable. Three million tonnes of annual waste, 108 million rolls of wrapping paper and 100 million bin bags thrown away annually over the season is enough to sober even the brightest spirits. Don't worry, that doesn't mean sparse trees and austerity Christmas dinners just yet – with the help of some sustainability conscious experts, here are some crafty, creative and eco-friendly moderations to ring in the festive season…
How to be More Sustainable this Christmas
THE ART OF GIVING
Who really needs (or wants) Christmas pudding novelty knickers anyway? When it comes to sustainable gifting, less is more – do away with the clutter, and invest in presents that will be loved, used and repaired. For sustainable present-giving ideas, wildflower seedbombs from Bloombox are a good way to inspire the start of a rewilding project. Budding bakers will love the Social Supermarket's purpose-driven baking gift boxes – which give back to neonatal charities, anti-human trafficking organisations and more. A perfect gift for a bookworm is a Rare Birds Book Club subscription. Afterwards, you can swap finished books through Bookmooch. When it comes to wrapping, get crafty with newspaper, brown paper, odds and ends of string and ribbon. Or buy recycled, compostable paper from re-wrapped
FOOD FOR THOUGHT
'Challenge yourself to transform your leftovers'
A staggering 4.2 million Christmas dinners are wasted across the UK every year. So how to make Christmas lunch go further? 'I have a Filipino mum who's very into thrifty cooking – so eking out Christmas dinner is second nature,' says chef Melissa Hemsley, a Fairtrade and sustainability champion.
'I get a veg box every month, so normally I make seasonal dishes like slow-braised cabbage, seasoned roasted wedges and tons of roast veg. When it comes to seasonal ingredients, I love mushrooms (which are grown in the UK all year round) and sprouts – there's so much you can do with them, they can go in slaws, roasted with miso dressing, or frittatas. A great festive crowd-pleaser is cavolo nero and celeriac crumble using leftover oats, seeds and cheese.
'After Christmas, fritters are a brilliant bubble-and-squeak alternative to keep leftovers going. Add a pinch of curry powder, yoghurt and chutney, or grate some cheddar cheese and chop in leeks. While cooking, keep your vegetable odds and ends to one side (things like cauliflower leaves, broccoli stalks, squash peelings) and challenge yourself to make a broth, soup or "fridge raid" frittata from them. To beat the January blues I use Ecozoi ice cube trays and pack in leftover superfoods – lemon, ginger, pomegranate seeds – to make 'power cubes' that you can pop into a hot drink. You can also use melted-down, leftover chocolate (with a scrape of coconut oil), nuts, raisins and fruit to make "freestyle" Florentines.'
Melissa Hemsley's book Eat Green is out now (£25, Ebury)
DECK THE HALLS
'Vintage chandelier droplets threaded with ribbon make the most beautiful Christmas decorations'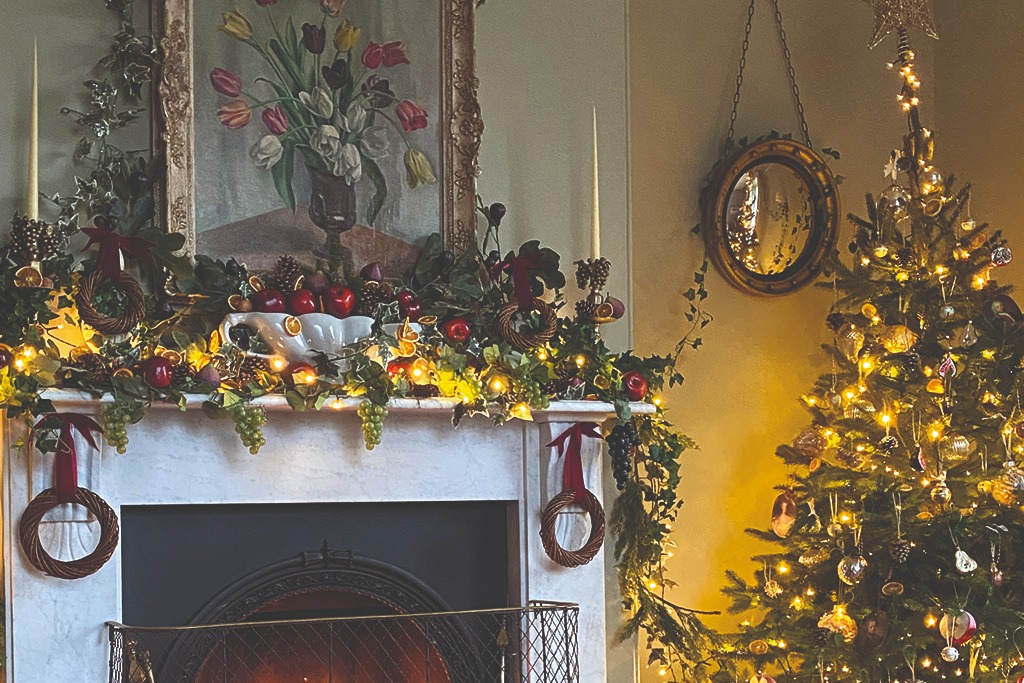 'Moving from London to Norfolk 12 years ago gave me a fresh love of Christmas – it's truly magical here,' says Paula Sutton, who has been running her 500,000-follower interiors Instagram account @hillhousevintage since 2013. 'I'm always inspired to bring in lots of things from the garden for decorating – holly, yew, and anything which has fallen. I'm definitely head tree decorator of the family, but I tend to do the mantlepiece a few weeks before, layering it up with branches, leaves and ivy crawling up the walls. I love the idea of festive, Dickensian decay – it's lush and romantic, but so natural. Each year I create paper bows and I collect ribbons throughout the year from presents and packages which I tie on the tree branches. I also collect droplets from old and broken chandeliers that I find in second hand shops – you can tie ribbon onto them and they make the most beautiful, sparkly Christmas decorations, and look magical in candlelight.'
'When it comes to the Christmas tablescaping, I like to start with one colour and then layer in metallic to create the festive feel. I always use several vintage candlesticks – I have far too many. For place settings, I like to tie craft paper labels to a sprig of holly, it can be fun to create your own personalised place setting cards using stamps or illustrations. This year I'll be trying my hand at découpage decorations: you take a disc of card, layer over as many images as you like and then glaze over. I love elements which are timeless like that, it's something you can imagine people doing 300 years ago.'
Paula's book, Hill House Vintage: The Art of Creating a Joyful Life is out now (£22, Ebury Press)
WONDER WREATHS
'Forage or look for local flower and foliage suppliers'
'The key to creating your own beautiful (and more sustainable) Christmas wreath is the base,' say London based florist Kitten Grayson. 'Use a bendy fallen branch like birch to create a base you can use for years to come. A winter walk is a good excuse to forage for fallen greenery, pine cones, berries – anything that catches your eye, which you can attach to your base with gold wire for a festive touch.' Hackney-based floral artist Hazel Gardiner likes to jazz up home-made wreaths with garden herbs 'like rosemary, which creates depth and fragrance,' she suggests. 'I also like to use mini-garlands attached with hemp string to the backs of chairs or circled around table legs. As garlands are designed to drape, I choose trailing varieties like variegated ivy and old man's beard, and weave in grasses like deep burgundy Pennisetum Rubrum and Amaranthus. In terms of suppliers, look for a local flower and foliage supplier on flowersfromthefarm.co.uk. I source British mistletoe from kissmemistletoe.co.uk.'
RENT OR SWAP, DON'T SHOP
These days, renting a party dress, opera coat or chunky festive sweater is far cooler than buying. Even Harrods has jumped on the wagon – partnering with My Wardrobe HQ for an edit of its designers. Embrace the opportunity to experiment with a piece you can go all out with and hand back the next day (after all, what is Christmas if not the only day of the year to dress up to the nines in your own sitting room?). Also worth checking out are Hurr Collective, Cocoon and By Rotation. Finally, why not get your finery out for a pre-Christmas clothes-swap party with friends?
Why Luxury and Sustainability Is The Match Made in Heaven / Let's Celebrate: 10 Reasons To Read The C&TH Christmas 2021 Issue