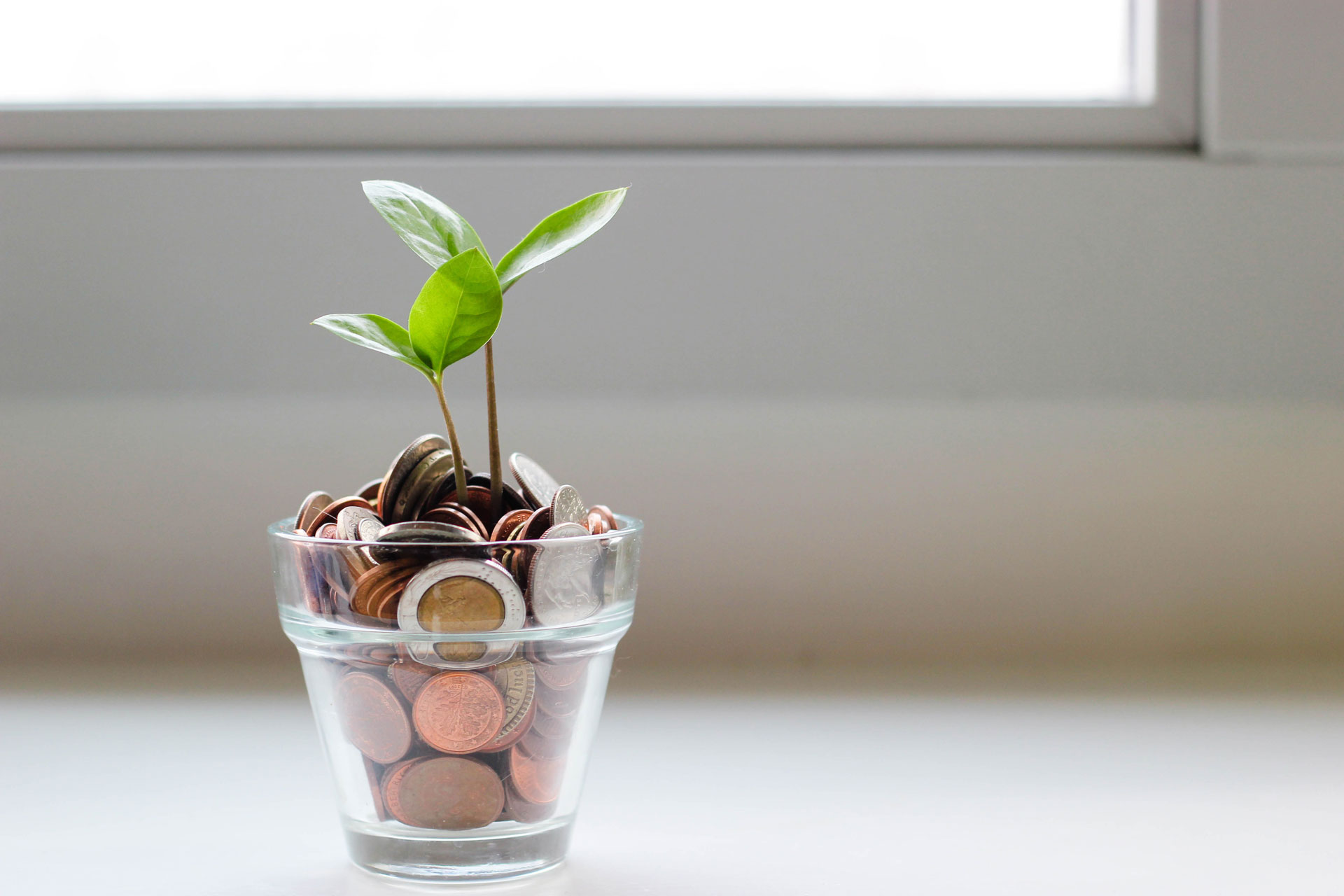 A Guide to Sustainable Investing
---
Everything you need to know about green finance
The financial sector has a huge part to play in delivering national objectives surrounding sustainability – and consumers can help by putting their money in the right places. More and more of us are choosing, for instance, to set up accounts with ethical banks, such as Triodos Bank, which invests in companies and bonds that have a positive impact on society and the environment. Ahead of COP26, Triodos found 40 per cent of people polled said the upcoming conference was inspiring them to use their money in a more climate-friendly way. Yet when it comes to sustainable investing, it can be tricky to know where to begin. So, we've enlisted the help of Tamara Gillan, an expert in all things eco-finance and founder of The WealthiHer Network, an organisation which aims to drive the economic advancement of women.
When it comes to sustainable investing, a key name to know is IG, the world's leading online trade provider. The platform can be used to invest in ESGs, which stands for environmental, social, governance – essentially, companies whose financial interests are driven by positive change. You can do this in two ways: firstly, by buying ESG shares of individual companies, such as RELX, Hasbro Inc and Ashtead Group. Alternatively, you can invest in ESG ETFs (exchange-traded funds), using an ETF screener to find companies' ESG data and scores. Find out more here.
A Guide to Sustainable Investing
What are sustainable and ethical investments?
Sustainable and ethical investments are key in driving a sustainable future and hold significant influence when it comes to directing investment into businesses that can enable crucial change. Essentially, sustainable and ethical investments are with organisations that have great practices and policies in place in terms of their environmental impact, their social responsibility, and the way they are run with balanced leadership and ethical practices. As investors and consumers, we can have great power in choosing to invest our money well, and with those organisations that are behaving well with our planet, society and future in mind.
Money talks with purpose if we can positively direct our collective actions and investments to have maximum impact, whilst also delivering returns. The finance industry is taking decisive steps in fighting climate change and social issues. The Glasgow Financial Alliance for Net Zero (GFANZ) was launched by Mark Carney, UN Special Envoy for Climate Action and Finance, to unite and influence the financial industry in accelerating the decarbonisation of the economy. Together, this collective of the world's biggest investors, banks and insurers control $130 trillion in assets which they are committing to using to transform the system – that's up from just $5 trillion in 2020. That amount of money more than just talks; it shouts. Together, we can protect our future.
Where would you advise people to begin?
Start by asking yourself what investing well and responsibly means to you. What one person considers ethical or sustainable, might be considered harmful by another. For some people it means not investing in fossil fuels, but for others it is more subtle factors, such as not investing in companies that do not protect working conditions within their supply chains.
Next, start asking questions and seeking out information about where your money is going, whether into an ISA or your pension. On some online platforms such as Nutmeg, you can choose to filter your investments into companies that promote sustainable practices or champion better working conditions. For example, when setting up a stocks and shares ISA, it's possible to specify to invest in socially responsible portfolios to make a tangible difference.
Many financial providers have range of ready-made sustainable investment portfolios, often defined by their ESG (Environmental, Social and Governance) credentials and performance, so you can easily access the right investment for you. If you're working with a financial advisor, they will be able to help you evaluate the options best suited to your values, financial goals and the level of risk you're looking to take. This layered advice is not the domain of the wealthy, you can access this type of expert advice with an investment of as little as £2,000 with a service like Brewin Dolphin WealthPilot.
Tell us about the research surrounding ethical investing and women…
As a champion of women and through WealthiHer's research, we know that women are keenly focused on investing sustainably and responsibly. Studies found that 89 per cent of women, markedly more than their male counterparts, want to actively engage with and invest in businesses that are environmentally and socially responsible in their activities. This is not perhaps surprising, as studies by the UN also suggest that it is women who will be hit hardest by climate change. Research shows 80 per cent of people displaced by climate change are women and their roles around the world as primary caregivers make them more vulnerable to financial constraints and floods when providing food and fuel for families.
In order to have the greatest possible positive impact, the enthusiasm for sustainability needs to be shared and an accountability to invest ethically encouraged across the business landscape. Ultimately, to achieve a truly sustainable future the funders and the founders need to unite. Investors and business leaders alike must spread the word, take up the baton and encourage others to follow in their footsteps. It's not a change we can make alone.
How can we identify sustainable funds to invest in? What should we look out for?
Five years ago, the initial steps were taken to encourage investment in sustainable funds: 2017 saw HSBC lead the charge with the world's first bond of $1bn which was specifically designed to support the UN's Sustainable Development Goals. This was taken one step further at last year's COP26 summit with the launch of HSBC's £500m Green SME Fund to encourage business leaders to make the necessary investments in those more cost-intensive green activities which would have otherwise been difficult to financially justify in early growth stages.
It is innovations like these that stand out as the way forward in sustainable investment if we are to see the rapid change we urgently need – but there is still room for more support if we are to bring about this change at the necessary pace. Businesses need these incentives to encourage them to 'do the right thing' and provide continual investment opportunities for ethical funders. Fiscal policies and innovation grants, such as Innovate UK's mandate to support businesses that choose to take the harder path towards sustainability lead by example for others, will make it much easier to identify the best opportunities for investment that accelerates change.
The fashion industry is often at the heart of the debate around securing our sustainable future. And it is here again that female entrepreneurs are leading the way. Research from The WealthiHer Network has shown that there is a 10 per cent differential between women and men who wish to engage with or invest in luxury brands that are both sustainable and socially responsible.
The old adage that 'necessity is the mother of invention' has never been truer, especially in industries feeling the most urgency to change. Fashion consumers are increasingly putting sustainability at the top of their lifestyle agendas and businesses are having to respond. Brands are investing in new technologies and demonstrating a willingness to implement innovative techniques and rethink their supply chain and means of production. In an industry at the start of a real change movement, the opportunity for investment is ripe. From responsibly sourced materials to monitoring excess water usage, previously accepted ways of doing things are being rebuilt from the ground up with the next generation in mind.
What should we be wary of?
When it comes to sustainable investments, many are wary of the all too common criticism of greenwashing. To avoid this and truly invest sustainably you have to make a more long-term commitment to the next generation.
In fact, we need to look beyond the merely financial transaction of an investment towards preparing the next generation to continue to usher in change. As investors, it's our duty to have financial conversations with this generation, with our children, involving them in the decisions that we make. They're the ones that will feel the longer term impact of our choices.
Sophie Ward, Head of Charities & Education at HSBC Private Banking once advised me on the importance of starting to talk to your children early about where and how you can make a difference as a family – whether investing £100 or £10,000 pounds. Keep involving your children in these decisions as they grow up and develop their own values. This way, they will have an active role in making the decisions and providing the solutions for a sustainable future. As parents, we have the responsibility to empower the sustainability champions of the future.
Inspire them to want to do more with their money – not just make more, but make better and enable a sustainable change in what may be our last chance to have a truly lasting impact. It is only by empowering future funders to invest intelligently and encouraging young women and men alike into innovative leadership positions across business and finance, that we will grow a greener and equal future that acknowledges the human race's long term responsibility.
Does investing ethically mean you have to compromise on growth?
Put simply, no. With the priorities of the industry and its funds realigning to meet the demands of the future, investing ethically can actually drive greater growth and returns. This is something that has changed in just the last few years.
The stats support this: annual cash investments into sustainable funds saw an increase of more than double in just one year from 2019 to 2020, and has increased by tenfold since 2018. And the returns these investments see may explain why. This research has shone a spotlight on the lower volatility of sustainable investments by almost one third and positive effect on return by over six per cent.
For example, The WealthiHer Network partner, Quilter Cheviot revealed that its own Climate Assets Fund saw a return of over 101 per cent in the first seven years since its launch compared to a 76.54 per cent  return on its IA Mixed Investment Fund and 94.44 per cent return on the FTSE UK Private Investor Balanced Fund during this same period.
READ MORE:
Sustainability Trends 2022 / What Does Climate Positive Mean?