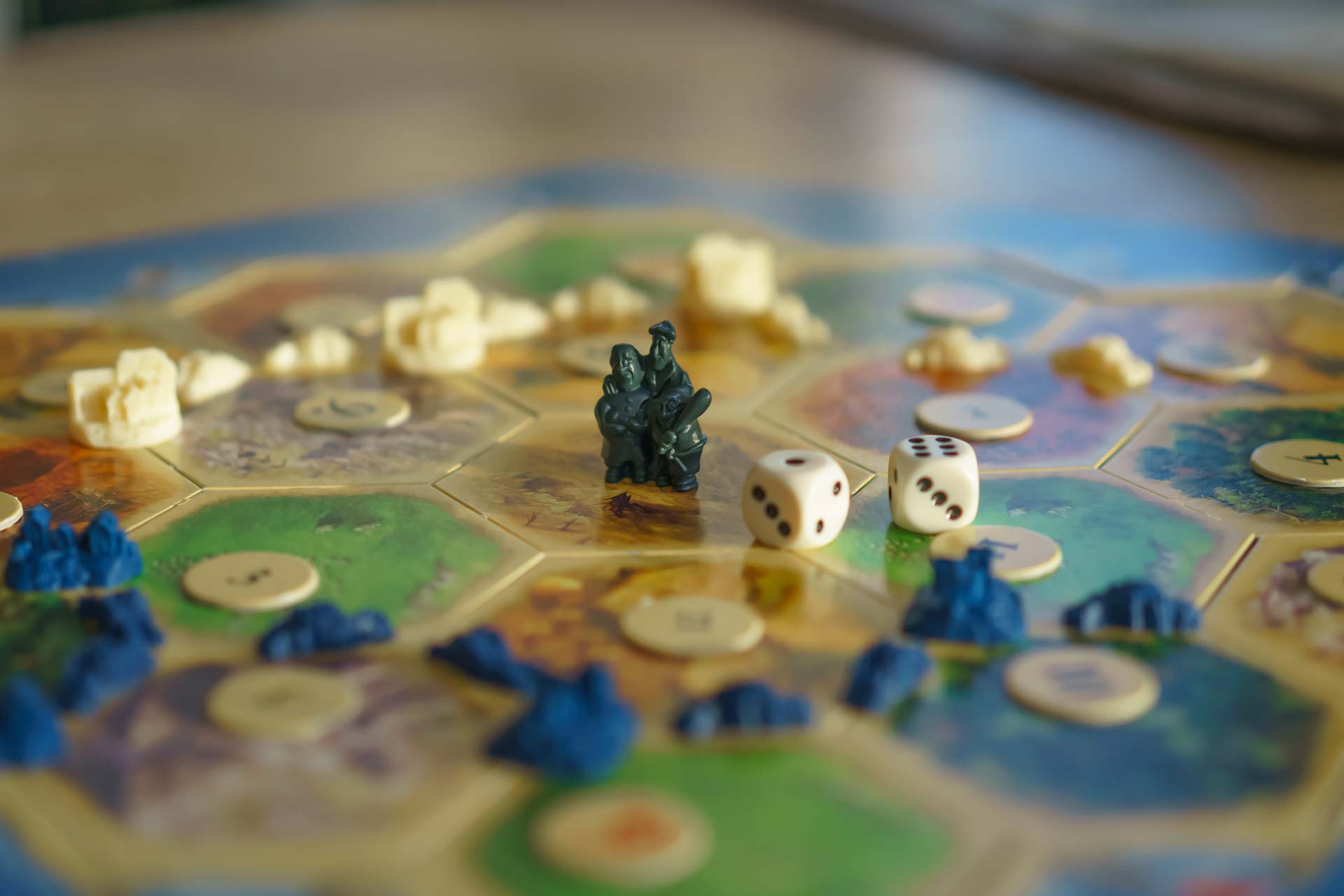 The Best Board Game Cafes In London
Get gaming
By Leo Farrington | 5 months ago
Looking for a spot to topple towers in Jenga? Or maybe you'd rather be rolling d20s in D&D? If your home library of games is wearing a bit thin, London has a fleet of brilliant board game cafes to pick from – and these are the best of the bunch, with the food and drink to boot. 
The Best Board Game Cafes In London
Draughts
View this post on Instagram
If you're a tabletop fan, you'll have heard of Draughts, one of London's largest games-spaces. This board game spot is located in both Waterloo and Hackney, and it has a huge games library spanning over 1000 titles.
The games on offer vary from the classics (Cluedo, Monopoly, etc) to more kooky entries – think Cockroach Poker or BANG! There's also a great selection of epics such as Betrayal on the House on the Hill, meaning you can settle down for a longer evening of strategy, quick thinking and roleplay.
Food And Drink: Dice-rolling is heavy work – should you get hungry, though, don't fret: there's a great menu. From small plates, like dreamy halloumi fries and popcorn shrimp bites, to sweet treats like chocolate-soaked churros, the menu is freshly prepped from an on-site kitchen. Plus, there's some excellent sharing platters should the whole table be hungry.
Top Games Pick: BANG! Be the last man standing, steal money and try not to get caught by the sheriff…  You'll have to think quick and draw quicker if you want a chance to survive in the wild, wild west.
Where: 16 Leake St, London SE1 7NN and 41 Kingsland High St, London E8 2FA.
draughts.london.com. Booking in advance is advised. 
Bad Moon Cafe
View this post on Instagram
Fan of roleplaying, and all things RPG, TTRPG and D&D? You'll love the Bad Moon Cafe. Find this cosy cafe in the heart of London – although it offers a smaller library of board games, it comes into its own with all things Dungeons & Dragons and Warhammer. For regular players of the latter game, it also provides an excellent stock of figurines, starter sets, information books, dice and dice accessories such as trays and towers.
Food and Drink: Enjoy a cocktail or other tipple at the Bad Moon Cafe, alongside one of a variety of pizzas.
Top Games Pick: There's obviously Warhammer, but from their library of titles, we'd recommend RISK, the classic resource-management, strategy game where you take over the world – while also keeping track of your alliances and enemies. You win by holding every available piece of land on every continent. Happy world domination.
Where: 159A Great Dover Street, London, SE1 4GZ.
Loading Bar
View this post on Instagram
More a retro arcade than a classic board game cafe, Loading Bar is the cool kid of this list. It's found in both Peckham and Stoke Newington, and both offer a still reasonable number of board games alongside access to classic consoles.
Loading Bar Peckham also comes fully equipped with a stage and monitor for those brave enough to partake in 'maraoke' (video-game themed karaoke). 
Food and Drink: The spaces have beer taps, as well as a fun range of themed cocktails named after popular games. Hades' 'nectar' (white rum, mango and passionfruit), Portal's 'Orange and Blue' (vodka, orangina and blue curacao), Mario's 'miyamojito' (sake, mint leaves and button mushrooms) and Pokemon Go's 'Pokemon Sloe' (sloe gin, lemonade and berry sweets) are but a few examples. It also carries classic bar-style food such as chips, crisps and pretzels.
Top Games Pick: We'd recommend Hades on the Nintendo Switch. It's a dungeon crawler with all the characters, items, enemies and weapons based off of mythologies (mostly Greek), but there are some mentions of Babylonian, European, Chinese and Catholic Gods and mythology in the story.
Where: 120 Peckham Hill St, London SE15 5JT; 129 Stoke Newington High St, London N16 0PH; Unit 11, Lower Promenade, Madeira Dr, Brighton BN2 1ET.
Ludoquist!
View this post on Instagram
Ludoquist! is a cosy Croydon based cafe, which holds an impressive 1400+ games. All genres are covered, so expect classics, role-playing, social, social-deduction, drawing, writing, adventure and so many more.
Food and Drink: Between turns, make sure to order a boozy tipple or barista crafted coffee. If you're peckish (and another player is taking a while to make their move), it's also worth a look in at the pizzas, paninis, and snacks. The baked goods are also the perfect sweet treat to energise you through the next round of Sushi Go!
Top Games Pick: Pandemic, the strategy and resource management game that might feel maybe a little familiar following this past few years. Diseases are spreading across the globe, and you play as disease-fighting specialists, scientists, medics and researchers. But be careful: global disasters might interfere, cutting off supply chains and wreaking havoc. Can you stop the infections before they stop you?
Where:  63-67 High St, Croydon CR0 1QE
Tanuki Gaming
View this post on Instagram
Tanuki Gaming's previous Deptford venue is currently closed, but join their newsletter to hear updates on events, their community and information on any future bookings.
A board game cafe co-owned by two mates who became friends through the joys of tabletop gaming, Tanuki Gaming is all about its community and connection.The team run digital and virtual meetups for gamers, alongside game nights, and run an active discord where those who love this lifestyle can chat and meet likeminded folks.
D20
View this post on Instagram
D20 occupies two spots on the outskirts of London (cute venues in Watford and Uxbridge), and has an avid-gaming community. The cafe regularly hosts Yu-Gi-Oh and Marvel Champions tournaments, alongside D&D nights for anyone looking to give the classic role-playing game a go. 
Food and Drink: If you're feeling hungry, tuck into a burger, quesadilla or any of its other carb-loaded, gloriously cheesy dishes. You're also well catered-for with drinks, whether you're thirsty for a glass of wine or a teetotal slushy.
Top Games Pick: We'd recommend a one-shot campaign of D&D to whet your appetite. Traverse a high-fantasy landscape filled with magic, monsters, mischief and mayhem (and delve into the dungeons – and meet dragons). In this world there are no – or very few – rules to follow, so you can be the hero and save the day, cause mischief and confuse NPCs, or wreak havoc on the world and its inhabitants.
Where: 87 Queen's Rd, Watford WD17 2QN and 21A Windsor St, Uxbridge UB8 1AB