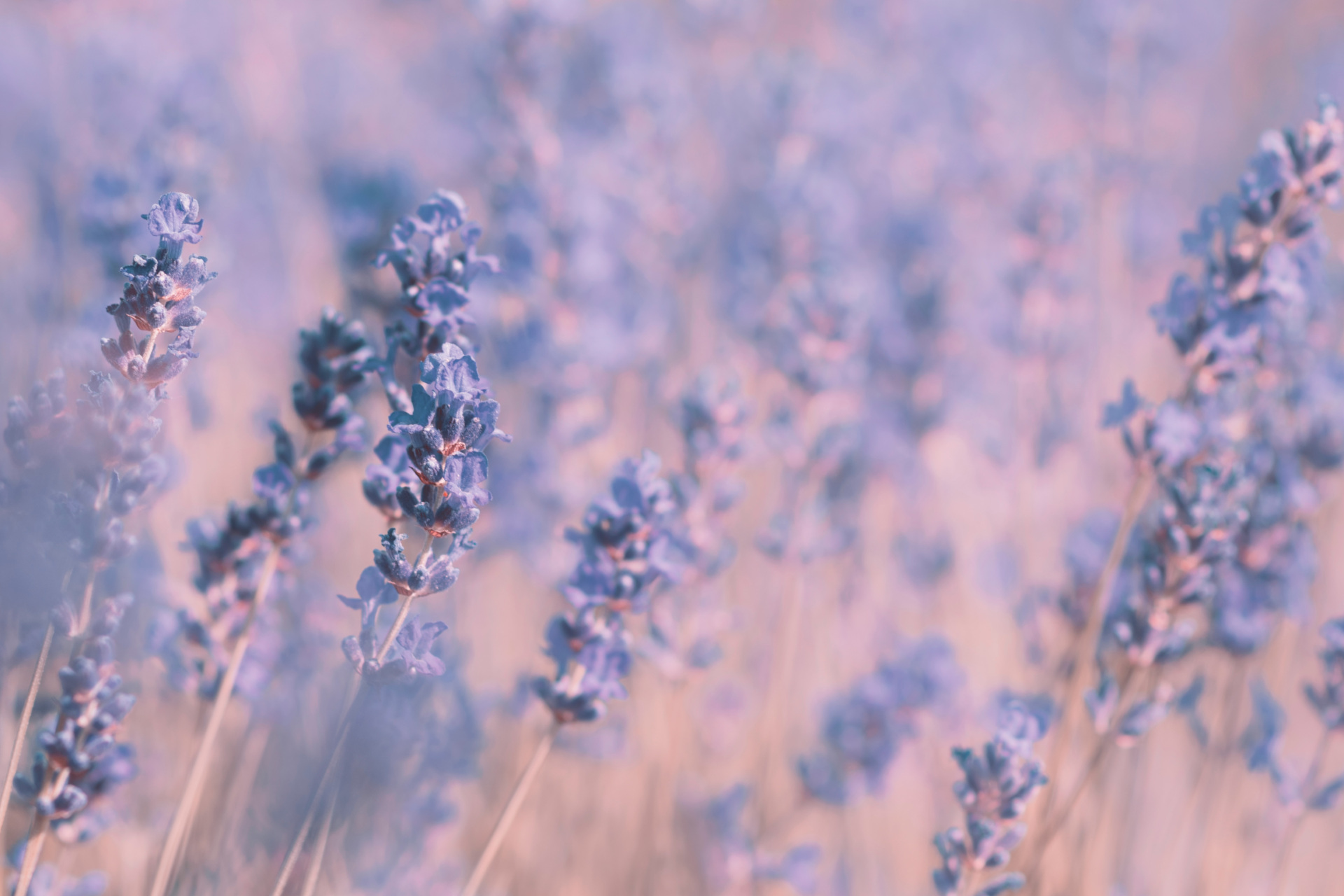 6 Lovely Lavender Fields To Explore In The UK
The fields are in full bloom this season
Now that summer has well and truly settled in, we can say it's finally lavender season. English lavender blooms from June through to September, creating fields of purple across the UK – many of which you adventure to with the family. Here's our guide to the loveliest lavender fields and farms in the UK, that you can visit now.
Lovely Lavender Fields To Explore In The UK
1. Mayfield Lavender Farm, Surrey
This 25 acre lavender farm sits just outside London (15 miles, to be exact) in Banstead, and has become something of a summer hotspot in recent years. Perfect for families, friend groups and solo travellers seeking some purple-infused calm, Mayfield Lavender Farm is renowned for its abundantly lush fields that bloom from June through to August. You can make your way around on foot or hop aboard one of the tractor tours (dubbed the 'lavender locomotive Looby Loo'), where you'll have the chance to see three varieties of lavender in bloom. While you can't picnic here, the farm is home to a cute al fresco cafe where you can grab a snack and some drinks; make sure to try out the farm's lavender cider before you go. Fancy bringing the farm back home? Pop into the shop on your way out to pick up a bunch of fresh lavender, some lavender toiletries or even some culinary treats for the trip home.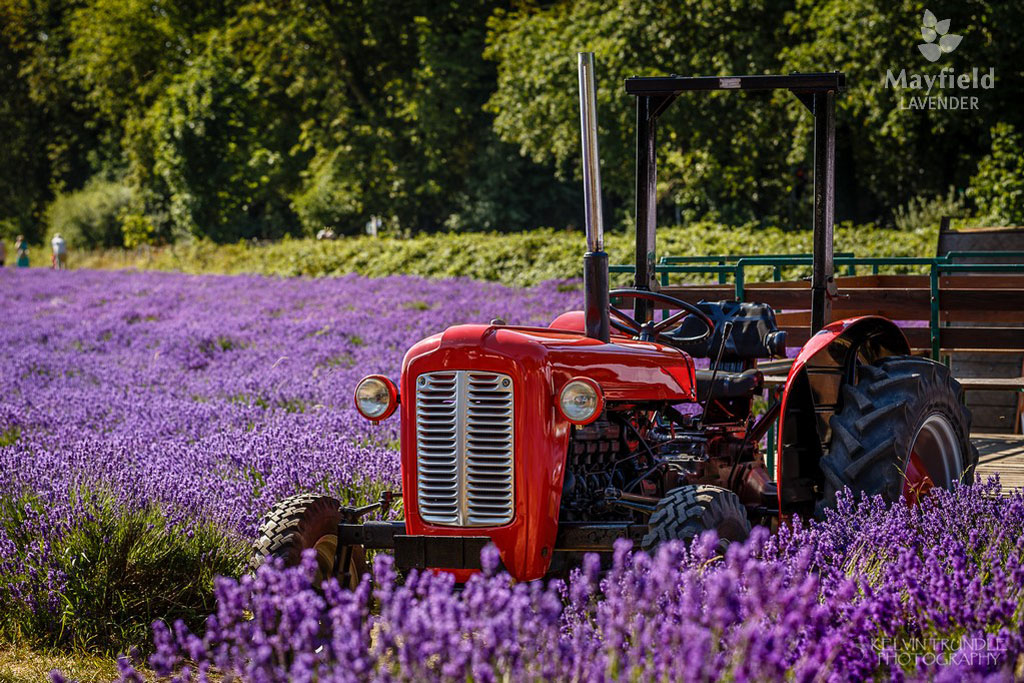 Where? Mayfield Lavender Farm, 1 Carshalton Road, Banstead SM7 3JA
When? Open season is from 10 June to 20 August 2023, open weekdays from 9am to 6pm and weekends from 9am to 7pm
BOOK IT: Tickets purchased on arrival. mayfieldlavender.com 
2. Hitchin Lavender, Hertfordshire
Another lavender locale with fairly close links London, Hitchin Lavender is nestled in the Wilbury Hills in Hertfordshire – meaning it comes with wonderfully aesthetic countryside views. There are multiple areas to explore, including a 30 acre lavender field where visitors can take cuttings, a display lavender field (no cuttings here, but you're welcome to walk around) with over 60 varieties of lavender, a sunflower field (you can also pick your own here, for a fee) and a British wild flower meadow – all perfect for amateur photographers looking to take a few snaps. There's also the Lavender Museum and play area, where kids can learn about the farm before running wild, as well as field shop where visitors can browse a range of wellness products made using the lavender grown on the farm.
Hungry? You'll be spoilt for choice here, too. Hitchin Lavender is home to the Old Barn, a 17th century barn serving up hot food and homemade cakes (this is also where the play area is, so grown ups can sit down with a cuppa while the kids run around), the Field Kitchen, which sells street food in the main lavender field, and the Wagon, a little ice cream stop near the field shop.
View this post on Instagram
Where? Cadwell Farm, Ickleford, Hitchin, Hertfordshire SG5 3UA
When? Field is open from 9am to 8pm everyday (except Wednesday, when it's open until 10pm), with last entry at 7pm
BOOK IT: Tickets purchased on arrival or booked in advance. hitchinlavender.com
3. Yorkshire Lavender, North Yorkshire
This family-run farm has been growing lavender since 1994, and now sees its 60 acres of land come into full bloom each summer. Visitors can wander through the gardens (which focus on lavender, of course), of which there are five, navigate the twists and turns of a lavender maze, run along the Wibbly Wobbly Way or chill out in the wildflower meadow. For the views, it's best to head out to the vista, where lines of lavender lead out to a pretty spectacular view of the Vale of York. The farm also runs a number of events and workshops throughout the year, from lavender wreath making to painting classes, which you can book via its website. Before you head out, make sure to drop by the nursery where you can pick up numerous varieties of lavender to plant in your own garden.
View this post on Instagram
Where? Yorkshire Lavender, Terrington, York YO60 6PB
When? Open season is from April to September 2023, open daily from 10am to 5pm
BOOK IT: Tickets purchased on arrival or booked in advance. yorkshirelavender.com 
4. Castle Farm Lavender, Kent
The prime time to visit Castle Farm Lavender is between June and July, before the team begin to harvest the fields. Visitors can make a day of it by booking one of the guided tours of the distillery, walking the the infamous Folgate Field (where all the lavender photoshoots take place) and picnicking with friends and family in the Ladybird Lavender Field. And, come evening, there's even opportunity for grown-ups to book gin and wine tasting events. If you miss lavender season, don't worry – the farm shop is open year-round (and available to browse online), selling farm foods, seasonal produce, lavender essential oils, dried flowers and gorgeous gift hampers.
View this post on Instagram
Where? Castle Farm, Redmans Lane, Shoreham, Sevenoaks, Kent TN14 7UB
When? Open Tuesday to Saturday from 9am to 5pm, and on Sundays and Bank Holidays from 10am to 5pm
BOOK IT: Tickets booked in advance. castlefarmkent.co.uk
5. Cotswold Lavender, Worcestershire
Nestled high up in the Cotswold Hills, this family-run farm has beautiful countryside views, overlooking Broadway and the Vale of Evesham. Lavender has been grown here for over 20 years, and now over 35 varieties bloom in the fields (covering 70 acres of the farm) each year. Visitors are invited to Cotswold Lavender each summer to walk through the lavender fields, enjoy the countryside and settle down with a picnic. Once you've made your way round the lavender, make sure to take a stroll through the wildflower meadows, let the kids run wild through the Beechwood Trail (a woodland area built for nature exploration) or grab some drinks and snacks (or some of the farm's lavender-based products) at the Lavender Fields Cabin.
View this post on Instagram
Where? Hill Barn Farm, Snowshill, Broadway, Worcestershire WR12 7JY
When? Open season is from 14 June until 6 August 2023, open daily from 10am to 5pm
BOOK IT: Tickets purchased on arrival. cotswoldlavender.co.uk
6. Beck Evans Farm
Located just outside of London, Beck Evans Farm is the ideal lavender themed daycation, with rolling banks perfect for a stroll and picnic. Work up an appetite in the Maize Maze, with little ones loving the Crazy Club soft play area. And satiate that appetite at onsite Mediterranean restaurant Penelope's, where you can tuck into a classic brunch before 11.20 am, a delightful selection of lunchtime bites (think wraps, salads and sandwiches alongside burgers, linguine and chicken milanese), pizzas, or a Sunday roast with all the trimmings.
View this post on Instagram
Where? Water Lane, Sidcup DA14 5ET
When? July and August
BOOK IT: Visit the lavender field for £2 per adult and £1 per child. beckevansfarm.co.uk
Featured image: Noemi Szabo, Unsplash