French model, style icon, fashion designer and perfumer, Ines de la Fressange was named in the International Best Dressed List Hall of Fame in 1998. Here, Ines answers our 'what it means to be a woman in 2018' Q&A, to mark 100 years of suffrage; the Representation of the People Act 1918 was passed on 6 February 1918.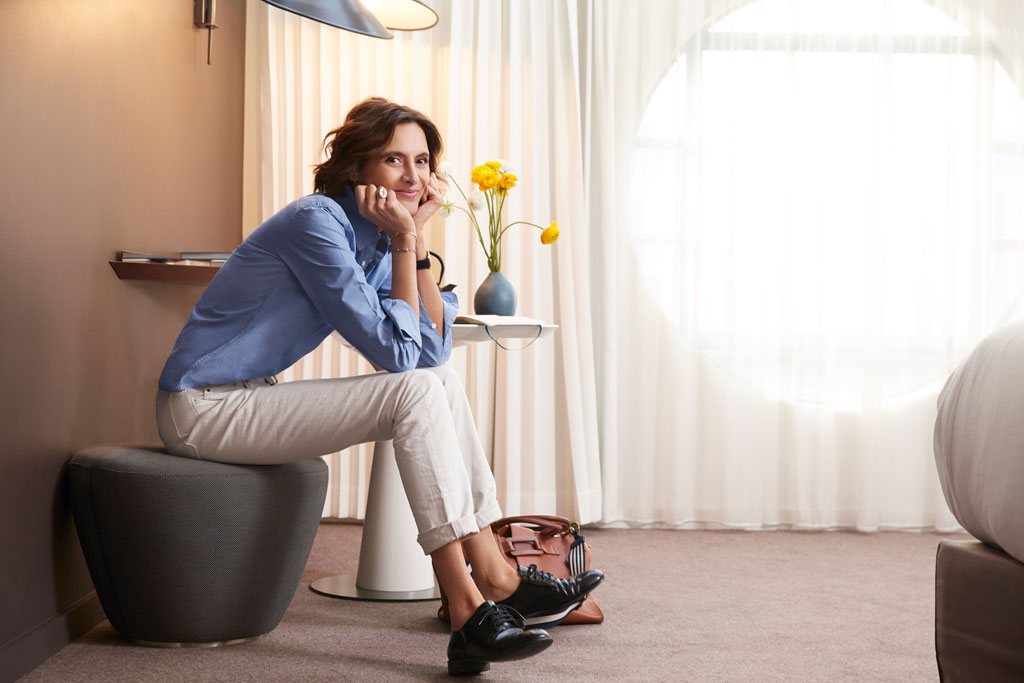 Ines de la Fressange Q&A
It's been 100 years since (some) women were granted the right to vote in the UK – how far do you think women have come in the last century?
We have come incredibly far, whether that's being elected president or prime minster, being a successful working mother, having the freedom to pursue our dreams and passions or just having our voices heard. For example, I'm working with MGallery, a collection of luxury boutique hotels across the world, which has introduced Inspired by Her, a campaign designed by women for women to show female guests that MGallery understands their individual needs. That would have been unheard of years ago but now it's possible and it's happening.
What does it mean to be a woman in 2018?
To wear more than one hat… for example I'm a busy mum, businesswoman, fashion designer, author and modelled in my younger years. It's about being ambitious and not limiting yourself. The woman of 2018 is a multi-tasker, balancing life, work, family, friends, relationships. When I was modelling, I spent years living out of a suitcase, where I found too many hotels didn't provide for me and help me with this delicate balancing act. I thought many were designed specifically with businessmen in mind and didn't address my specific needs. But times are changing and MGallery's Inspired by Her programme embraces female travellers in providing uniquely tailored and unforgettable hotel stays. Whether it's face and body beauty products for when you've forgotten to pack your favourite moisturiser or cleanser, well-balanced menu options if you fancy the healthy choice and other extra special details such as smaller sized bathrobes and slippers to make your stay complete, attention to this type of detail ensures a completely different hotel experience and means we're always prepared for whatever's next.
What do women still need to achieve?
It would be great to see a more equal distribution of women across politics and certain industries such as engineering and the sciences and at CEO level in companies.
Your personal proudest achievement?
Not being afraid! Neither of failure or success, avoiding stressing work and knowing which my priorities are. 
If you could teach young women one thing about being a woman, what would it be…
If there is an opportunity to be different, take it. Also, be present and have a voice. As a young model, I would jump off the runway and sit among the journalists, I didn't just want to be a face, I wanted to have a voice as well. Don't be afraid to break the norms and create your own rules and that is something I continue to teach my girls
And if you could teach young men one thing…
Respect – for their elders, for women and for each other.
Complete the following: In the next 100 years, I hope women will…
Be on an equal footing with men across the board, be happy with their progress and many achievements, and continue to support one another
Ines de la Fressange is currently an ambassador for Inspired by Her, a tailored programme for female guests from MGallery by Sofitel, a collection of luxury, boutique hotels across the world. 
Everything that's Happening this Year to Mark 100 Years of Suffrage 
READ MORE : What it Means To Be a Woman in 2018: Laura Wright| What it Means To Be a Woman in 2018: Kate March | What it Means To Be a Woman in 2018: Trans Activist Charlie Craggs
---