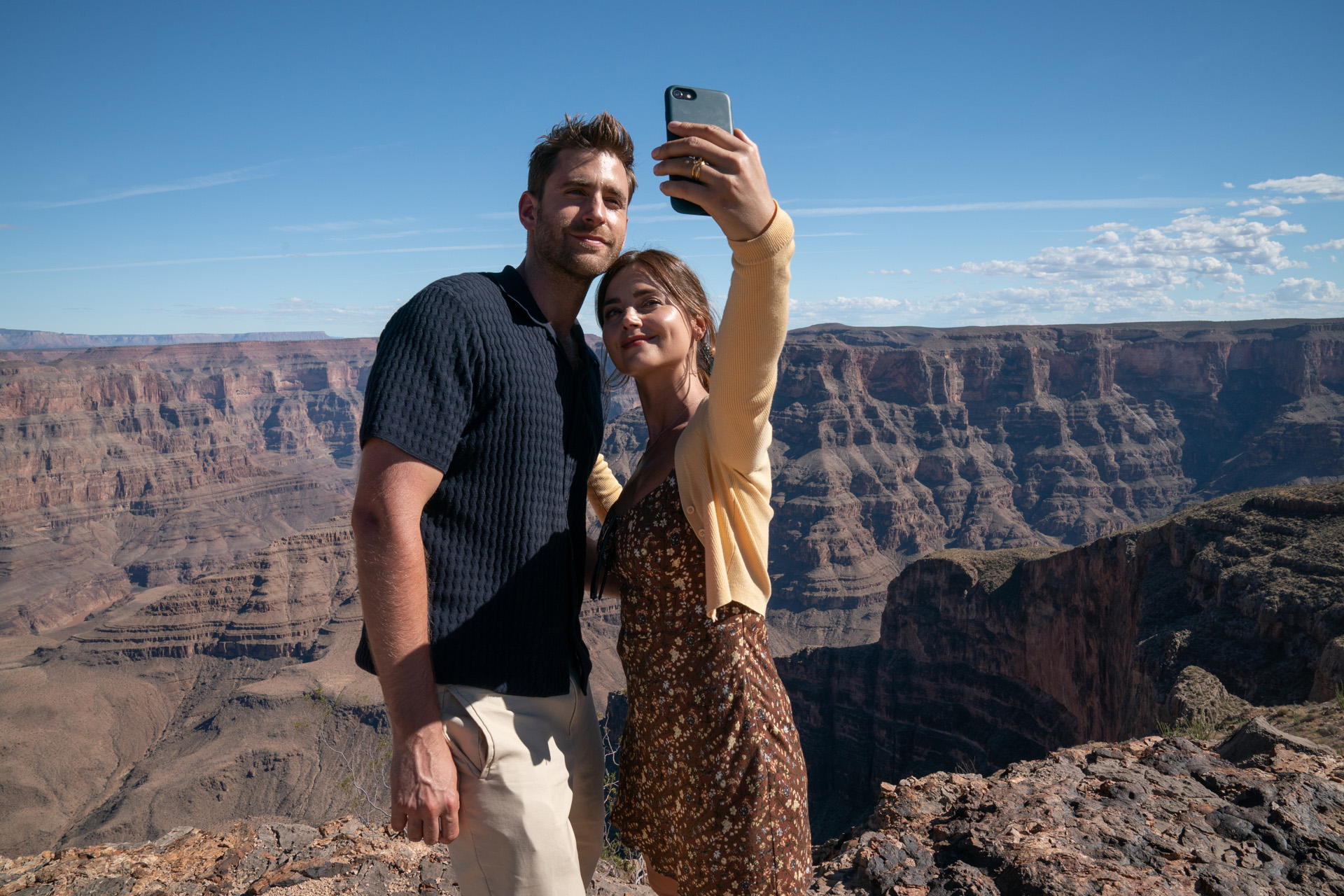 Wilderness: First Look At Jenna Coleman & Oliver Jackson-Cohen In Prime Video's Upcoming 'Twisted Love Story'
We can't wait for this upcoming series
Former Doctor Who companion Jenna Coleman unleashes her dark side in Prime Video's upcoming series, Wilderness. Here's a first look at what the juicy thriller has in store.
First Look At Jenna Coleman In Prime Video's New Series, Wilderness
A teaser trailer has just dropped for Prime Video's upcoming series Wilderness – and we can't wait. Led by Jenna Coleman and Oliver Jackson-Cohen (who you might recognise from Netflix's chilling series, The Haunting of Hill House), home scenes are spliced with travel scenes as the couple explore America's National Parks, giving us serious wanderlust. But all is not idyllic in this couple… Watch the trailer below.
Plus, a little Easter egg for any Taylor Swift fans: the trailer features a preview of Swift's rerecording of 'Look What You Made Me Do' from her upcoming album Reputation (Taylor's Version).
Plot Details
So, what will happen in Wilderness? For one, it's based on B.E. Jones' novel of the same name, and Prime Video succinctly summarises: 'Wilderness is a twisted love story, where a dream holiday and a supposedly "happily-ever-after" quickly turns into a living nightmare.' Juicy.
Wilderness follows Liv and Will, a British couple who seem to have it all: a rock-solid marriage, a glamorous life in New York, and a feeling that the best of their lives in still yet to come. But, when Liv learns that Will is having an affair, heartbreak quickly subsides to make way for another feeling: fury. So, when Will proposes a trip around America's National Parks to give the couple a fresh start, there's one thing on Liv's mind: revenge.
Cast
Though Coleman and Jackson-Cohen lead the series as Liv and Will, you can also expect to see Ashley Benson gracing the small screen – the blonde woman, named Cara, who seems to be throwing a spanner in the works in the teaser. You might know Benson best as Hanna in Pretty Little Liars. Plus, Eric Balfour, Claire Rushbrook and Marsha Stephanie Blake will all star.
Release Date
Wilderness will arrive on Prime Video on 15 September. Stream at amazon.co.uk