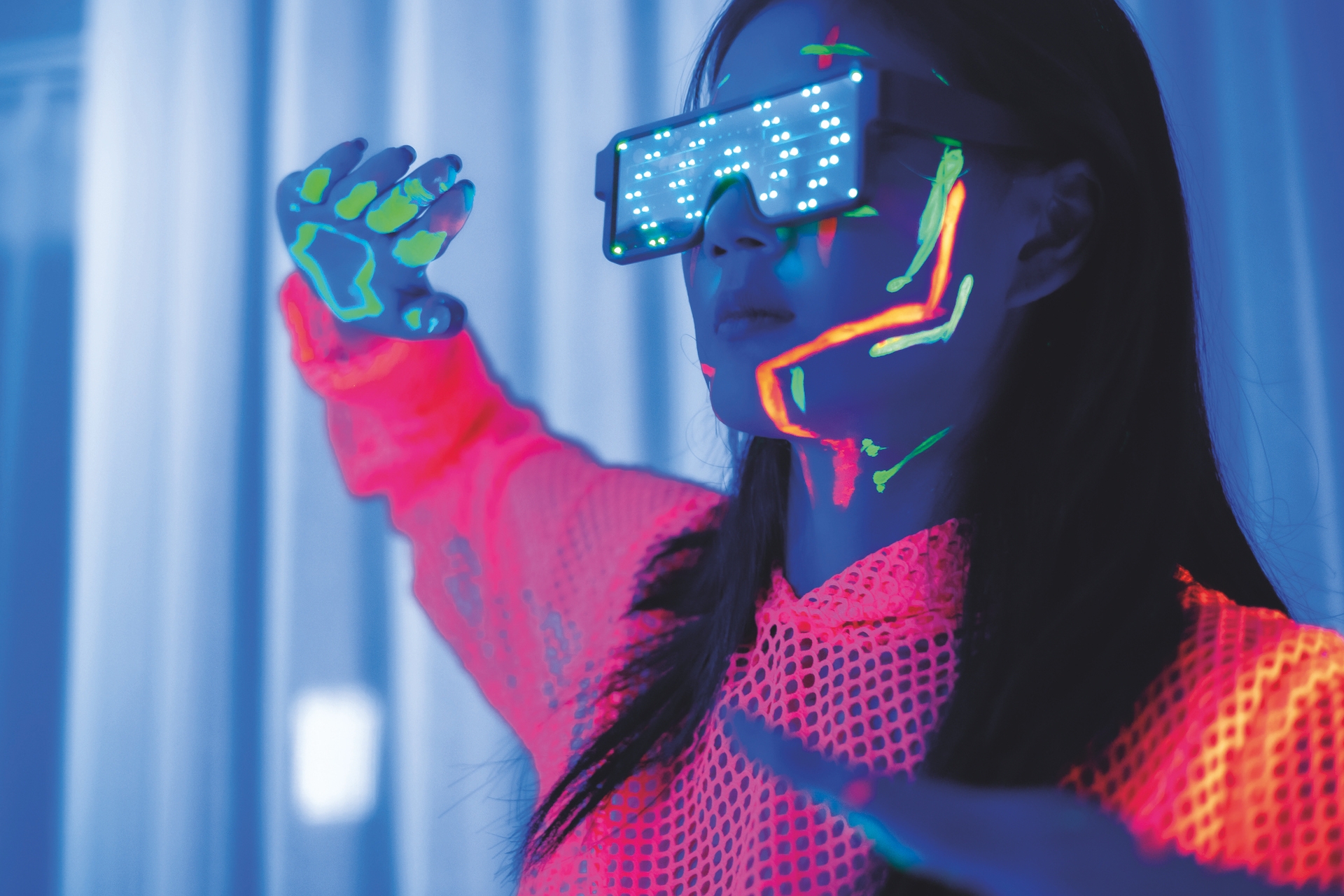 What If Women Built The Metaverse?
---
If the metaverse is full of misogyny and abuse, women won't show up – and neither will their money
We may be in the throes of the fourth technological revolution, but there's something very wrong at the heart of it: the lack of women. While the metaverse could give us the opportunity to build a truly inclusive and equitable society, it is under threat of repeating the traditional male constructs that dominate our lives in real life. Tahmima Anam argues that to have a fair shot at creating a virtual world that is open for everyone, it must be built by women.
What If Women Built The Metaverse?
Everything I am about to tell you about the world of technology, artificial intelligence and bias can be summed up in one word: Optimus.
Optimus is the name of Elon Musk's robot, the one that came out in a stuttering dance at the Tesla AI conference last September. Optimus is also the name of a robot in the American toy franchise Transformers, now a five-film series directed by Michael Bay. In the war between humans and robots, Optimus represents the kind, human-friendly side of artificial intelligence, the Autobots.
If you think about it, it's actually quite a good name, since Optimus, the action figure, is a car that turns into a robot, and Elon's robot is made by a man who used to make cars and now wants to make robots. Many of the components, like the battery and software parts, are shared between car and robot. But it's also an apt name because it is 100 percent a stereotypical boy's toy.
Which brings us to the question: is tech really a means to progress for all of us, or is it mainly driven by the fantasies of men who never got over the coolness of a car that turned into a robot?
The answer is yes and no. There are many things to love about technology. I still remember when I could only speak to my parents in Bangladesh once every two weeks, making an expensive, elaborate phone call and trying to hear their voices through the crackle of the long-distance line. Now, we text several times a day. The closeness of people who are far away, the ability for people anywhere in the world to access knowledge and information, have had profound effects on human connection.
But the narrative around technology, and the reality, are two different things. On the one hand, start-ups promise to disrupt everything. I get regularly chased around the internet by companies wanting to hack my metabolism, bring frozen meals to my doorstep, teach me German, and make me into an athlete/pianist/chef. Elon has promised us self-driving taxis by 2024, and NASA has successfully crashed into an asteroid in case one comes anywhere near us.
But having worked at a technology company for the past decade, and sat in board meetings and investment pitches, there is one glaring way in which tech has changed nothing at all: the power, and presence, of women in the workplace. While technology is supposed to be for everyone, it is overwhelmingly made by men. And that is because technology workplaces are overwhelmingly male.
This year, it is estimated that large global technology firms will average under 33 percent overall female representation, with only 25 percent in technical roles. We also know that these companies are almost always run by men – led by the trifecta of Elon Musk, Jeff Bezos and Bill Gates. The closest female founder/CEO, in terms of net worth, is Whitney Wolfe Herd, chief executive of Bumble, and her fortunes are dwarfed by those of her male counterparts.
The problem doesn't just exist in larger companies, but in the way the industry is funded. In 2021, a banner year for venture capital (VC) investment, only two percent of VC funding went to female-founded companies. Of every £1 of VC investment in the UK, 89p goes to all-male founder teams, 10p to mixed-gender founder teams and less than 1p to all-female founder teams.
Tara Reddy, co-founder of Loveshark, set out to create a gaming platform for Gen-Z girls. 'Data tells us that Gen-Z girls like gaming just as much as boys do – in fact, 84 percent of teenage girls prefer gaming to shopping,' she tells me. Yet games are overwhelmingly made for boys, with the content created by male game developers. When Reddy set out to change that, she was met with scepticism. When pitching for investment, nine out of ten investors would be men, and 'they would consider [the] business niche, that is, until they went home and talked to their daughters.' Now Loveshark has closed.
Gaming brings us to the next frontier in technology: the metaverse. In 2021, Meta, the company that owns Facebook and Instagram, spent ten billion dollars on metaverse research; all the big tech companies are doing the same, and major global brands are following suit. It seems we are going to be spending much of the future with virtual reality glasses attached to our heads, living in augmented realms.
As an anthropologist, I see the metaverse as a whole new social construct, a way for us to transform our basic social relationships and their attendant hierarchies of power. We have an opportunity to rebuild the world. Things that are hard-coded into our lives, such as the basic architectural inequalities outlined in Caroline Criado Perez's book, Invisible Women, are things we can change. In the metaverse, we could design cars that are specially for women, have enough bathrooms at major sporting venues, and set a reasonable temperature in our office buildings. After all, they're not real – they're mutable. In the metaverse, we can use simulations to train doctors and firefighters; we can see the world without destroying it; we can do more than just text or call our loved ones; we can hug them, too. In its most idealised form, it presents us with the ability to collapse space and time; to reinvent our individual and collective selves. And perhaps, sometime in the future, the utopia we build in the metaverse might make its way into our lived realities.
But this opportunity seems an elusive, if not impossible, dream. The metaverse, rather than giving us the space to be our best and redress the wrongs of the real world, is more of an uncharted frontier where anything is possible, and the worst things materialise. A space where sexual violence, homophobia, and hate crimes abound, with no regulation, monitoring, or moral centre. A recent Channel 4 Dispatches documentary describes a litany of abuses in the metaverse, with basic safeguarding and protections for children virtually non-existent.
This isn't just a problem for parents, it's a problem for any company wanting to have a presence in the metaverse. Tamar Kasriel, futurist and chief executive of Futureal, has worked extensively with brands to set out their metaverse strategy. She says that while many companies are investing in the metaverse, 'there's also a lot of fear'. Companies are desperate to get a share of the metaverse, yet aren't exactly sure what their strategy should be. Will they recreate retail spaces that mimic the ones we see in the physical world? Can the metaverse help them harness that elusive and coveted thing – a community that is loyal to their brand?
There are so many unknowns around the metaverse. Most of us don't really even know what it is – you could even argue that we're already in the metaverse, because so much of our lives are an amalgam of the digital and the real. But what we do know is that businesses have high hopes for the metaverse, for the branding and commercial opportunities they provide.
But there is, as far as I know, no regulatory body overseeing the potential problems the metaverse brings with it. 'Is it the retailer's responsibility to police their metaverse domain?' Kasriel asks – and this is a legitimate question. But whether it's a responsibility or not, it's certainly a vested interest. If women never enter the metaverse because it's just another space where misogyny and abuse run riot, we won't show up – and neither will our money.
When we talk about representation, it can sometimes feel like it's a box that companies have to tick so they can advertise their hiring practices and appear to be doing the right thing. But data tells us that companies with women in leadership roles outperform companies with a huge gender imbalance. Companies need to focus their metaverse strategies, not just on branding and monetising, but on a larger vision – one that prioritises safety, accessibility, human connection, and
joy. The monetisation will follow suit, but it can't be the driving impulse.
After reflecting on all of this, there's only one conclusion I can come to: the metaverse must be built by women. If women build the metaverse, it will be fair, safe, and inclusive. I can't put it any other way. Companies: hire more women. Not because you should (but really, you should), but because the future will be better. For everyone.
Tahmima Anam is a British author, tech writer and start-up founder
Illustration: Rosie Hunter