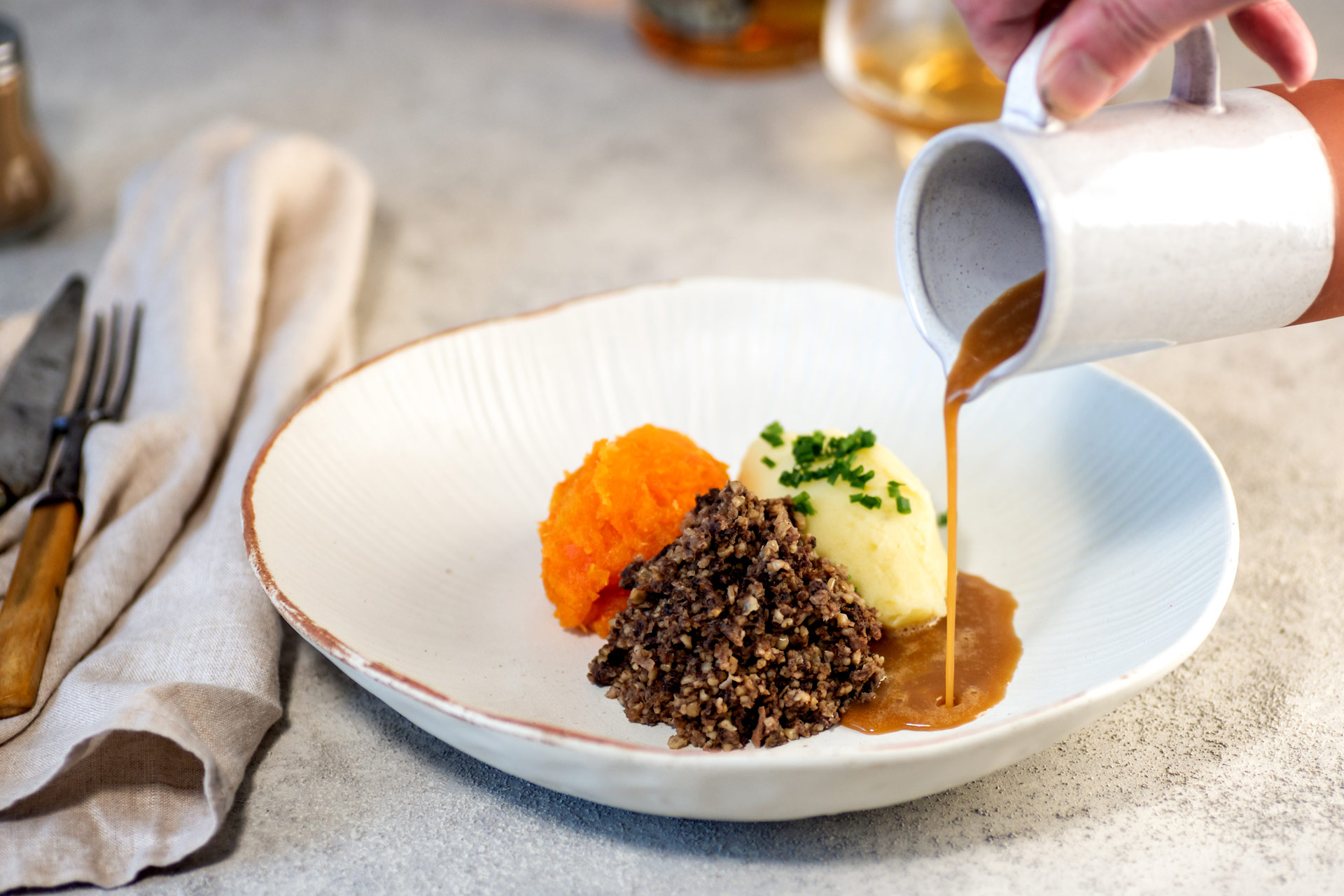 2 Burns Night Recipes From Farmison & Co
---
What to cook for your Burns supper this year
Keen to get involved with Burns Night festivities from home this year? Here Jeff Baker, in-house executive chef for ethical online meat company Farmison & Co, has shared two ideas for Scottish-inspired recipes, made using its traditional haggis.
2 Burns Night Recipes From Farmison & Co
Recipe: Haggis, Neeps & Tatties with Whisky Sauce
Serves 2
Ingredients:
1 x F&Co Traditional Haggis (454g)

1 small swede (neeps) plus 2 peeled carrots peeled & cut into cubes

3 large (tatties) King Edward or Maris piper potatoes, peeled & cut into cubes

50g cold diced butter

Splash hot milk

Nutmeg to grate

Chopped chives to garnish

Sea salt & cracked black pepper
For the sauce:  
1 shallot finely chopped

1 clove garlic sliced

150ml rich chicken stock

1tsp Dijon mustard

20g cold diced butter

Splash single malt whisky
Method 
For the haggis, bring a large saucepan of water to the boil then place the haggis in the pan and very gently simmer for 45 minutes reaching a minimum core temperature of 72°C. Top tip: wrapping the haggis in foil will help prevent the haggis from bursting in the pan as it cooks.

Whilst the haggis is cooking, boil the potatoes in one pan & the swede & carrot in another; add a little salt to each of the pans and boil until tender – this should take approximately 30 minutes.

Drain the mash separately; adding half the butter to each pan & the milk to the tatties, season to taste with salt and pepper, adding a little nutmeg to the tatties.

For the sauce, soften the shallot & garlic in a small amount of butter then add the stock & mustard, reduce by half then whisk in the remaining cold butter, finish by adding the whisky to taste, pass through a fine strainer and keep warm.

To serve, spoon the haggis onto the warm serving plates alongside the neeps and tatties sprinkled with a few chopped chives, serve the sauce in a jug on the side & enjoy.
Haggis on Toast with Brown Sauce and Fried Egg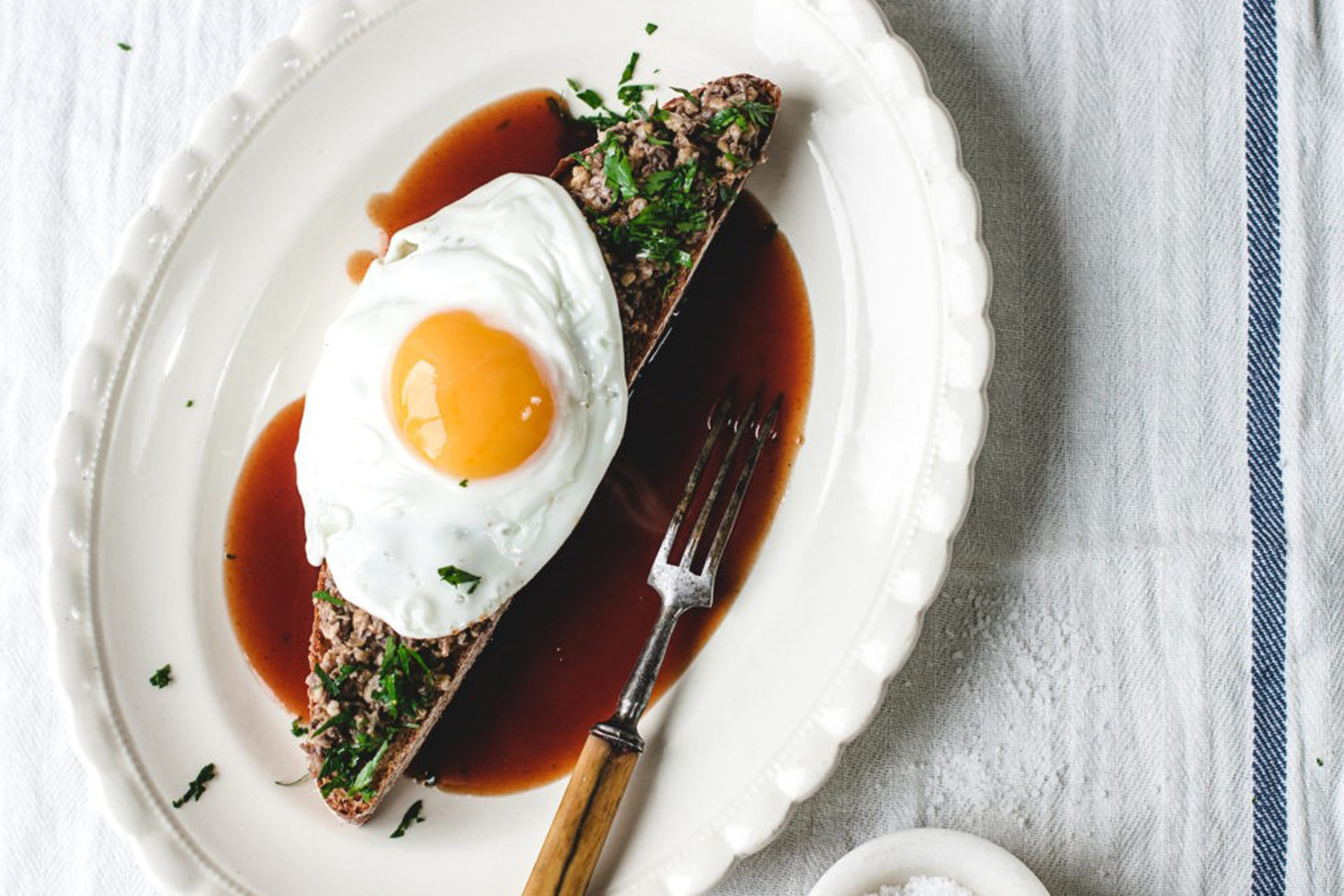 Serves 2 
Inspired from one of my all-time favourite places to go, The Broad Chare, another one of Terry Laybourne's' amazing venues. This is a lovely breakfast, lunch or supper alternative and a great way to use up any leftover haggis.
Ingredients:
Leftover F&Co Haggis (approximately 100g per person)

2 slices thick cut sourdough toasted

Salted butter for spreading

2 Free range eggs

75ml rich lamb or chicken stock

2 tbls F&co Brown sauce

5g shredded flat leaf parsley

Sea salt

Oil for frying
Method:
Bring the stock to a boil, remove from heat and whisk in the brown sauce, keep hot.

Butter the toast then evenly spread the haggis onto the toast & keep hot.

Gently fry the eggs in oil leaving the yolk runny then place on top of the haggis & sprinkle with a little sea salt.

Pour the sauce around the toast, scatter with parsley & serve straight away.