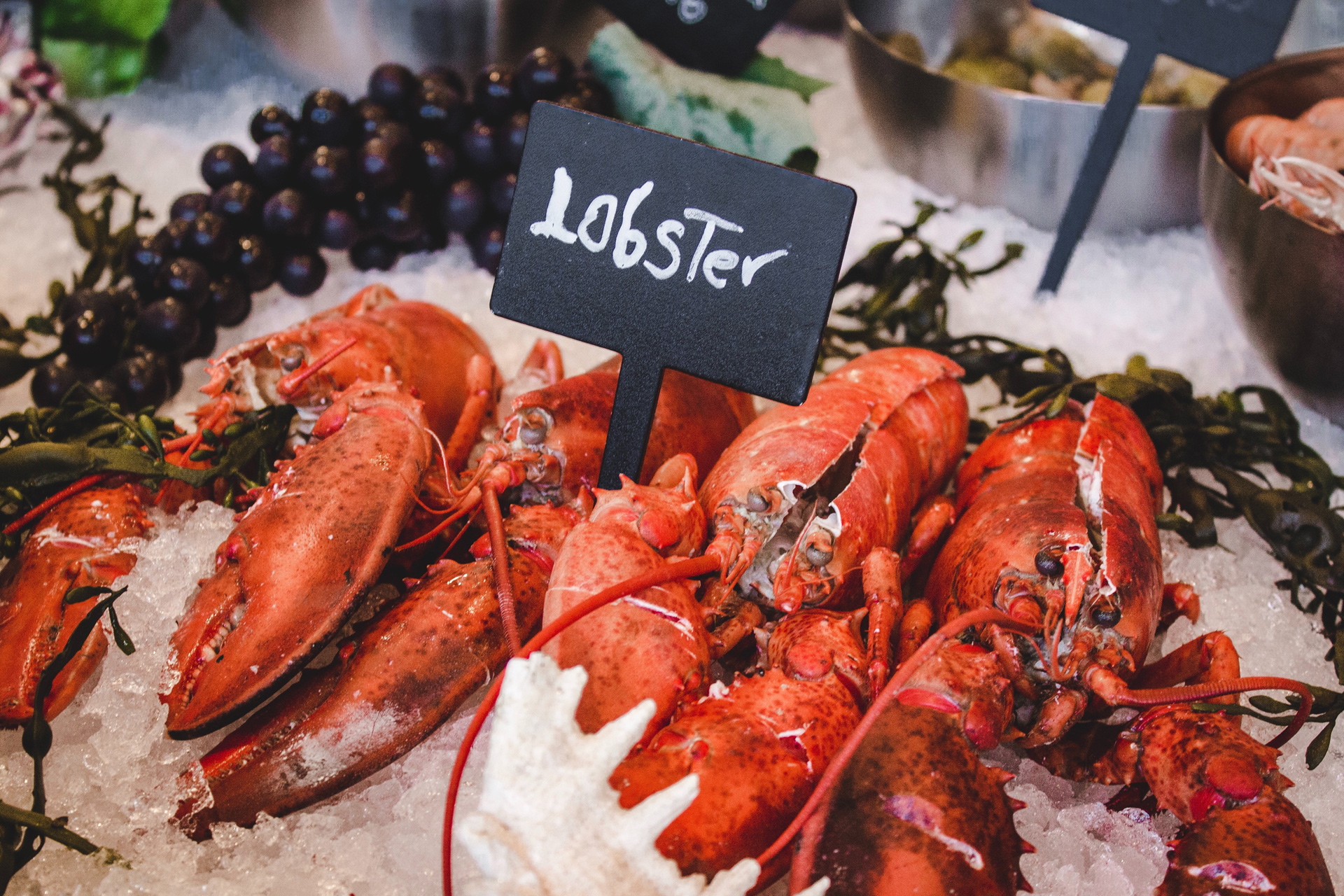 2 Seafood Recipes For Spring
Jenny Jefferies' new cookbook is a celebration of British seafood
With one of Europe's longest coastlines, the UK has an abundance of fresh seafood on its shores. But how to make the most of it? In her new cookbook, Jenny Jefferies celebrates the British seafood community with a collection of fish recipes, interwoven with stories from fishmongers, foragers and marine scientists. Here we share two of them: lobster linguine and seabass with stuffed peppers.
2 Seafood Recipes For Spring
Recipe: Lobster Linguine
By Susan Morgan of The Crab Pot Cellars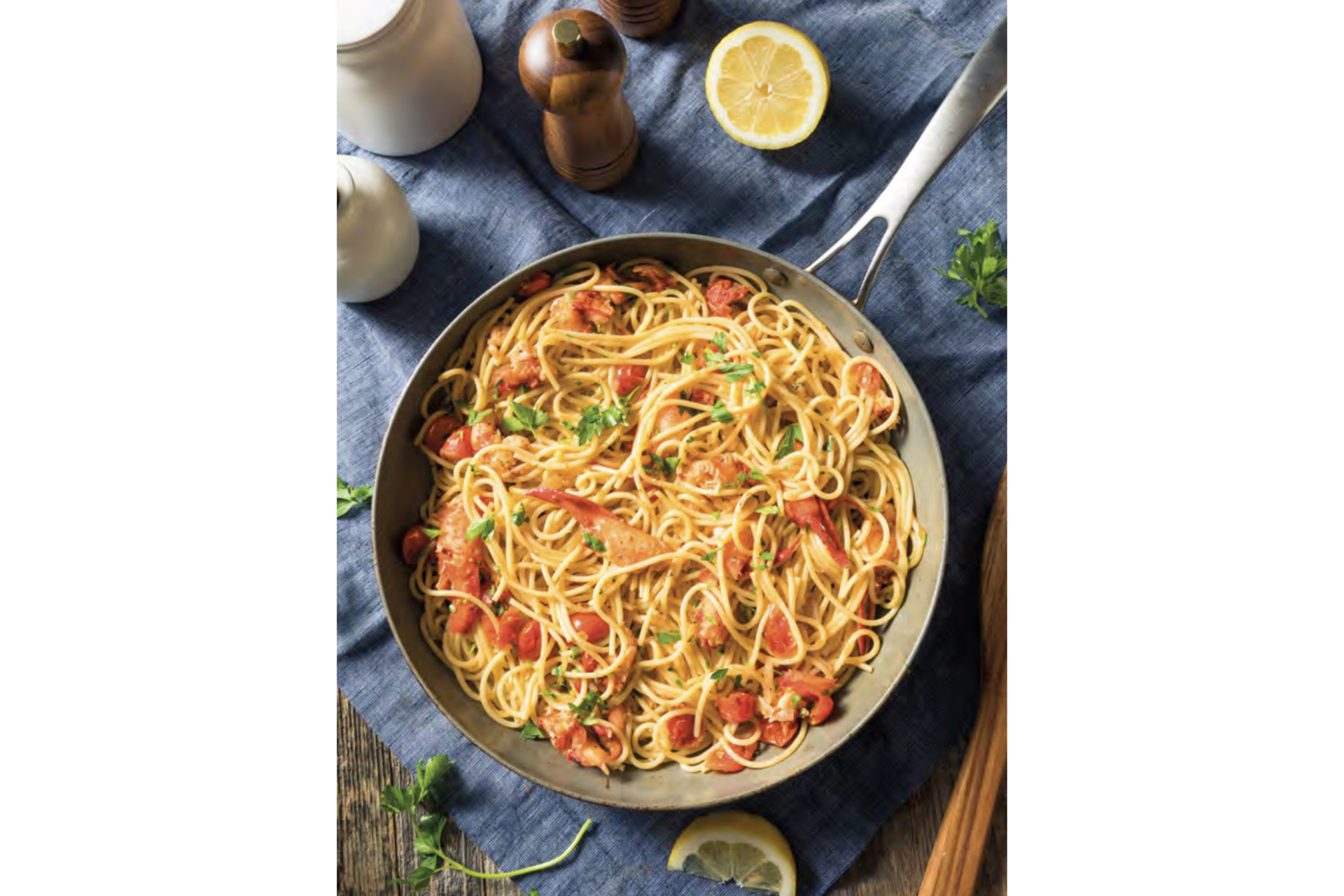 'This recipe originated to use up leftover lobster or crab from a seafood salad meal for guests, David having brought in more than we needed from the boat. This recipe succeeds either by 'stretching' small amounts of shellfish or being rather more generous depending on what you have to hand.'
Preparation time: 15 minutes

Cooking time: 15 minutes

1 x 750g lobster will serve 2 – 3 people (1kg serves 4)
Ingredients:
1 lobster, cooked and picked (15 minutes boiling for 750g, 20 minutes for 1kg)

500g fresh or dried linguine or tagliatelle 

1 tbsp olive oil

Knob of butter

1 onion, finely chopped

1-2 spring onions, thinly sliced 

1 clove of garlic, or to taste

1 medium heat chilli, deseeded and finely chopped (optional)

1 tin of chopped tomatoes, or the equivalent amount of fresh, fleshy tomatoes, roughly chopped

2 tbsp dry vermouth, wine or brandy

100ml fish stock (optional)

100ml cream

Fresh basil, chopped (leave some leaves whole for garnish)

Salt and pepper
Method:
Dice the picked lobster meat and set aside. The coral or eggs are good in this dish because of their bright red colour.

If your pasta is dried, get a pan of salted water boiling and drop in the linguine or tagliatelle to cook for 10 minutes.

Meanwhile, start the sauce by heating the oil and butter. Fry the onions and garlic until softened but not browned, then add the chilli, tomatoes and vermouth.

Simmer the sauce for 10 minutes, adding the fish stock if desired for a looser consistency. Once simmered, stir in the cooked lobster for just long enough to heat through – do not overcook it.

If you are using fresh pasta, drop it into a pan of boiling salted water now to cook for 2 minutes. Add the cream and basil to the lobster sauce, then season with salt and black pepper to taste.

Pour the finished lobster sauce over the drained pasta in bowls or toss them together before serving. Garnish with the reserved basil leaves and enjoy.
Seabass with Stuffed Peppers and Couscous
By Team Wild Waves: Jessica Oliver and Charlotte Harris, Atlantic Rowers and World Record Holders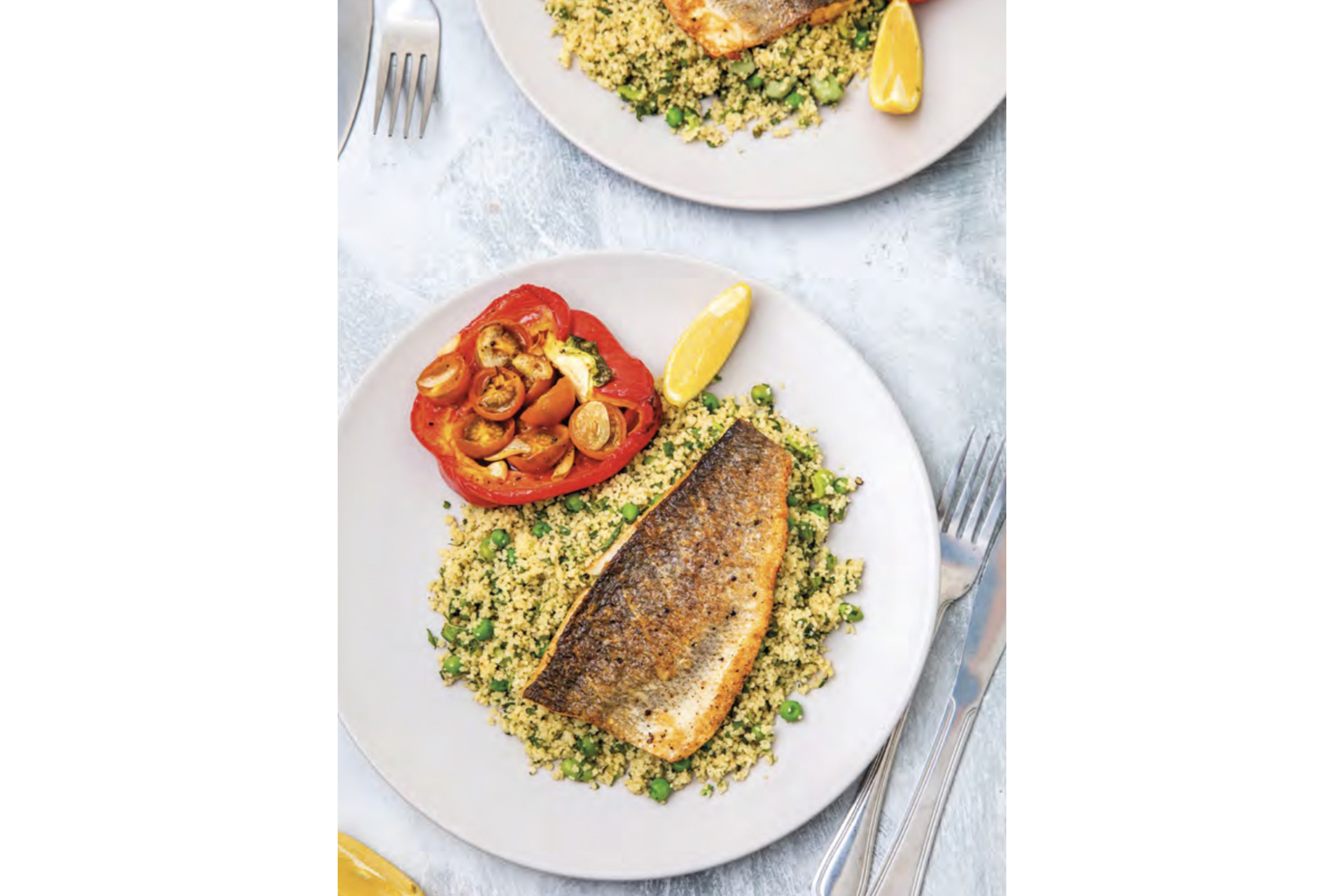 'We used to prepare this dish after long weekends training on the water in our ocean rowing boat. It's so simple to make and the perfect combination of healthy and comfort food. Couscous was also a staple on the Atlantic, so this recipe reminds us of our whole adventure.'
Preparation time: 20 minutes

Cooking time: 50 minutes

Serves 2
Ingredients:
1 red pepper

10 cherry tomatoes, halved

2 cloves of garlic, thinly sliced

2 anchovies, chopped

Olive oil

Salt and pepper

2 boneless sea bass fillets (skin on) Butter

200g couscous

1 lemon

Handful of peas

Handful of broad beans

Handful of fresh mint

Handful of fresh flat leaf parsley
Method:
For the stuffed red pepper
Preheat the oven to 160°c/140°c fan/Gas Mark 3. Halve and deseed the red pepper, then place in a baking dish with the cut sides facing upwards.

Fill each red pepper half with five cherry tomatoes (10 halves), one sliced clove of garlic and one chopped anchovy. Drizzle with olive oil, season with salt and pepper, then roast in the preheated oven for 50 minutes until the tomatoes are soft and the peppers are filled with pools of tasty juice.
For the seabass
Pat the seabass fillets dry with kitchen paper, then dust with salt and pepper. Melt a generous knob of butter until bubbling in a wide pan and then place the seabass skin side down. Cook for three minutes on each side until the skin is crispy.
For the couscous
Cook the couscous as per the instructions on the packet, then add a good drizzle of olive oil and fresh lemon juice, separating the grains with a fork.

Meanwhile, cook the peas and broad beans in boiling water. Drain and then add to the couscous. Chop the fresh herbs and stir them through to finish.
To serve
Keep it simple! Place the couscous on the plate and lay the seabass on top, skin side up. Transfer the stuffed red pepper next to the couscous and seabass. The juices from the stuffed pepper make the perfect sauce. Enjoy!
Recipes from For The Love Of The Sea II by Jenny Jefferies and published by Meze Publishing. Available from all good bookshops and jennyjefferies.co.uk