3 Brunch Recipes From Brother Marcus
Jazz up your weekends with these Middle Eastern-inspired brunch ideas
Whether you're nursing a hangover or are simply enjoying a slow Saturday morning, there's nothing like a good brunch. And while there's an endless stream of restaurants and cafes willing to do the hard work for you, sometimes it's nice to cook up your own breakfast feast. Here Tasos Gaitanos and Alex Large, the duo behind Middle Eastern-inspired restaurant Brother Marcus, share some recipe ideas, taken from their new cookbook Brunch with Brother Marcus.
3 Brunch Recipes From Brother Marcus
Brunch Recipe: French Toast Crumpets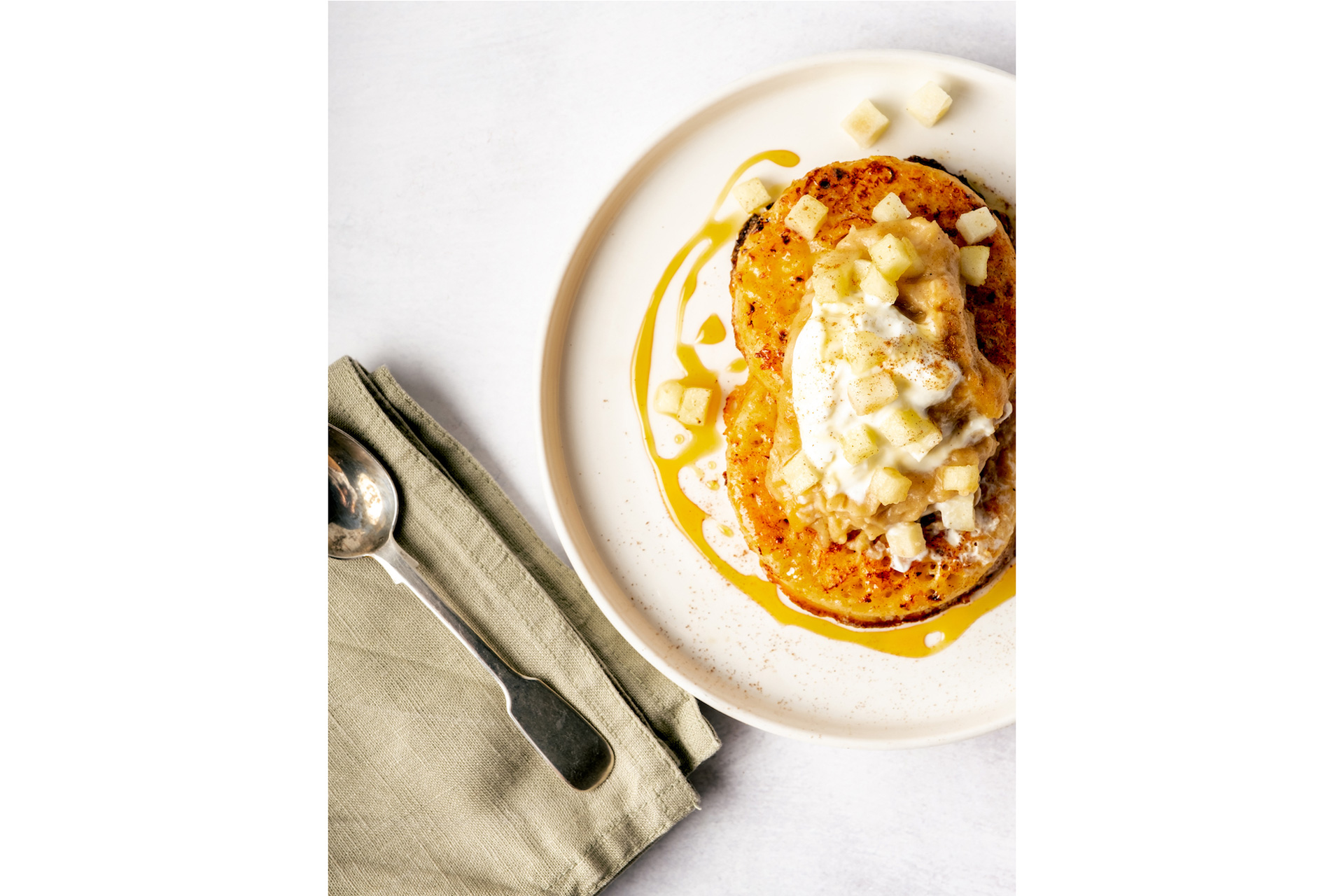 This is our decadent take on a brunch classic. We caramelise our French toast crumpets and drizzle them with our special carob treacle, so they are guaranteed to satisfy any sweet cravings!
Serves 4
Ingredients
8 crumpets

8 eggs

200ml whole milk

a pinch of ground cinnamon plus extra for dusting

a pinch of ground nutmeg

75g butter

100g demerara sugar

100g Greek yoghurt to serve
For the poached apple:
100g caster sugar

1 star anise

1 stick cinnamon

1 green apple such as Granny Smith
For the apple purée:
3 green apples such as Granny Smith

80g butter

1 cinnamon stick

Salt
For the carob treacle:
30g carob molasses

150g golden syrup
Method
Start by poaching the apple. Place the sugar, star anise and cinnamon stick in a pan with 500ml water and bring slowly to a boil, stirring occasionally until the sugar has dissolved,

then take off the heat. Peel the apple and cut into 5mm cubes, disposing of the core and seeds. Place the apple cubes in the syrup and bring back up to a boil, then remove from the heat and set aside to cool. Take care not to overpoach the apple

cubes as you want them to retain their form and texture.

Then make the apple purée. Peel, core and quarter the apples and place the pieces in a small roasting tin. Add the butter, cinnamon stick and a pinch of salt and bake in the oven for 30 minutes at 180ºC fan. Once soft, transfer to a bowl, discard the cinnamon stick and use a stick blender to blitz until smooth.

Make the carob treacle by mixing the carob molasses with the golden syrup in a small bowl.

Now prepare the crumpets by whisking the eggs with the milk, cinnamon and nutmeg in a wide bowl. Soak the crumpets in the eggy mixture while you melt 50g butter in a frying pan over a medium heat. Pan-sear the soaked crumpets until the egg mix has lightly cooked on one side then flip them. Lightly sprinkle with half the demerara sugar, then flip them again. Add the remaining butter and fry over a medium heat, caramelising the sugar while also toasting the crumpets. Sprinkle the other side with demerara and flip and cook until

both sides are golden.

Serve two crumpets on a plate with a generous spoonful of apple purée and a dollop of Greek yoghurt. Spoon the apple cubes over the yoghurt and drizzle with carob treacle, then dust with a sprinkle of cinnamon before serving.
Brunch Recipe: Overnight Oats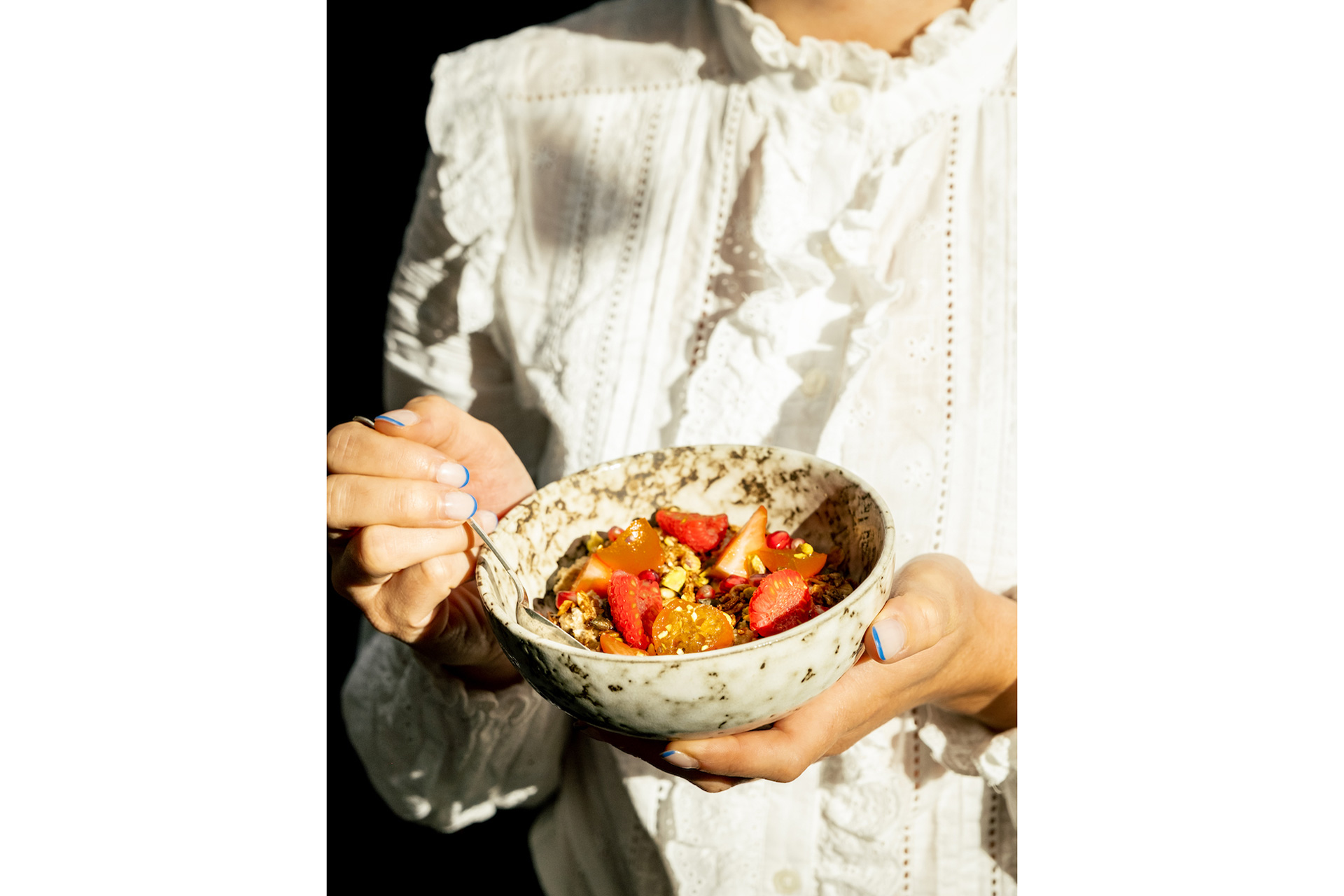 Overnight oats are a simple way to make sure you always have a delicious and nutritious breakfast waiting for you in the morning.
Serves 4
Ingredients
For the overnight oats:
20g chia seeds

200g oats

A pinch of ground cinnamon

4 tbsp honey

200ml oat milk
To serve:
4 handfuls maple granola 

4 raspberries

4 strawberries, sliced

4 Kumquat Spoon Sweets

2 tbsp pistachios, finely chopped

Seeds from a 1/2 pomegranate
Method
Combine the chia seeds, oats, cinnamon, honey, oat milk and 200ml water in a bowl and leave overnight in the fridge. 

To serve, divide the softened oats between bowls and add a handful of granola to each for crunch. Arrange the raspberries, strawberry slices and kumquat spoon sweets on top and drizzle with a little of the syrup. Sprinkle with the chopped pistachios and a few pomegranate seeds before serving.
Brunch Recipe: Smoky Shakshuka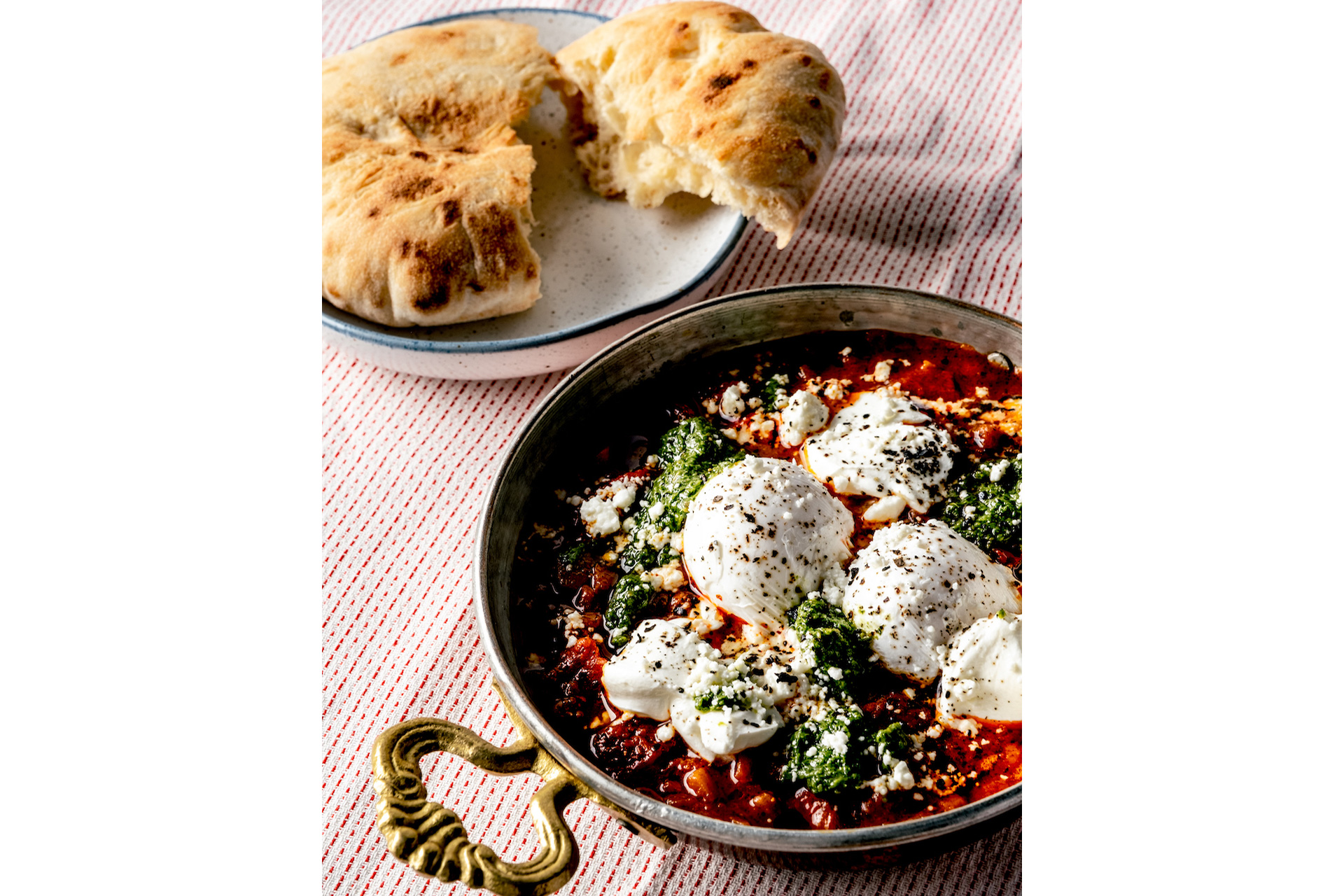 Shakshuka is a hearty brunch dish whose name loosely translates as 'mixture'. As with most slow-cooked tomato-based sauces it is always best eaten the next day. We serve ours topped with labneh, zhoug (a punchy herb-filled fresh chilli chutney) and a couple of poached eggs, which all make a perfect combo for dipping a nice slice of toasted pita into.
Serves 4
Ingredients
1 tsp coriander seeds

2 tsp cumin seeds

2 tsp cardamom seeds, pods discarded

5 tbsp olive oil

15 garlic cloves, thinly sliced

1 Spanish onion, thinly sliced

300g plum tomatoes, chopped

450g red peppers, sliced

100g tomato purée

900g tinned chopped tomatoes

2 red chillies, finely chopped

2 tbsp sweet smoked paprika

1 tsp Aleppo chilli flakes

1/2 tsp cracked black pepper

1 tsp salt
For the zhoug:
1/2 bunch coriander

1/2 bunch flat leaf parsley

1/2 handful mint

25g green chillies, deseeded and chopped

2 garlic cloves, chopped

1 tbsp lemon juice

4 tbsp olive oil

1 tsp salt
To serve:
8 eggs, poached

150g Labneh 

Urfa chilli flakes

4 tbsp crumbled feta
Method
Toast the coriander, cumin and cardamom seeds in a dry pan for a couple of minutes, until they become fragrant. Grind to a powder in a spice/coffee grinder.

In a large pan, heat the olive oil then add the sliced garlic  and onion and fry, very gently, for 10 minutes until they are soft and translucent. Be careful not to let them burn as you

will need to start again. Add the chopped plum tomatoes and sliced red peppers to the pan and simmer for another 10 minutes. Once that has cooked down, stir in the tomato purée, tinned tomatoes, chopped red chillies, smoked paprika, Aleppo chilli, black pepper and the toasted spice mix you made earlier. Finally, add the salt and 120ml water, then turn the heat up to high and bring the shakshuka to the boil.

Reduce the heat to minimum and simmer for another 30 minutes, stirring often so the tomatoes and peppers release their flavour and bind with the spices and to ensure

the mixture doesn't burn. You can loosen it by adding more water if needed. If you have time, set it aside before you eat it – shakshuka is a dish that is always better the following day!

Now make the zhough. Pick and wash the herbs. Put them into a blender with the deseeded, chopped chillies, garlic, lemon juice, olive oil and salt. Pulse until blended but still coarse in texture and use immediately or store in the fridge for up to 10 days.

When you're ready to eat, heat up the shakshuka and top each serving with a couple of perfectly poached eggs. Spoon over some labneh and drizzle zhoug over the top. Sprinkle with some Urfa chilli flakes and a tablespoon of crumbled feta and serve with plenty of toasted pita.
Brunch with Brother Marcus (£25) by Kitchen Press