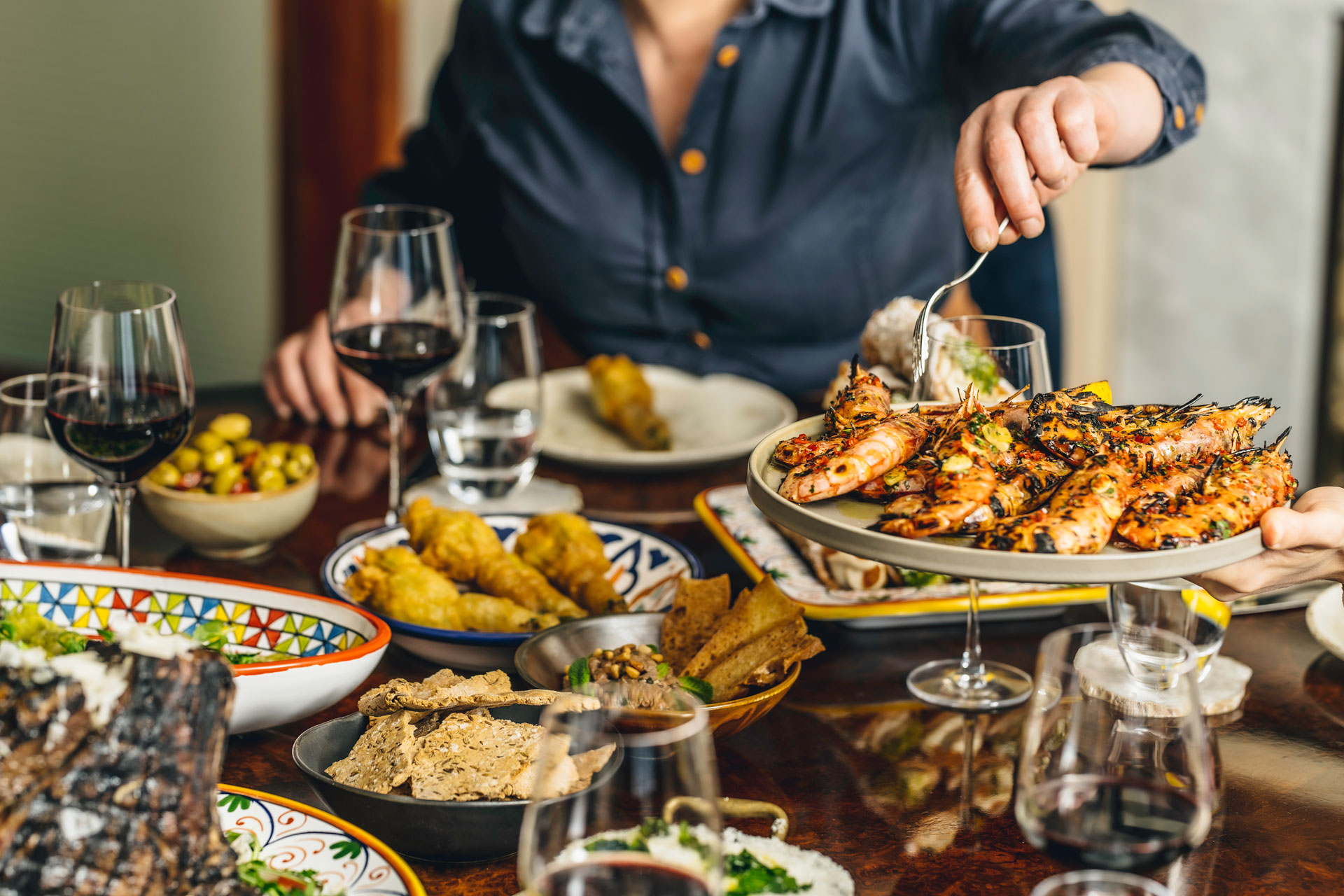 3 Sicilian-Inspired Summer Recipes from Norma's Giovann Attard
Channel the Med with these seasonal recipe ideas
Chef Giovann Attard was born in the Maltese island of Gozo, situated between Sicily and northern Africa, where the food is  influenced both by Italian cuisine and Moorish spicing. He brings this cuisine pairing to Norma, a charming restaurant spread across three floors of a Fitzrovia townhouse. Here, Giovann shares three of his favourite summer recipes, perfect for long lunches in the sunshine.
3 Sicilian-Inspired Summer Recipes from Norma's Giovann Attard
Grilled prawns
Serves 2 (as a starter)
Ingredients:
8 red prawns (cleaned)

1 red chilli deseeded and chopped 

2 gloves garlic sliced 

4 springs of parsley chopped 

150ml extra virgin olive oil and extra olive oil for cooking 

1 lemon 

Salt 
Method:
Turn on your BBQ and or a griddle pan and get it nice and hot and the oven on 180 degrees celsius.

Mix the garlic, chilli, chopped parsley and olive oil. 

Season the dressing with salt.

Drizzle the prawn with olive oil and season with rock salt.

Grill the prawns 1 min each side or until nice and charred.

Place the prawns onto an oven tray and cover with the garlic and chilli dressing.

Place in the oven for 4 mins or until cooked.

Served with a charred grilled lemon on the side.
Whole fish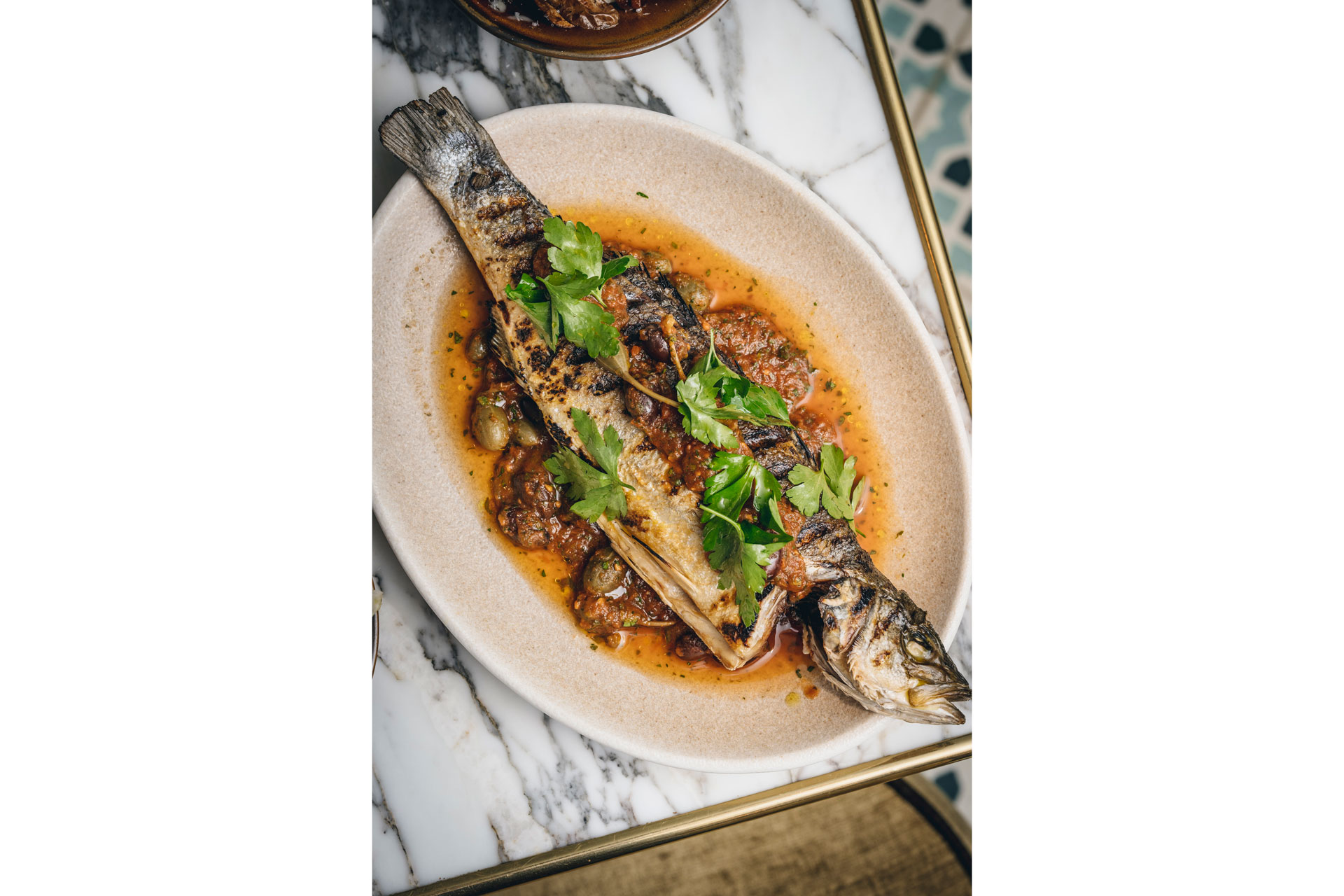 Serves 2 
Ingredients:
2 monkfish tails skinned and trimmed 
For the sauce 
50g caper berries 

4 garlic gloves sliced 

50g black olives pitted 

250g fresh tomato sauce 
For the garnish 
2 springs of parsley

Extra virgin olive oil 
Method:
Turn on you grilled pan or your BBQ until nice and hot.

For the monkfish, just make a slit with a sharp knife in each fillet lengthwise, drizzle with olive oil and season with rock salt.
For the sauce
Over medium heat in a sauce pan drizzle some olive oil and sauté the sliced garlic, caper berries and black olives, cook for a few minutes and then add the fresh tomato sauce, simmer for around 20 mins.

Taste the sauce and check if it needs any salt.

Set aside.

Now place the monkfish on the hot BBQ or griddle pan and cook for 6 mins on each side.

This should give a nice colour on the fish and a perfect moist texture. 

Serve the fish with the caper and olive sauce and garnish with parsley leave and extra virgin olive oil.
Braised courgette and saffron couscous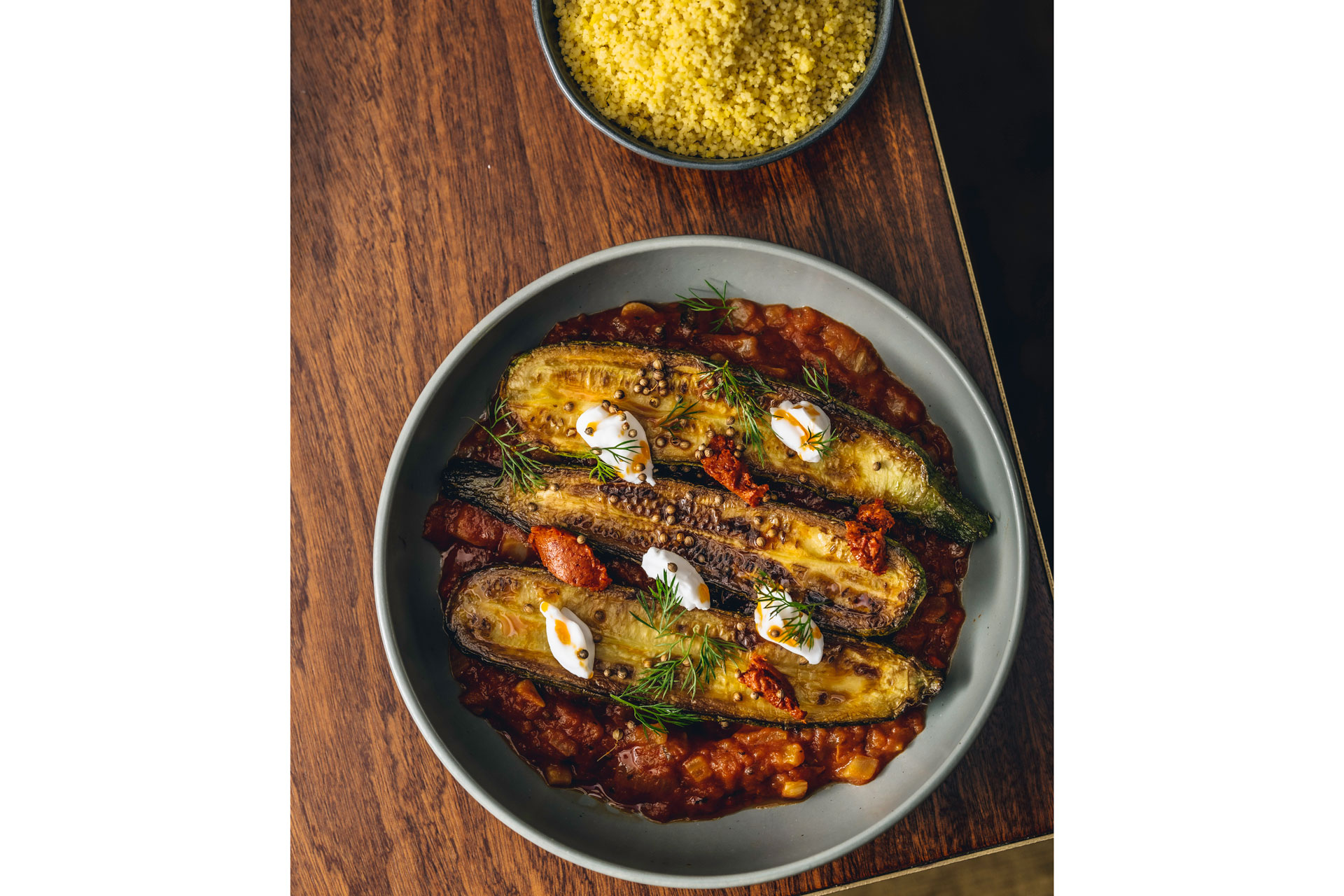 Braised courgette
Serves 2 
Ingredients:
4 grezzina courgettes cut in half
For the sauce 
50g chopped shallots 

150g fresh fennel diced 

2 red chillies chopped 

2 garlic cloves 

1 tsp ground coriander seeds 

1 spoon tomato paste 

200g of tomato sauce 
For garnish 
50g vegan nduja 

50g vegan soft cream cheese 

1 tsp toasted coriander 

2 springs dill herb 
Method:
Cut the courgettes in half and fry in olive oil until nice and brown and set aside.

In a sauce pan over medium heat, start with olive oil, and sauté the shallots.

Add the chopped fennel and cook for around 5 mins until tender.

Add the ground coriander and garlic and cook for 2 mins.

Add the tomato paste and cook further 3 mins then add the tomato passata.

Now place the courgettes in the sauce season with salt and simmer for around 10 to 15 minutes depending on the size of the courgettes, remove off the heat once the courgettes are nice and tender.

Serve the courgettes with soft vegan cheese and vegan nduja.
Saffron couscous
Ingredients:
125ml of vegetable stock 

Few strands saffron 

200g couscous

Extra virgin olive oil 

Salt 
Method 
Bring to boil the vegetable stock and add saffron strands. Remove from the heat and leave the saffron to infuse.

In an oven tray, mix the raw couscous with olive oil, and salt.

Spread evenly across the bottom and pour over the hot stock.

Cover the tray with cling film and leave for 5 minutes.

Fluff with a fork and serve warm alongside the courgettes.