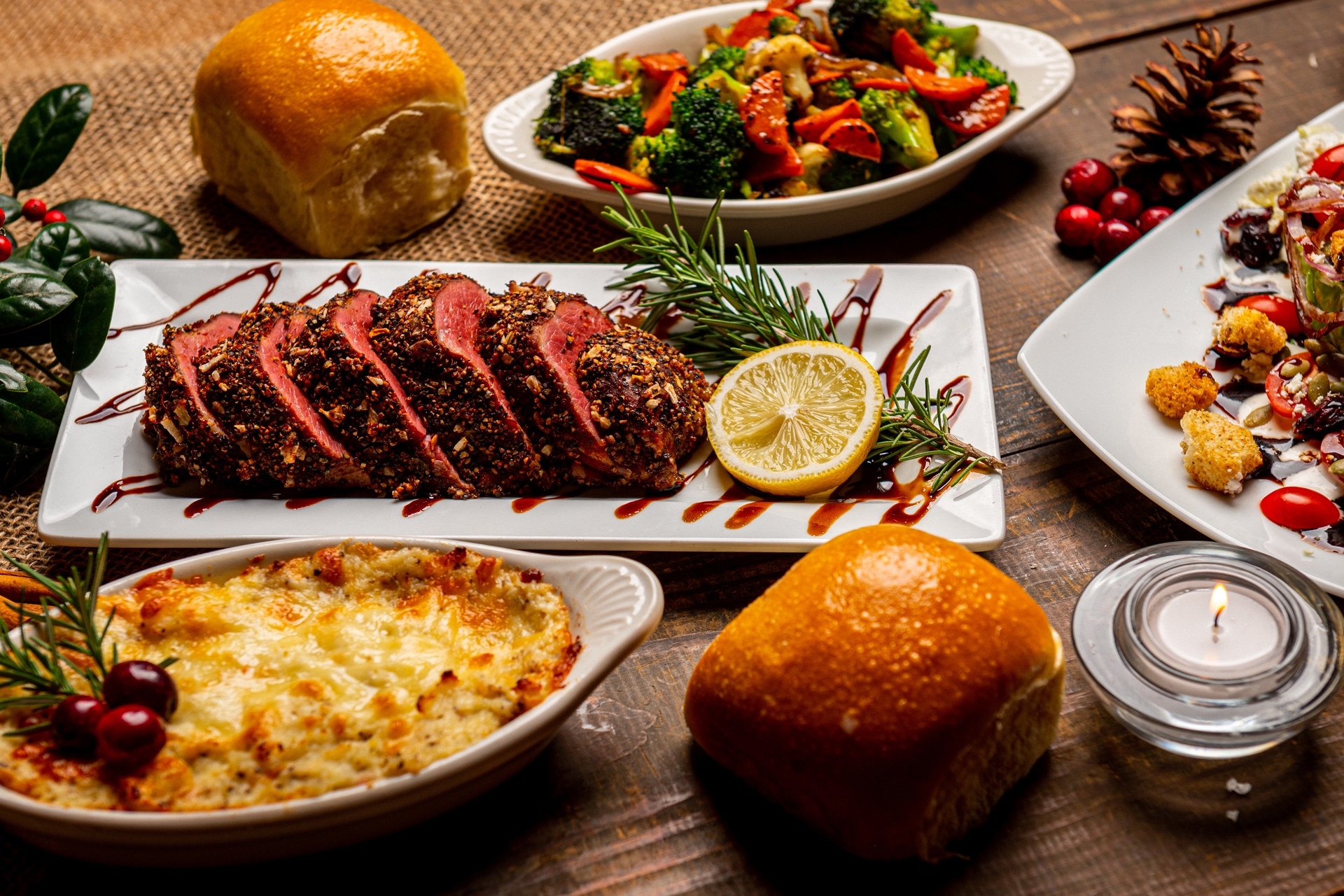 Alternatives For Turkey To Cook This Christmas
---
Festive swaps for your Christmas roast
The British Poultry Council has warned of a turkey shortage this winter as a result of a bird flu outbreak – which means we might need to switch up our Christmas lunch centrepiece. After some inspiration? Here a handful of chefs share some recipe ideas for turkey alternatives, from beef wellington to vol au vent and more. Alternatively, why not go meat-free this year? We've got a selection of festive vegan recipes here.
Christmas Recipes: 3 Turkey Alternatives
Turkey Alternatives: Roast Milk-Fed Lamb with Piquillo Peppers 
By Monika Linton at Brindisa
This is our Executive Chef Josep's recipe, which works equally well for young and older lamb, as the cava keeps the meat juicy. He uses sweet pink onions from Figueres in the Empordà region of Catalunya, but shallots work well. Serve it with braised white beans or fresh pochas, if you can find them, fresh minted green peas, or fried potatoes and peppers. 
Serves 4 
Ingredients 
1-1.5 kg shoulder of lamb 

4 whole medium-sized sweet onions, or shallots 

1 head of garlic, cut in half horizontally 

4 tablespoons olive oil 

Sea salt and freshly ground black pepper 

½ bottle Cava 
Method 
Preheat the oven to 180°C/gas 4. 

Take the meat from the fridge about half an hour before cooking to bring it up to room temperature and rub all over with salt and pepper. 

Pour the oil into a deep baking tray. 

Cut the foreleg section of the shoulder from the blade section, and rub each piece all over with salt and pepper. Place next to each other in the baking tray, along with the whole onions and the garlic cut-side down and put in the oven. 

Roast for 10 minutes to brown one side of the meat, then take out and turn it over (if the meat is looking a little dry, sprinkle with a little water). 

Put back into the oven and brown the other side for a further 10 minutes. Add the Cava and roast for another 20 minutes, basting and shaking the tray a little to make sure the juices are moving around. 

The total cooking time should be no longer than 40 minutes. Rest for about five minutes before serving. 

This recipe could also be adapted to leg of lamb if that is all that is left in stock. 
Turkey Alternatives: Poultry Vol-Au-Vent with Truffle Cream 
By Cyril Lignac at Bar des Pres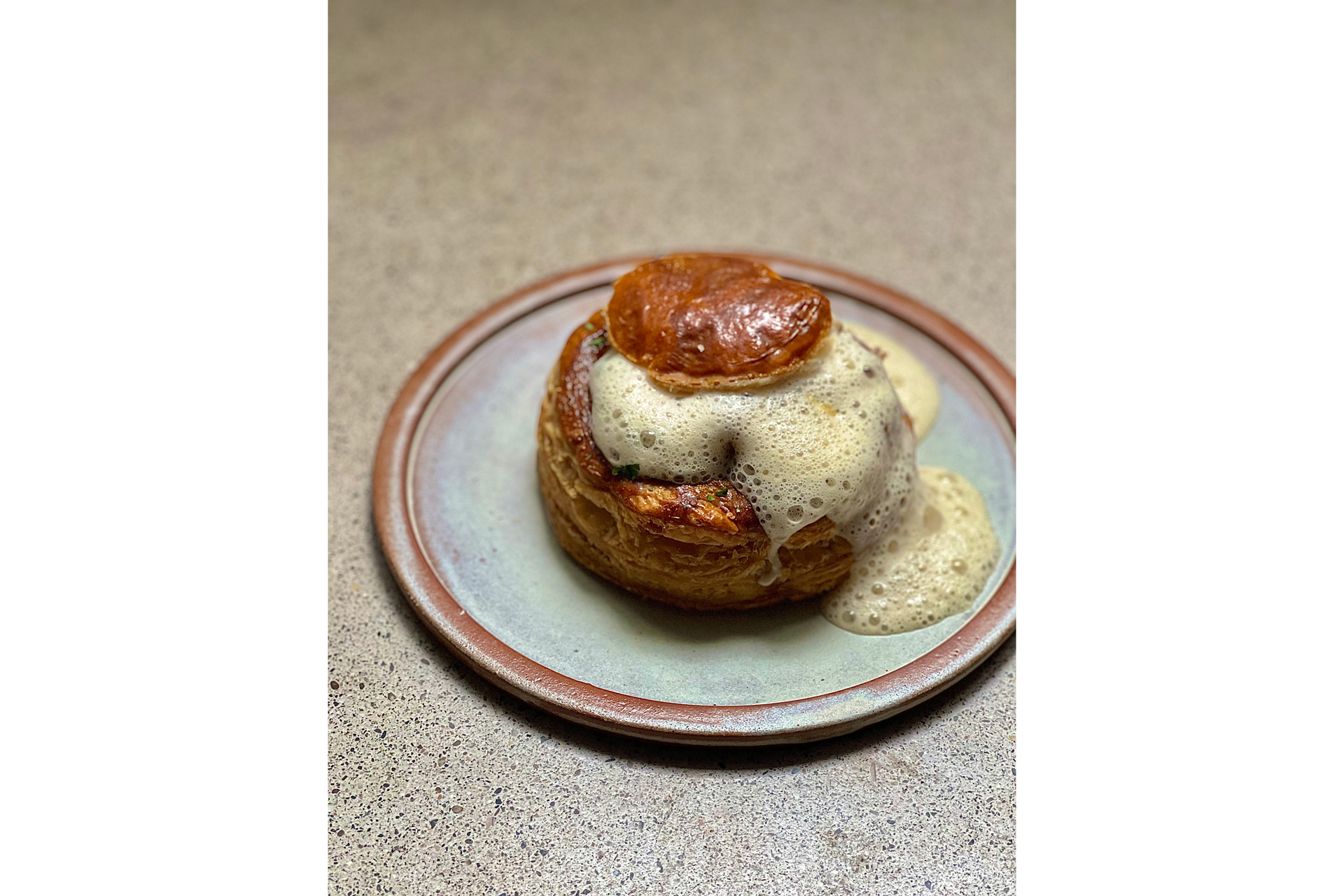 Preparation time: 40 minutes 

Cooking time: 2 hours 
Ingredients
4 chicken thighs 

2 chicken fillets 

4 rolls of puff pastry 

1 small black truffle 

2 organic egg yolks 

200g brown button mushrooms 

2 cloves garlic 

1 sprig of fresh thyme 

½ bunch of flat-leaf parsley 

40g semi-salted butter 

Olive oil 

Fine salt and ground pepper 
For the truffle cream: 
Black truffle peelings 

500g brown button mushrooms 

1 shallot 

10cl of dry white wine 

10cl of red port 

2l full cream 

15g butter 

Olive oil 
Method
Preheat the oven to 180°C. 

In a dish, place the chicken thighs, pour a dash of olive oil and 25 g of butter, season with fine salt and freshly ground pepper. Bake for 1 hour then increase the oven temperature to 200°C and cook for 20 more minutes. After cooking, lower the oven temperature to 190°C. 

Unroll the 2 puff pastry sheets and cut out 4 solid discs 12 cm in diameter with a cookie cutter. Place them on the baking sheet covered with a silicone sheet. With the other 2 puff pastries, cut out 4 other discs 12 cm in diameter, then inside these discs, cut a 6 cm circle with a cookie cutter, which will form rings. Place these rings on the 12 cm discs. Coat the circles on top with egg yolk without going over the sides and the centre. Bake for 20 minutes at 190°C until the puff pastry is golden brown. 

Cut the earthy stems of all the mushrooms, wash them and slice them. Peel and chop the shallot. Peel and degerm the garlic cloves. Wash and chop the parsley. Remove the skin from the truffle with a knife and chop it. Reserve all the ingredients in ramekins separately. 

Prepare the truffle cream: in a hot sauté pan, pour a dash of olives and the shallot, leave to cook without colouring, add the mushrooms with a knob of butter. Deglaze with white wine then reduce and add the port, coat the vegetables and pour in the peelings of the black truffle, then the cream and let cook for 20 minutes over low heat. 

Shred the chicken thighs and cut the chicken fillets into large cubes. Place the seasoned cubes in a hot skillet with a dash of olives and a knob of butter. Add the 200 g of sliced mushrooms and shredded legs, garlic, thyme. Leave to cook for a few minutes. Sprinkle with chopped parsley and season with salt and pepper. 

Mix the truffle cream. Season with salt and pepper. 

Carefully remove the caps from the puff pastries. Spread the chicken filling inside and pour over the cream. Remove caps and serve hot. 
Turkey Alternatives: Beef Wellington 
From The Pie Room at Rosewood London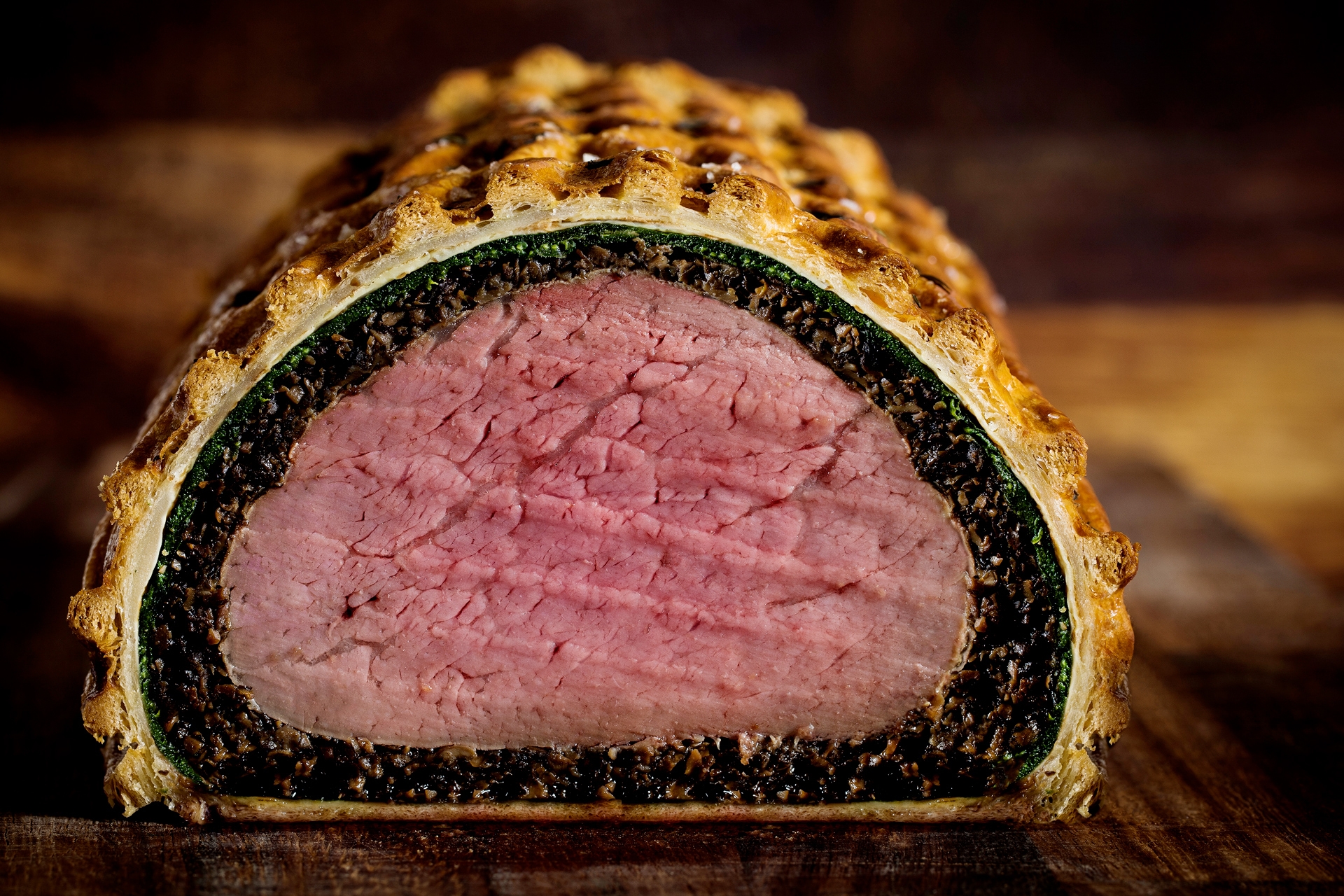 Serves 4 
Ingredients 
1kg thick centre cut beef fillet (trimmed of any sinew) 

30g English mustard 

500g puff pastry 

500g baby spinach 

750g button mushroom 

(finely chopped) 

1 clove garlic 

(finely chopped) 

100ml Madeira 

1 whole egg 

30g unsalted butter (melted) 

150g plain flour 

325ml semi-skimmed milk 

50ml veg oil 

3 egg yolks 

(beaten with 1 tbsp of water) 
Method
With a light dusting of flour, roll out puff pastry to a 40cm x 30cm rectangle, and rest in the fridge. 

Make the savoury crepes first, whisking the flour, milk and one egg together till smooth,season with salt and pepper and then whisk in 20g of the melted butter. 

In a large, non-stick frying pan, rub a little of the extra butter around the pan over a low/medium heat, and carefully pour in just enough batter to make a thin 20cm-diameter crepe. Repeat until you have 4. 

On a clean, flat work surface, put down a large rectangle of cling film (60cm x 50cm) with a few layers and push out any air bubbles with a cloth. 

Lay out the crepes into a rectangle shape, trim edges to achieve 35cm x 25cm, overlapping the bottom 2 onto the top 2, and assemble on the cling film. 

In a large frying pan, heat 20ml veg oil, add chopped mushrooms and season with salt and pepper. Cook on a high heat until there is no moisture left at all in the mushrooms, add the madeira, and reduce to a gentle simmer. 

In a small pot, sweat down the shallots, garlic and thyme with 1 tbsp veg oil till soft, then add to mushroom mix. When Madeira has completely reduced and mixture is almost dry again, remove pan from heat and set aside mushrooms to cool. 

Put a blue jay cloth onto a plate and build a 20cm x 15cm rectangle of raw spinach on top, layering till you have used 1⁄4 of the spinach. Lay another slightly dampened jay cloth on top and microwave for 1 minute on full power. 

Remove from the microwave and roll out any excess moisture with a rolling pin, and lay the spinach across 1⁄4 of the pancakes, leaving a 3cm border before the edge. Repeat the process with spinach until the pancakes are covered. Now spread cooled duxelle mushroom across the surface of spinach and carefully pat down. 

Put a frying pan on a high heat, season beef fillet well, then rub all over with vegetable oil. When the pan is smoking hot, carefully put beef fillet inside, sear for about 20-30 seconds, just to get a little colour all over. 

Remove the beef fillet and lay horizontally across your mushroom mix. When cooled, rub beef all over with English mustard. 

Lifting the cling film carefully along the front edge, roll the whole mix into a cigar shape till the pancakes are wrapped all around, and bring the cling film to join. 

Reach into each end, gently tuck down any excess pancake and fold over cling film to seal in the whole Wellington. Once the package is secure, wrap tighter using the cling film roll, going around it a few times, then pop into the freezer for 10 minutes. 

Remove pastry from fridge, cut off a 14cm wide rectangle off the top longer edge, and retain in the fridge for your decoration. Place remaining pastry onto a baking tray lined with parchment paper, gently dust off any excess flour, and brush liberally with egg yolk. 

Remove Wellington from freezer and carefully cut off cling film, and transfer to line horizontally across bottom of pastry. Roll the pastry upwards, keeping it tight to the cigar until the seam is across the bottom with about 3cm of overlapped pastry, and trim off any excess. Carefully crimp down each end of the Wellington and trim so there is just enough to tuck back under itself, and brush all over with egg yolk. 

Either cut a trellis using a lattice roller cutter with retained pastry, or whatever design you like, and attach to the outside of the pastry. Brush this all with egg yolk and sprinkle a little sea salt over the pastry. Set in the fridge for at least 30 minutes before cooking. 

Preheat fan oven to 190oc and bake Wellington for 40 minutes, or until centre reads 35oc with a temperature probe. Slide Wellington onto a cooling rack off of its parchment paper and rest for at least 25 minutes. Then cut with a sharp serrated knife and serve with gravy and roast potatoes.