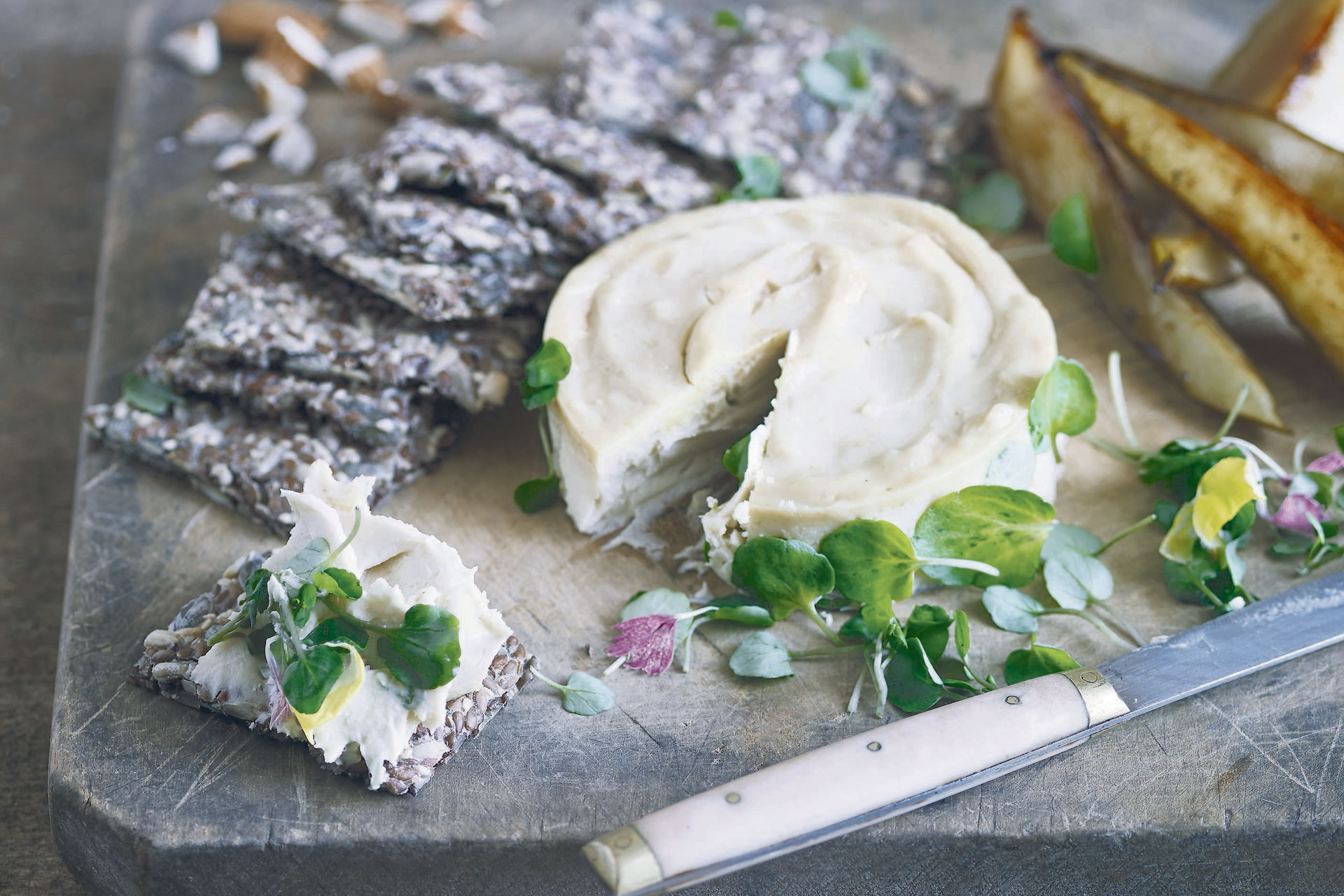 6 Delicious Vegan Christmas Dishes
Festive plant-based recipes to wow your guests with this Christmas
Founder of Bettina's Kitchen and our plant-based columnist, Bettina Campolucci Bordi shares five of her favourite vegan Christmas recipes so you can cook up a plant-based storm this festive season.
6 Vegan Christmas Recipes
Vegan Christmas Recipe: Courgettes and Crispy Chickpeas
'Once I started 'hedgehogging' my veggies before roasting, a whole new flavour world opened up. This way, the marinade and spices can really dig into the veggies – it changes everything!'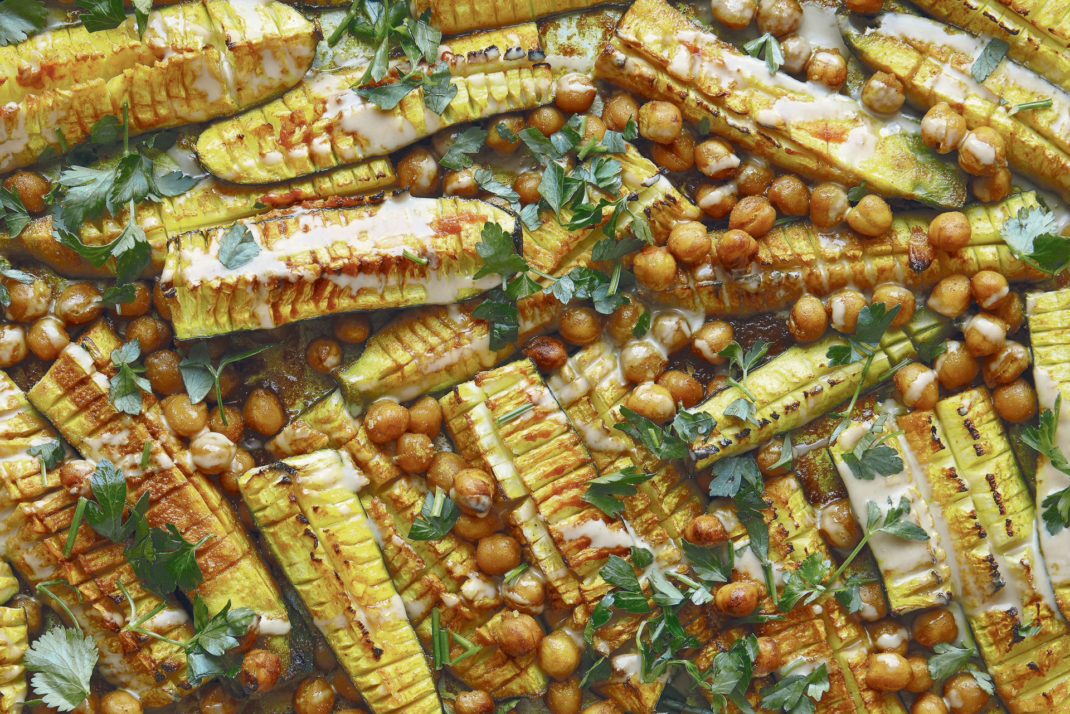 Ingredients
For the courgettes with chickpeas:
4 large courgettes (zucchini)
240 g (81⁄2 oz/1 cup) drained tinned chickpeas (garbanzos)
100 g (31⁄2 oz) baby spinach leaves
fresh herbs of your choice
toasted sourdough, to serve fresh herbs of your choice, to serve (optional)
For the marinade:
1 tablespoon harissa paste (optional)
1 tablespoon maple syrup
1⁄2 tablespoon turmeric
4 tablespoons olive oil
salt and freshly cracked black pepper
For the dressing:
4–5 tablespoons tahini (sesame paste)
1 garlic clove, grated
salt and freshly cracked black pepper
Method
Preheat the oven to 180°C (350°F/Gas 4) and line a baking pan with baking parchment.
To hedgehog the courgettes, cut them in half lengthways. Cut the flesh of each half lengthways into quarters without cutting through the skin. Then make 8–10 cuts across the flesh to divide the flesh into chunks all still attached to the skin. Put them in a bowl.
Mix the marinade ingredients in a bowl, then gently brush some over the veggies. Add the chickpeas (garbanzos) to the bowl and stir in the remaining marinade. Spoon the chickpeas and courgettes into the prepared pan and cook in the oven for 20–30 minutes until all are lovely and golden.
Stir the spinach and fresh herbs into the vegetables, whisk together the dressing ingredients, drizzle over the veggies then serve with sourdough to scoop up all the goodness.
Recipe from 7 Day Vegan Challenge, Hardie Grant Books (UK), £15, waterstones.com
Vegan Christmas Recipe: Scandi Snowballs
'These are a take on a classic Swedish sweet that I used to make all the time as a kid – my daughter now adores them, too. They're a great after-dinner treat over Christmas when you are too full but want something chocolatey!'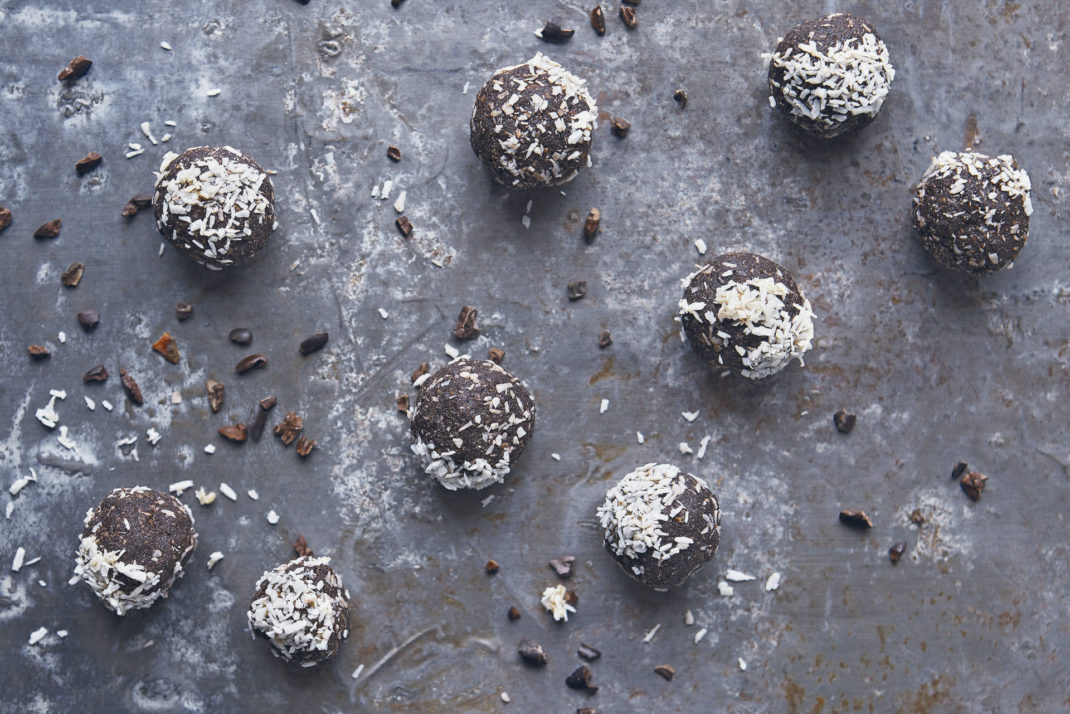 Makes 6–8 balls
Ingredients
4–6 tablespoons cacao
200 g (7 oz/1 1⁄2 cup) rolled oats 2–3 tablespoons date syrup
3 tablespoons coconut oil desiccated coconut, for rolling
Optional, cocoa nibs
Method
Add all the ingredients except the coconut to a blender and blitz until well combined and slightly sticky.
Form 6–8 small balls, then gently roll them in the desiccated coconut and let rest and firm up in the fridge.
You can also sprinkle on cocoa nibs
I usually store these in an airtight container
Recipe from 7 Day Vegan Challenge, Hardie Grant Books (UK), £15, waterstones.com
Vegan Christmas Recipe: Truffled Cashew Cheese
'My prized recipe. The closest I will get to the taste of cheese, and it also includes another favourite ingredient – truffle. If you have the patience, do follow the ageing process for the cheese – it takes 5–7 days, but it is so worth it.'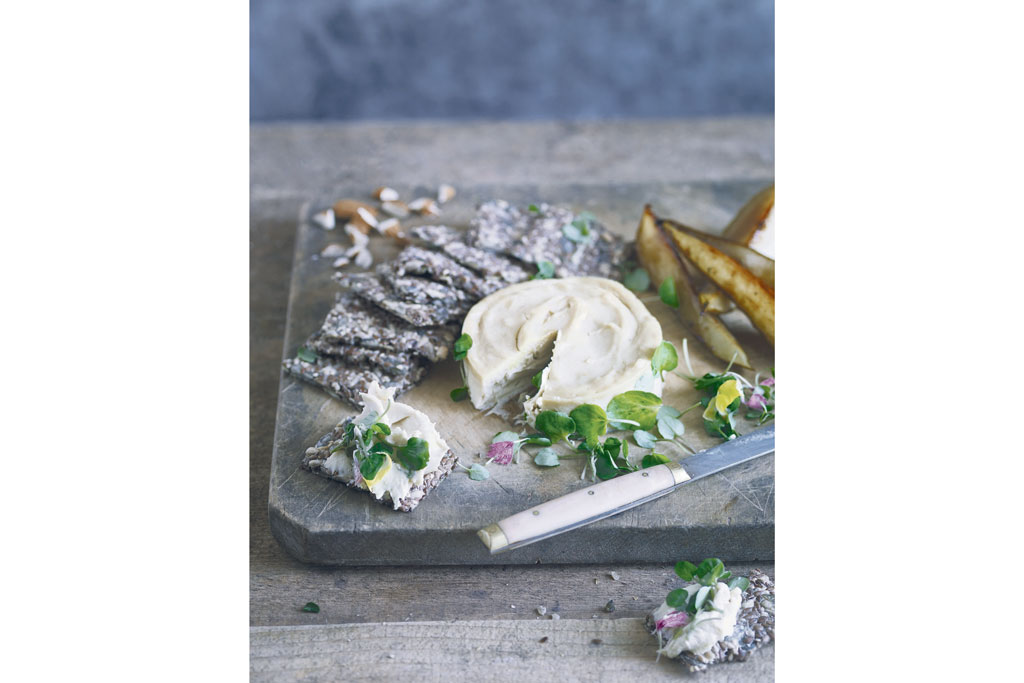 Makes 2 camembert-like rounds, serves 4
Ingredients
For the truffled cheese:
280 g (10 oz / 13/4 cups) cashews
125 ml (4 oz / 1/2 cup) water
1/2probiotic capsule
olive oil, for frying and greasing
1 shallot, finely chopped
juice of 1/2 lemon
1 tablespoon truffle oil
pink Himalayan salt and black pepper, to taste
Method
First of all, make the cashew cheese:
Start by soaking the cashew nuts for 2 hours. All you need to do is add them into a bowl and cover with water
Drain the soaked nuts and tip them into a blender. Discard the soaking water, add the fresh water and the probiotic capsule into a blender and blitz until you get a smooth texture
If you are doing this in a high-speed blender, make sure not to overheat the mixture as this will kill off the good bacteria in the probiotics
Once blended, transfer to a glass or plastic container. Do not use a metal one as the mixture won't ferment
Leave the container outside the fridge for 24 hours with a tea towel or muslin cloth on top so that the mixture can breathe, and to keep out any insects or flies
After 24 hours the mixture will be slightly fizzy and bubbly, which means it has fermented, so give it a good mix
Place a proper top on the glass container and leave it in the fridge for later use
The cheese will last for up to 5 days in the fridge ready to use.
Now to convert it to a delicious truffled cheese:
Preheat the oven to 180°C
In a pan, add olive oil and the shallot and fry for 5 minutes until lovely and soft, then take off the heat.
Grab the cheese mix from the fridge and add the shallot, lemon and truffle oil, season with salt and pepper and give it a good mix. This can now be eaten straight away as a cream cheese or aged into 2 round-shaped 'Camembert'-like cheeses
If you are going to age your cheese, get a metal ring and grease it with olive oil on the inside. Place it on greaseproof paper on a flat surface (a small chopping board or a plate). Pile in the cheese mixture up to the top, then flatten
Store in the fridge, uncovered, for 5–7 days until the cheese has produced a natural rind. At this point, gently remove the metal ring – it's ready to eat
Vegan Christmas Recipe: One-Tray Sunday Roast with Smashed Peas
'A real crowd pleaser – super colourful with lots of texture and, first and foremost, delicious flavour.'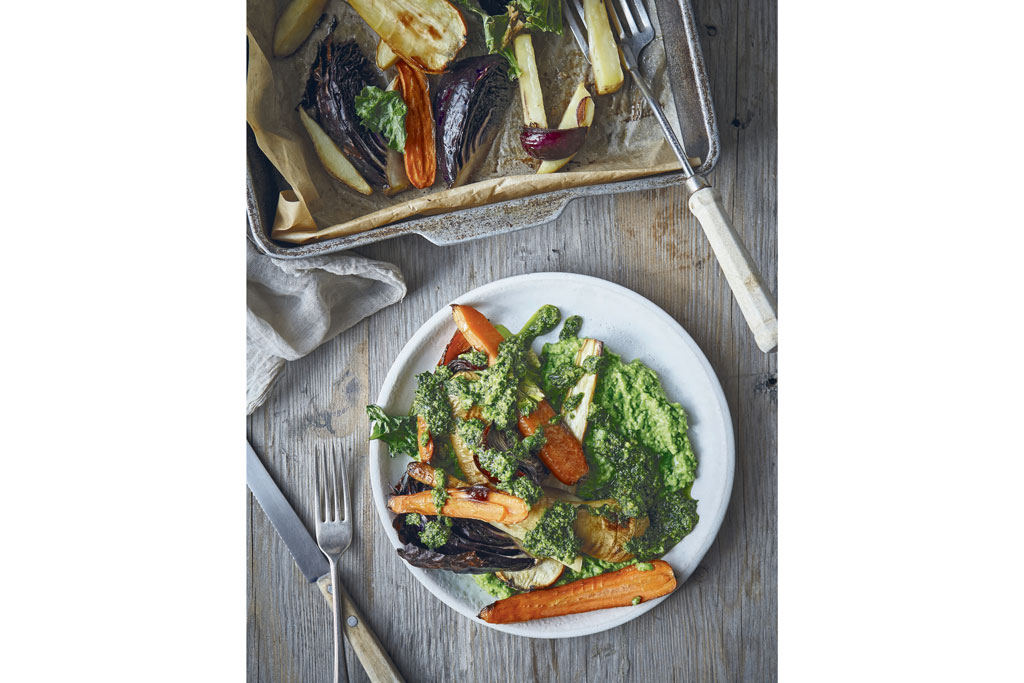 Ingredients
For the one-tray Sunday roast:
1 potato, peeled and sliced lengthways
1–2 carrots (multi coloured if possible), sliced lengthways
2 parsnips, peeled and sliced lengthways
1 red onion, sliced lengthways
1/4 red cabbage, sliced
1 garlic bulb, sliced
1 handful of kale
2 tablespoons olive oil
1 tablespoon tamari
1 garlic clove, grated
For the smashed peas:
800g (1 lb 12 oz/5 cups) frozen peas
1splash of Plant Cream
Salt and freshly cracked black pepper
For the herb sauce:
30 g (1 oz) parsley
1⁄2 chilli, deseeded and sliced
2 tablespoons olive oil
1 squeeze of lemon juice
salt and freshly cracked black pepper
Method
Preheat the oven to 200°C (400°F/Gas 6) and line a baking sheet with baking parchment.
Prepare all the veggies, remember that roots take longer to cook, so the thinner you slice the quicker they will cook. Mix the olive oil, tamari and garlic in a bowl. Place all the veggies except for the kale on the prepared baking sheet and baste with the olive oil mixture.
Cook in the oven for 20 minutes then add the kale, then cook for another 10 minutes until tender and golden.
While the veggies are cooking, put the frozen peas into a medium-sized hot pan and heat through with a splash of plant cream. Add to a blender and blitz until smooth, then season with salt and pepper to taste and set aside.
To make the herb sauce, put all sauce ingredients in a blender and blitz until you have a lovely smooth sauce.
Once the veggies are brown on the outside and soft in the middle, scoop out the smashed peas onto a large serving plate or divide between portions. Take the veggies out of the oven, place on the mash and drizzle with the herby sauce.
Vegan Christmas Recipe: Bettina's Sticky Toffee Pudding with Sticky Toffee Sauce and Vanilla Custard
'It upset me for a very long time when I discovered that I was intolerant to gluten, particularly when I realised that I would not be able to enjoy one of my favourite desserts. But, I promise you – this is better than the original.'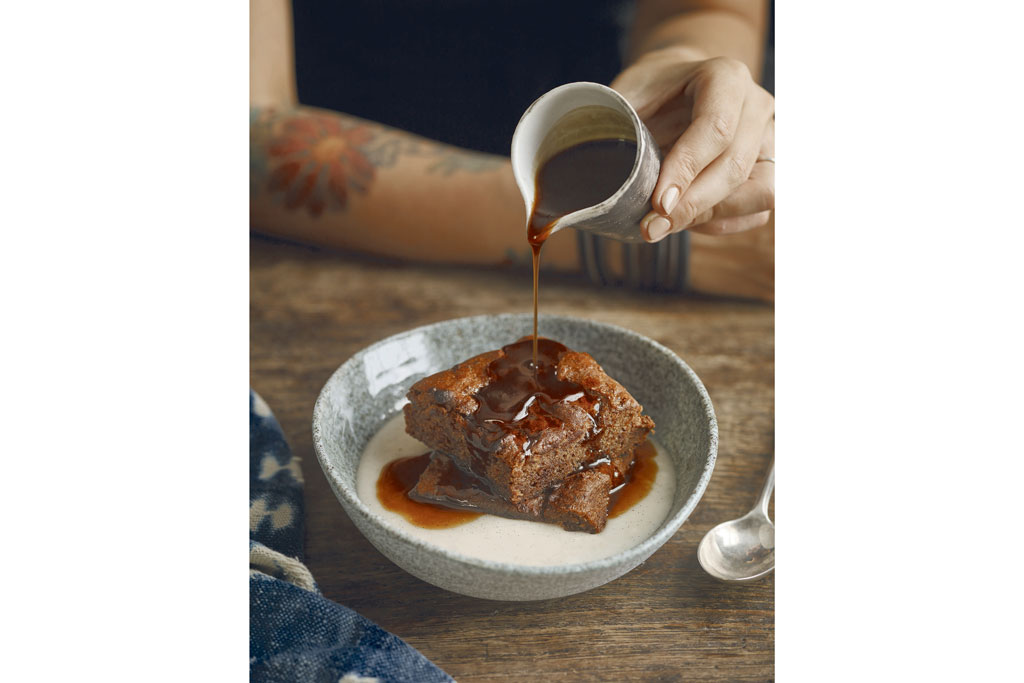 Serves 6
Ingredients
250 ml (81/2 fl oz / 1 cup) almond Milk or plant milk, shop-bought or home-made
300 g (101/2 oz / 2 cups) medjool dates, stoned (pitted)
80 g (3 oz / 1/2 cup) coconut sugar 125 ml (4 fl oz / 1/2 cup) coconut oil
1 teaspoon bicarbonate of soda (baking soda)
95 g (31/2 oz / 3/4 cup) gluten-free flour
1 vanilla pod (bean), seeds scraped
1 teaspoon ground cinnamon
1/2 teaspoon ground cardamom
1/2 teaspoon ground clove
pinch of pink Himalayan salt
For the sticky toffee sauce:
140 g (5 oz / 1 cup) coconut sugar
250 ml (81/2 fl oz / 1 cup)
coconut milk 1/2 teaspoon salt
For the vanilla custard (makes 500ml):
2 tbsp very fine cornflour (cornstarch), such as Maizena
500ml coconut milk, preferable from a Tetra Pak that I consistency creamy and doesn't separate
3 tbsp maple syrup
1 whole vanilla pod (bean), seeds scraped
Method
Preheat the oven to 190oC (375oF/Gas 5). Line a 20 cm (8 ins) round cake tin (pan) with greaseproof paper (wax paper) or use a good-quality silicone mould.
Start with the pudding. In a small saucepan gently heat the milk and dates for 5–10 minutes until the dates have softened. Once softened, set aside.
In a blender, blitz the coconut sugar and coconut oil until the sugar has mostly disintegrated.
Add the bicarbonate of soda to the milk and date mix – it will start to fizz and bubble, but that is okay.
In a bowl, combine the flour, vanilla, spices, pinch of salt, coconut oil and sugar mix along with the dates and milk mixture and give everything a good stir.
Pour into the cake tin (pan) and bake in the oven for 30 minutes.
While the pudding is cooking, make the sauce. Heat a pan over medium heat, add the coconut sugar and coconut milk and let it heat through.
Add the salt and bring to a boil, then reduce to a simmer and let it simmer for 20 minutes until the caramel has thickened. Stir it occasionally to make sure it doesn't burn. A great way of knowing if it's ready is to see if it sticks to the back of your spoon.
Stir in a little more salt if desired and either use it straightaway or let it cool down before storing in a glass jar – it will become even thicker as it cools.
To make the custard, blend the cornflour with a little bit of the coconut milk in a saucepan set over a medium heat, whisking until you have an even consistency. Then add the coconut milk, maple syrup and the reserved vanilla pod, whisking until the cornflour and vanilla are fully incorporated into the coconut milk and the custard starts to thicken. As soon as the mixture begins to boil, take it off the heat and allow to cool.
Once the cake is done, transfer to a wire rack to cool and enjoy with a home-made custard and a drizzle of sticky toffee sauce.
The cake, custard and toffee sauce all last for a long time in the fridge – well, that is, if you can keep your hands off them! – or freezer.
Vegan Christmas Recipe: Tarragon & Maple-Glazed Carrots On Chestnut Mash
Ingredients
4 – 6 carrots, in a variety of colours

3 – 4 tablespoons olive oil

1 teaspoon maple syrup

1 teaspoon Dijon mustard

10 g (1⁄2 oz) tarragon leaves, torn
For the chestnut mash:
400g (14 oz) chestnuts vacuum-packed

250ml (81⁄2 fl oz/1 cup) plant milk (I like oat milk)

280g (10 oz) butter (lima) beans, drained and rinsed

300ml (10 fl oz/11⁄4 cups)

Plant cream

1 tablespoon miso paste

Salt and pepper, to taste



Suggested toppings:
Olive oil

Maple syrup

Tarragon leaves

Pomegranate seeds
Method
Preheat the oven to 200°C (400°F/gas 6).

Wash, peel and halve the carrots lengthways. Place on a baking tray (pan) lined with baking parchment.

Make a marinade by mixing the olive oil, maple syrup and Dijon mustard in a small bowl.

Baste the carrots all over with the marinade, sprinkle over the tarragon and cook in the oven for 30 minutes, or until nice and golden brown.

While the carrots are cooking, make the chestnut mash.

Add the chestnuts to a saucepan with the plant milk and heat through for 5–10 minutes. Add the chestnuts and milk to a food processor or blender along with

the butter beans, cream and miso paste, then whizz until you have a smooth mash. Season to taste.

Once the carrots are cooked, create a smooth bed of chestnut mash on a serving plate and arrange the carrots on top. If you wish, drizzle with olive oil and maple syrup, then sprinkle over some tarragon leaves and pomegranate seeds.
Recipe from Happy Food: Fast, fresh, simple vegan, Hardie Grant Books (UK), £20, waterstones.com