A fresh and vibrant dish, this beef stir fry combines crisp vegetables, succulent steak, and plenty of umami flavour. It's super easy to cook, and you can vary the combination of vegetables based on what you have, or what you like. Serve with rice or noodles.
Recipe: Beef Stir Fry with Miso, Broccoli & Ginger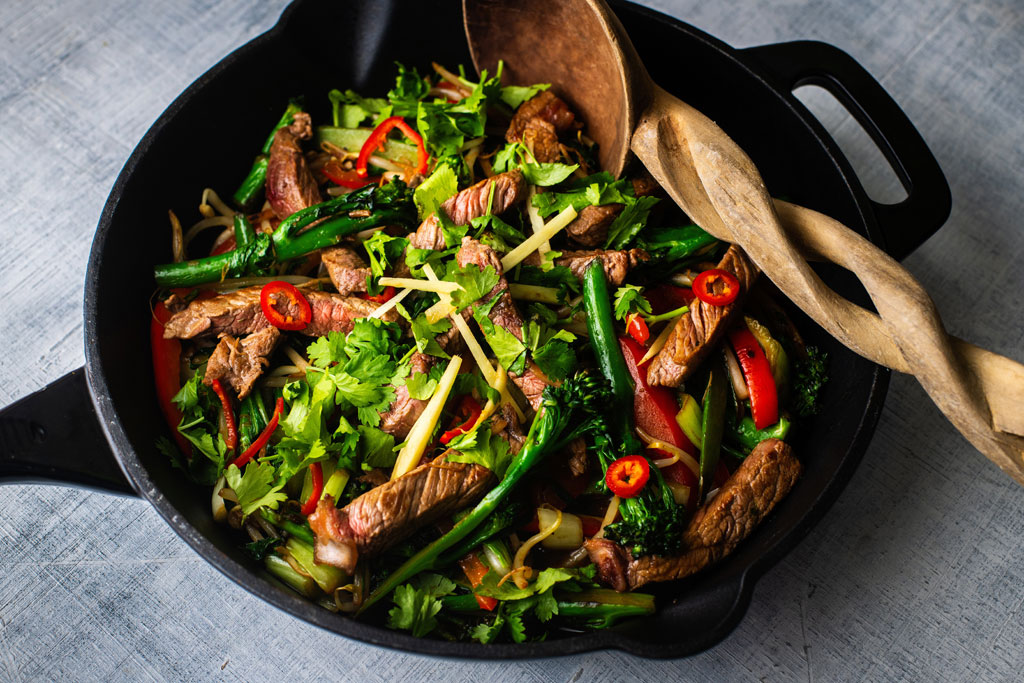 Serves 2
Ingredients
500g Dorset Meat Company beef steak strips
125g tenderstem broccoli tips
1 red pepper, cored and sliced lengthways
100g beansprouts
2 pak choi heads, base removed and sliced
100g edamame beans (optional)
1 large thumb sized piece of ginger, peeled and cut in to matchsticks
½ fresh red chilli, deseeded and thinly sliced (to taste)
2 tbsp vegetable oil
1 teaspoon dark miso paste
3 tbsp dark soy sauce
Coriander to garnish
Method
Mix the teaspoon of miso with 1tbsp boiling water, and loosen to a liquid. Add the soy.
If using edamame beans, cook for 10 minutes in boiling water beforehand, then set aside.
Cut the broccoli stems in half lengthways. Slice the pepper lengthways, and cut the ginger in to thin strips. Peel and grate the garlic.
Put the broccoli and red pepper into a hot wok or large frying pan with the oil. Cook until starting to soften and crisp on the edges. Add the pak choi, beansprouts, ginger, garlic and chilli, and fry for another few minutes, stirring regularly.
In a sperate pan, fry your beef strips until browned, but still moist and not dry. Toss in with the vegetables.
Pour over the miso dressing, and serve immediately with fresh rice or noodles, and a good handful of chopped fresh coriander.
MORE RECIPES
Jamie Oliver's Avocado Pastry Quiche / Melton Mowbray Pies / The Perfect Scone / Thomasina Miers' Summer Tacos / Squid Salad
---