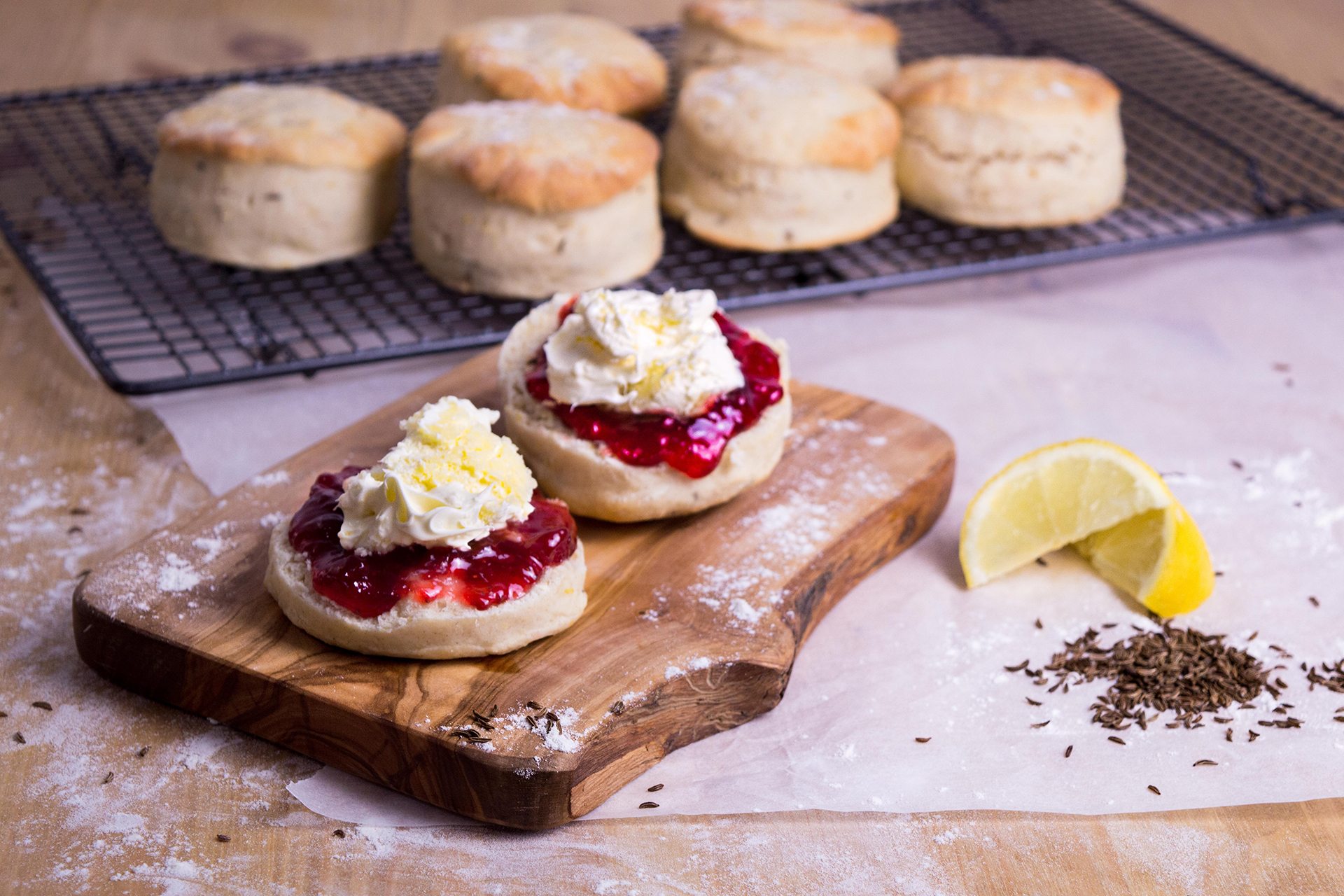 How to Make the Perfect Scone
---
Put an end to half-baked attempts
Ever wondered why your scones don't turn out the way they should? We bring you the most delicious scone recipes so you can host your own afternoon tea at home, from the classic scone recipe to savoury or chocolate-chip. We've also got some top scone-making tips from Roy Levy, head baker at GAIL's Bakery.
How to Make the Perfect Scone: Tips and Recipes
The secret to a light, airy, buttery scone is to keep the processing to a minimum. The more you handle the dough, the more you develop the gluten in the flour, and the harder the scone. Keep your butter cubes cold and your scones will be as light as a feather. For a fun variation on the classic scone, toss diced Bramley apple through the flour mixture, along with currants once all the butter and sugar is incorporated. Add 2 teaspoons of natural vanilla extract and the grated zest of a lemon to the milk mixture. – Roy Levy
And now, try it for yourself with our four recipes:
GAIL's Bakery Classic Scones Recipe
Makes about 12 large scones

Ingredients
200g butter, chilled and diced
720g plain flour
1⁄2 tsp fine sea salt
3 tbsp baking powder
140g caster sugar
3 eggs
160ml milk
Egg wash
Method
Preheat the oven to 170°C.
Sift 720g of plain flour, 1⁄2 tsp of fine sea salt and 3 tsp of baking powder together into a large bowl. Tip in 200g of butter in cubes and rub them into the mixture. Lastly rub in 140g of caster sugar.
Beat 160ml of milk and 3 eggs together in a jug, then pour this into the flour mixture, stirring as you go.
Roll the dough out to a square, roughly 3–4cm deep, and cut out round circles of approximately 8cm diameter.
You should get about a dozen large scones.
Paint the tops lightly with egg wash and bake for about 20 minutes until risen and golden.
GAIL's Bakery Sour Cherry & Dark Chocolate Drop Scones Recipe
Makes 12 scones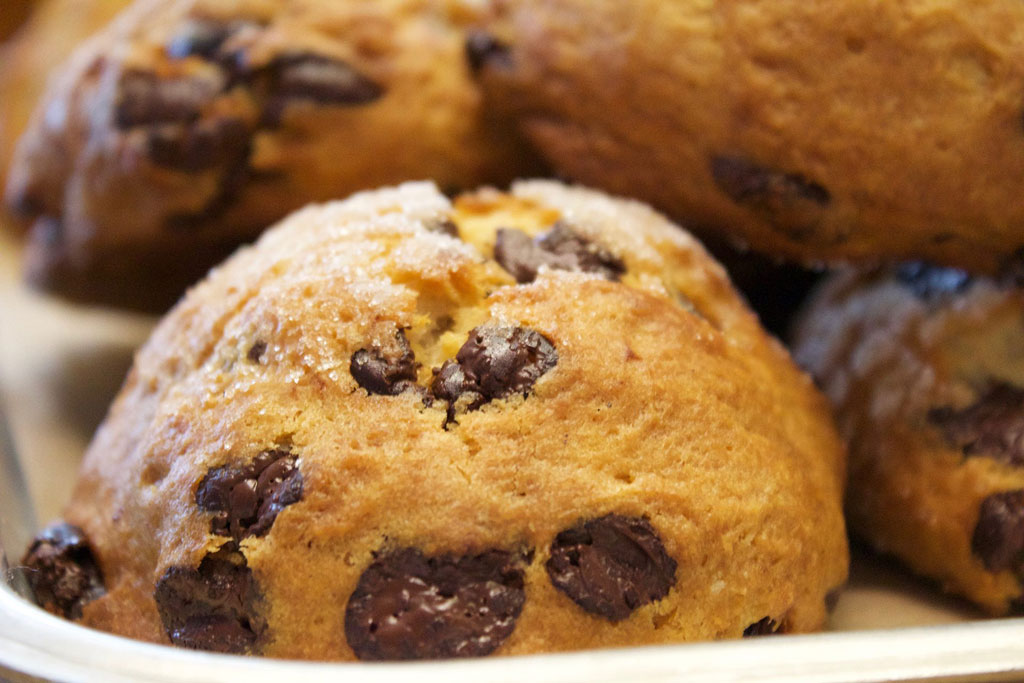 Ingredients
500g plain flour
150g caster sugar
1⁄2 tsp bicarbonate of soda
2 tsp baking powder
1⁄2 tsp fine sea salt
150g butter, chilled and diced
120ml double cream
175ml buttermilk
150g dried sour cherries, roughly chopped
150g dark chocolate, chopped into rough chunks
Demerara sugar, for sprinkling
Method
Sift together the flour, caster sugar, bicarbonate of soda, baking powder and salt in a large mixing bowl. Add the very cold diced butter and use your fingertips to rub it in until the mixture resembles coarse breadcrumbs. You don't need to eliminate every last morsel of butter.
In a small bowl, whisk together the cream and buttermilk. Use your hands to make a well in the centre of the flour mixture, and pour in the liquid in one go. Form one hand into a claw shape and move it gently around in the mixture to stir in the liquids taking care not to leave any untouched patches of dry ingredients. You'll be left with a very sticky, rather ugly dough – don't worry, this is how it's meant to look. Gently add the cherries and chocolate chunks and use your hands to mix them evenly through the dough.
Line a baking sheet with baking paper. Use your hands to scoop 12 tall heaps of dough onto it, without trying to make them too neat – any rough edges will turn wonderfully crispy, crunchy and golden as they bake. Leave at least 5cm between each scone, as they spread out while baking. (Use more than one baking sheet if you need to.) Pop into the freezer for at least 30 minutes.
Preheat the oven to 170°C/gas mark 3. Take the scones out of the freezer, sprinkle lightly with demerara sugar, and bake for 25–30 minutes until their edges are crisp and golden and their insides are still soft. Lift one up gently with a spatula to check that the base is cooked through and has turned an even, dark golden colour.
GAIL's Bakery Gruyère and Chive Scones Recipe
Makes 12 scones

Ingredients
360g plain flour
2 tsp baking powder
1 tsp fine sea salt
170g butter, chilled and diced
250g Gruyère, grated
small bunch of chives, finely snipped
4 eggs
150 ml milk
Method
Preheat the oven to 180°C/gas mark 4 and line a baking sheet with non-stick baking paper. Sift the flour, baking powder and salt together in a large bowl, then tip in the cold cubes of butter. With your fingertips, rub the butter into the flour until the mixture resembles coarse breadcrumbs, but try to leave a few little nuggets of butter scattered through it. Use your hands to mix in the cheese and the chives.
In a separate bowl, whisk the eggs and milk together, then form a well
 in the centre of the flour mixture. Pour in all the milk and eggs at once, stirring gently with a wooden spoon as you go. The finished mixture will be sticky and very lumpy. Think scrambled eggs, and you're not far off.
Use your hands to form the scones: wet your palms slightly to prevent the dough from sticking to them and scoop it up in handfuls, dropping it in 12 mounds onto the lined baking sheet. Leave 5cm gaps between each one to allow for spreading, and don't worry about forming perfect shapes – any cragginess or rough edges will just give you even more flavour and texture. Bake for 20–25 minutes until golden brown and crisp on the outside, but still soft inside. These make a brilliant alternative to bread with all kinds of soups, stews or casseroles. Or you can split them, fill them, and serve them like mini-sandwiches.
Nancy Birtwhistle's Lemon and Caraway Scones Recipe
Makes 6 scones

Nancy Birtwhistle, Great British Bake Off Series Five champion, shares her favourite scones recipe with us. They are best served fresh and eaten the same day, so recipe makes just six scones – to be eaten all in one sitting! Low in fat and sugar, so lather on the Rodda's clotted cream and your favourite Tiptree jam.
Ingredients
225g self-raising flour
45g salted butter
35g caster sugar
Zest and juice of 1 lemon
130ml whole milk
1 tsp caraway seeds
½ tsp vanilla extract
Method
Firstly, toast the caraway seeds gently in a dry frying pan for a minute or two, just to extract the nutty flavour contained within. Don't burn them or they will be bitter.
In a medium mixing bowl, grate the zest from the lemon. Place the milk in a small jug or glass, then squeeze the lemon juice into it (the lemon should yield about 20ml) and set aside to thicken and curdle.
Place the self-raising flour into the bowl containing the zest, then add the softened butter. Using your fingertips, rub the mixture together until it resembles breadcrumbs. Stir in the sugar and toasted seeds.
Add the vanilla extract to the milk mixture then add a sufficient amount to the dry ingredients as to bind the dough together. The dough needs to be just sticky, not too wet that you can't handle it and not too dry.
Turn out onto a lightly floured worktop then smooth out using a rolling pin or simply the palm of your hand. The dough needs to be quite thick – about 1.5cm.
Using a 7cm cutter dipped in flour to prevent the dough sticking, cut out six scones. You will need to reuse the trimmings. Place your scones on a baking sheet lined with non-stick parchment then pop them into the fridge.
Heat your oven to 225ºC and when your oven has reached its temperature take your scones from the fridge. If you have any milk mix left, give them a little brush just on the tops. Avoid letting any run down the sides, as this will impede the rising.
Pop the scones straight into the hot oven and bake for 10-12 minutes until well risen and golden. Do not overbake – the base of your scone should be golden brown not dark brown or black!
Cool on wire trays and serve the same day.