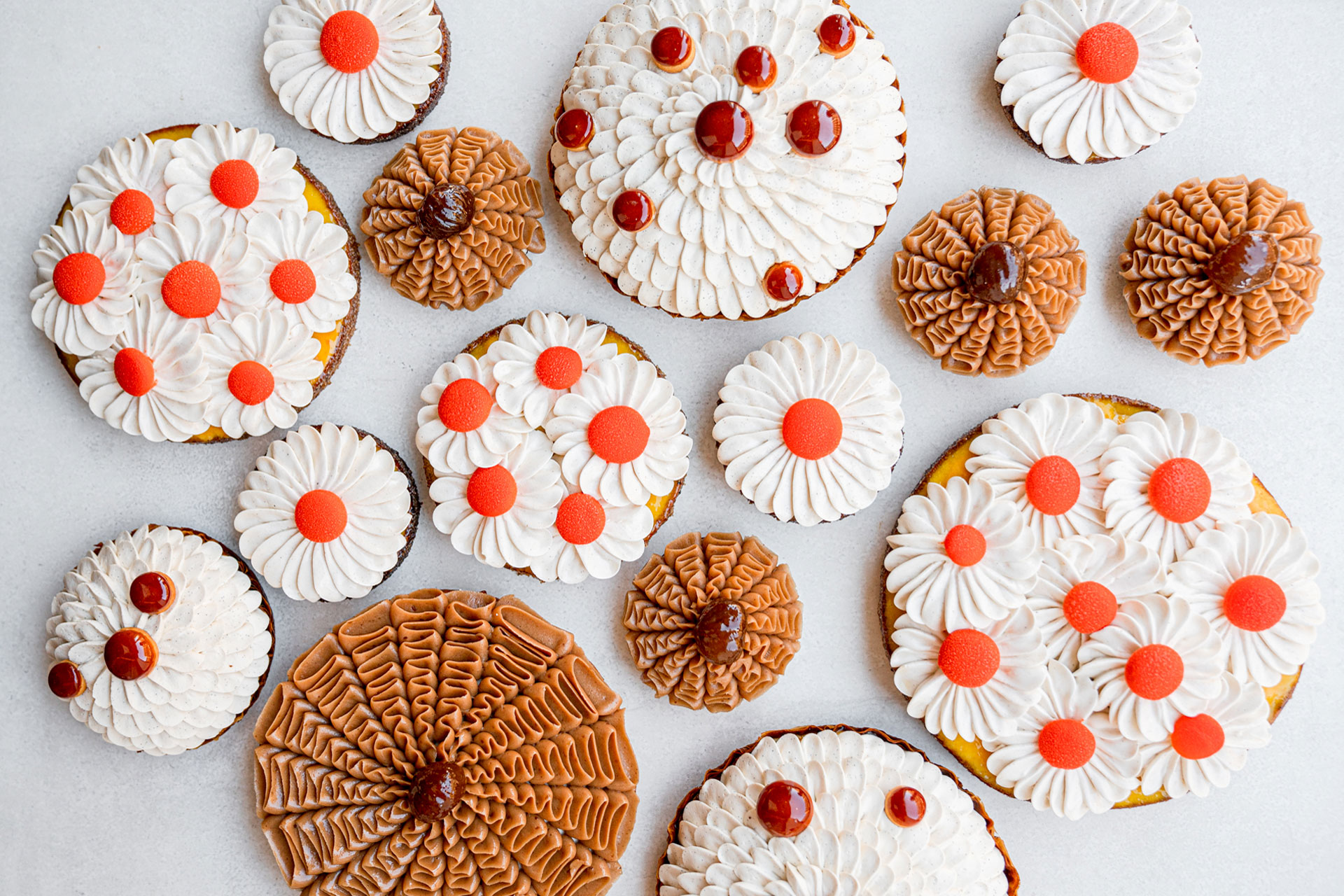 The Best Bakeries in London
For baked goods that rise above the rest
Whether you're in search of a fresh loaf of sourdough, a show-stopping birthday cake, an elite cinnamon roll or the perfect doughnut, London is jam-packed with great bakeries to satisfy all sweet and savoury cravings. Read on for the C&TH pick, from neighbourhood favourites to Scandi-inspired spots and French patisseries in top hotels. Prepare to be wowed with the craft and artistry showcased by some of the city's best pastry chefs.
Best Bakeries in London
Kuro Bakery
The duo behind popular Notting Hill coffee house Kuro, Julian Victoria and Jacob Van Nieuwkoop, recently expanded their offering to include a new bakery on the corner of Hillgate Street. With head baker Adam Morley at the helm, it offers an impressive array of artisanal baked goods alongside a variety of bread, including the traditional Japanese milk bread Shokupan. Don't miss the signature pastry: wheel-shaped croissant rolls filled with cream (called Sakuras).
95 Notting Hill Gate, London W11 3JZ; kuro-london.com
Donutelier by Roladin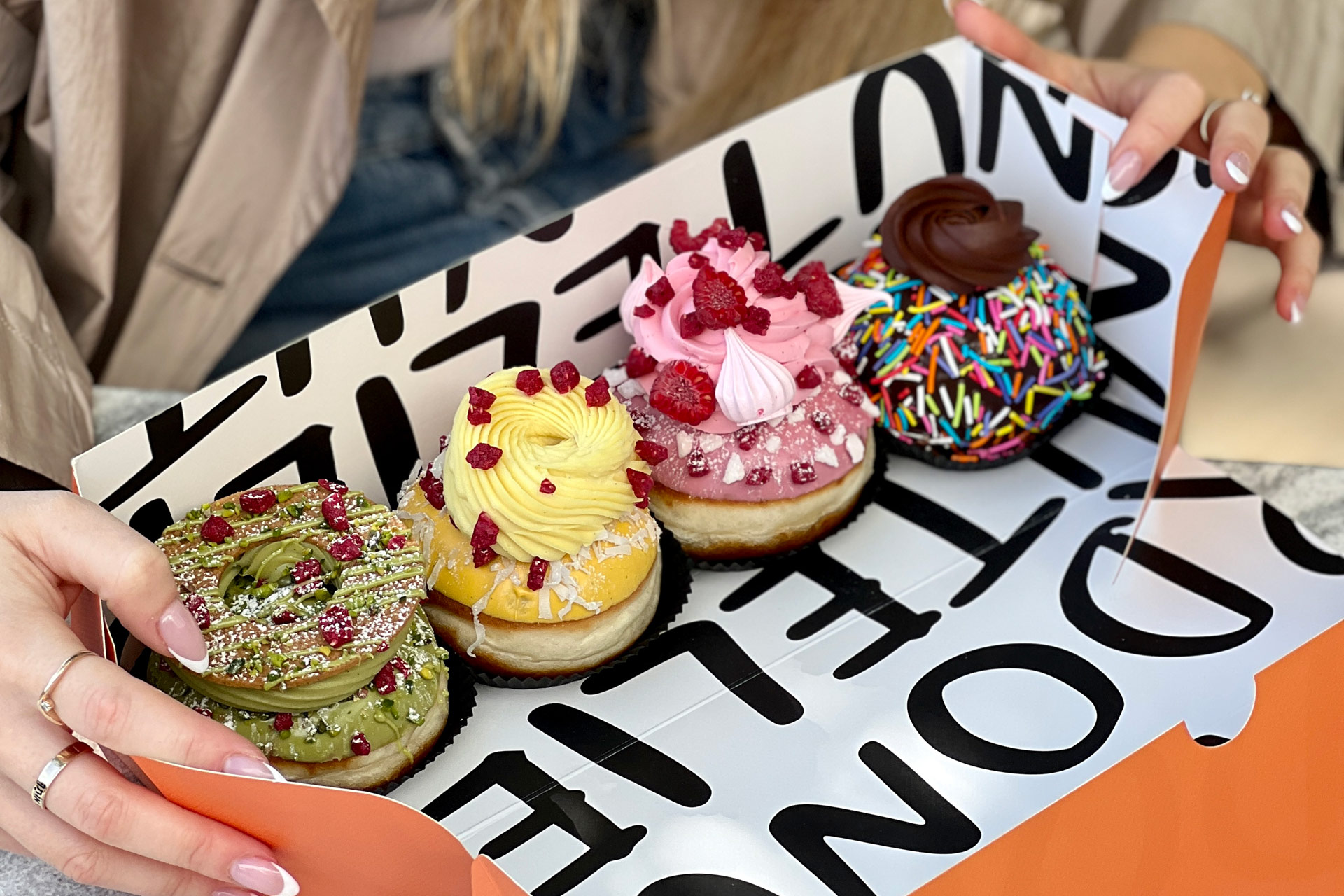 Recently launched on Charing Cross Road is the first UK outpost for bakery Roladin, which has been perfecting its doughnuts for over 33 years. Inspired by the craftsmanship of the world's greatest fashion ateliers, Donutelier by Roladin gives visitors an insight into the doughnut-making process: you'll be able to watch the airy dough being puffed up into the beautiful fluffy pastries we know and love. On the menu you'll find signatures like the Pistachio, filled with Chantilly cream and marbled pistachio; the Dulcey Peanut Caramel, made with Dulcey fleur de sal ganache and peanuts; and the Pink Royal, which will feature wild berry cream topped with mini strawberry meringues and dried raspberries. These can be enjoyed in-store with a coffee, or ordered for takeaway.
48, 50, Charing Cross Rd, London WC2H 0BB; donutelier.co.uk
SHIOK!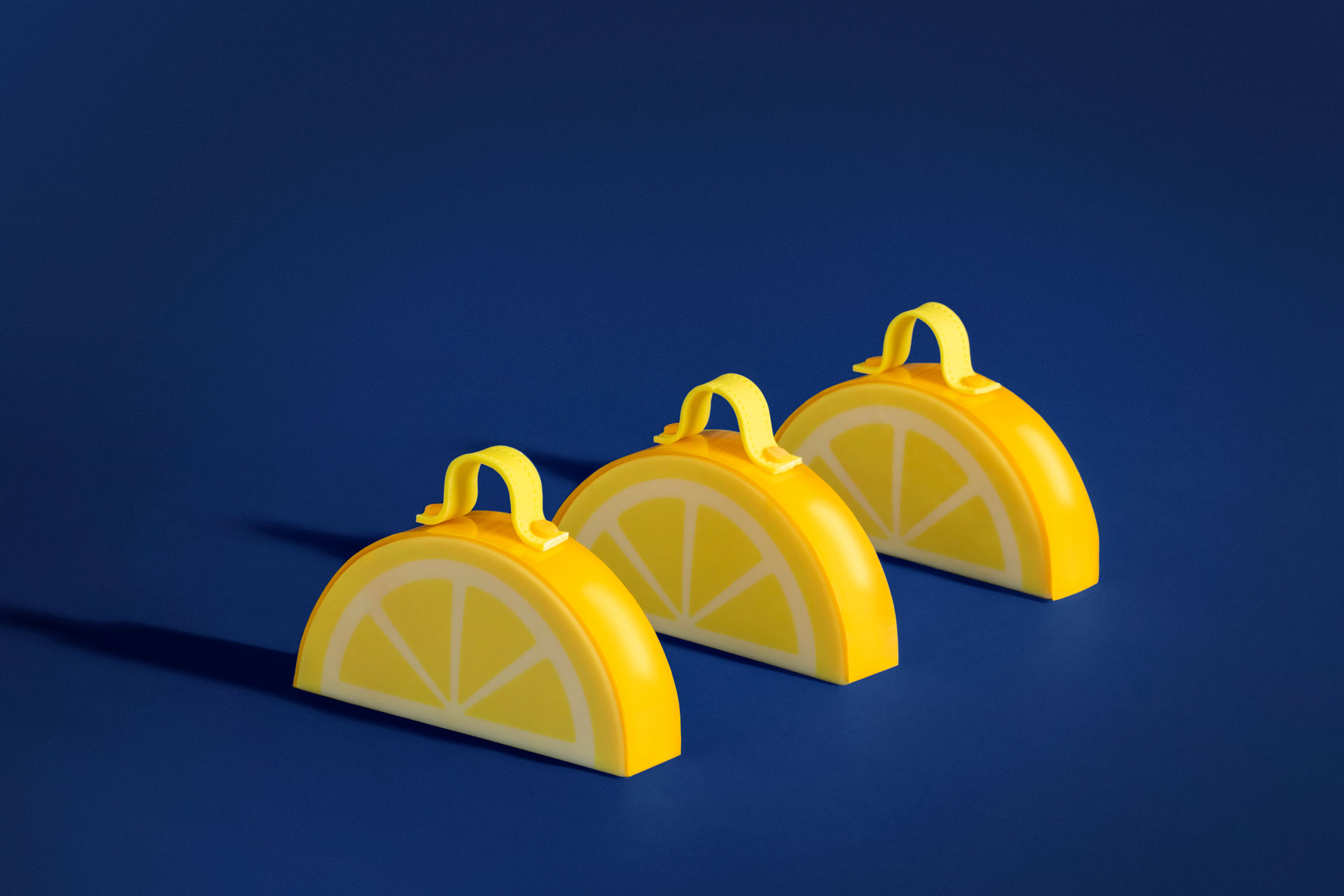 Another new opening is SHIOK! (pronounced 'shook') – a project from the Pan Pacific London team. Located in Devonshire House, the building adjacent to the hotel, the Singapore-influence patisserie is spearheaded by Pan Pacific's acclaimed pastry chef Cherish Finden. The aim is to bridge the gap between tradition and innovation, showcasing Asian patisserie to Londoners with a menu of eclectic sweet treats, plus a breakfast offering. Highlights include a selection of Petit Gateaux inspired by Finden's childhood: 'Handbag', for instance, is an ode to Finden's mother who would buy her mini handbags, made with flavours of lemon and raspberry compote. The 'Chocolate TeaPot', meanwhile, is influenced by the Chinese tradition of drinking from the smallest teapot which her grandfather always adhered to. All this can be enjoyed alongside the Singaporean staple of bubble tea. 
3 Bishopsgate, Near 30 St Mary Axe; panpacificlondon.com
Cédric Grolet at The Berkeley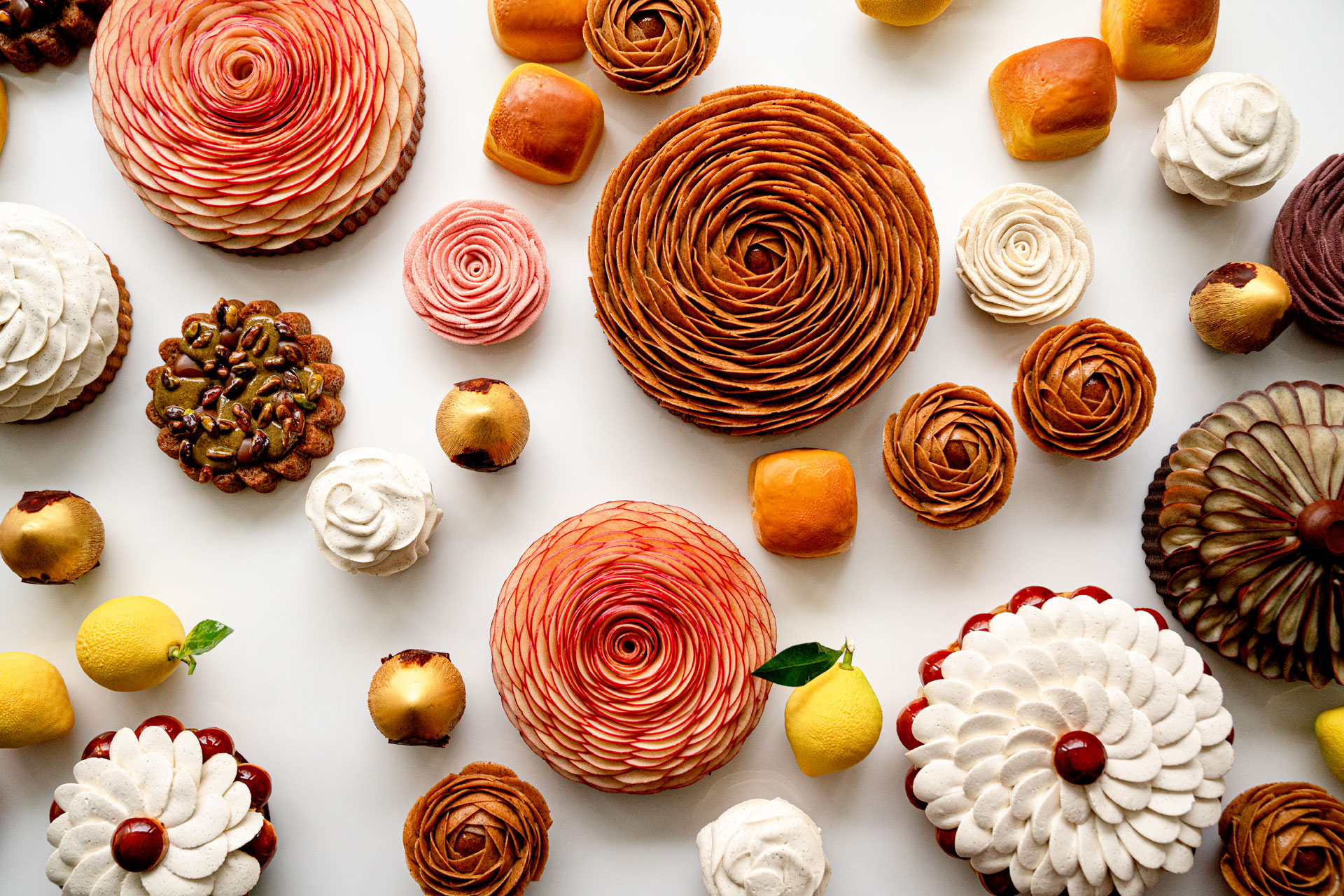 As if we needed another reason to go to The Berkeley, the Knightsbridge hotel now includes a bakery from one of the world's top pastry chefs, Cédric Grolet. His first patisserie outside France, it's a feast for the eyes as well as the tastebuds, designed by Remi Tessier with a pastry theatre and immersive seats overlooking the kitchen. Grolet is famous for his culinary 'trompe-l'œil' where patisserie wizardry is used to create optical illusions, and at The Berkeley, he brings together two of his signatures: fruits and flowers. 
Wilton Pl, London SW1X 7RL; the-berkeley.co.uk
Layla Bakery
Priding itself on using wild grains, Layla Bakery is all about embracing ancient traditions and a slow and thoughtful pace of life. Best known for it's fabulous sausage rolls, breads, and spiced buns, Layla Bakery is the perfect weekend place to pick up a pastry and watch the world go by.
332 Portobello Rd, London W10 5SA; laylabakery.com
Knead a Little Love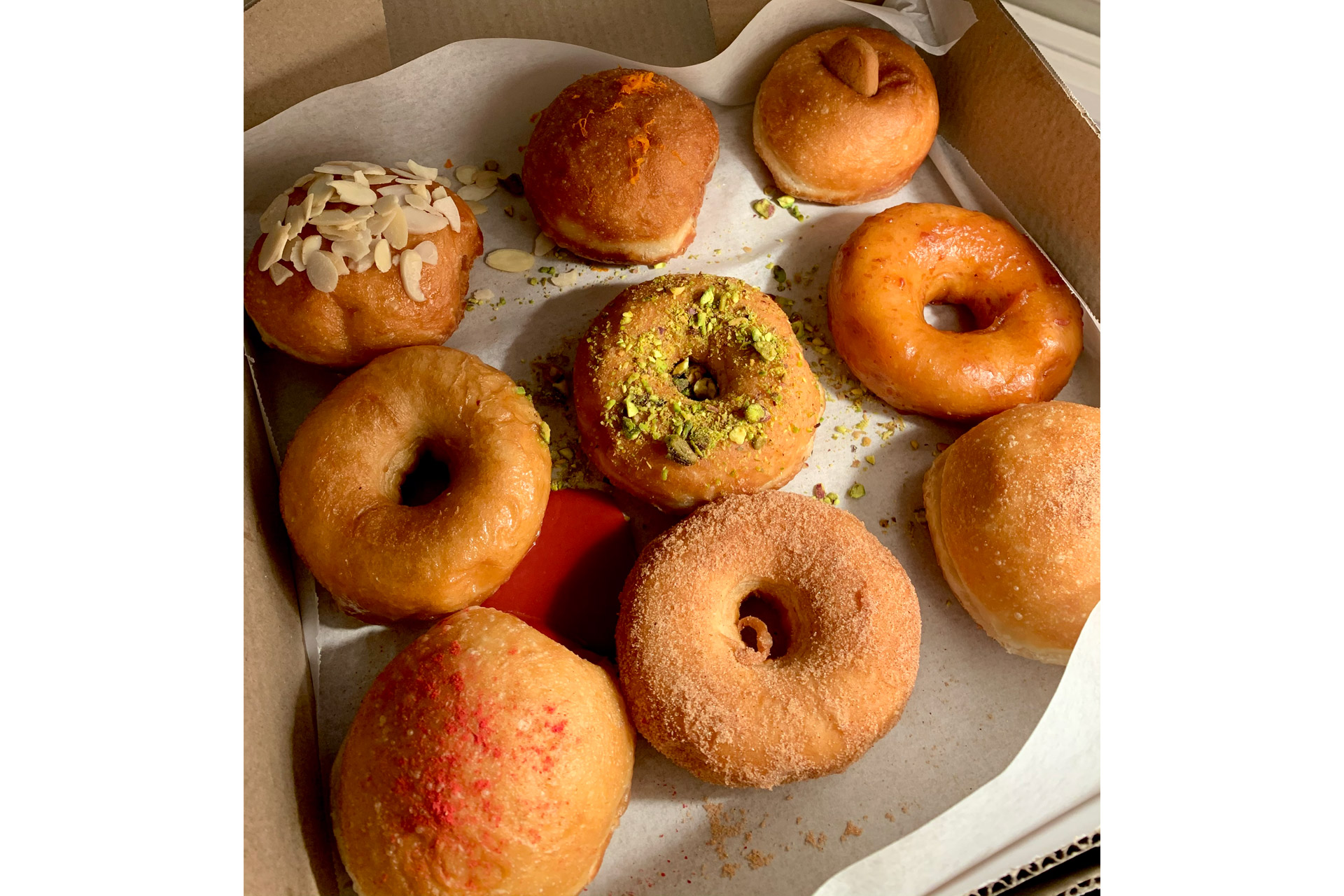 Vegan doughnut company Knead a Little Love launched in East London's Hoxton Street market in 2018, but lockdown gave founder Jess time to properly work on the business. She has perfected her recipes, with nine flavours to choose from – both traditional and experimental, from the classic strawberry to apple flavoured popping candy, plus a particularly delicious chocolate orange filled number.
253 Bethnal Grn Rd, London E2 6AH; kneadalittlelove.com
The Connaught Patisserie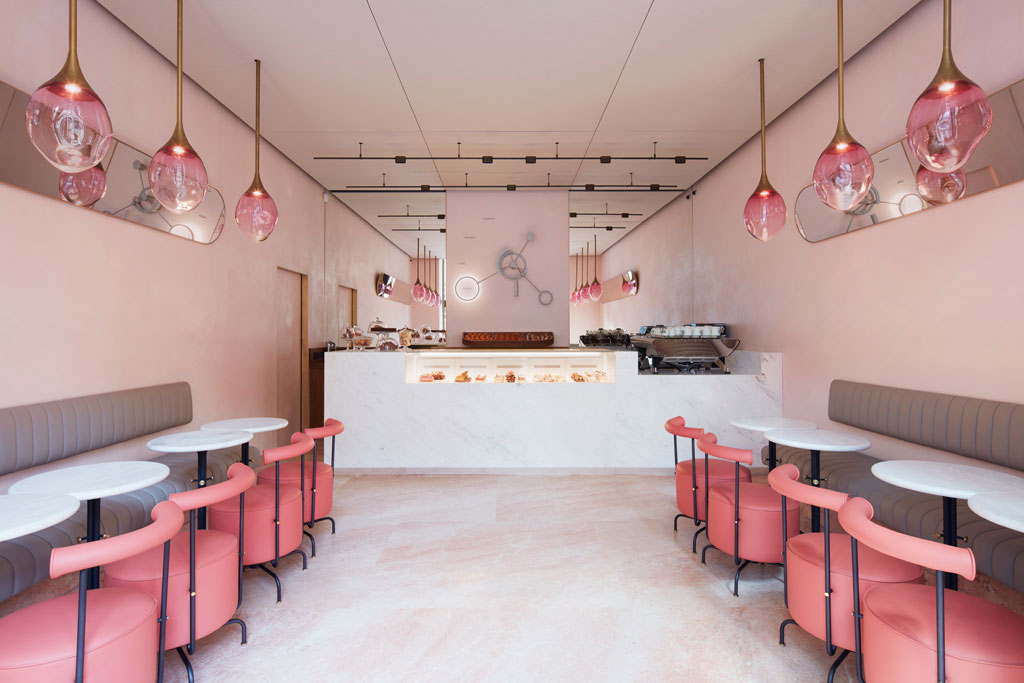 Follow the pink flag on Mount Street to find The Connaught's patisserie: a rose-hued space with marble floors and crystal lights. The food is equally beautiful, with everything from lemon madeleines to chouquettes on offer, plus the patisserie signature: the Connaught hound from the hotel's emblem reimagined as a chocolate hazelnut cake. The River Café, a long-time friend of The Connaught, will also be hand delivering their signature Chocolate Nemesis each day to The Connaught Patisserie – the first time the cake has been available outside of its home.
The Connaught, Carlos Pl, London W1K 2AL; the-connaught.co.uk
Cutter & Squidge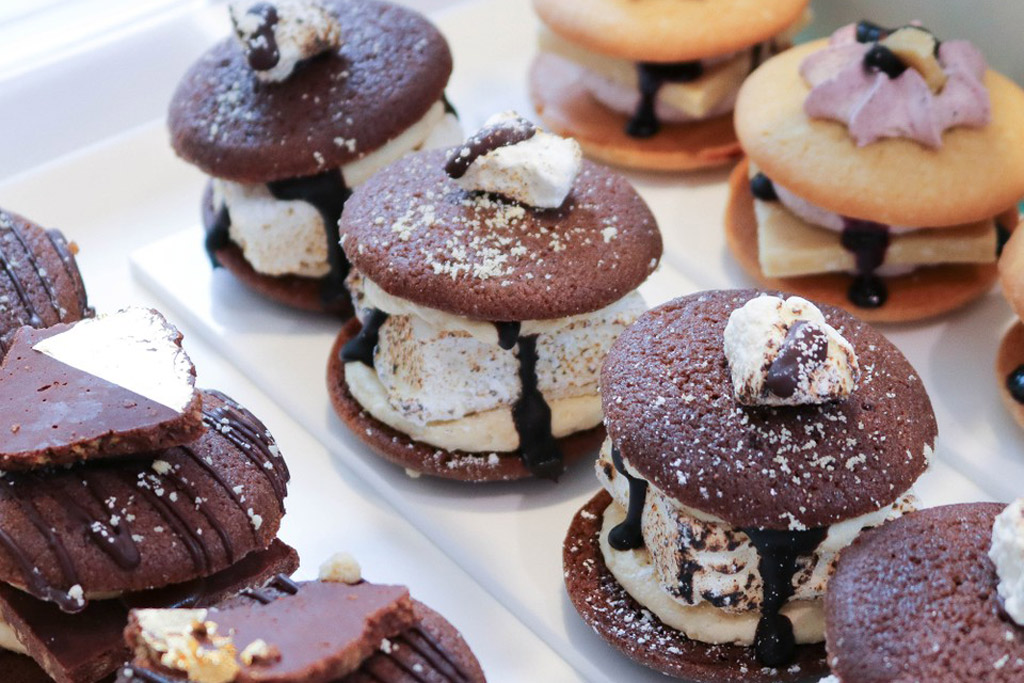 Home to the biskie, bakery Cutter & Squidge describes itself as 'a bit health conscious': cakes contain low fat and sugar, but they are definitely still delicious. The signature biskie (cake/cookie/biscuit hybrid) takes centre stage, but the bakery also does impressive cakes, truffles and macaroons.
20 Brewer St, London W1F 0SJ; cutterandsquidge.com
Bread Ahead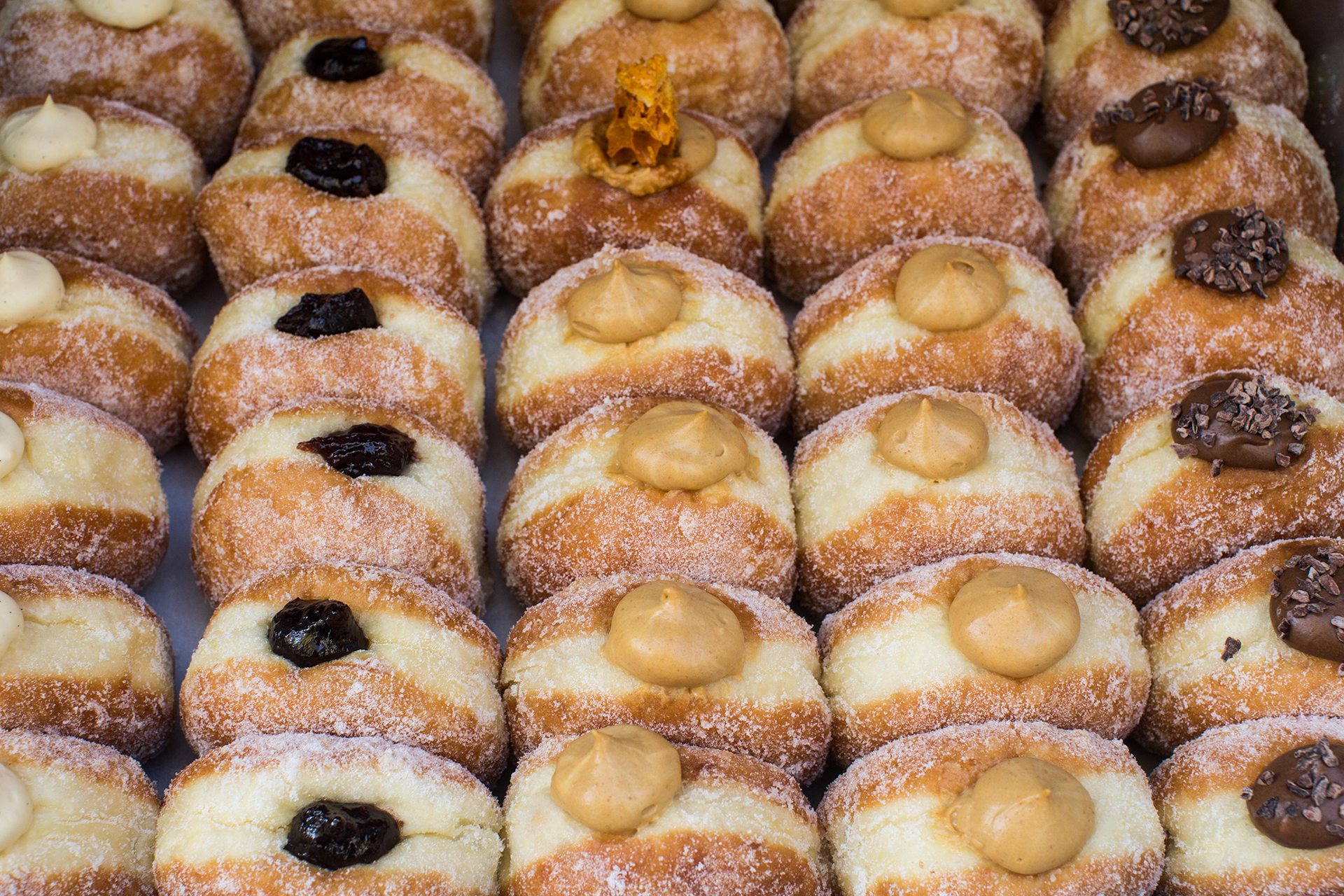 This bakery's filled doughnuts are the stuff of legend. Piped with vanilla, chocolate, jam or honeycomb custard and sprinkled with sugar, they are worth every bite of the high-calorie count. We've nabbed their famous recipe so you can try and make them at home, too. There are outposts dotted all over London, but you'll find the biggest site in Wembley Park, featuring a bakery, baking school and restaurant.
Various locations; breadahead.com
Primrose Bakery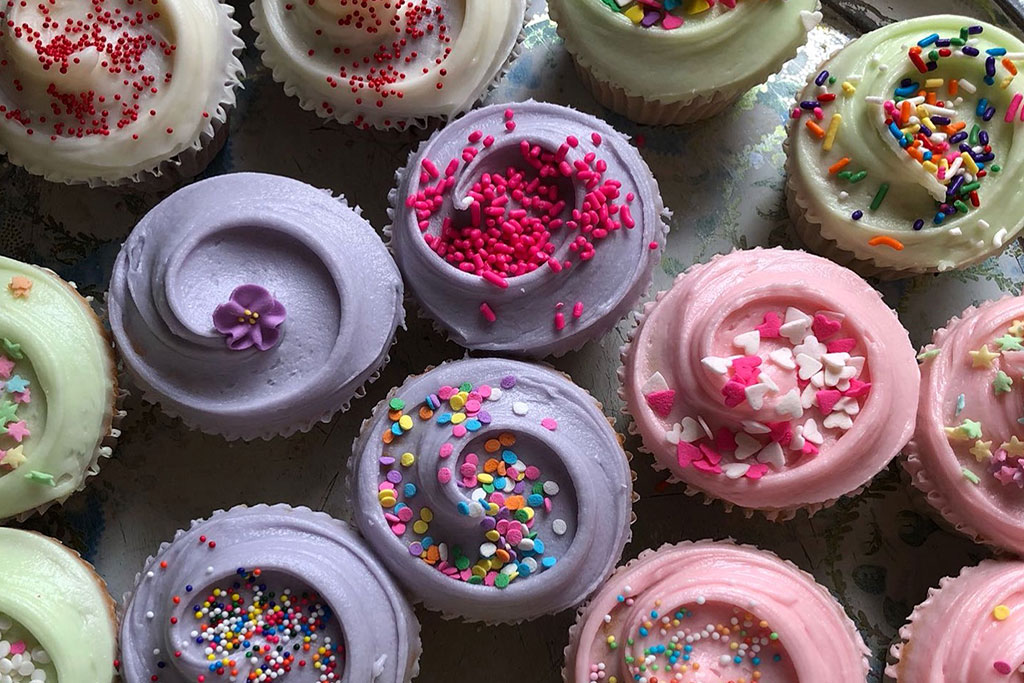 Remember the cupcake hype of the late Noughties? It originated with Primrose Bakery's divine pastel-coloured creations. The bakery is still going strong, and cake fans flock from far and wide. Luckily, they've now got stores in Kensington and Covent Garden, too. Keep an eye out for new flavours, and don't leave without trying the carrot cupcake.
69 Gloucester Ave., London NW1 8LD; primrose-bakery.co.uk
Violet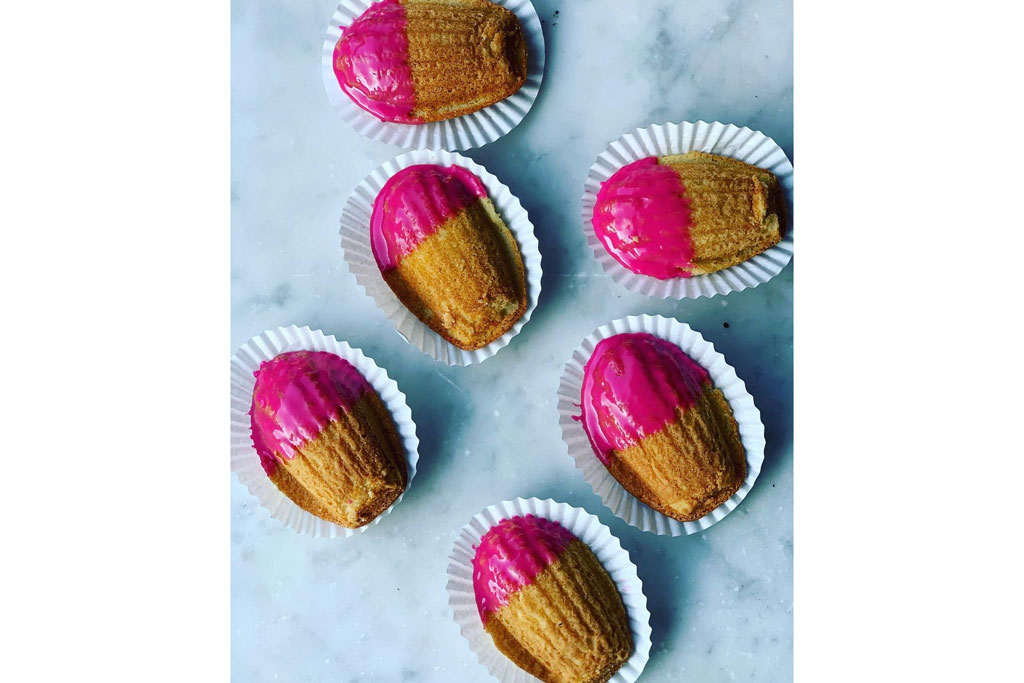 Violet offers everything you could possibly want from a bakery: cute, quaint and serving the best cupcakes you've ever tasted. Lines spill out onto the pavement on the weekends but the wait is very much worth it, with freshly baked scones stuffed with clotted cream and cardamom jam among the treasures that await. Although small in size, Violet was chosen to bake Harry and Meghan's wedding cake – and if it's good enough for the royals…
47 Wilton Way, London E8 3ED; violetcakes.com
Kova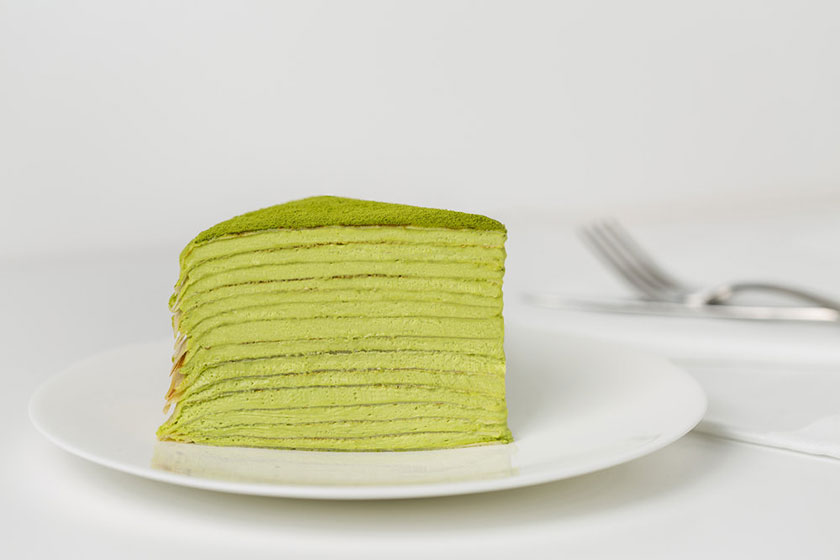 Not familiar with the wonders of Japanese patisserie? Kova will prove a tasty introduction. Specialising in handmade sweet treats with a Japanese twist, you will no doubt have seen their colourful Mille Crepe cakes on Instagram and salivated at the multiple layers of French crepe with light custard filling in between. Now all you have to do is try it for yourself!
Various locations; kovapatisserie.com
Peggy Porschen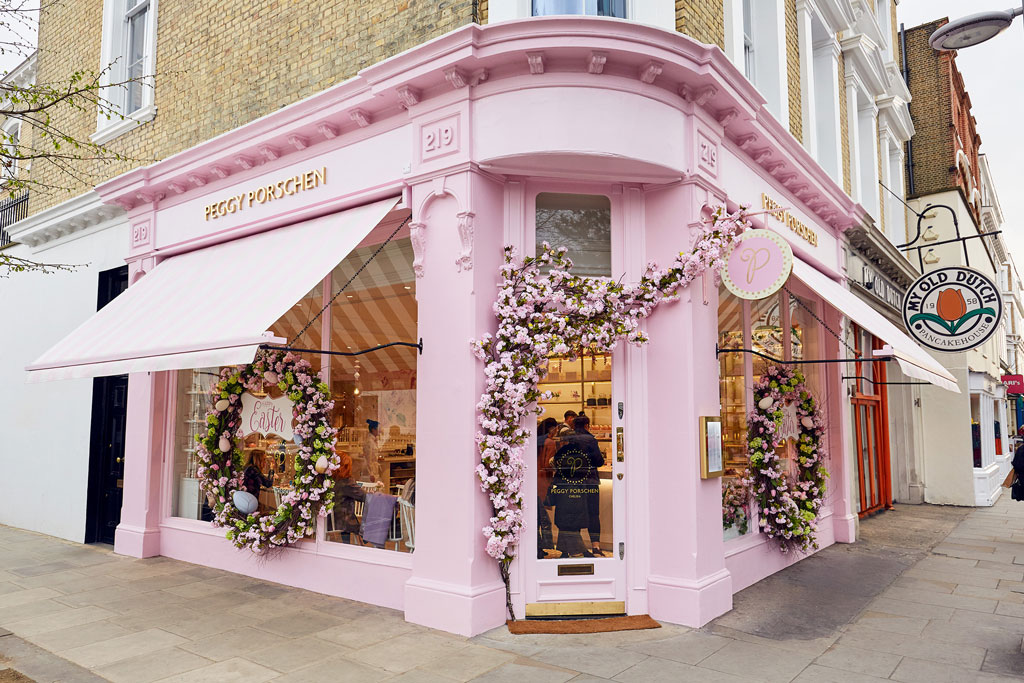 With its picture-perfect pink flower façade, this might just be the prettiest bakery in London. Elton John, Madonna and Kate Moss are all fans, and for good reason. On its website Peggy Porschen describes its cakes as 'edible works of art' – which is true, but more importantly they taste delicious. As well as the famous cupcakes, you can order bigger party cakes which are almost too pretty to eat… almost.
Various locations; peggyporschen.com
Poilâne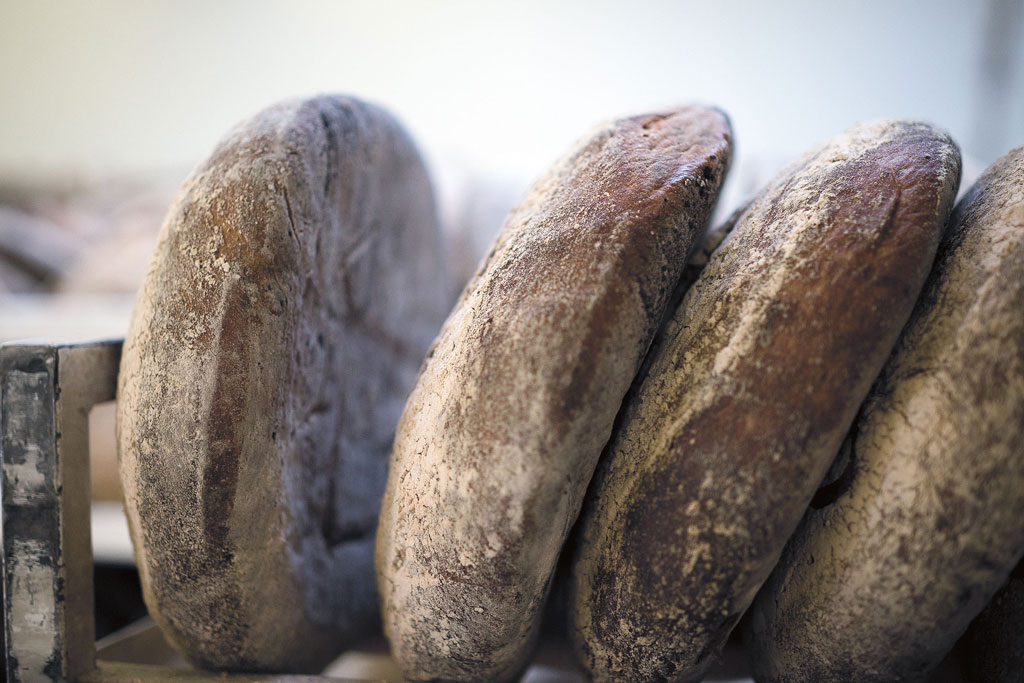 Poilâne bakery was founded on the rue du Cherche-Midi in Paris back in 1932, going on to open a London store around 20 years ago. Its sourdough is world-famous for a reason – and now you can enjoy it at home, thanks to their newly launched delivery service, which features a selection of breads, biscuits and other baked treats.
46 Elizabeth St, London SW1W 9PA; poliane.com
Little Sourdough Kitchen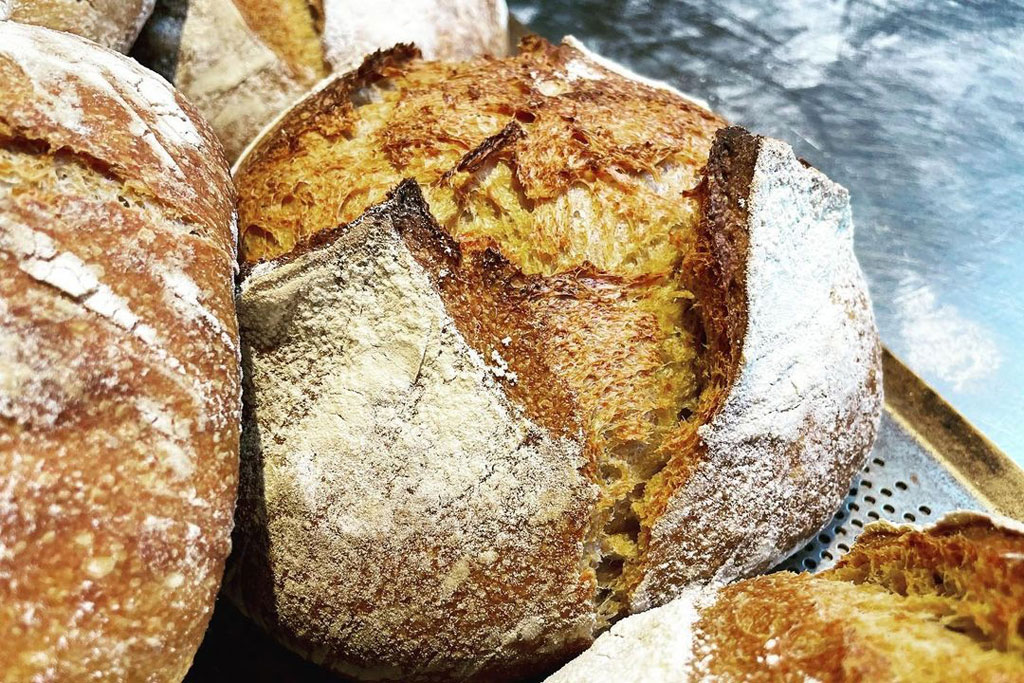 This tiny bakery opened in Fulham in 2019 and has been constantly churning out loaves of sourdough ever since. Stocking all the discerning households of South West London as well as top London restaurants, go early in the morning to avoid disappointment – and enjoy while still warm with your first coffee of the day. Heaven! Image: Instagram.
237 Munster Rd, London SW6 6BT; facebook.com/little-sourdough-kitchen
Maître Choux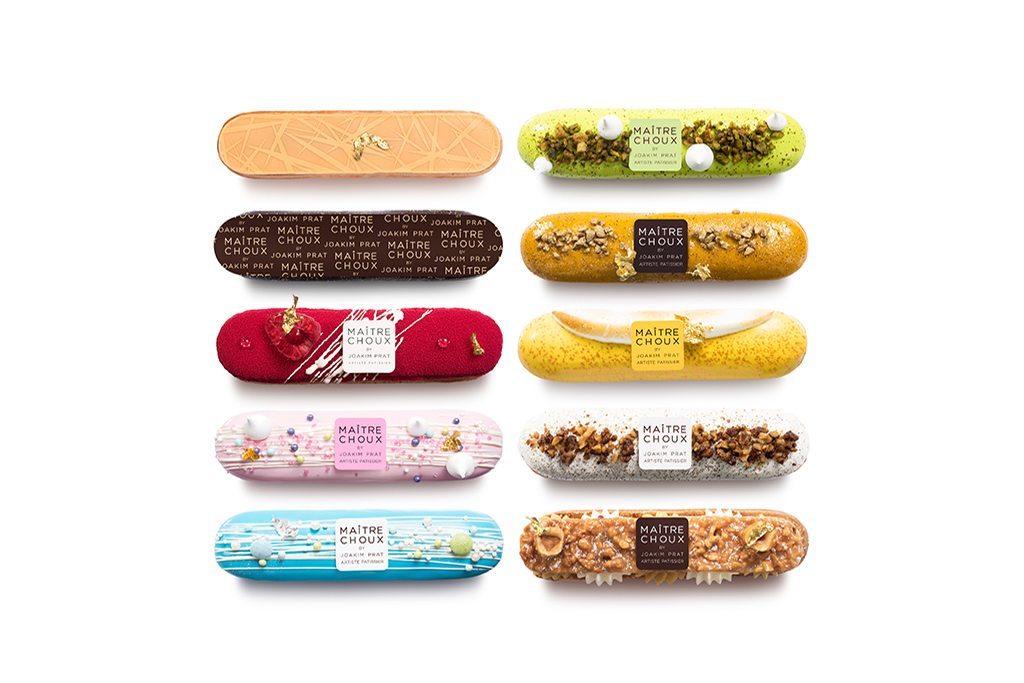 Joakim Prat's beautifully constructed éclairs are where food meets art. The first and only choux pastry specialist patisserie in the world, the rest of London's éclairs hardly compare, and flavours change seasonally to ensure there's always something new to tickle your taste buds.
Various locations; maitrechoux.com
Lily Vanilli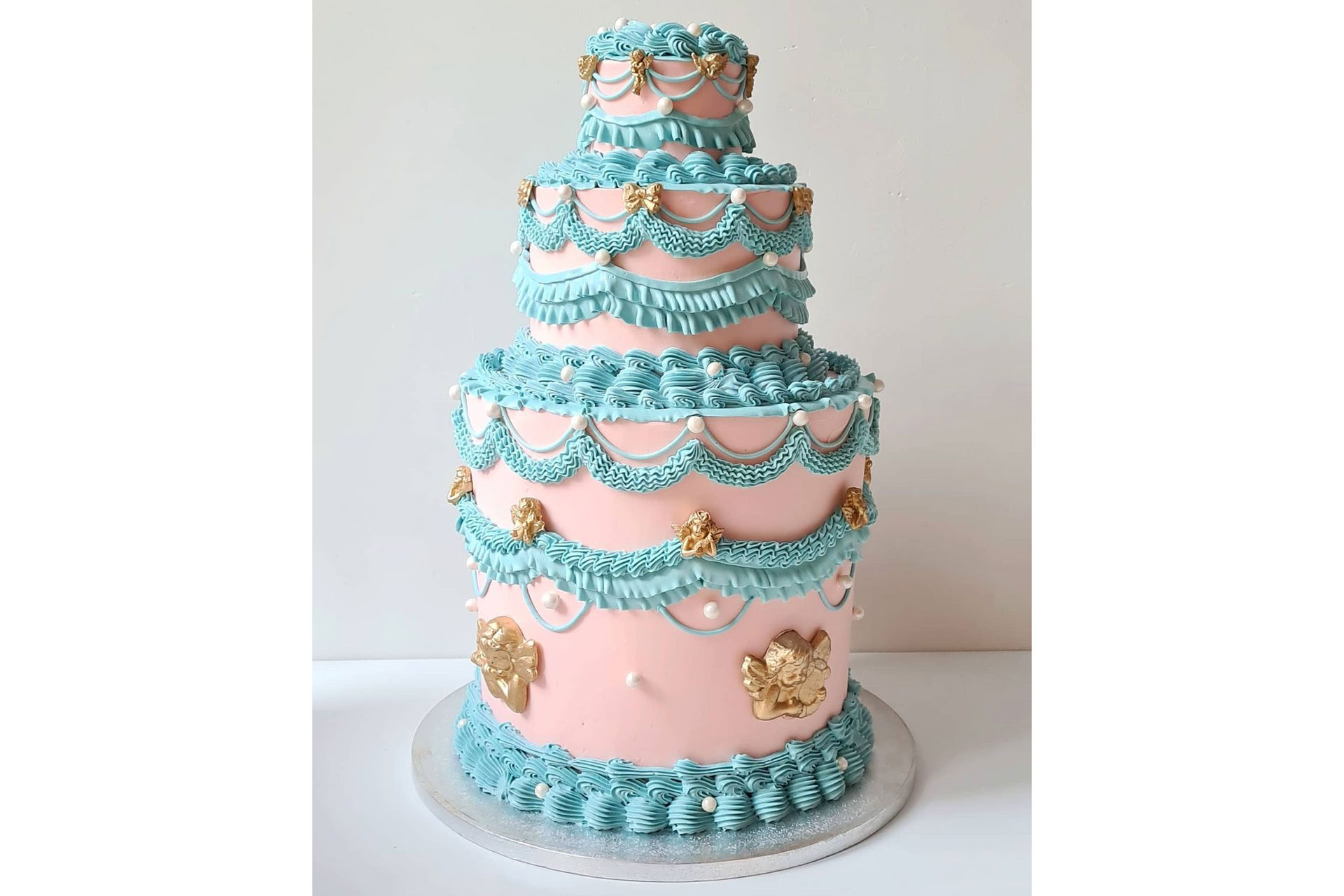 Sitting hidden just off Columbia Road, Lily Vanilli is the perfect place to stop for cake and coffee after braving the adjacent flower markets. Cakes on display change seasonally (check their Instagram page for daily, delicious updates!). If your sweet tooth is lacking, opt for one of their famous sausage rolls instead.
The Courtyard, 18 Ezra St, London E2 7RH; lilyvanilli.com
Main image: Cedric Grolet at The Berkeley