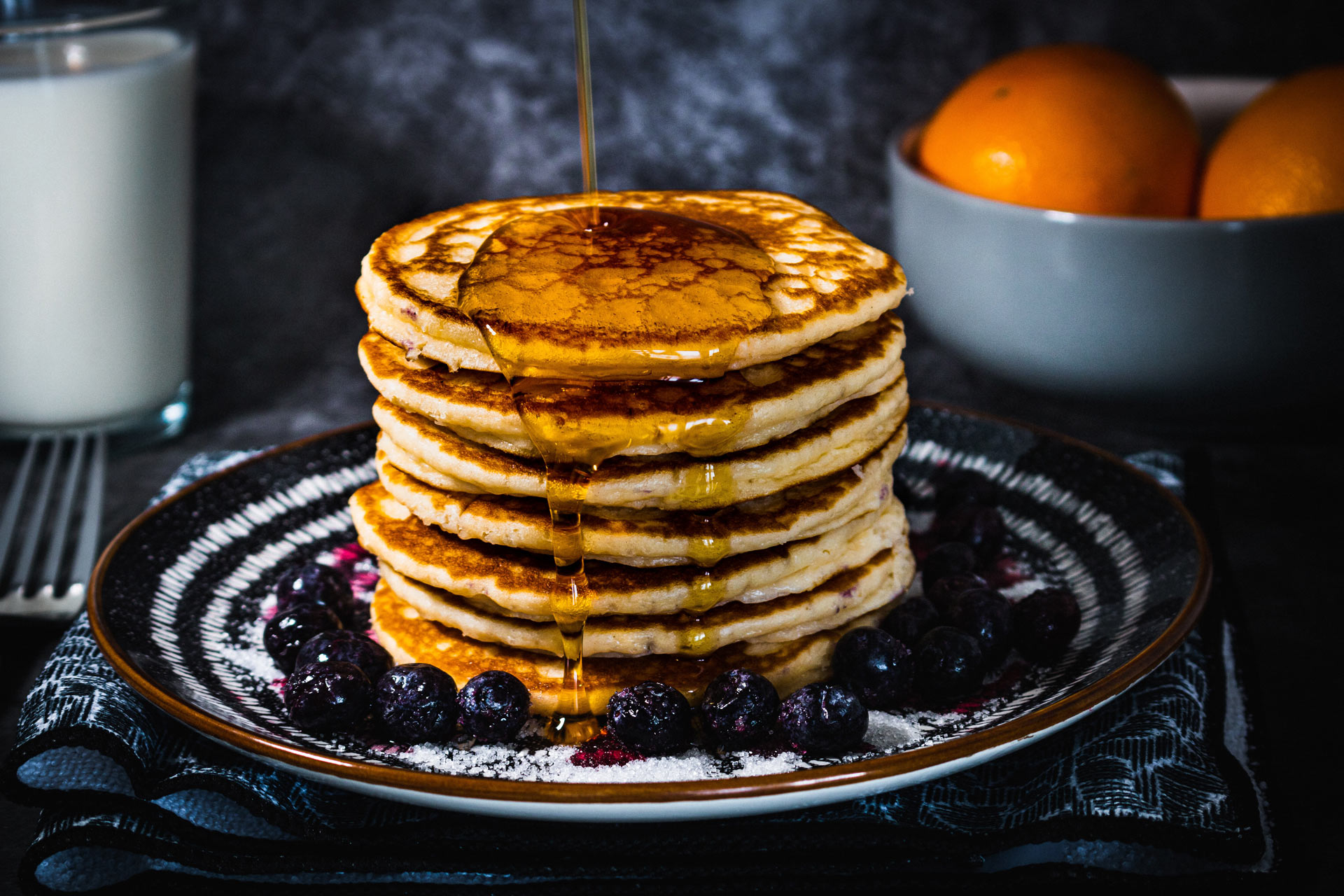 Shrove Tuesday 2023: London's Best Pancakes
---
Elite stacks to eat this Pancake Day
One of our favourite holidays of the year is in sight: Shrove Tuesday, of course, which falls on 21 February this year. It's a day when we're encouraged to eat pancakes for breakfast, lunch and dinner – whether that's the classic lemon and sugar combination, a decadent American-inspired stack with bacon and maple syrup, or a savoury crepe oozing with cheese (or all three). Sure, you can whizz your own up (try these recipes here) – but this surprisingly simple dish is actually quite tricky to nail. If your flipping skills aren't quite up to scratch, leave it to the professionals. London is home to numerous restaurants which serve up top-class pancakes, from Aussie-inspired brunch eateries to Brazilian creperies and more. Read on for the ultimate list of the best pancakes in London.
Shrove Tuesday 2023: Where To Go For Pancakes in London
DELLI X Gizzi Erskine Pancake Day Pop Up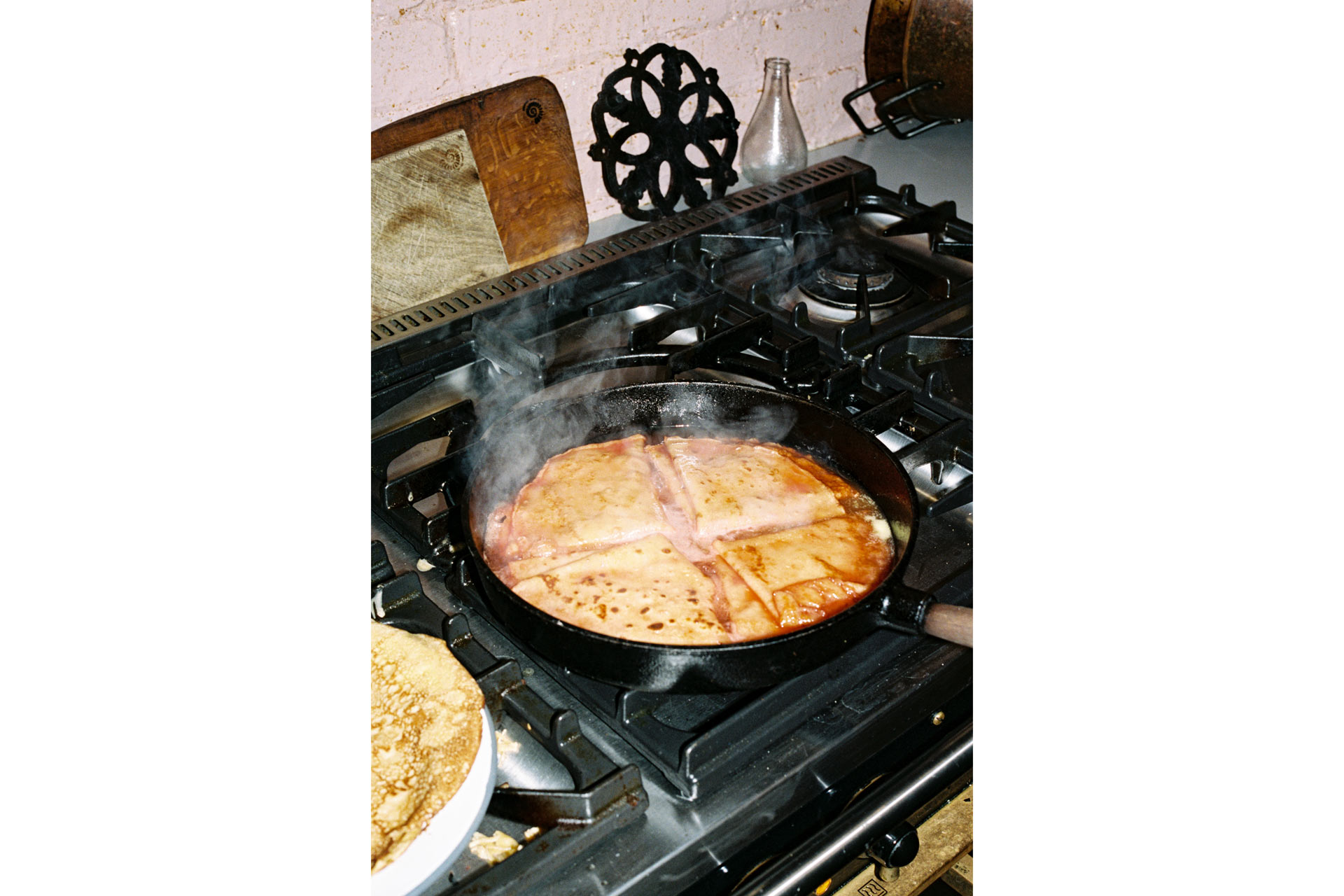 Celebrity chef Gizzi Erskine will be flipping pancakes in Brixton Village at a special pop-up this month, running in partnership with food and drink marketplace DELLI. She'll be making her much-loved pancake recipe, which is topped with a homemade Negroni sauce – and, better still, it's all for a good cause. Proceeds from the pancakes will go towards fundraising efforts for Gizzi's best friend Johnny, who has a rare form of cancer. 
Unit 25-27 Market Row, Brixton Village, Coldharbour Ln, SW9 8PS, tickets can be purchased here via DELLI
Granger & Co
This Sydney-style hotspot is an absolute must year-round, and even more so in honour of Pancake Day. Founder Bill Granger's hotcakes are the stuff of legend, whipped with ricotta to ensure maximum fluffiness, then topped with honeycomb butter, banana and maple syrup. Try them this year at one of Granger & Co.'s many locations, found in places like Chelsea, Notting Hill and King's Cross.
Multiple locations, grangerandco.com
The Breakfast Club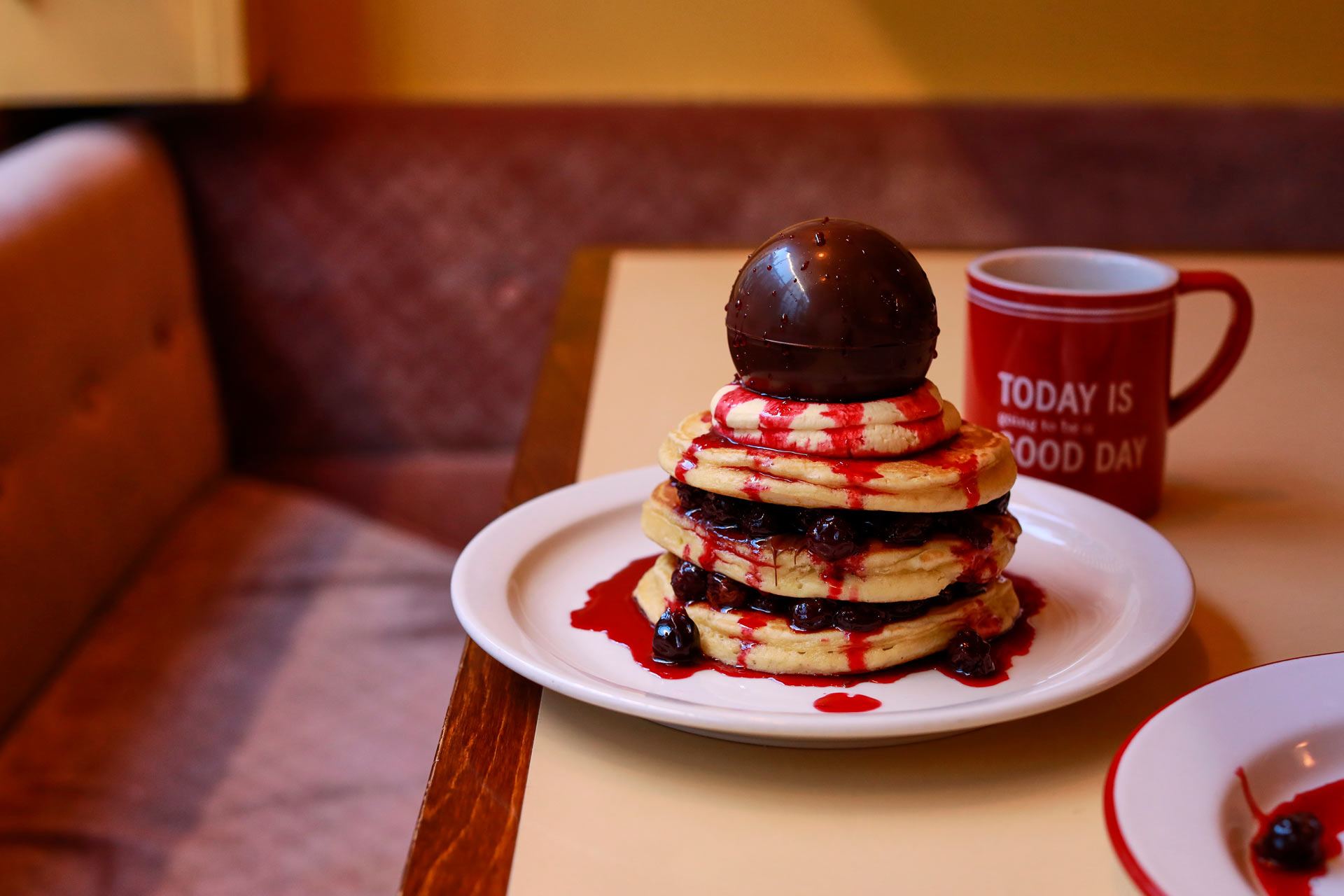 With outposts dotted around the capital, The Breakfast Club is a true expert on all things brunch. Its pancakes are legendary – The All American, in particular, is an iconic stack, topped with bacon, sausage, potatoes, fried eggs and maple syrup. They're upping the ante even more, though, this Pancake Day, with two epic new specials to gorge on, inspired by Willy Wonka & the Chocolate Factory. The Violet Cheesecake Beauregarde is layered with a tangy blueberry compote, with a creamy vanilla cheesecake filling and finished with a sweet cloud of candyfloss, while the Cherry Chocolate Scrumdidilyumptious is topped with a chocolate bomb served with a river of 'pour it all over me' chocolate ganache. 
Multiple locations, thebreakfastclubcafes.com
Where The Pancakes Are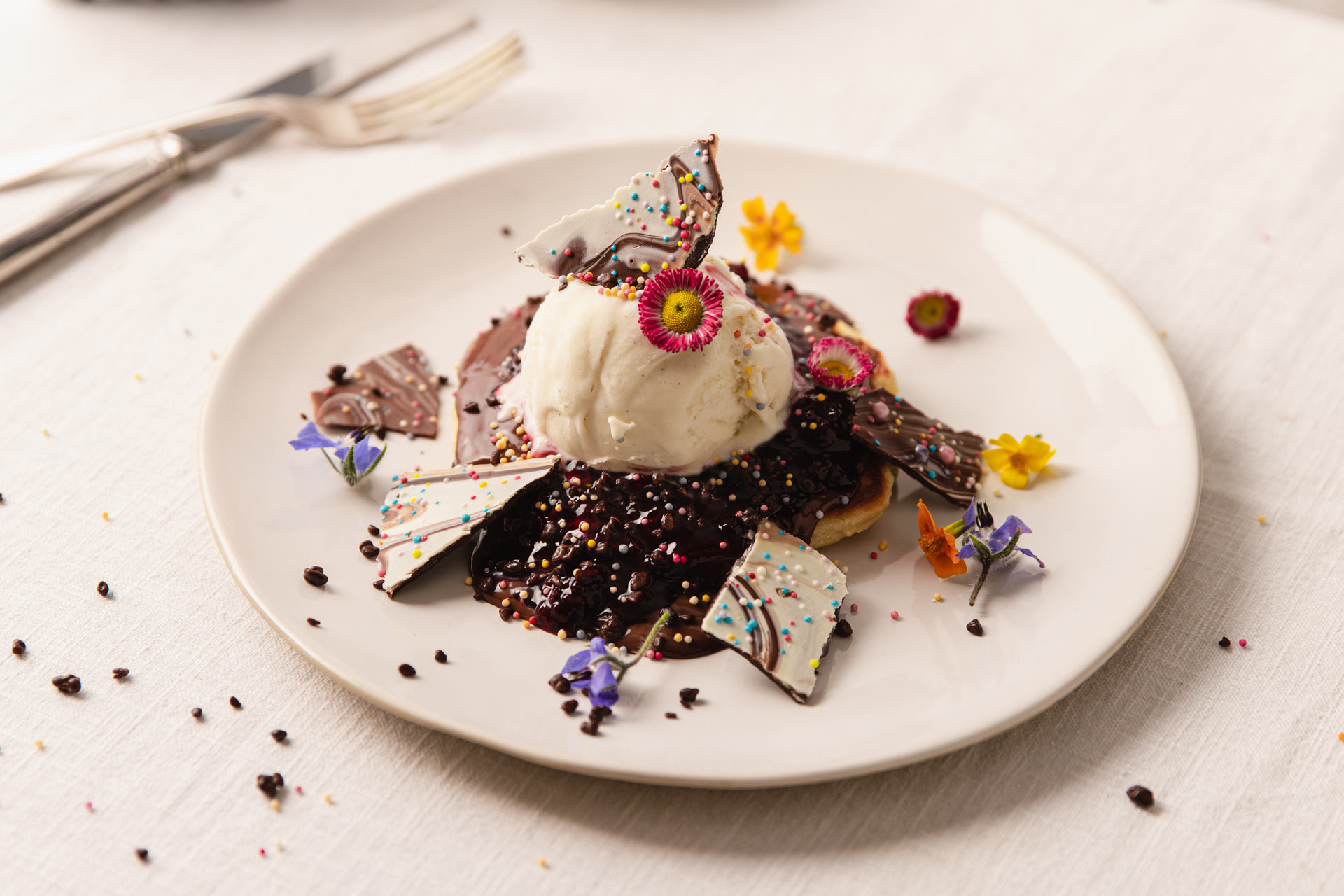 The clue's in the name: this restaurant is dedicated to all things pancakes, and boy are they good. So what's the secret? Well, they're made using a special buttermilk batter, created with 12 ingredients including panela sugar, buckwheat and high welfare eggs – though wheat-free and vegan options are available too. On the savoury side, toppings include everything from pulled beef pastrami to poached eggs and asparagus, while sweet combinations include banana, marshmallow and sea salted caramel. This year, there's also a special inspired by Matilda The Musical: a signature fluffy pancake topped with blackberry compote, vanilla ice cream, and chocolate coated popping candy. 
Multiple locations, wherethepancakesare.com
Senzala
Tucked away in the ever-buzzing Brixton Market is Senzala, a Brazilian-inspired spot serving an extensive menu of crepes and galettes. What's the difference, you may ask? It's mainly about the type of flour used to make them: galettes are made with buckwheat flour, crepes with white flour. On the savoury front, options include the Caramelised Goat, a combination of goat's cheese, rocket and caramelised onions, or the Picante, made with cheese, spicy minced beef, red onions and jalapeno peppers. Sweet options, on the other hand, include the Banoffee, topped with caramel, banana and Belgian chocolate.
41-42 Brixton Village Market, Coldharbour Ln, London SW9 8PS, senzalacreperie.co.uk
A.O.K Kitchen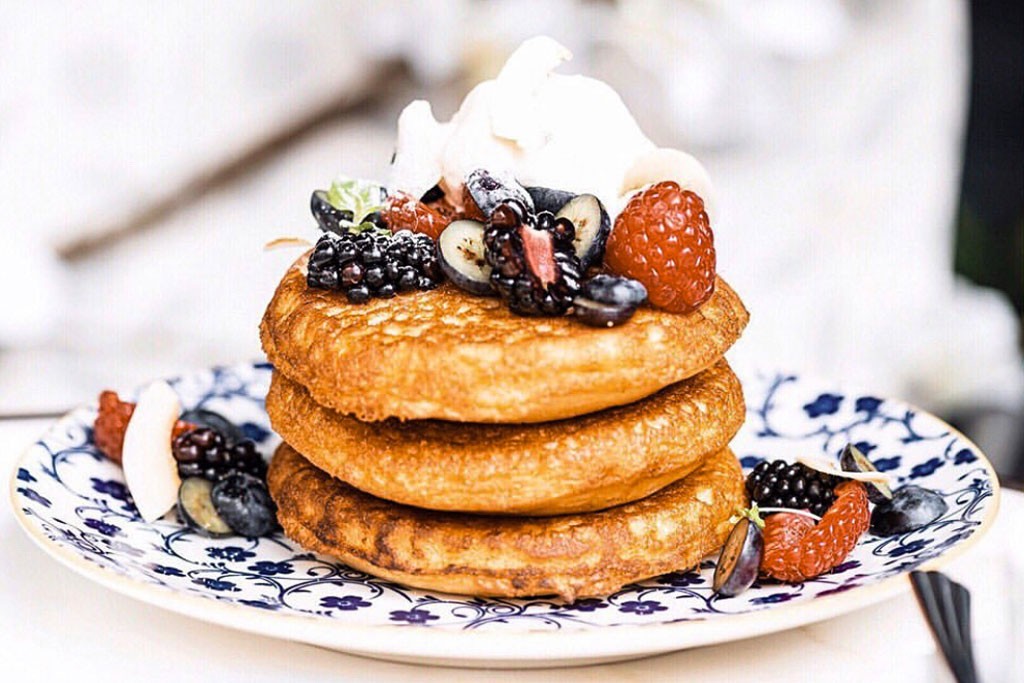 We're told Head Chef at AOK Kitchen, Kostas Rampias, has mastered the perfect pancakes – his secret is cooking the batter for six minutes in the oven instead of the frying pan. He then tops his creations with organic maple syrup, coconut cream and fresh berries. The best bit? They're healthy! AOK Kitchen is totally free from refined sugar, so you can indulge guilt-free. 
52-55 Dorset St, London W1U 7NH, aokkitchen.co.uk
My Old Dutch
Where better to spend Pancake Day than at London's original pancake house? The first My Old Dutch was established back in 1958, and ever since it has been one of the city's prime spots for pancakes, with three branches across Holborn, Chelsea and Kensington. If you like savoury pancakes, this is the spot for you: toppings include everything from chilli con carne to spicy chicken goujons and even seafood. Alternatively, opt for a butterscotch stack, where you can build your own pancakes featuring Oreo, Nutella, ice cream, fruit and more.
Locations in Holborn, Chelsea and Kensington, myolddutch.com
Bellanger
For a French twist on pancakes, head down to Islington, where neighbourhood favourite Bellanger serves up some very good crêpes. Keep it classic with lemon and sugar, or satisfy your sweet tooth with a choice of either chocolate sauce and whipped cream, or blueberry compote and creme fraiche. 
9 Islington Grn, London N1 2XR, bellanger.co.uk
Avobar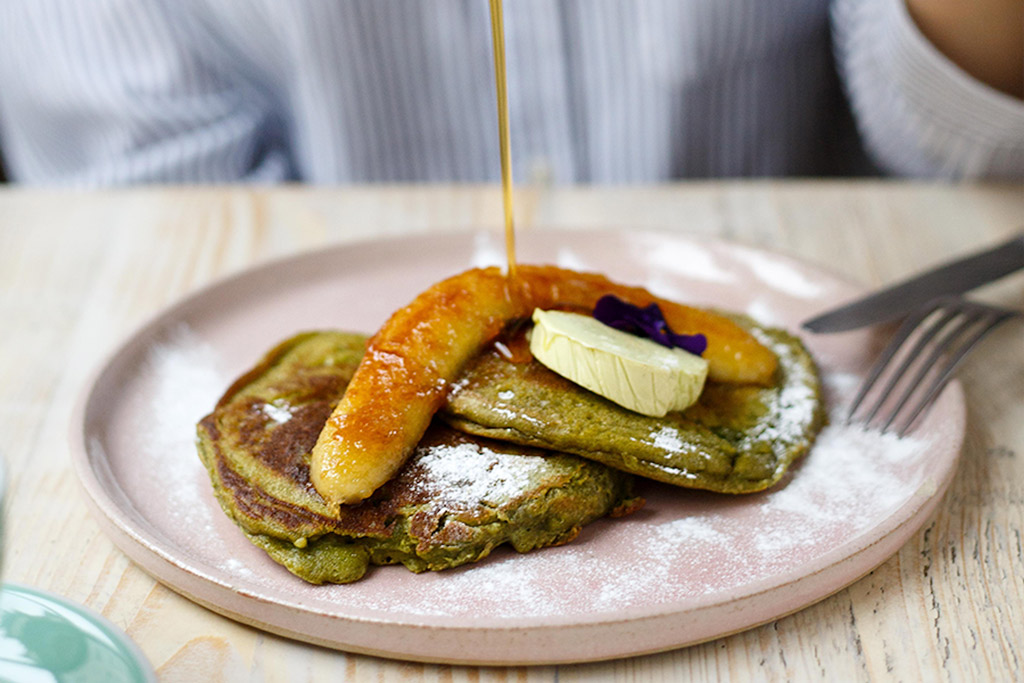 Avocado megafan? Head to Covent Garden's Avobar, where the beloved green fruit sits at the heart of the menu – even on the pancakes. These are made with matcha, with a choice of either savoury or sweet: house-cured salmon with grilled bacon, poached egg and sliced avo, or caramelised banana with maple syrup and avo butter. It's a very Instagram-friendly spot too, with a beachy, laid-back vibe, leafy decor and earthy wooden seats. 
24 Henrietta St, London WC2E 8ND, avobar.co.uk
Drunch
Café-restaurant Drunch was originally set up by Syrian relatives Hom and Aboudi, with the aim of creating a social hub for friends and family. As the name suggests, it's a combination of brunch, lunch and dinner dishes which can be eaten at any time of day – so naturally pancakes play a big part. There are four options to choose from here: crispy turkey bacon with maple syrup, ricotta and berry compote, banana with dulce de leche or our top pick: a heart-shaped creation topped with nutella and hazelnuts. 
Locations in Mayfair, Regent's Park and Fitzrovia, drunch.co.uk
Daisy Green Collection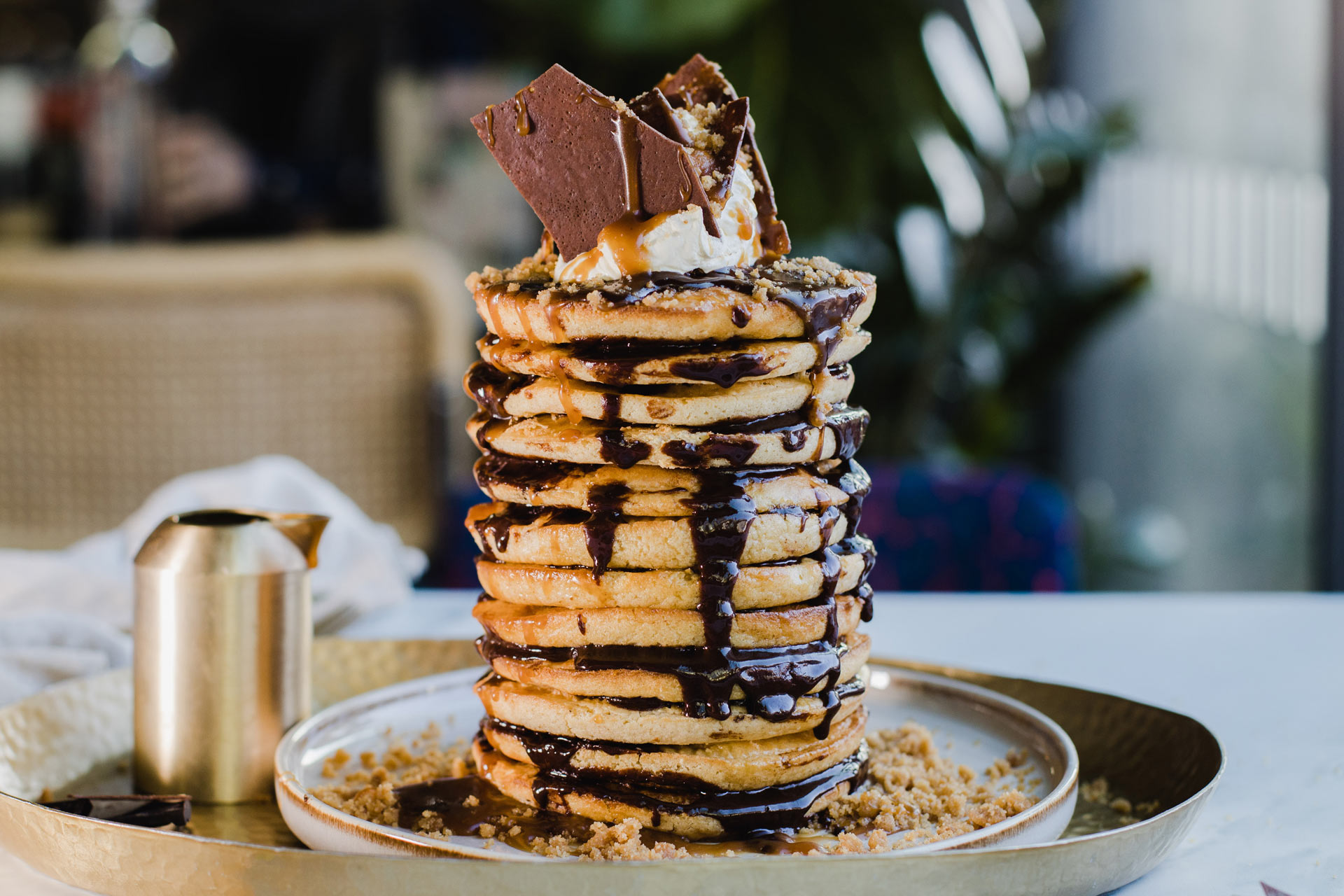 Another Aussie-inspired brunch favourite, the Daisy Green Collection has branches all over the city – including an exciting new launch housed in a boat on the Richmond riverside. Its blueberry pancakes are a highlight year-round, but this Pancake Day the dish to order is the Golden Gaytime stack, a sharing tower of 12 pancakes served with milk chocolate ganache, malt crumble, whipped mascarpone and salted caramel sauce. Wow. 
Multiple locations, daisygreenfood.com
Dirty Bones
It's all about American comfort food at Dirty Bones, so of course there are some impressive pancakes on offer. This year from 21 February to 5 March, you can feast on some particularly decadent Reese's Pieces pancakes topped with Reese's Pieces peanut butter cup chocolate crunch, maple syrup and cream. 
Locations in Shoreditch, Soho and Carnaby, dirty-bones.com