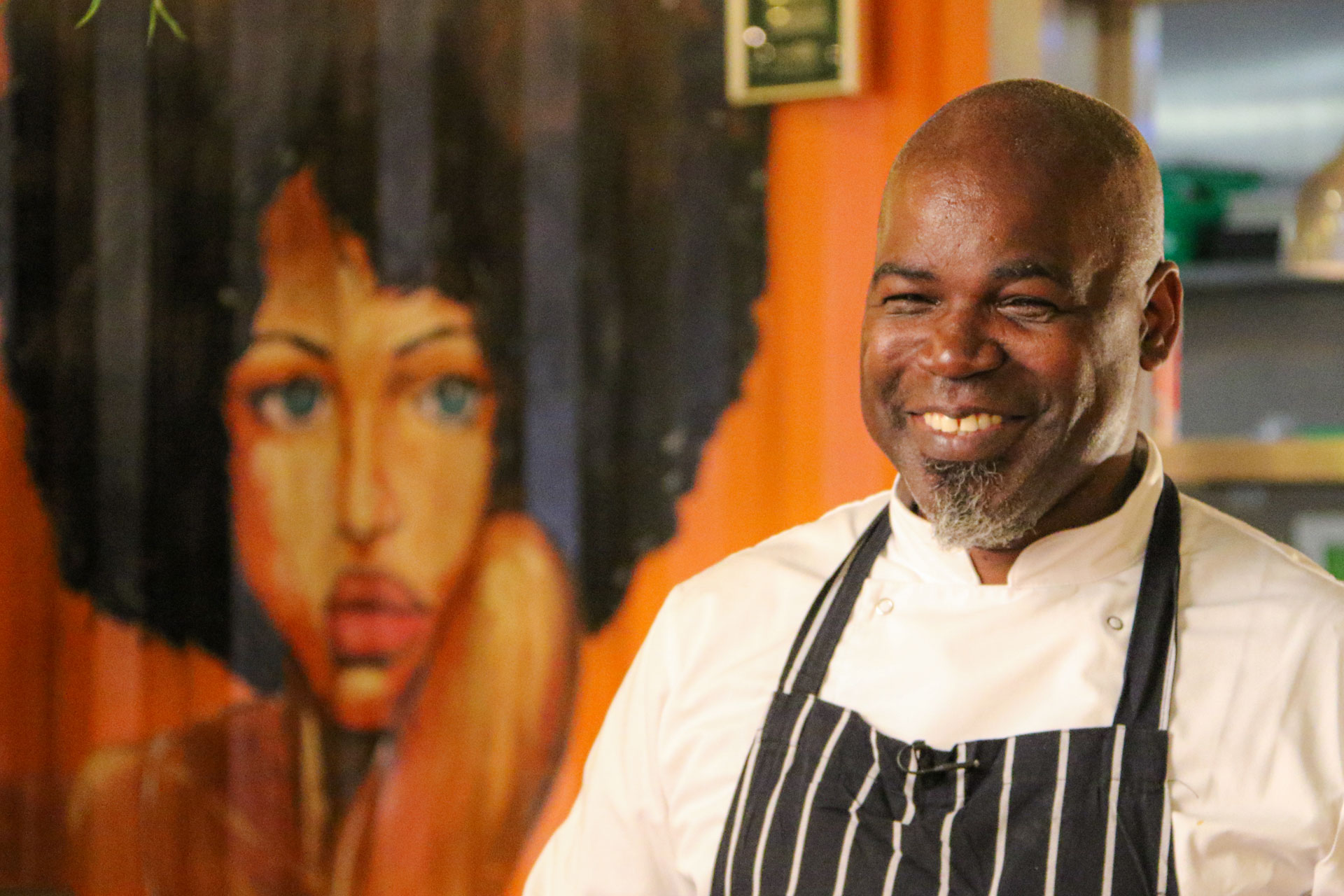 Chef Collin Brown on Cooking For A-Listers
---
'I'm trying to change the way we eat'
Not many chefs can say they've cooked for Beyoncé. Or Katy Perry. Or Jason Statham. But for Jamaican-born Collin Brown, it's no big deal. 'They're people just like us,' he laughs. 'You can't be like: let's have a bit more salt because it's Beyoncé.' This breezy, fun-loving attitude is part of the reason Collin is such a legend in the culinary world – alongside his cooking of course, which focuses on vibrant, vegan Caribbean cuisine. 
Collin's approach to food is based on an ethos of simplicity, putting nature at the heart of everything. He moved to London in his early twenties and eventually opened his own restaurant in Canary Wharf, but in 2013 decided to return to his hometown to head up the eatery and cookery school at Trident Castle, Port Antoni. A few years later, he made the switch again, joining Caribbean restaurant group Cotton's as executive head chef – going on to represent the UK on Netflix's The Final Table. In the midst of all this, he was making a name for himself within celebrity circles after catching the attention of businessman David Rockefeller.
Nowadays Collin heads up Turtle Bay, the Caribbean restaurant group with restaurants all over the UK. We caught up with him to hear more about growing up in Jamaica, the rise of veganism, and cooking for the stars.
Interview with Chef Collin Brown
Where did your passion for food come from?
I was brought up in a farming community in Jamaica, where you have to learn to farm before you start cooking. I started from an early age – when I was six, I would cook my family dinner. After I finished school, my grandmother paid a top seafood restaurant in Jamaica to take me on as an apprentice – aged 15, I was on main courses, cooking lobster. This guy from the Cayman Islands came in and said: I really like what you're doing, I have this restaurant – would you consider working with me there? I was young and I said yes to everything. After that, I decided to come to London, but I could not get a job. I make very nice cakes from rum, so I started making them and selling them to Caribbean shops. The business started to grow, then I started doing catering in the community. I worked my way up until I could open my own restaurant.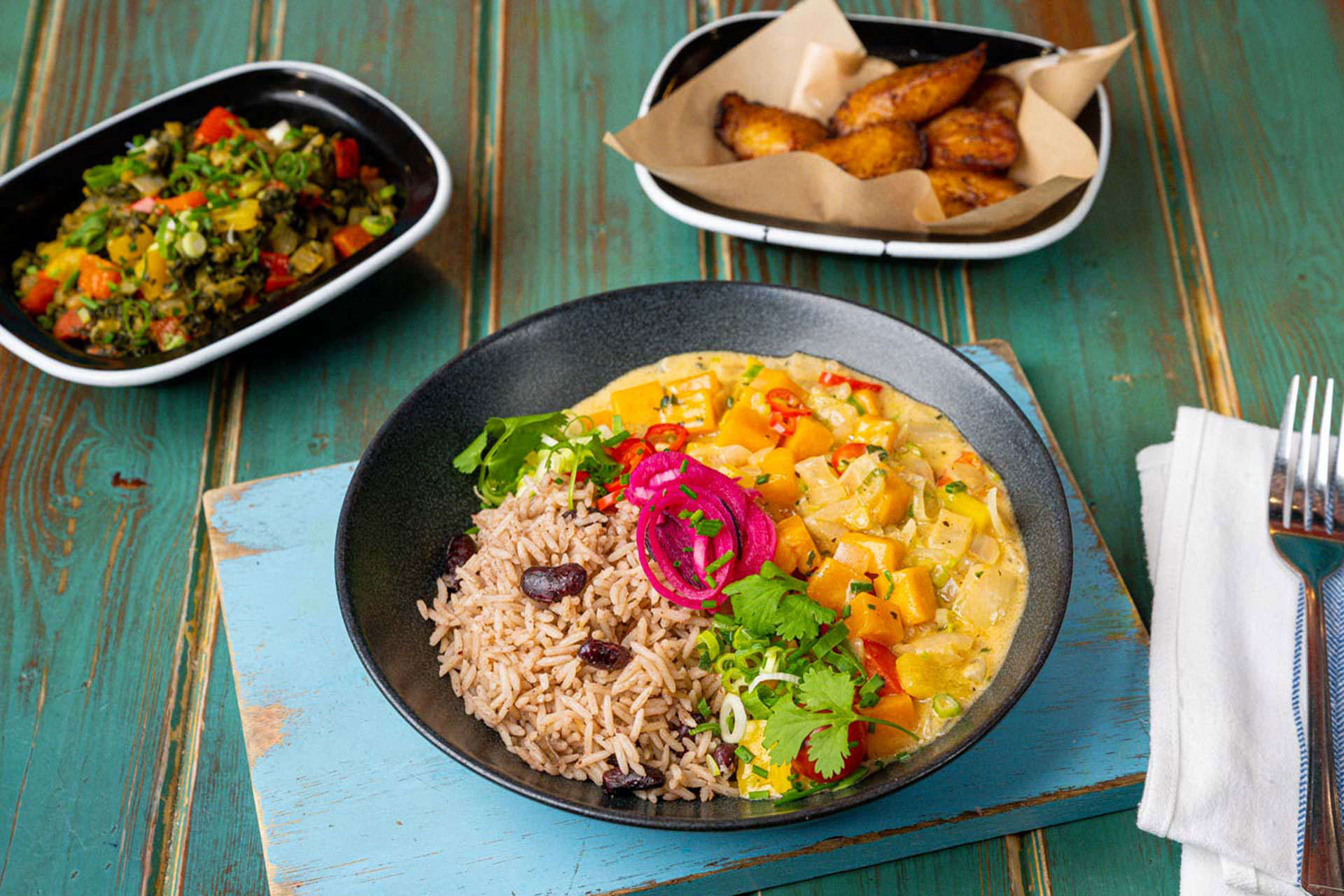 How would you describe your food ethos?
It's back to basics cooking. When I was growing up, my grandmother would say: if the worms aren't eating your food, do not eat it. If the worm bites your carrot, you cut that bit off and cook the rest. For some strange reason somebody came up with the idea of using pesticides to stop insects from eating, and now all our vegetables look like supermodels in the supermarket. The grass that cows eat, you can steam and have it as a vegetable. When you say this to a standard person, they might say: don't be silly. But then they'd go and buy a kebab, without knowing what's in it. 
At Turtle Bay, 95 percent of our menu is allergen-free – we're the first high-street chain to achieve this. We have a central kitchen, where I went and stripped everything, starting with all the sauces – we make all the marinades the indigenous way, you can make jerk marinade with just five ingredients. With Turtle Bay, I'm trying to change the way we eat. 
Do you think Caribbean cuisine lends itself well to vegan cooking?
100 percent. In Jamaica, we're 80 percent vegetables and 20 per cent meat, but when I came to England it was the other way round. When I started cooking here, everyone was complaining, saying: you have coconut in everything! Now we don't have enough coconut. People have been overlooking [vegan food] for years and years, but now things are changing.
Do you have any top tips for cooking vegan food?
You can make anything vegan, you just need to learn how to make a base. As my grandmother would explain: when you're going to church you take a shower, you put on your deodorant and your body spray. When you're making a dish you can adapt the same principles. Your deodorant would be the onion, the body spray can be your garlic and so on. Once you have that knowledge, you can add anything to it. 
You've cooked for lots of celebrities in your time. What's that like?
It's because of the style of cooking I do – it started doing the rounds after I cooked for the Rockefeller family. They [celebrities] want to experience my kind of cooking; anything they eat needs to have a passport, they need to know how it's grown. I've cooked for Beyoncé, Katy Perry, the cast of Fast and Furious, and Natalie [Dormer] from Game of Thrones. Natalie is the ultimate vegan. If I'm going to cook for her, we go to the supermarket together – I love working with her because she takes food very seriously. 
Last year I was cooking for Jason Statham. His trainer would give him a strict diet, then he [Statham] would wait until the trainer left and say: chef, can I have this? He breaks all the rules. You never know what they'll need tomorrow. They'll say: no oil, no gluten, no butter and you have to make it taste good.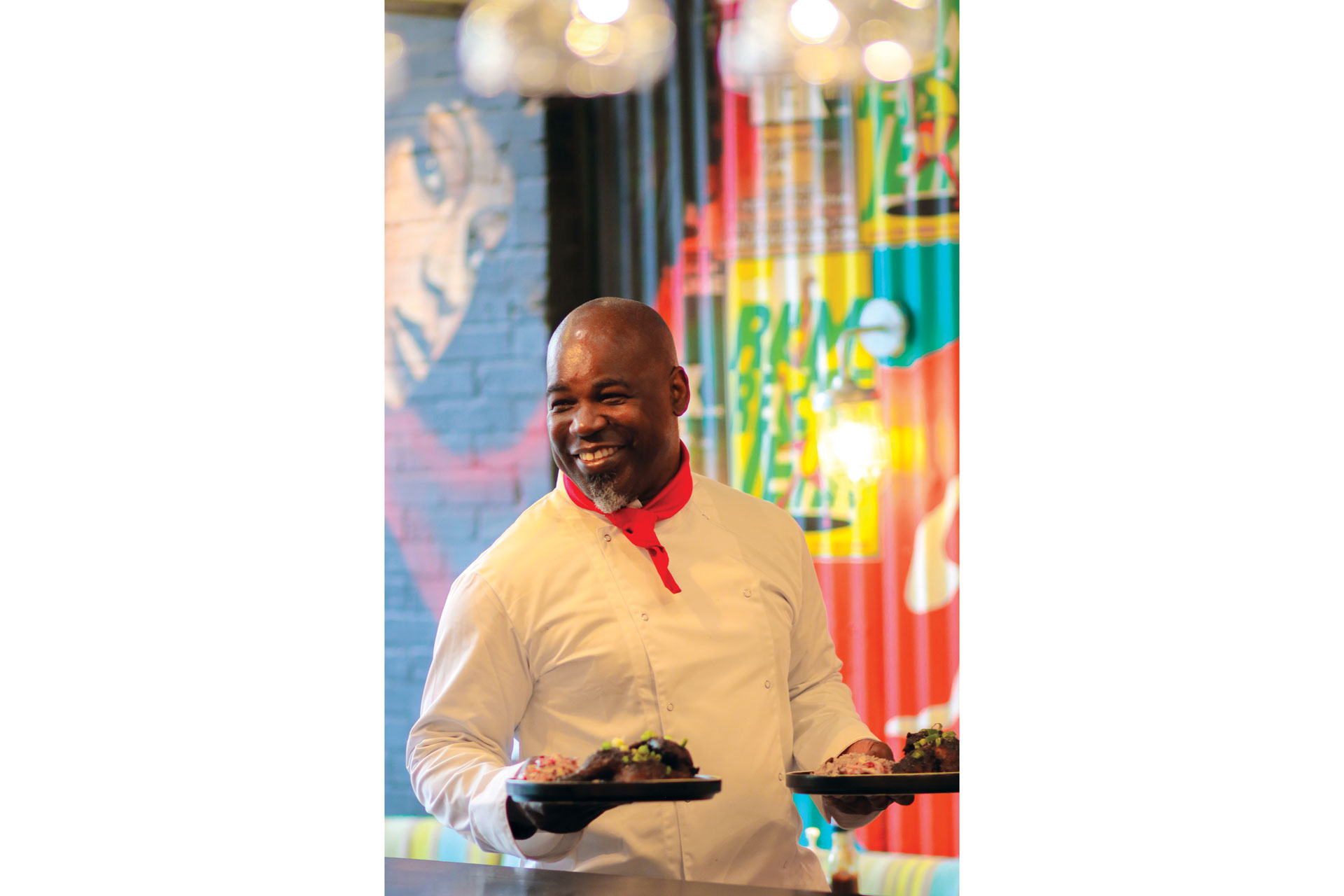 Do you feel the pressure?
No! They're people just like us. You can't be like: let's have a bit more salt because it's Beyoncé. Just cook it the way you know, and if people don't like it, be prepared to explain it. I like the challenge, and they constantly call back.
What are your favourite three ingredients?
Allspice, scotch bonnet, and fresh thyme.
Pet hate in the kitchen?
When people come to your kitchen and start to taste things, and dip their spoon in everything. If you want to taste something, take a portion – don't be spooning everything!
Have you had any big kitchen disasters?
When I just launched my restaurant, the first day I was fully booked, and this massive thunderstorm came and the whole restaurant flooded. But my chefs said: don't worry. What they did in 45 minutes inspired me so much, and it's one of the best services we've ever put down; we all started fighting to survive.
Favourite place to eat in London?
Holy Carrot: it's a simple place, not over the top – just good food.
What's your most memorable meal?
When Mr [David] Rockefeller booked us the first time to do his birthday, I said: what date is the birthday? He said: 12 June. I said: I can't do that, it's my wife's birthday on 14 June. So they said, OK, bring your family, and booked tickets for all of us. They let us stay in their house, and it was the most amazing experience. After we did the dinner, he [Rockefeller] sent me to his restaurant, Blue Hill at Stone Barns. They ask you only three questions: what you don't like, what you're allergic to, and how many courses. That was the experience of a lifetime for me.