Foodie Tales with the Mindful Chef Founders
We meet the names behind the famed food delivery service
We talk healthy eating, summer foraging, and piña colada disasters with Mindful Chef founders Myles Hopper and Giles Humphries.
Foodie Tales with the Mindful Chef Founders
What's your food philosophy?
We believe that healthy eating should be easy for everyone. We don't count calories or follow strict diets. We simply like good, wholesome food that benefits you, your body and the world around you. 
First dish you learnt to cook?
Myles: It has to be lasagne. It's still one of my favourite meals to cook and I now teach my daughter how to cook it as well. Giles: Mine's a risotto. One that, when you fi rst get it right, it's so delicious. 
Favourite in-season ingredient?
Our favourite time of the year is summer and spending as much time as possible at the beach with friends. It's also the perfect time to forage for berries and fruit on the way home. 
Biggest food mistake?
In the very early days of Mindful Chef, instead of sending coconut milk we accidentally sent coconut piña coladas! Luckily we only had ten customers then and they were all family and friends. It made for a very interesting beef massaman curry. 
Most memorable meal out?
Myles: Sitting on a beach on a small island off of Bali with my wife and daughter. We were sharing a satay chicken dish while running in and out of the sea watching the sunset. Giles: Sushi on the coast in Japan. It was one of the most amazing dishes I've ever tasted. 
When you're not in the kitchen, where are you?
Myles: At the beach. 
Giles: On the river. 
Any unique cooking rituals?
Myles: Not unique but I'm obsessed with cleaning up as I go. When the dish is finished it's as if I wasn't even in the kitchen to begin with. 
Giles: Putting on a Mindful Chef Spotify playlist to unwind to while cooking. 
What's in your fridge?
Myles: Mindful Chef ingredients, coconut water, houmous, yoghurt, chocolate and vegetables (and gherkins). 
Giles: Moju juice shots for gut health, oat and cows milk, coconut water, lots of olives and the odd Galaxy bar or Tony's Chocolonely (or two!). 
Dream dinner date?
Myles: Anywhere warm overlooking the sea with friends and family. 
Giles: I have to agree with Mylo. Any sustainable food advice? Try to eat seasonally and support British suppliers. Even better if you can purchase directly from local farmers themselves.
Recipe: Sea Bass, Fennel Slaw & Za'atar Potatoes
Serves 2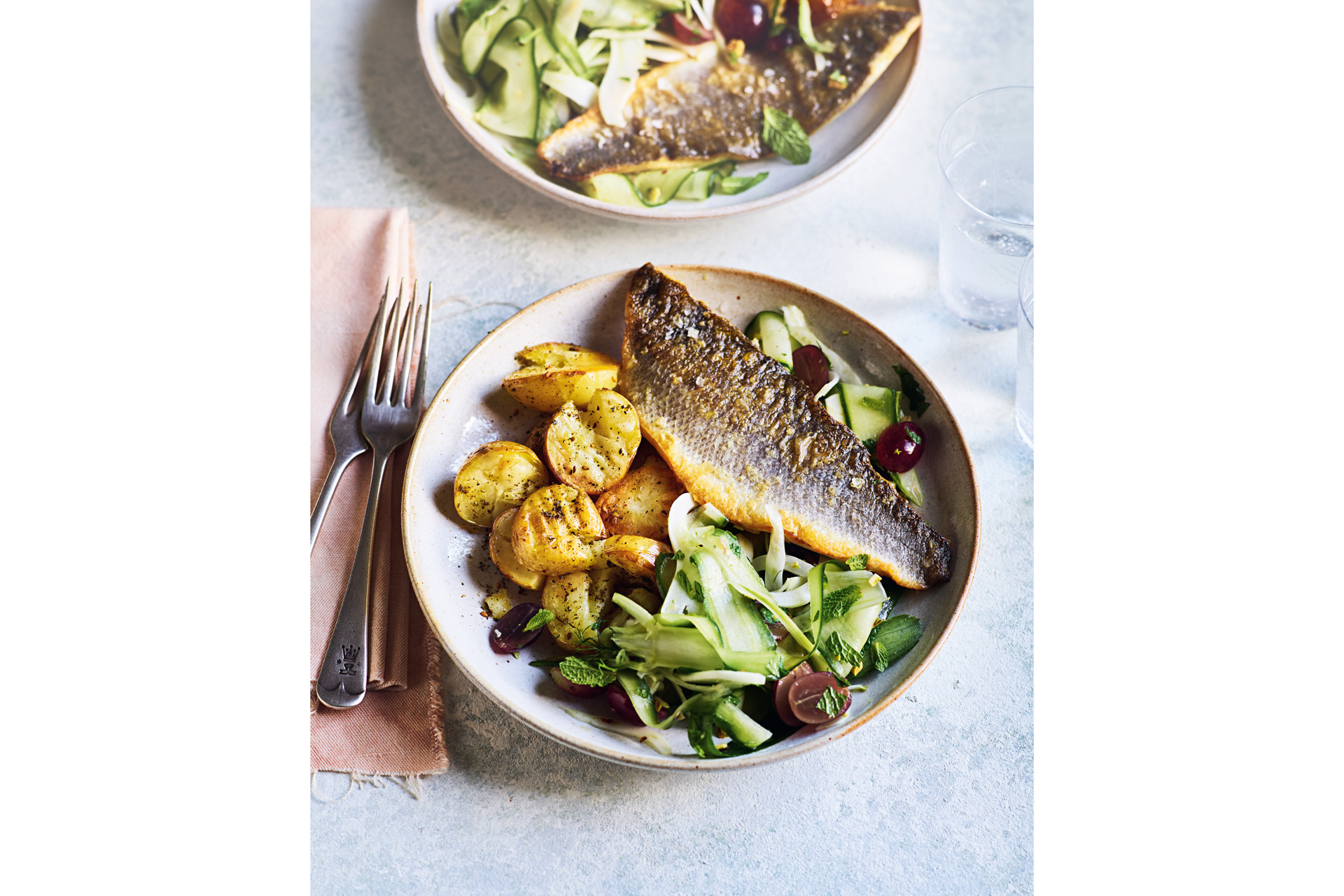 Ingredients:
400g baby white potatoes, cut in half

2 tbsp olive or rapeseed oil

1 fennel bulb, trimmed and finely sliced

1 cucumber, shaved into ribbons

50g seedless red grapes, cut in half

Handful of mint, leaves picked and roughly chopped, plus a few extra leaves to garnish

1 lemon

10g pistachio nuts, roughly chopped

2 tsp za'atar

2x 120g sea bass fillets with skin

Sea salt and black pepper 
Method:
Preheat the oven to 240°C/220°C fan/gas 9. Line a baking tray with baking paper. 

Place the potatoes in the tray. 

Drizzle with ½ tablespoon of oil, season with salt and pepper, then roast for 20 minutes. 

Put the fennel, cucumber and grapes into a mixing bowl then squeeze in most of the juice from half the lemon and season with salt. 

Add the mint and half the pistachios. 

Squeeze in the juice from the other half of the lemon, mix well and set aside. 

After 20 minutes, remove the potatoes from the oven and lightly crush with the back of a fork, drizzle with another ½ tablespoon of oil and sprinkle over the za'atar. 

Roast for a final 5-8 minutes, until soft and golden. 

Season the sea bass with salt. Heat a medium non-stick frying pan with one tablespoon of oil on a high heat, then cook the fillets, skin- side down, for 3-4 minutes until the skin is golden brown. Flip and fry for another 2-3 minutes, until cooked.

Squeeze in a little more lemon juice and remove from the heat. Place the potatoes and fennel salad on serving plates with the sea bass on top. Sprinkle over the remaining pistachios and the mint leaves, and serve.
Mindful Chef: Healthy You, Happy Planet. (Cornerstone, £26)