Foodie Tales with Rick Stein
C&TH meets Cornwall's most famous chef
Rick Stein is the foodie king of Padstow, best known for his love of seafood cookery. But what does he whizz up for the family at Christmas? Here the celebrity chef shares his favourite recipe for a quick tiramisu, plus we delve into his foodie tales,  from kitchen disasters to an unforgettable cuttlefish risotto.
Q&A with Rick Stein
What's your food philosophy?
There's nothing more exhilarating than fresh fish simply cooked. 
What was the first dish you learnt to cook?
Egg mayonnaise, at The Great Western Royal Hotel in Paddington. 
Your comfort food?
I know it sounds too simple but I love fresh Cornish crab meat, homemade mayonnaise and sourdough bread. 
Most vivid childhood food memory?
Grilled mackerel, new potatoes and runner beans at our house on Trevose Head near Padstow.
Favourite ingredient that's in season now?
Red mullet from Cadgwith in Cornwall. We stuff it with white crab meat and roast it. 
Biggest mistake you've made in the kitchen?
We poached a whole turbot in a turbot kettle on Christmas Eve last year with Hollandaise sauce. I had recently installed an InSinkErator and put the turbot bones down it after the main course. The blades turned the bones into the consistency of sand, which blocked everything, and turbot water poured out all over the floor everywhere. 
Most memorable meal?
A simple risotto of cuttlefish cooked in cuttlefish ink in Croatia, when we were filming From Venice to Istanbul. I still have a picture of me with black lips looking like The Joker. 
When was the last time you sent something back?
At a restaurant in Balmoral in Sydney. All the starters and the main courses arrived at once, some mistake surely.
When you're not in the kitchen, where are you?
I remember a cartoon ages ago in The Guardian: a guest asked the waiter 'where's the chef?' Answer: 'He's doing his main job, signing books'. 
Do you have any unusual rules in your kitchen?
Pete Murt, our Head Chef at The Seafood, has put this up in large letters: 'Do or do not, there is no try'. 
What's in your fridge right now?
There are some langoustines left over from filming, some cold pot roast brisket, tartare sauce and about 48 eggs. 
Least favourite ingredient?
I'm not that fond of truffle oil.
Who would you most like to take out for dinner ?
My wife Sas. We'd go to Riva in Barnes, London and since we don't like to choose the same starters we'd fight over who'd get the vitello tonnato.
Recipe: Rick Stein's Last Minute Cheat's Tiramisu
Obviously there is nothing that can beat a proper tiramisu, but this is so quick and so lovely and it really does take just minutes to make.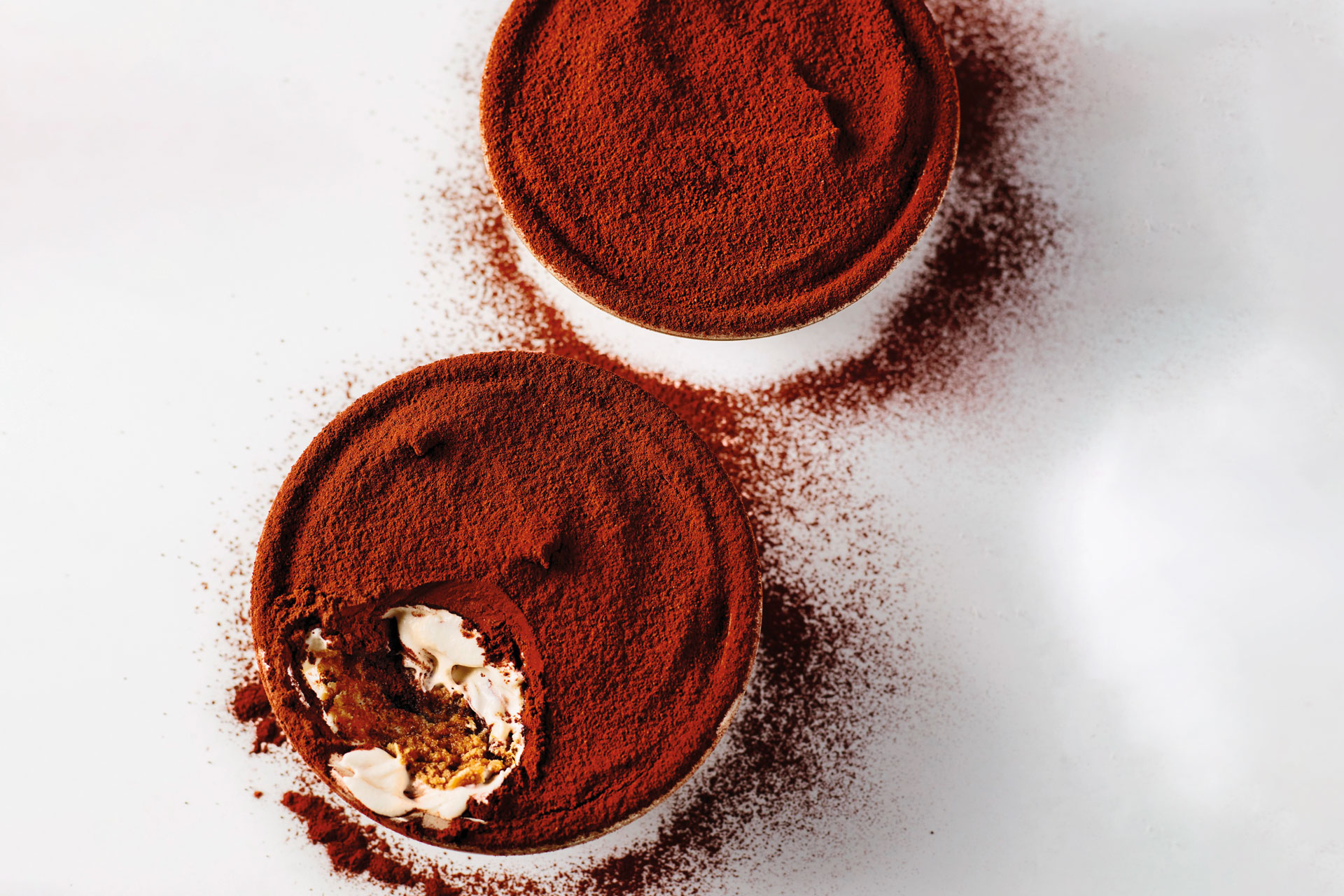 Ingredients:
Serves 4
150ml whipping or double cream

250g mascarpone, at room temperature

40g icing sugar, sifted

50ml Baileys or Marsala

150ml espresso coffee, cooled

8–12 sponge fingers or 4 trifle sponges

Cocoa powder, for dusting or a chocolate flake, crumbled 
Method:
Lightly whip the cream in a bowl until it's only just starting to thicken. 

Whisk the mascarpone with the Baileys or Marsala to soften, add the icing sugar, then fold into the cream. 

Pour the coffee into a separate bowl. 

Dip the sponges into the coffee and then divide half of them between four glasses or small bowls. 

Add half the cream mixture, again dividing it between the bowls, then repeat the layers of sponge and cream. 

Dust generously with cocoa powder or crumbled chocolate. 

Refrigerate until ready to serve or serve immediately if making at the last minute.
Recipe from Rick Stein's Simple Suppers (£28, BBC Books), out now.