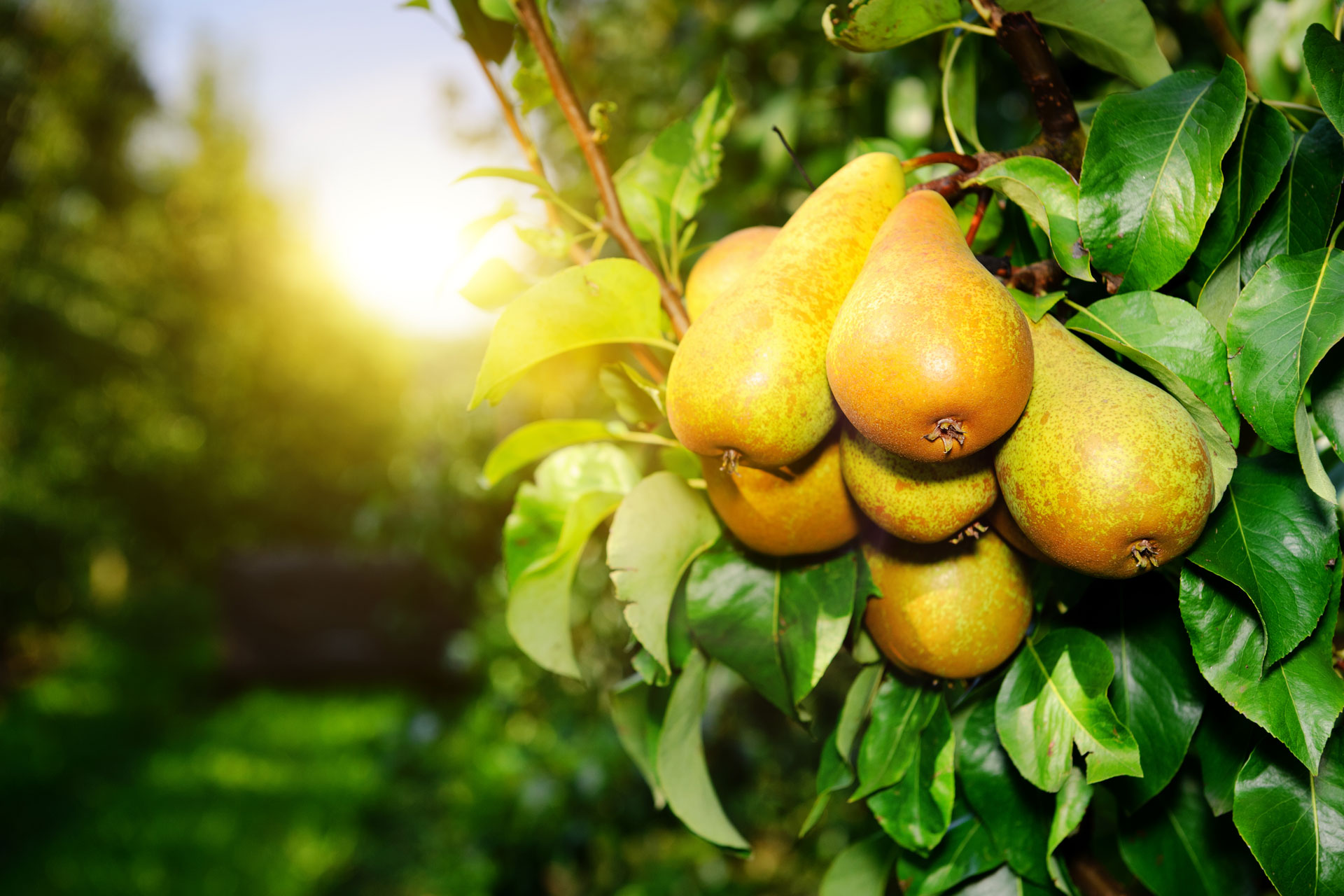 Fruit of the Week: Pears
---
Tips and tricks for making the most out of this often neglected fruit
Each week plant-based cook Bettina Campolucci Bordi, founder of Bettina's Kitchen, gives us the lowdown on a particular seasonal vegetable or ingredient, offering cooking tips and a recipe. This week it's pears.
Fruit of the Week: Pears
The pear is often overlooked as the slightly wonky, bell-bottomed and misshaped version of the more popular apple. They can often become neglected as they lack the crunch and excitement that comes with a Jazz or Pink Lady – but pears are so much more than just a sidekick fruit and hold their own pretty well. They're most commonly known for being hero-ed in the French classic combination of chicory, walnut and Roquefort, but pears also lend themselves to fresh Asian flavours.
Pears have a more mellow flavour and softer complexion than apples, which means they pair well with stronger spices such as anise, cardamom or cinnamon. Alternatively, you can glaze them in a pan with brown sugar and butter until the skin is perfectly caramelised and the inside is sweetened as you bite into it. Pears aren't just for sweet dishes either: they can also shine in savoury dishes: beef, prosciutto and pork all go well with this fruit.
As a standard rule, pick seasonal ingredients that are grown around the same time for the perfect pear pairing such as squash, parsnips, kale and celeriac. Treat your pear like you would a fine tannic-strong wine and combine with soft matured cheeses, nuts or dark chocolate.
When in your local superstore or farmer's market, there are three varieties to look for. Firstly​ the Doyenne du Comice, best enjoyed raw in all its sweet buttery goodness or shaved into salads (both of the fruit or heavily-green-salad variety). Secondly, the Conference​ for its clear white flesh that loves being baked or poached in heavily spiced red wine baths, or the ​Concorde​ – the love child of the previous two that inherits the best traits from its parents and lends itself to an-all-round aromatic fruit with an unexpected crisp complexity. Failing that, the Williams is always a classic British choice and can be found lining the supermarket shelves in all its speckled skin glory.
When using pears, give them a quick nibble first to see if they need peeling. If the skin easily gives between your teeth, leave it on – this will add an extra layer of texture and flavour. Alternatively apply gentle pressure to the neck: if it gives way it's ready to eat. Pop in the fridge to slow the ripening process down and allow you extra time to enjoy them at their juiciest – or slice them up and enjoy in a cake like below.
Recipe: Pear, Brown Butter and Olive Oil Sheet Cake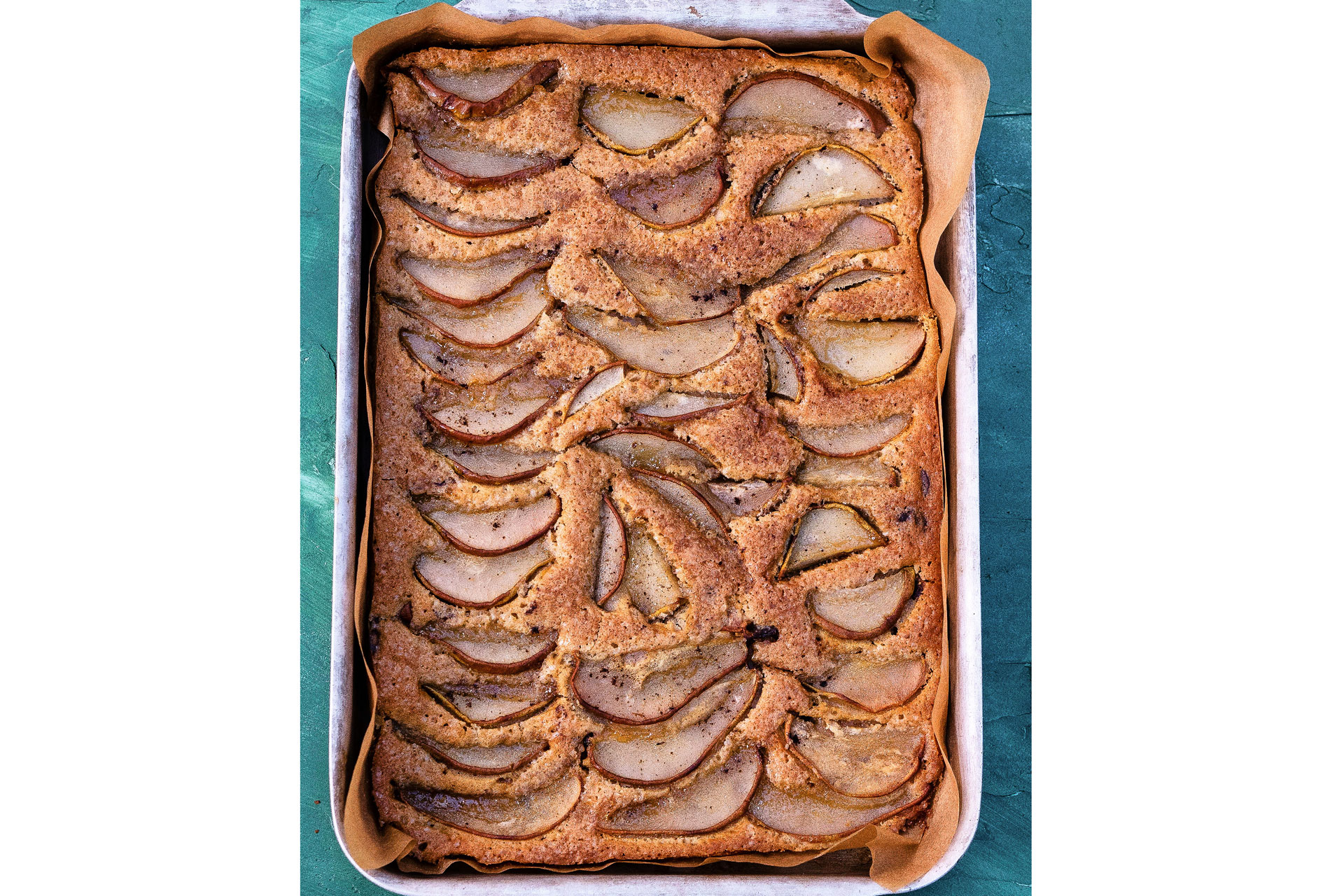 Serving: 1 whole tray
Ingredients
200g self-raising flour
1 tsp ground cinnamon
1 tsp ground ginger
1⁄2 tsp ground nutmeg
1⁄4 tsp fine sea salt
120ml olive oil
120g soft brown sugar
1⁄2 scraped vanilla pod, or 1⁄2 tsp vanilla paste or extract 3 pears (sliced)
Handful of chopped chocolate chunks
Generous sprinkle of brown sugar
Method
Preheat the oven to 180 degrees.
Mix all the ingredients (except the pears, chocolate and brown sugar) together in a bowl, then stir through the chocolate chunks.
Cut the pears in half and slice them thinly into half-moons.
Line a rectangular baking tray (approx size 37 x 26.5cm) with greaseproof paper and pour in the cake mix.
Cover with a layer of sliced pears, then add a generous sprinkle of brown sugar over the top.
Bake in the oven for 45 minutes.
MORE FROM BETTINA:
Lemons / Kale / Forced Rhubarb