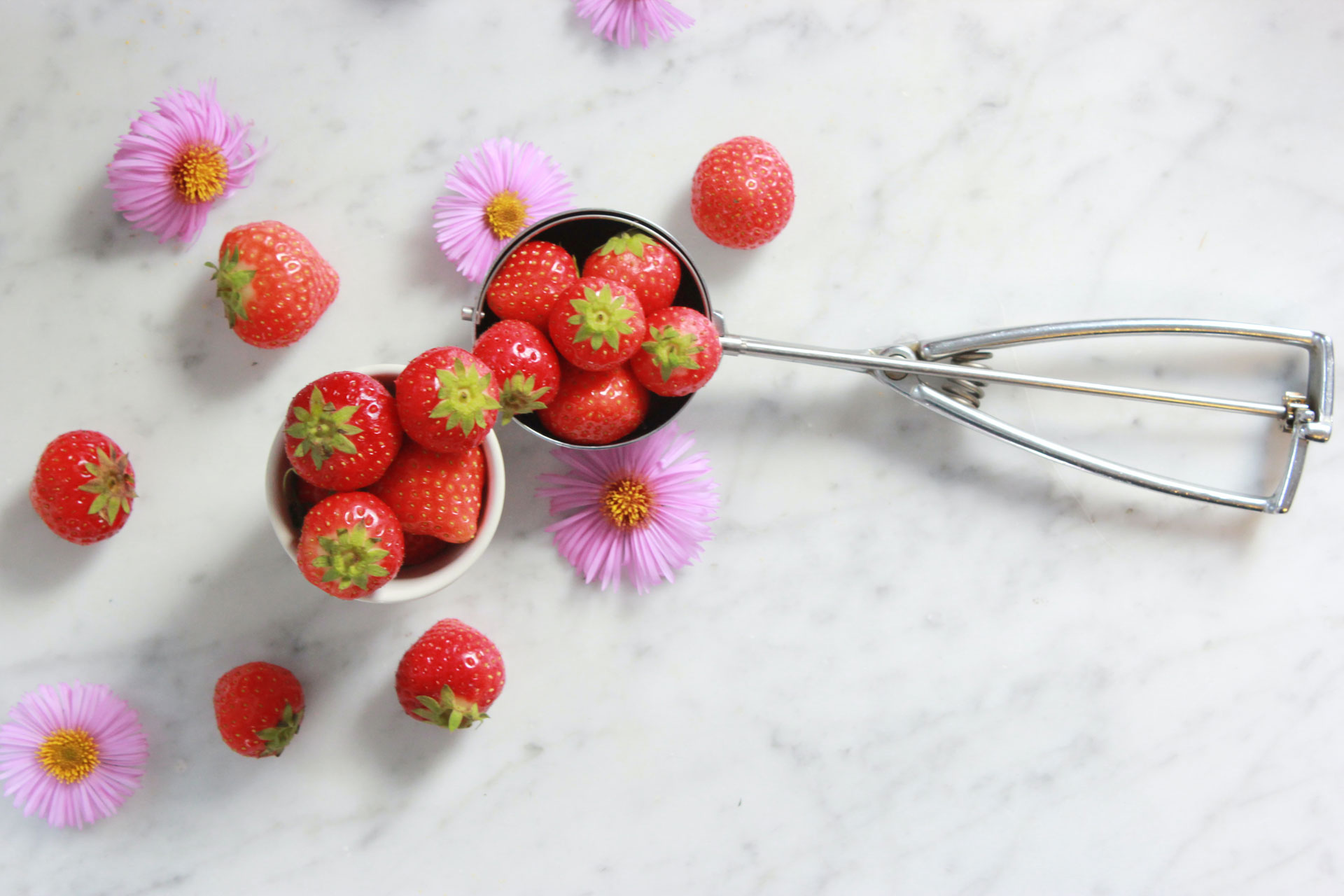 Fruit of the Week: Strawberries
---
It's strawberry season – here's how to make the most of it
Each week plant-based cook Bettina Campolucci Bordi, founder of Bettina's Kitchen, gives us the lowdown on a particular seasonal fruit, vegetable or ingredient, offering cooking tips and a recipe. This week it's strawberries.
Nothing depicts a British summer quite like the strawberry. The British strawberry season starts at the end of May – hence their synonymous affiliation with the summer season – and lasts until October. You can, of course, get strawberries year-round, but their exportation air miles increase the price twofold for a significantly lower quality of fruit that is as weak in texture as it is in taste.
Picking and storing
Sticking to local is advised when across the purchasing board, but especially for strawberries. As with most fruits, you want to purchase them firm. Strawberries shouldn't give way when you gently squeeze them between your fingers or have bruised or moulded spots. Vibrancy is key here too: pick the brightest of the bunch – the green ones lack in flavour even after your best attempts at ripening at home.
Keep them cold and dry: don't wash before storing and keep them covered with a paper or cloth lined tray. You should, however, give them a quick rinse under the cold tap before eating. You can even leave the stems on if you fancy an extra boost of digestive aiding nutrients. They're perfectly safe to eat and saves a tedious task of de-stemming.
Pairing and preparing
These vibrant heart-shaped fruits have the perfect balance between sweetness and acidity, making them a harmonious partner for warming spices such as cinnamon and anise as well as the traditional pairing of cream. But that's not the only dairy that works: yogurt, buttery rich pastries and fresh soft cheeses also do the job. Nuts such as almond, coconut, pistachio and hazelnut really let the strawberry shine while adding earthier or roasted notes to a dish. And fruits like melon and rhubarb add a fruity kind of freshness to a dish. Speaking of freshness, mint and cucumber also pair well with this beloved fruit.
The strawberry is able to hold its own in multiple variations of its form: whole, hardened through freeze-drying or a dehydrator, liquefied through pureeing or softened through poached or roasting methods. This allows for the strawberry to be utilised in multiple dishes, from sweet to savoury, still allowing its flavour to shine. None more so than when paired with sugar. But it's not just sugar that can bring out its flavour: black pepper, balsamic vinegar and even salt can heighten any strawberry to its maximum sweetness.
Strawberries have great nutritional benefits too: they're packed with fibre and antioxidants, while being sodium-free, fat-free and a great source of manganese and potassium.
My favourite recipe is strawberry mousse: easy and gorgeous. This vegan strawberry mousse is naturally sweet and light, perfect for a plant-based dessert on a sunny day.
Recipe: Strawberry Mousse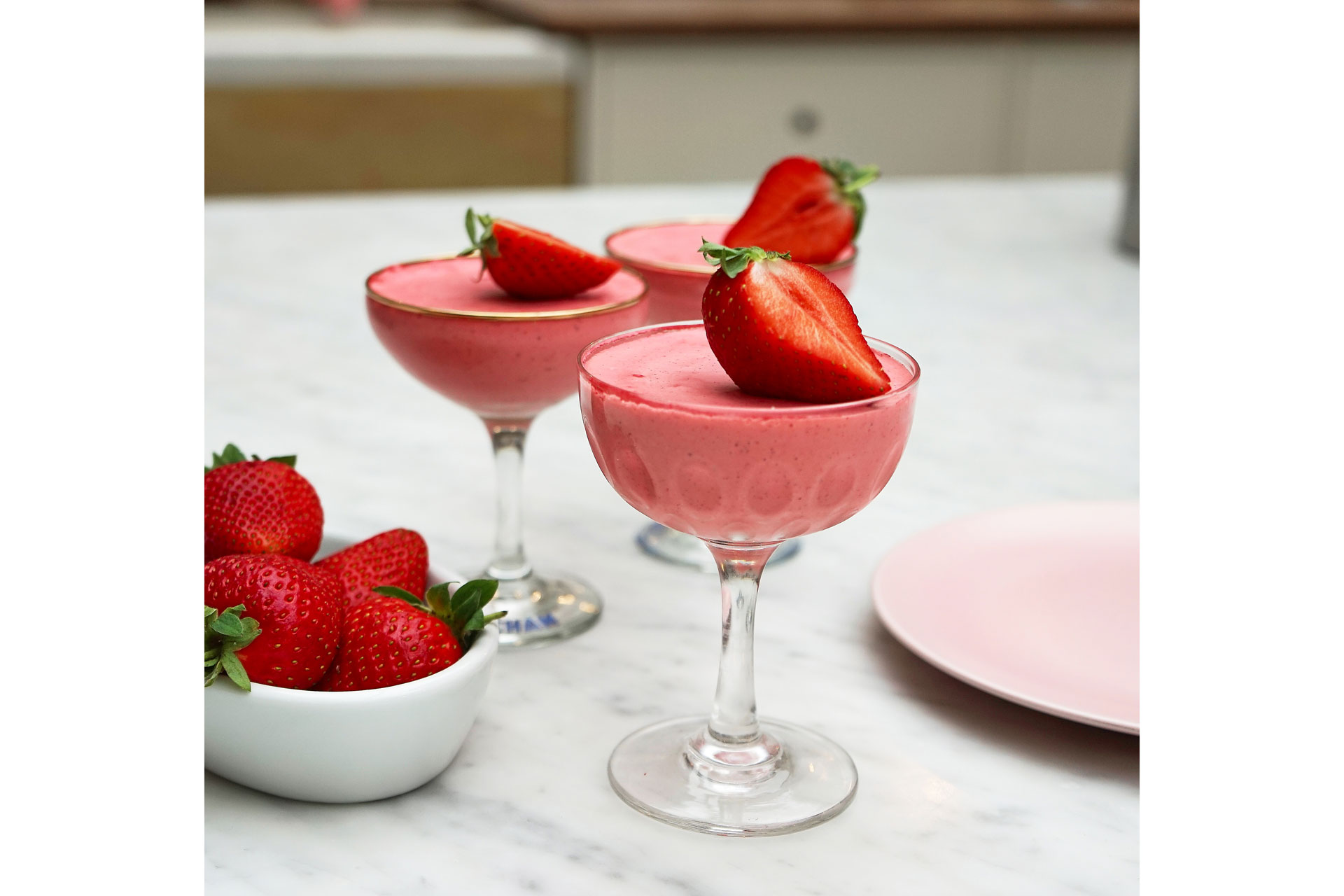 Ingredients
For the strawberry mousse:
600g strawberries, washed and de-stemmed
125ml coconut oil
1 vanilla pod (bean), scraped or 1 tsp vanilla extract or paste
To serve:
Fresh strawberry slices
Mint leaves
Black sesame seeds
Method
Add all the mousse ingredients to a high-speed blender and blitz until well incorporated.
The oil needs to completely emulsify with the strawberries, so make sure there are no white dots in the mix but it's just a beautiful pink colour.
Pour into individual glasses and let the mousse set in the fridge for three hours. Once set, top with fresh strawberry slices, mint leaves and sprinkles of black sesame seeds for colour and crunch.A great dessert to make way ahead of time!
MORE INGREDIENT OF THE WEEK: