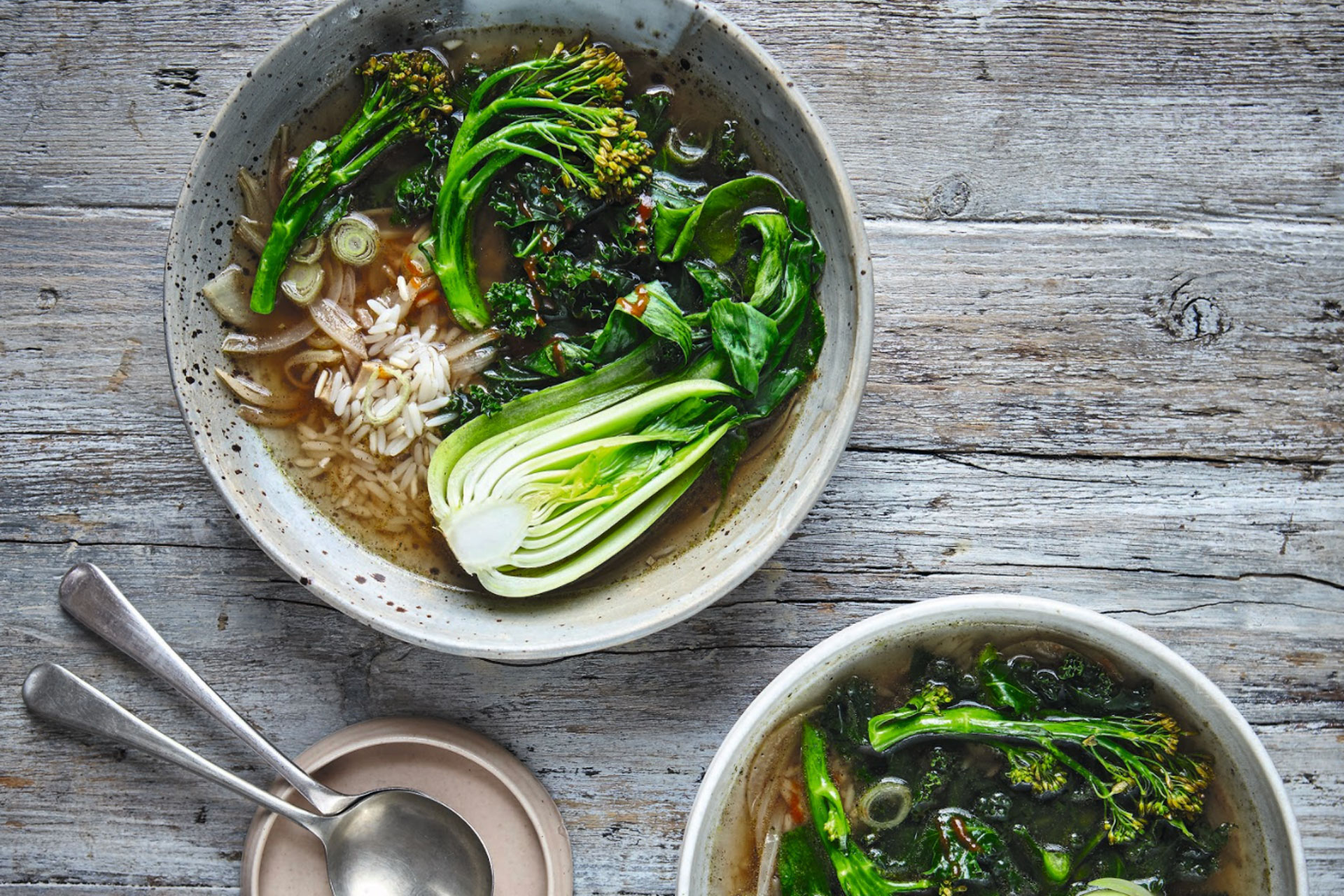 Vegetable of the Week: Pak Choi
---
How to make this green vegetable sing
Each week plant-based cook Bettina Campolucci Bordi, founder of Bettina's Kitchen, gives us the lowdown on a particular seasonal vegetable or ingredient, offering cooking tips and a recipe. This week it's pak choi.
This leafy green that almost looks like an enlarged celery, with bulky stalks and a bulbous bottom, goes under many names: bok choy, pok choi, pichay or as I know it, pak choi. More attributed to southeast Asian cuisine, this Chinese cabbage falls under the salad brassica category.
Flavour wise, the pak choi is like the love child of the sulphurous ness cabbage and the milder spinach. It's absolutely beautiful when picked young: served raw in salads lovingly coated with a thick gloss of lime, ginger and chilli oil, or lightly pan-fried to wilt the edges but leave a bite in stir-fried dishes. You can also steam or sauté pak choi, but its crimped leaves absorb punchy flavours, so I always go with the former method if pairing with something sharp. Keeping true to its roots, pak choi favours more towards the Asian flavours, but the more traditionally British mustard, truffle and anchovy can also be key flavour players, as can apples.
As with any green leaf, look for forest-green deep and dark colours and avoid any signs of wilting or aging. The leaves should be flexible but not fluid and hold their own with a little tug. You can eat both the leaves and stalk of the pak choi, but the latter takes longer to cook, so make sure to prepare and cook separately to keep both parts at its best.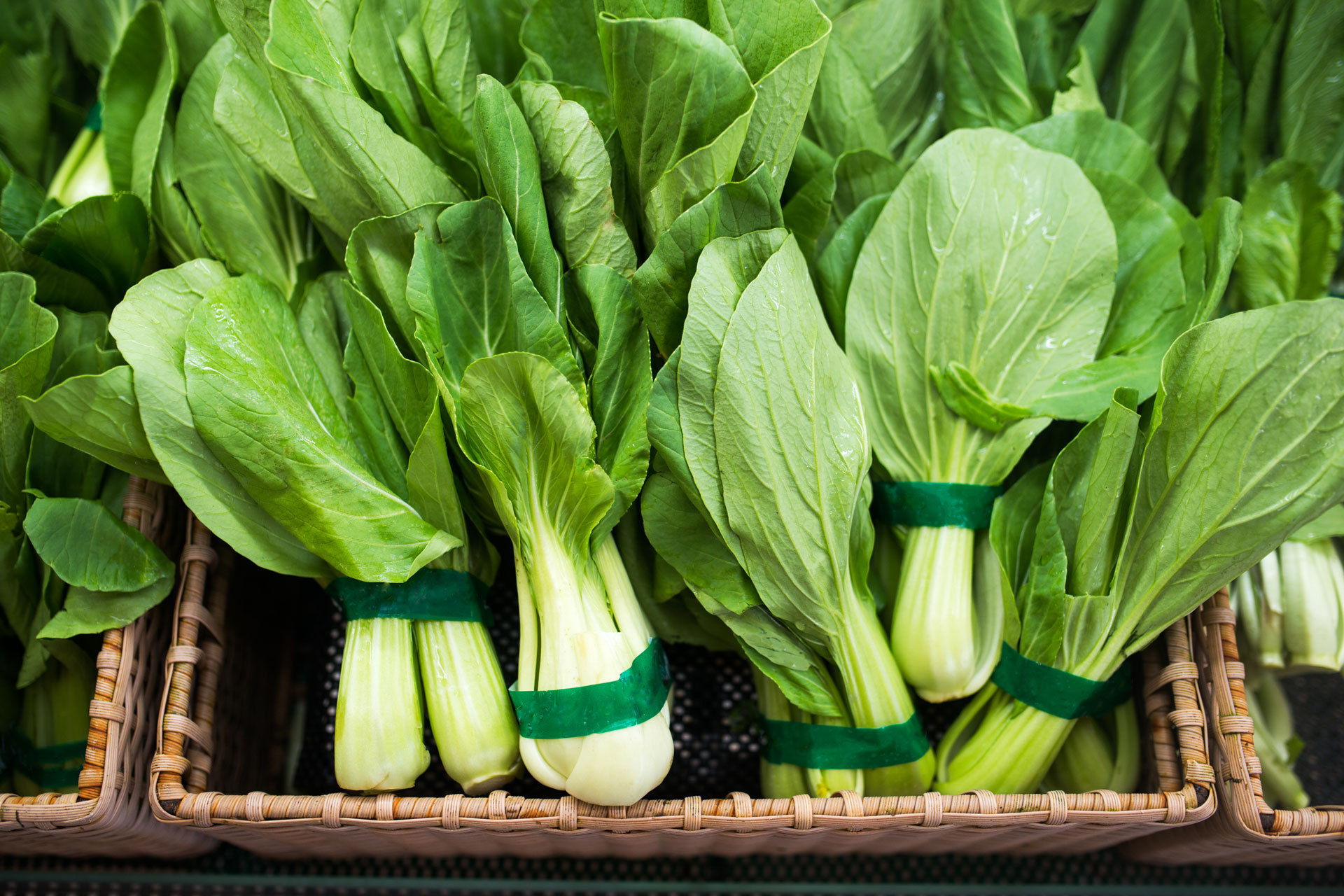 Slice the wide stalks into smaller pieces to quicken the process. And store in the crisper drawer of your refrigerator, in a brown bag or with cheesecloth lightly wrapped around the leaves. Never wash your pak choi before storing as this can encourage moisture and bacteria to grow – however, do always make sure to wash them before cooking.
They only last a few days in the fridge so if you find yourself with a glut of pak choi, turn to the freezer. Due to its high liquid content both the leaves and stems freeze well. Fresher leaves can be frozen as is, but wilting ones should be cooked prior. Treat cooked leaves like spinach that have been quickly blanched and shocked in a cold bath before draining and freezing. Regardless of what form your pak choi was in before freezing, once frozen they tend to lend themselves to more liquid based dishes: soups, stir-fries or stews as the water content can turn the leaves a little mushy. But don't squeeze all that liquid away – this is pure flavour concentrate, so add straight to your dish with a pinch of extra salt or soy sauce.
One of my favourite recipes with pak choi is from my second cookbook 7 Day Vegan Challenge.
Recipe: Broth & Greens
This is my go-to meal when I am feeling under the weather, or if it's drizzly and cold outside. I also enjoy this meal for breakfast, especially after I return from travelling in Asia, where they often serve brothy breakfasts.
Ingredients:
Makes 2 portions
½ an onion, sliced
3 garlic cloves, chopped
1 teaspoon five-spice
1 cinnamon stick
500ml vegan stock
2 pak choi, cut in half 100g tenderstem broccoli, cut in bite-size pieces
1 handful of kale
260g precooked brown or white rice
1 thumb-sized piece of ginger root, freshly grated
1 tablespoon tamari
Olive oil, for frying
Sriracha hot sauce, chopped fresh chilli or spring onions (scallions), green and all, chopped, to serve
Boosters
Hemp hearts
Pumpkin seeds
Sesame seeds
Method
Heat a little olive oil in a large saucepan, add the onions, garlic and five-spice and fry gently for about 5 minutes. Add the cinnamon stick and stock and bring to a simmer. Once simmering, add the pak choi, the tenderstem broccoli and the kale. Simmer for a few more minutes. Lastly add the precooked rice, freshly grated ginger and tamari.
Serve immediately with your favourite toppings. I love sriracha, spring onions and chilli for extra kick.
MORE INGREDIENT OF THE WEEK: