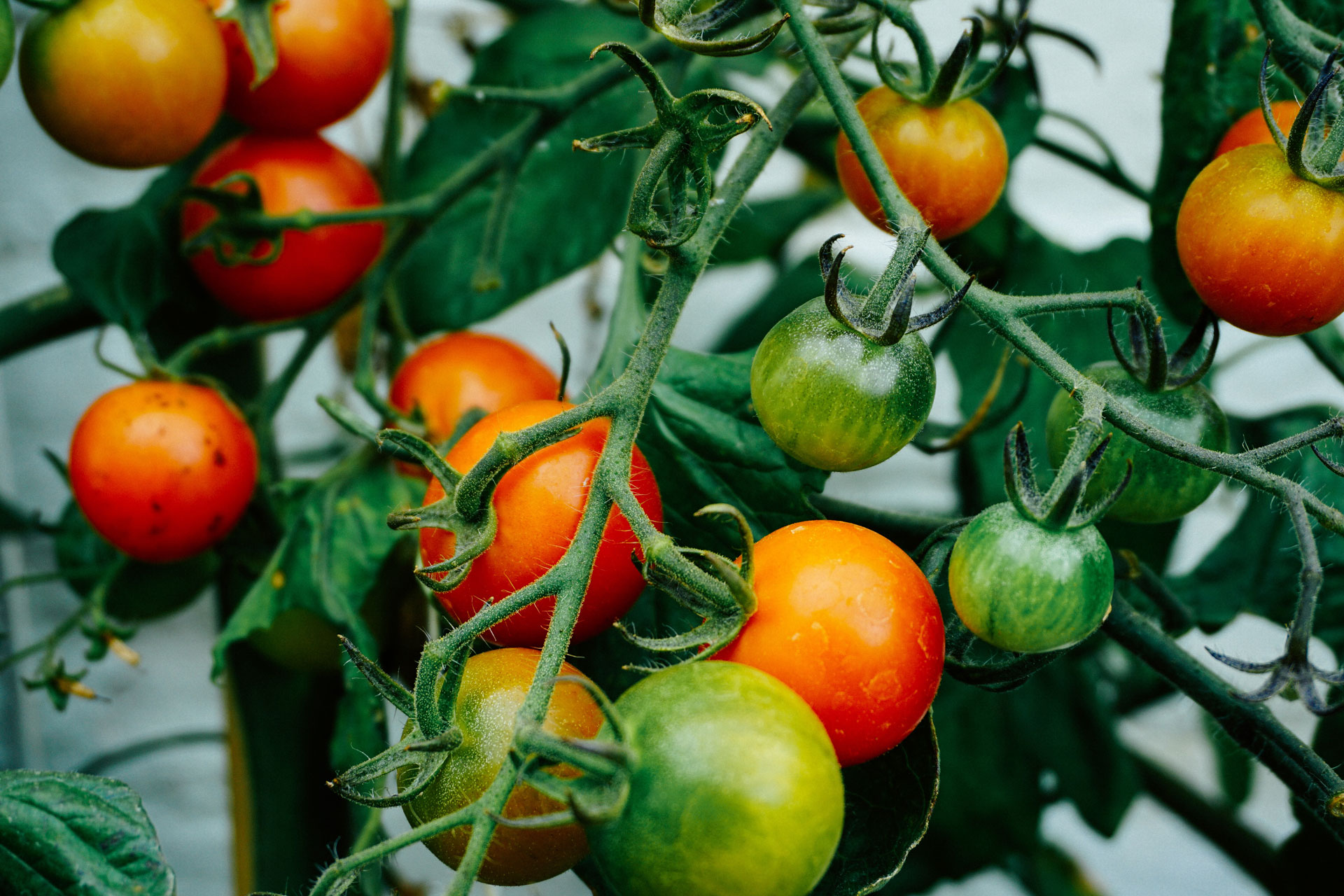 Fruit of the Week: Tomatoes
---
How do different varieties of tomato shine best?
Each week plant-based cook Bettina Campolucci Bordi, founder of Bettina's Kitchen, gives us the lowdown on a particular seasonal vegetable or ingredient, offering cooking tips and a recipe. This week it's tomatoes.
Tomatoes are the holy grail of ingredients. It's why you're able to find them in tinned, paste, pureed, fresh, frozen and powdered formats. No surprise when you realise that there are over 10,000 different varieties available, coming in all shapes and shades from pink to white to black and, of course, red. Each individual pigment produces a different combination of acid and sugar within the tomato and directly impacts its taste.
The classic red tends to be more pungent, bringing a higher acidity to the table and lending itself well to bolder dishes. Black and purple too – but with a slightly more sophisticated profile that brings complex smoky flavours along for the ride. The lighter variants, yellow and orange, lean more towards the sweeter end of the spectrum and are often praised for their candy-like taste and fruity, floral flavours.
Regardless of their colour, it's best to leave tomatoes as long as possible to ripen on the vine. This allows them to develop a maximum boldness in both the sweet and acidic senses. Tomatoes are the epitome of embodying the umami sense. Not only are they able to enrich their own flavours but they can help strengthen those that they are paired with. Salt does well here. In its pure form, sprinkled across slices of freshly cut tomato and drizzled in olive oil before imparting the flakes on top, or in the form of bacon, olives or anchovies.
Simplicity is honoured here: letting the tomatoes shine in all their fragrantly scented and multi-coloured glory with just a few carefully selected ingredients to help elevate their flavour – basil and mozzarella, for example. But so is complexity and depth. Stews and curries bubbling away for hours, tomatoes bobbing on the surface. And while you're at it, you might as well throw in some wild cards: vanilla (try it in a jam or thick compote), chocolate (the darker the better) and strawberry. Some even say the latter is a great interchangeable replacement, but I'm yet to put them in my BLT (or should I say BLS).
A few tricks that are always great to remember: lemon juice can help remove the metallic taste from tinned tomatoes. If you are purchasing your tomatoes from a supermarket, stick to cherry and leave the rest to the farmer's market. If they only have salad or beef tomatoes, a dash of balsamic vinegar will help enhance the sweetness.
Like all good fruits avoid blemishes on the skin. Feel and compare its weight against its size – it should be firm enough to withstand a small amount of pressure without giving way. If you give them a good sniff right where the stem was and it gives off a very immediate and aromatic scent, you're good to go. Just make sure to keep them away from direct sunlight, laid out on a single layer with their stems down until they are fully ripened. Then pop them in the fridge in the door or on the top shelf near the back.
Recipe: How To Serve Tomatoes
I love tomatoes simply with good olive oil, a squeeze of lemon or orange, salt, pepper to taste and some fresh herbs. The Isle of Wight tomatoes are in season now and they are absolutely delicious.
Simply slice at room temperature and add all ingredients. Enjoy as a side dish or as the main event along with feasting platters and barbecues.
MORE INGREDIENT OF THE WEEK: