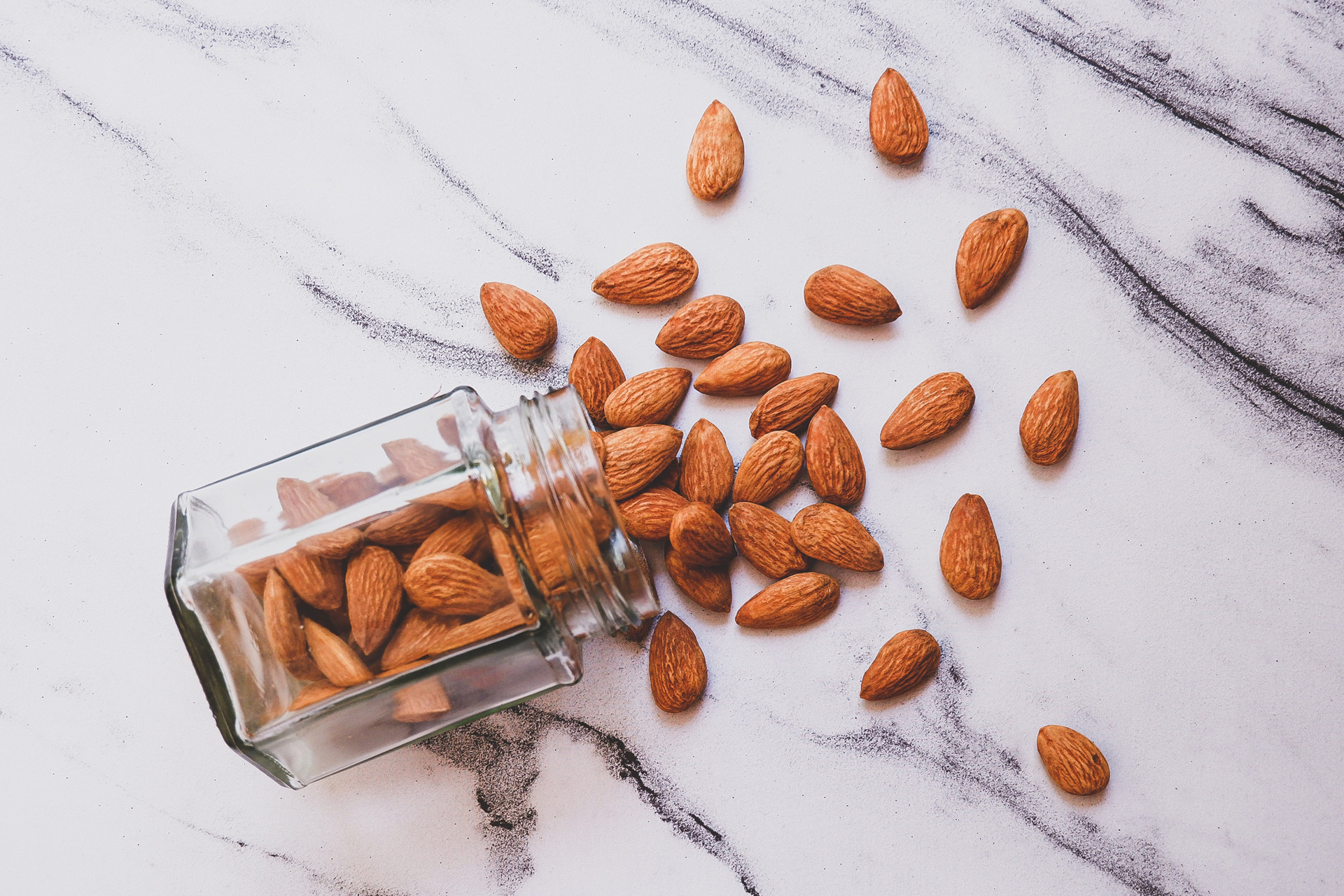 Ingredient of the Week: Almonds
How to incorporate almonds into your sweet and savoury recipes
Each week plant-based cook Bettina Campolucci Bordi, founder of Bettina's Kitchen, gives us the lowdown on a particular fruit, vegetable or ingredient, offering cooking tips and a recipe. This week it's almonds.
Ingredient of the Week: Almonds
Did you know that almonds are not actually nuts, but are instead the seeds of the almond tree fruit? They are a member of the stone fruit family, along with peaches, plums and cherries. As a plant-based chef, I always find myself reaching for them when looking for a healthy and delicious ingredient to incorporate into my recipes. Not only are they packed with nutrients, but they also add flavour, texture, and crunch to both sweet and savoury dishes.
Health Benefits
In addition to being a delicious ingredient, almonds are also incredibly nutritious. They are a great source of healthy fats, protein, fibre and vitamin E. Eating almonds regularly has been linked to a lower risk of heart disease, lower cholesterol levels, and improved brain function.
Uses
One of the most popular ways to use almonds in cooking is to make almond milk. Almond milk has been around since the Middle Ages, when it was used as a milk substitute during Lent, but it made something of a comeback in recent years. It's a great alternative to dairy milk for those who are lactose intolerant or vegan, is easy to make at home and can be used in a variety of recipes, from smoothies to baked goods.
Another popular way to use almonds is in baking. Almond flour is a great alternative to wheat flour for those who are gluten intolerant or coeliac. It can be used in a variety of recipes, from cakes to cookies, and adds a nutty flavour and texture.
One of my favourite savoury almond recipes is almond-crusted tofu – the almonds give the tofu a delicious crunch and the nutritional yeast adds a cheesy flavour. I also love to make almond and vegetable stir fry. This dish is packed with nutritious vegetables, such as broccoli, bell peppers and carrots, and is flavoured with a delicious almond sauce. The almonds add a nutty flavour and crunchy texture to the stir fry.
On the sweet side, I often make almond butter cups. These are a healthier version of traditional peanut butter cups, and are made with almond butter, coconut oil and dark chocolate. They are easy to make and are a great snack to have on hand when you need a little pick-me up. You can also do almond and raspberry muffins, made with almond flour, fresh raspberries and maple syrup – perfect for breakfast or as a snack. The almond flour gives the muffins a nutty flavour and the raspberries add a delicious sweetness.
In addition to being a delicious ingredient in its own right, almonds can also be used to add texture and flavour to other dishes. Almond butter is a great example of this – a great alternative to peanut butter which can be used in a variety of recipes, from smoothies to cookies. It is also a great source of protein and healthy fats.
If you're looking for a delicious and healthy dessert to impress your guests, look no further than this almond galette with cream and peaches recipe. This recipe is vegan, gluten-free and packed with nutritious ingredients that will satisfy your sweet tooth. The galette itself is made with a combination of almond flour, gluten-free flour, coconut sugar, lime zest, and grapeseed oil. The combination of flours gives the pastry a delicious nutty flavour, while the coconut sugar adds sweetness and the lime zest adds a hint of citrus freshness. I love making this during warmer spring days at dinner parties or long sunny lunches.
Recipe: Almond Galette with Cream & Peaches
Makes 4-6 servings
Ingredients
For the galette:
240g almond flour 

240g white gluten-free flour 

120g coconut sugar 

zest of 2 limes

240ml grapeseed oil (or any flavourless oil)
For the topping:
400g oat-based crème fraîche, coconut whipped cream or plant yoghurt

Zest of 2 limes

2 vanilla pod (bean), split and the seeds scraped out, or 2 tsp vanilla paste or extract

2 tablespoon maple syrup 

4 peaches, stone removed

Handful of almonds, chopped

Handful of mint leaves

Zest of 1 lime
Method
Preheat the oven to 180°C. Line a large baking tray with baking parchment.

Mix the ingredients for the galette together in a food processor to combine well until it has a sticky consistency. Place the dough between two pieces of greaseproof (waxed) paper and roll out until it is 1cm thick and about 20–25cm in diameter.

Remove the top layer of greaseproof paper from the galette and place on an oven tray. Bake in the oven for 15 minutes until golden. Remove from the oven and leave to cool. When cool, place the greaseproof paper on a serving plate and cut around it so as not to break the pastry.

Mix all of the topping ingredients (except the peaches) in a bowl and then spread the mixture over the cooled galette.

Thinly slice the peaches into half-moons and arrange over the topping, then scatter with almonds, mint leaves and a sprinkle of lime zest.
Tip: Put the components of this dish together just before serving to keep it nice and fresh.