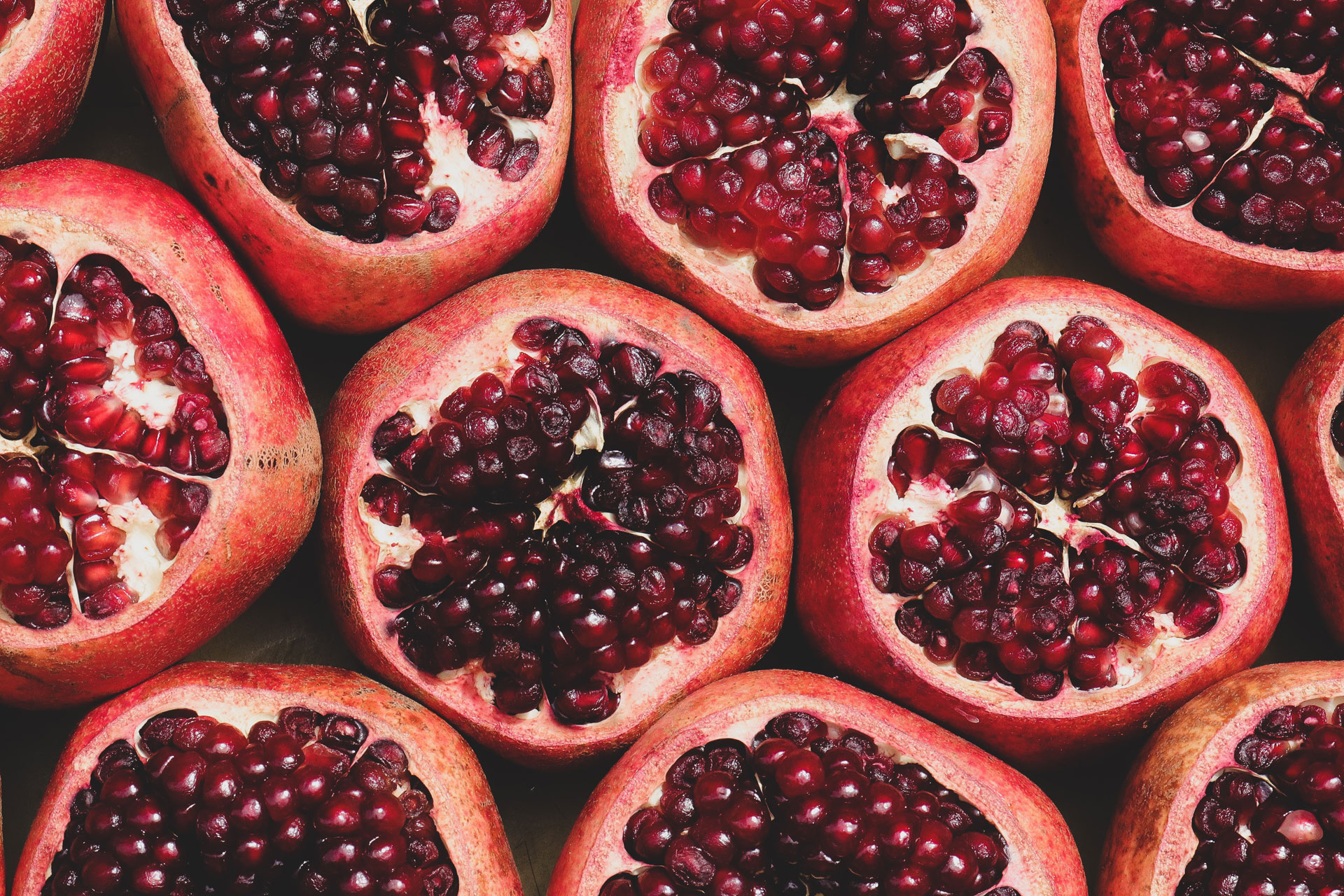 Ingredient of the Week: Pomegranates
---
The lowdown on pomegranate molasses, plus a tasty French toast recipe
Each week plant-based cook Bettina Campolucci Bordi, founder of Bettina's Kitchen, gives us the lowdown on a particular seasonal fruit, vegetable or ingredient, offering cooking tips and a recipe. This week it's pomegranates.
What is Pomegranate Molasses?
Pink purple jewels of gorgeousness: pomegranates make one of my favorite ingredients, which is pomegranate molasses. This is a tangy sweet syrup common in Middle Eastern cuisine: drizzle it over meat, fish, salads, and more. It is one of those ingredients that can quite literally transform your cooking in the best possible way. 
If you've experienced this taste sensation, you know that pomegranate molasses is a revelation. This traditional Middle Eastern ingredient isn't really molasses at all, actually. It's a syrup you can use to drizzle over salads, vegetables, sweets or dips, and it adds a zing that's absolutely irresistible.
It has become increasingly popular over the past few years – in part thanks to names like Ottolenghi – meaning you can now find bottles of it in supermarkets. But if you can't find it, you can also make pomegranate molasses at home. This is also a great way to use up pomegranate juice. Here's what to know about this pantry staple. 
Listen up! This silky drizzle isn't related to molasses at all. Pomegranate molasses is made by reducing pomegranate juice. It cooks down into a thick syrup that's almost like a balsamic reduction. It's common in Middle Eastern cuisines like Iranian, Syrian, Lebanese, and Turkish food, since pomegranate trees are native to this region. It's a main ingredient in muhammara, the popular walnut dip, or you'll see it drizzled over many other dishes. I love using it in sweet recipes like this decadent figgy French toast, topped onto wintery porridge, or drizzled over cookies or into tangy salad dressings. Whatever you choose to do, keep a bottle of this gold dust in your pantry and thank me later.
Recipe: Figgy French Toast
Makes 2 servings
Ingredients:
2 large slices of sourdough bread

pinch of coconut sugar or brown sugar

2 tbsp peanut butter

2 tbsp jam

2 tbsp vegan butter

4 figs, halved 
For the batter:
100g plain flour (or gluten free flour)

170ml plant milk (I like to use oat)

1 tsp baking powder

1 tbsp coconut sugar or brown sugar

Pinch of salt
To serve:
2 tbsp pomegranate molasses

1 tsp icing sugar
Method:
Spread the peanut butter on 1 slice of bread and spread the jam on the other slice of bread.  Close into a sandwich.

Add all the batter ingredients together in a large flat dish (big enough to lay the sandwich in) and whisk to combine. 

Melt the butter in a large frying pan, dip the sandwich in the batter to cover both sides of the bread, then gently lay it into the frying pan.  Once browned on one side, flip it over.  Whilst the second side is cooking, add the figs flat side down into the same frying pan, sprinkling them with some brown sugar to caramelise.

Once ready, remove everything from the pan, cut the bread into 4 pieces and place on a serving plate.  Slice the caramelised figs in half again and dot them around the bread. Drizzle with pomegranate molasses, sprinkle with icing sugar, and enjoy!