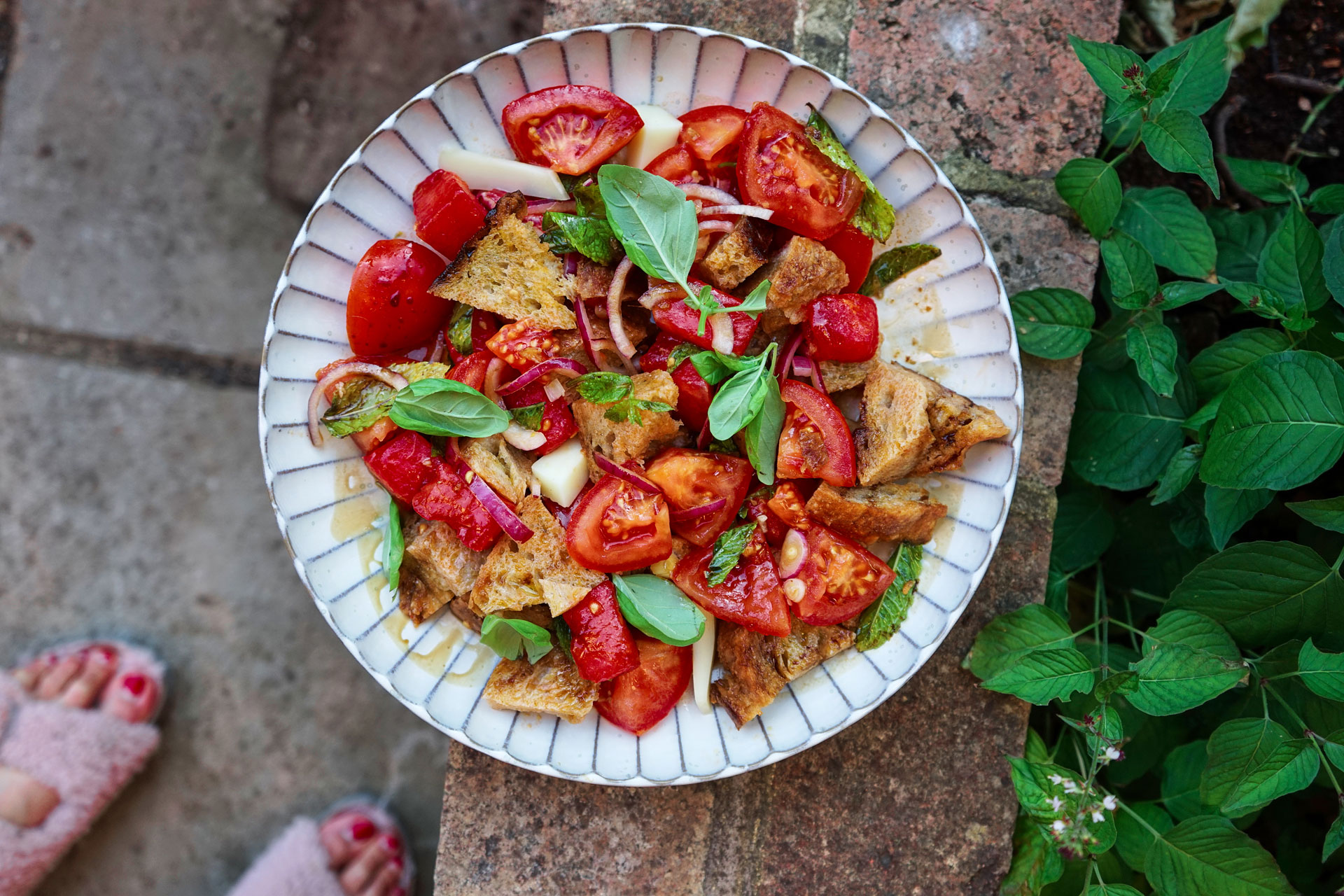 Ingredient of the Week: Tomatoes
---
How to make the most of tomatoes this season
Each week plant-based cook Bettina Campolucci Bordi, founder of Bettina's Kitchen, gives us the lowdown on a particular seasonal fruit, vegetable or ingredient, offering cooking tips and a recipe. This week it's tomatoes.
Ingredient of the Week: Tomatoes
I love tomatoes – especially when they are in season. The way of telling a tomato is the fact that the whole room smells of them when you walk in. It's a classic ingredient that is a daily staple for many, and this year it even had its own week to celebrate it. The tomato is a classic fruit (not a vegetable as many people think) that we can grow here in the UK and is a much loved food used in many recipes.
Eaten raw or cooked to perfection, the humble tomato is a quintessential addition to your plate, whatever the cuisine. I love them simply sliced with a drizzle of olive oil and a sprinkle of salt. Or in a gazpacho, especially during hot weather.
Trends in tomato types have changed over the years, but currently, premium tomatoes such as tomatoes on the vine are driving growth in the market. They now account for half of the UK tomato production area. Some of my favourite varieties are grown in the Isle of Wight and are very much in season now.
Seasonality
British tomatoes are the best in the world, and this summer has seen a bumper crop and an abundance of varieties, from super sweet cherries to heritage tomatoes and baby plum tomatoes. They are hitting the food markets and supermarket shelves as the season peaks and goes into the late summer.
While your average gardener may think of tomatoes as a summer crop, over the years, investment in glasshouse production and supplementary lighting means that British tomatoes can now be grown year-round, providing new 'out of season' sales opportunities and the potential for import substitution. As the autumn draws you will notice winter varieties. They are not as sweet or as tasty as their sun-kissed counterparts but delicious in other ways.
Health Benefits
Tomatoes are a good source of Vitamins A, C and E, the natural plant pigments known as carotenoids (both beta carotene and lycopene) and flavonoids. These come out when the tomatoes are heated, as in a sauce for example. They also contain important minerals such as potassium, which has been linked to lowering blood pressure and calcium, which is vital for healthy bones and teeth. Lycopene has even been linked to being particularly active in protecting the body against heart disease and some forms of cancer. So there's much to be said for increasing consumption of this savoury fruit that we all love so much.
One of my best and easiest recipes is a panzanella salad. It lends itself well to mature and sweet tomatoes. It's great because you can marinate it all day long and the longer it sits the better it is.
Recipe: Tomato & Watermelon Panzanella Salad
I have quite a strict 'no waste' policy in my kitchen so I love creating recipes that help me with this. It's not often I have leftover days old sourdough but when I do, it's great to chop it up and make a lovely summer salad with it.
This salad can be made a few hours in advance to allow everything to marinate, and is a perfect light but filling dish which always tastes better when the sun is shining.  And the addition of watermelon makes it even more refreshing.
Makes 2-4 servings
Ingredients:
1/4 red onion, thinly sliced into 1/2 moons
2 tomatoes, cut into large chunks
200g watermelon, cut into large chunks
Large handful of fresh mint leaves, roughly torn
120g sourdough bread (a few days old is better), cut into large chunks
Generous glug of olive oil (30-50ml)
Zest of 1/2 lemon
1 tbsp balsamic vinegar
Salt & pepper to taste
To serve:
Plant based feta
Fresh basil leaves
Method:
Add all ingredients to a large bowl, mix well to combine and leave to marinate for a while (up to a few hours).
Toss the salad every once in a while to coat the bread with the dressing.
Top with plant feta and basil leaves, and serve at room temperature.
MORE INGREDIENT OF THE WEEK: