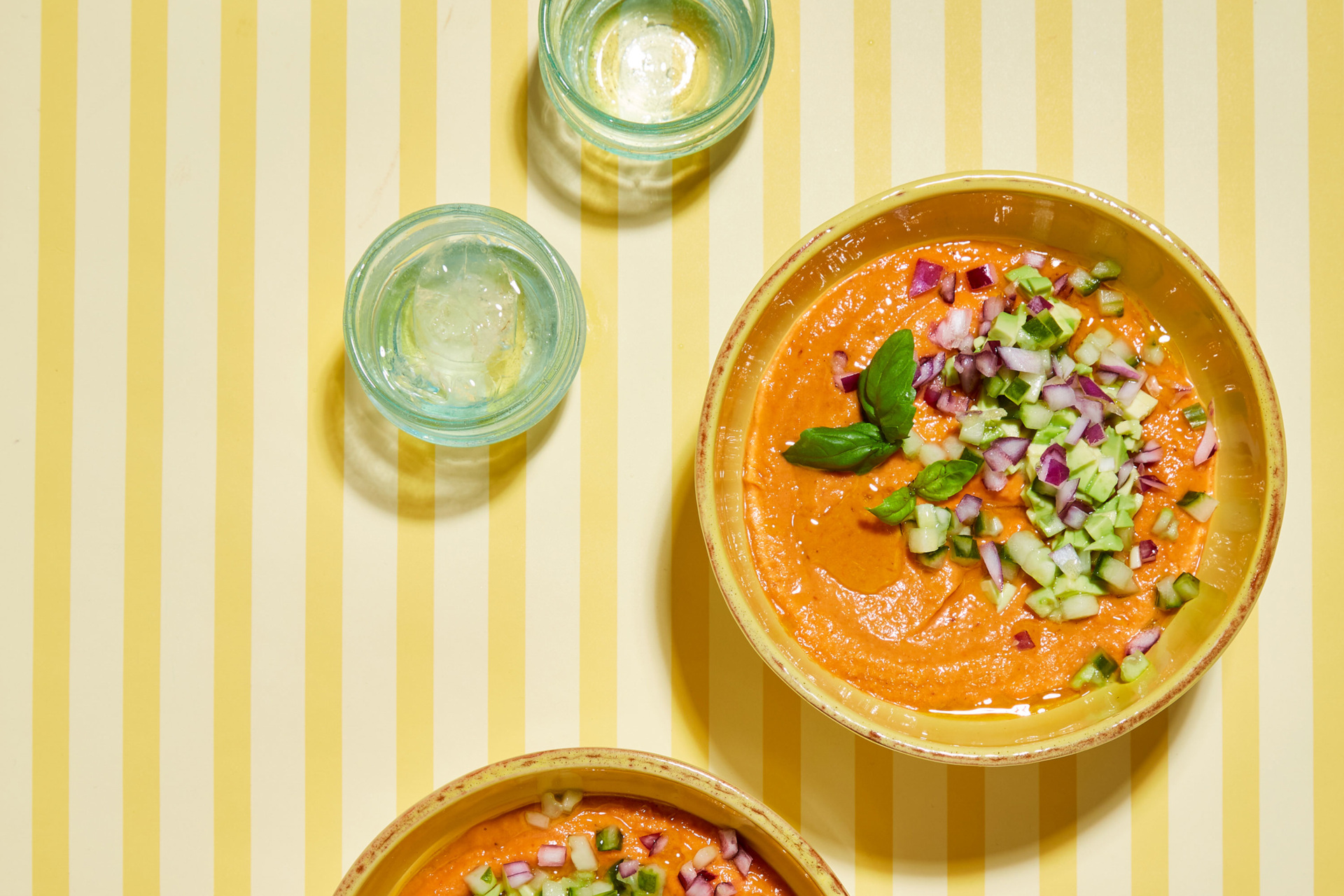 Ingredient of the Week: Olive Oil
---
Plus Bettina shares her recipe for salmorejo
Each week plant-based cook Bettina Campolucci Bordi, founder of Bettina's Kitchen, gives us the lowdown on a particular seasonal fruit, vegetable or ingredient, offering cooking tips and a recipe. This week it's olive oil.
Ingredient of the Week: Olive Oil
Olive oil is one of my favourite ingredients. I would say that it is in my top three ingredients for sure. Olive oil is extracted from the fleshy part of the ripened fruit of the olive tree, olea europaea, and varies in colour from clear yellow to golden (although some varieties obtained from unripe fruit have a greenish tinge). Italy, Spain, Greece and most of the Mediterranean use olive oil as their staple.
The historic home of the olive tree is the Mediterranean, where it has been an important part of life for thousands of years. The olive, a symbol of peace, and the tree which produces olives are known to have been cultivated around the Mediterranean about 6000 years ago. Stone tablets found dating back to 2500BC from the court of King Minos of Crete make reference to the olive plant, suggesting that cultivation originated in Greece and spread from there.
Throughout history the olive was a symbol of wealth, fame and peace. It played a fundamental role in culture, the arts, trade, technology and the economy. There are myths and legends romanticising the powers of this 'liquid gold' (as it was referred to by Homer in the Iliad), as it became a basic staple of daily life and diet.
Olive oil was used in both cooked and uncooked dishes, with a typical meal containing grains or flour that was mixed or rubbed with olive oil (sometimes with a little honey). A favourite cake in Roman times was called 'vatica' which contained only flour, salt and olive oil; different meats were always generously oiled before and after cooking; and the ancient Greeks invented salad dressing, a mixture consisting of extra virgin olive oil, vinegar, sea salt and honey. Still yummy and used to this day.
Many ask what the difference between regular and extra virgin olive oil is. Extra virgin is made from pure, cold pressed olives, whereas regular olive oil is a blend, including both cold-pressed and processed oils. Extra virgin is made by grinding olives into a paste, then pressing them to extract the oil. There's no heat involved, hence the cold-pressed label you often encounter. The resulting oil has a forest-green colour, a grassy, peppery flavour and a fruity aroma. This method, while effective, takes a substantial amount of time. Certifying the product is pure extra virgin is also a rigorous, time consuming process, which contribute to its higher price. As a rule I use extra virgin olive oil for salads and dressings and drizzles, and regular olive oil for cooking. The greener the oil the better as well!
Recipe: Salmorejo
Salmorejo is the sibling of gazpacho, but thicker and served with different toppings. It is one of my absolute favourite dishes and this is my own version.
Ingredients
1 kg (2 lb 4 oz) vine-ripened
Tomatoes
200 g (7 oz) stale/rustic bread
60 ml (2 fl oz/1⁄4 cup) olive oil
2 garlic cloves
1 tablespoon maple syrup
1–2 teaspoons apple cider vinegar
Salt and pepper, to taste
Suggested Topping
Red onion, finely diced
Cucumber, finely diced
Avocado, finely diced
Extra-virgin olive oil
Method
Whizz all the ingredients for the soup in a food processor or blender until well combined. Keep in the fridge or serve immediately. When you are ready to serve, pour into beautiful serving bowls. Place the diced toppings in small pots for each person to scatter over their own portion of soup. Drizzle the salmorejo with olive oil and add a few basil leaves for good measure.
COOK'S TIP
I would suggest dicing the toppings precisely as it brings a nice visual to a very simple dish.
MORE INGREDIENT OF THE WEEK
Polenta / Kimchi / Strawberries / Potatoes