How Jodie Kidd transformed a West Sussex pub into a foodie destination  
An Array of Accolades
I have a very excited and politely apologetic Jodie Kidd at the end of a phone; the day that we were due to have our interview she won a big award for her new pub and was quite rightly celebrating with a very large bottle of rose. A few weeks later we are at her beautiful Sussex house for the cover shoot and I'm greeted with a huge hug from her and nuzzle from Monty, the rescued racehorse and her cover co-star. Jodie is famous for a variety of glamorous antics – the fashion, the polo, the parties, competing in hard-core sports events and driving cars really, really fast. So what do supermodels do when they grow up? You expect her next career to be jumping out of a plane or launching a perfume, but she's surprised many by added 'landlady' to her tally of accolades.
The anomaly of a supermodel running a gastropub makes more sense once you know she was a finalist on Celebrity Masterchef in 2014, impressing John Torode and Greg Wallace on TV's toughest cookery show with her tenacity in the kitchen. The passion for cooking stayed with her, and in 2017 she bought The Half Moon country pub in Kirdford, West Sussex, where she now runs curry and quiz nights.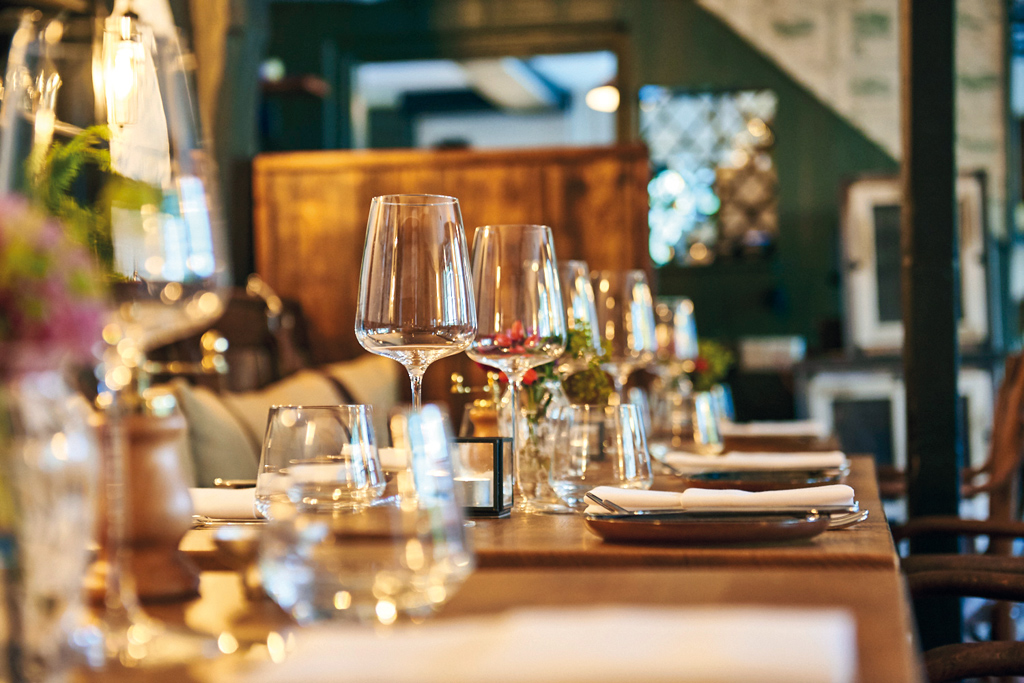 Twenty One Again
This wasn't just any pub, however; a country girl at heart, Jodie grew up nearby and even held her 21st birthday there, so when The Half Moon came up for sale she and two friends, Chris Lee and Dan Elson, stepped in and saved it. 'Any pub is the heart of the community,' she says. 'It's where locals go to meet and share news, have a birthday meal, have Sunday lunch with the family and have good times with friends. I had so many happy memories here, and the village was worried it was going to be turned into a second home, so that's when I knew I wanted to buy it and keep it as a working pub.' A head or heart decision? 'Both. An emotional decision at first but once we agreed the plans for the pub, it made total sense.'
She and her team worked on renovations for seven months. 'I did everything,' Jodie says, 'one of the first things was to build and plant an organic vegetable garden for the kitchen. I worked out what we wanted on the menu, what we needed to plant, the height of the beds and between my mother and I we're both out there everyday watering the plants.' The Half Moon has now been restored as a quintessential country pub – subtle equestrian and country sports touches in the interior design, open fires in winter, and a large garden for Pimms and summer parties. It's in a winning location too; 15 minutes from Cowdray Park for the polo, 25 minutes from Goodwood for the horseracing and the Revival, and close enough to London that you can be ordering your gin and tonic cured trout starter within one and a half hours of leaving Chelsea. Possibly one if Jodie is driving.
What's On in the Country? The Culture Diary
£50m of Metal
The proximity to Goodwood and Jodie's well-known love of cars means the pub has often got an enviable parking lot: 'For the Goodwood Festival of Speed, Pagani Zonda did an event with us which was amazing,' says Jodie her eyes lighting up at the memory. 'We had £50m worth of metal parked outside and hosted a dinner for their top owners. The next morning they came back to collect a bespoke hamper we created for them and left together to drive back to Goodwood. It was a fabulous day.'
The food is a really important aspect of the pub: 'I'm a great believer in keeping the food as local as possible and, apart from the wine, nothing comes further than 25 miles away. The meat is from local farms and estates; we've found an amazing guy locally who left the city to produce Trenchmore Farm Wagyu beef and cider – he feeds his cows the leftover apples from the cider. The pub has already won them a coveted AA Rosette award. The menu is something she and the chefs spend a lot of time reviewing to ensure the dishes. 'I still wanted to serve good decent pub food,' says Jodie. 'One of our most popular events are the monthly Quiz and Curry nights which are great fun!'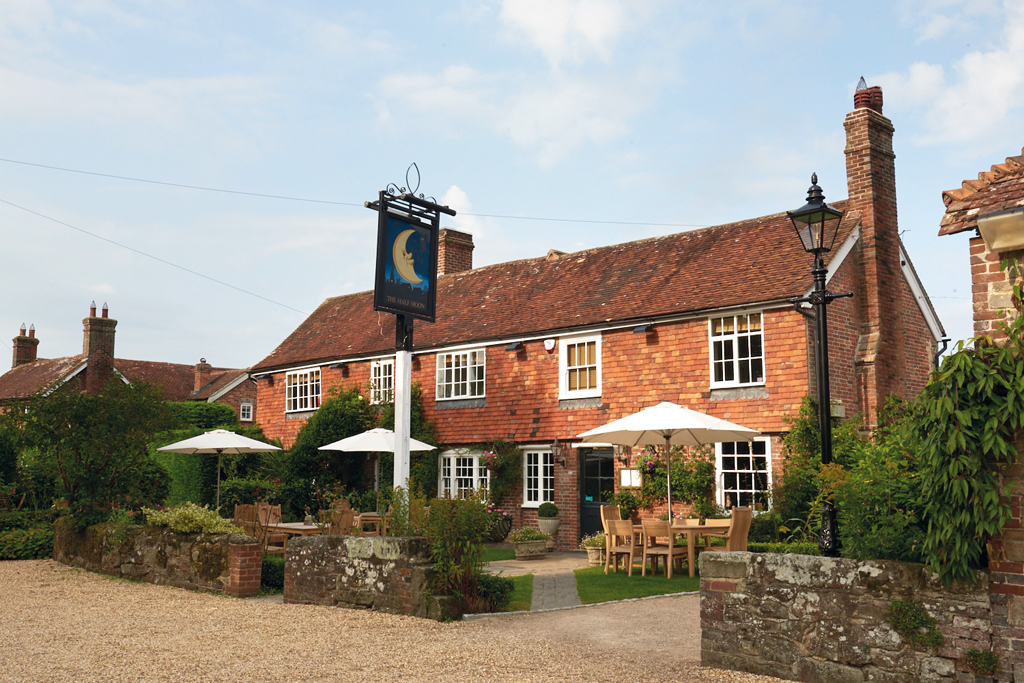 Catwalk to Country Pub
Running a rural pub sounds idyllic but hard work,so how has life changed over the last year? 'My life has changed hugely,' she says. 'The pub means everything to me so I've put everything else on back burner, I've scaled back my TV work for now and I'm at the pub everyday – my main job these days is being a head gardener and bar lady!'  With typical gusto Jodie is now taking on a role as a spokesperson for the industry. 'I totally love this business but more and more pubs are closing each weekend due to beer tax, so the heart of the rural communities is dying out. I'm working with Britain's Beer Alliance trying to get the chancellor to drop beer tax and realise the impact it's having.' Jodie has clearly put much of her golden energy and a huge effort into making her own pub work, and its future as the heart of the village is assured. 'The biggest achievement I've made is seeing people in the pub with big smiles on their faces leaving feeling happy and full. Making others happy just makes me happy,' she says with that trademark smile. We'll all raise a glass or two to that.
01403 820223; halfmoonkirdford.co.uk
---